Alanis Morissette is one of the key influences that helped shape the role of women in rock music during this new Millenium. Check out some of her musical influences below.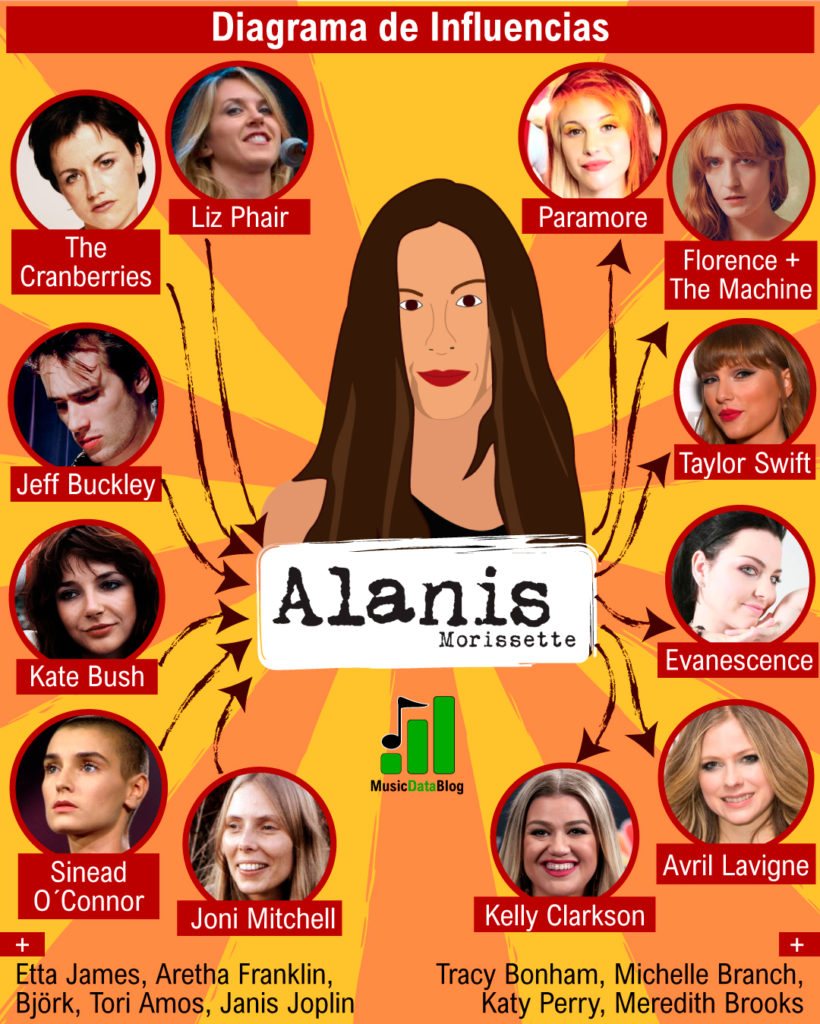 Which artists influenced Alanis Morissette
Alanis Morissette's third album, Jagged Little Pill (1995), was a massive hit and propelled her into stardom. Some of her direct influences were her closest musical predecessors, such as The Cranberries, Liz Phair, and Tori Amos. Also, other singers from previous generations, such as Joni Mitchell, Sinéad O'Connor and Kate Bush, had a great impact on Alanis' music.
The Cranberries
The landscape in which Alanis Morissette rose to worldwide fame, in the mid-nineties, was dominated by alternative rock and more precisely, Grunge, which was really in crisis. Anyways, the main influences of Alanis were not so much the heroic bands of the time, like Nirvana or Pearl Jam, but the ones that had a "softer" sound. The Cranberries is perhaps the most direct reference we can find: great vocal melodies, sometimes strident guitars, sometimes not so much. Dolores O'Riordan's band set the context in which Alanis Morissette became one of the most recognizable female rock stars.
Liz Phair
This is "a must" reference: As a direct and immediate antecedent to the "Alanis explosion" we have Liz Phair with Exile in Guyvile (1993). With a more low-sounding sound, Liz Phair's proposal was guitar-driven and simple rock, with smart lyrics and the necessary dose of pop. Exile in Guyvile was a minor hit that tested the ground for the massive album that Morissette would drop two years later.
Jeff Buckley
Another major influence is Alanis Morissette's favorite guitarist and singer: Jeff Buckley. From its characteristic vocal inflections to the intimate nature of its songs, he is referred to throughout the Canadian singer's discography. Although the sound references are there, it is not so much that Alanis tries to imitate artists like Jeff Buckley (or also Bjork), but rather points to their lyrical styles as "subconscious", that is, free from reason.
Sinéad O'Connor
Going further back in time, the influences of Alanis Morissette can be found in some women who were a reference for popular music of their time. The first one I'll mention is Sinead O'Connor, who Alanis is a huge fan. Regarding this Irish singer, we are talking about an excellent voice and a determined woman with character. Legend has it, Madonna encouraged Alanis Morissette to draw primarily from Sinead O'Connor's early career. The result? You Oughta Know and millions of sales.
Kate Bush
Another singer who has influenced Alanis Morissette is Kate Bush. With remarkable originality and voice, it is a strong previous reference. It is in fact something very personal: when Alanis was a young teenager, it was upon listening to Kate Bush that she decided to become a singer in the first place. If you want to expand more on this, you can also check out the Kate Bush influence diagram.
Joni Mitchell
Last but not least: For example, if you listen carefully to Coyote, the opening of Mitchell's album Hejira (1976), the link between the two performers is quite evident. Both share the same kind of recited or commented song that resembles Alanis Morissette tracks like Front Row or All I Really Want. With intimate and confessional lyrics accompanied by a guitar, Joni Mitchell is a must for Alanis. Still, it should be noted that on the contrary, Joni does not like Alanis very much.
Which artists were influenced by Alanis Morissette?
As a result of such a successful album, Alanis Morissette influenced alternative rockers like Paramore's Hayley Williams, Evanescence's Amy Lee, and Avril Lavigne. Also, pop singers like Taylor Swift, Katy Perry, Kelly Clarkson, and Florence + The Machine are inspired by the author of classic songs such as You Oughta Know, Hand in my Pocket, and other classic hits.
Suddenly the female singers began to find more space on the radios. If before Alanis Morissette the radio programs did not want to play her songs because they already had Sinead O'Connor or Tori Amos, now she slammed her way through. After Jagged Little Pill a whole new breed of singers, like Tracy Bonham, Meredith Brooks, and Michelle Branch, found more air time on the radio. Other singers, like Sheryl Crow, saw their sales skyrocket.
Kelly Clarkson
With her successful album Breakaway (2004), Kelly Clarkson took several of the elements that made Jagged Little Pill the classic that it is: strident guitars, elements of alternative rock with lyrics about heartbreak, fury, and introspection.
Taylor Swift
Pop was one of the genres that benefited the most from Alanis Morissette's music. For example, Taylor Swift, who had the pleasure of singing a duet with Alanis Morissette, has her as a reference that fueled the spark of her predecessors. And of course, how the most current "heartbreak pop artist" could not have been inspired by the author of You Oughta Know. Katy Perry also says that Alanis "inspired her to speak her truth." In other words, during the mid-nineties, Alanis Morissette's music became a catalyst within an industry primarily dominated by male artists. Although Alanis was not the first woman to become a famous singer, her impact in 1995 changed the whole music landscape.
Florence + The Machine
And the list of Morissette's fans continues: Florence Welch from Florence + The Machine spoke of Alanis as one of her heroines as a young woman. Well, if we speak in a confessional tone, we can speak of exorcising ghosts by talking about them, making them public.
Paramore
The singer from Paramore, Hayley Williams, stated that Alanis was a defining moment for women in rock. Well, nobody expected this explosion, especially coming from a teenage pop singer like Alanis was at the beginning of her career. But there it was. And also as Hayley Williams tells, that great hit was absorbed by the industry of the time.
Evanescence
Within the context of the late nineties and early 2000s, Evanescence knew how to channel a sound reminiscent of Nu Metal. In addition to the clear references to Korn and his fellow Linkin Park, it is hard to think that Amy Lee's band would achieve such success with their 2003 debut Fallen without the background of Alanis Morissette's third album. Even Alanis's songs like Baba or Would Not Come (from her next record, Supposed Former Infatuation Junkie, 1998) sound like songs that Evanescence could play.
Avril Lavigne
Finally, we will mention Avril Lavigne, who had her career peak in the early 2000s with her album Let Go and her single Complicated, she commented that Jagged Little Pill is indeed her favorite album. They both do it: a kind of rock and pop by way of everyday occurrences, observations of every day, and notes from an intimate diary.
More content on women in music