The Pixies are one of the key bands for understanding nineties alternative rock. The band has been instrumental in the success of other relevant bands, such as Nirvana or Radiohead.
This timeline shows the history of The Pixies, as well as the solo career of lead singer Frank Black and bassist Kim Deal's side project The Breeders.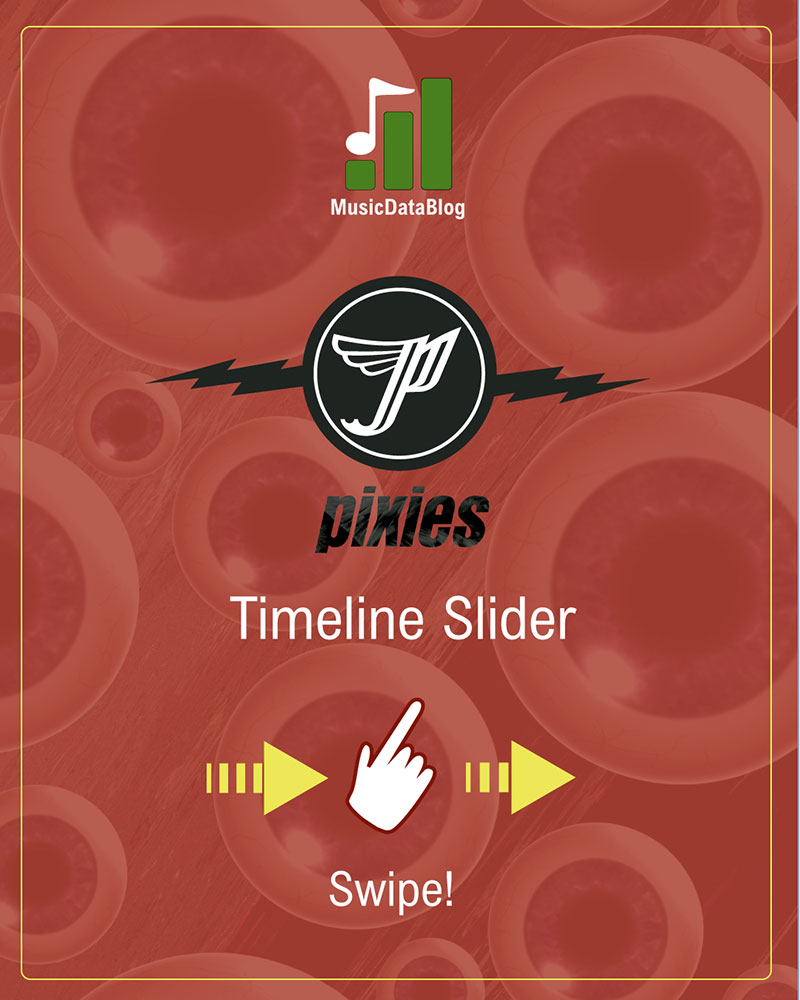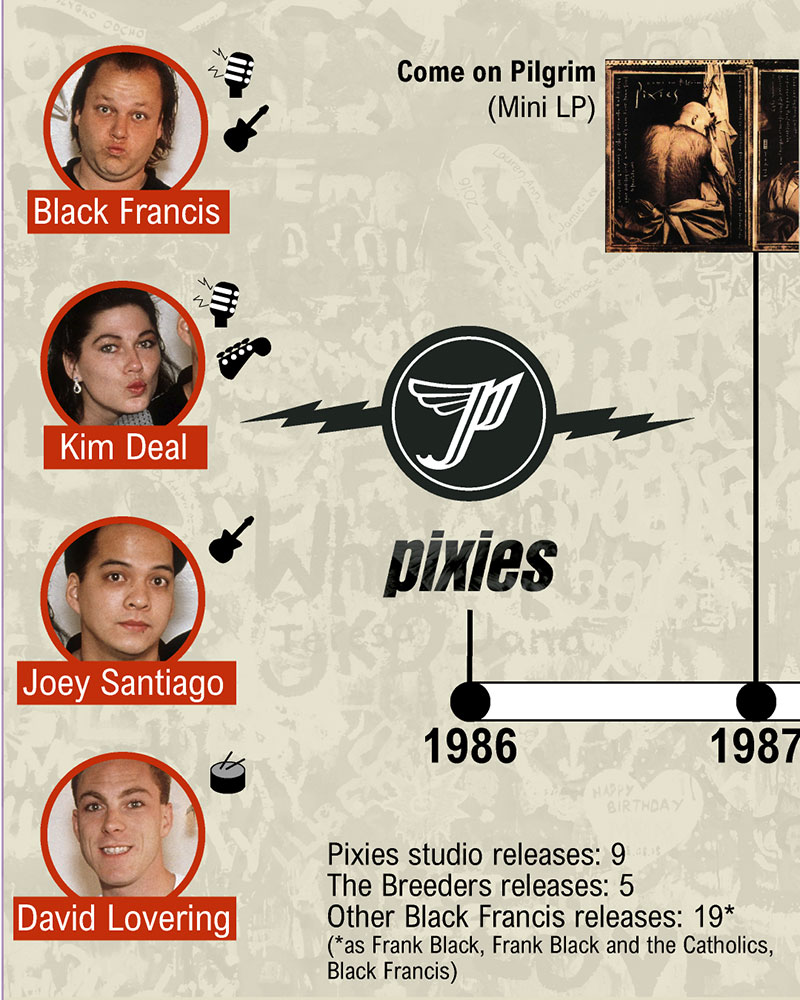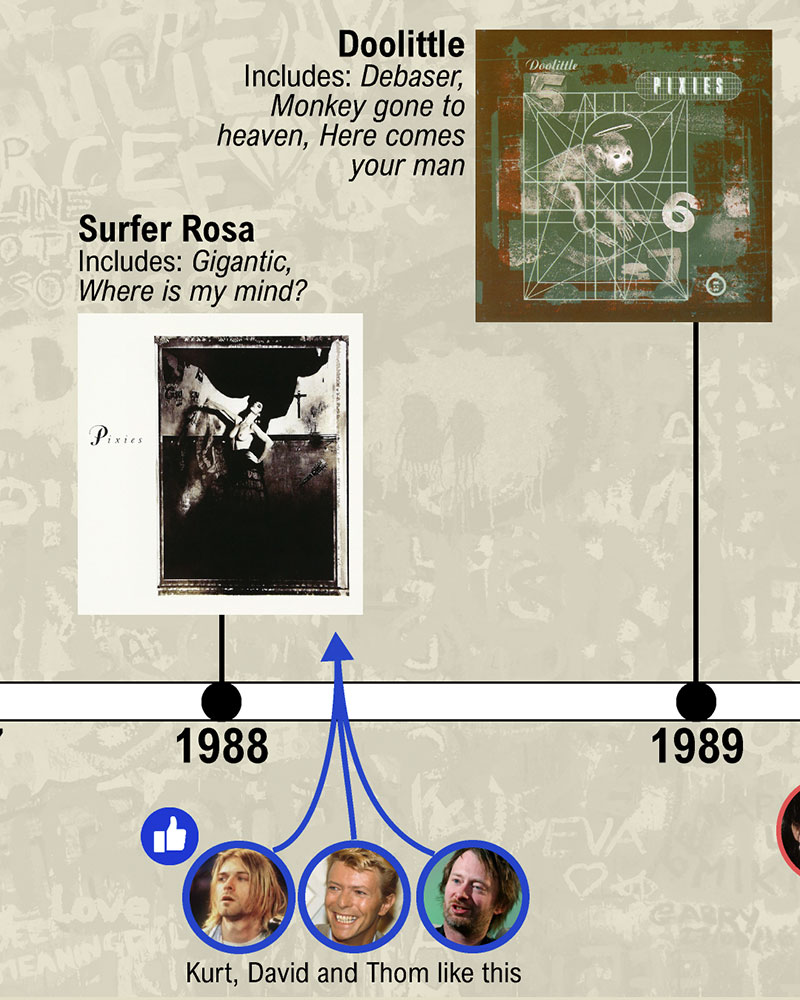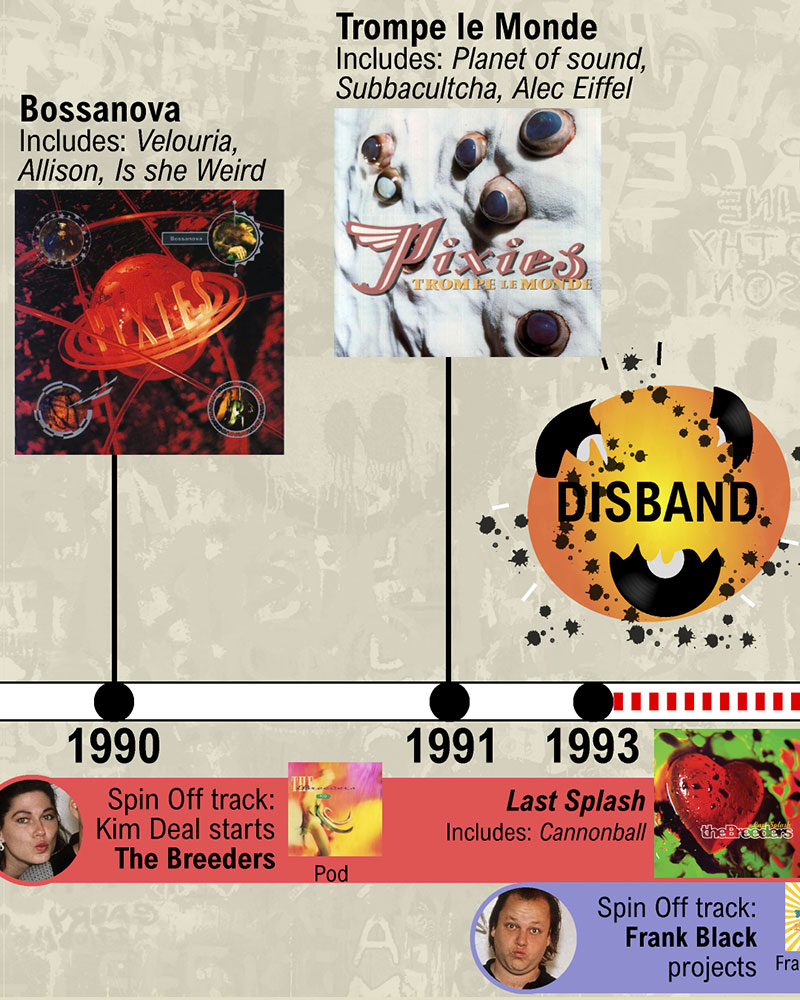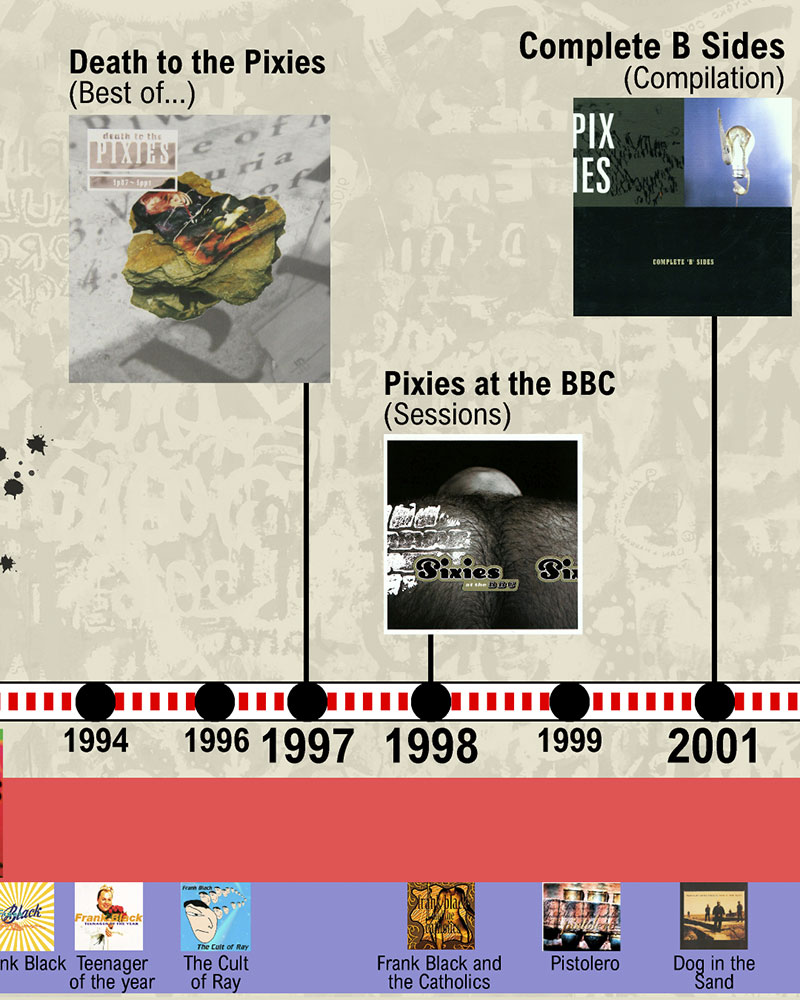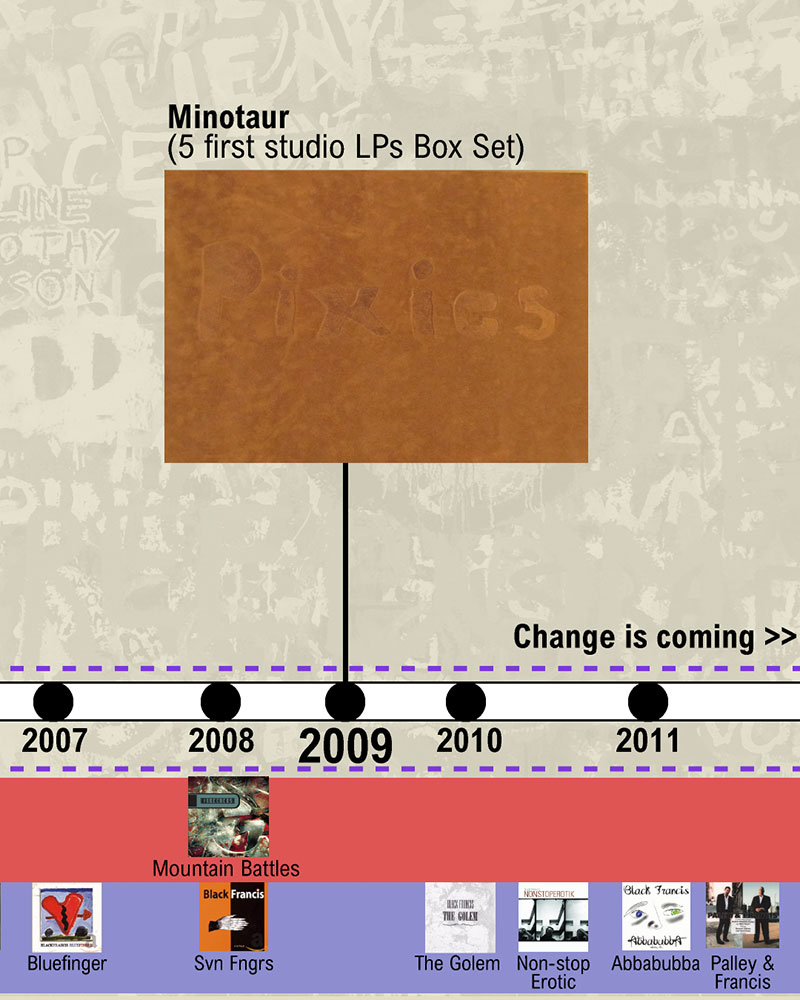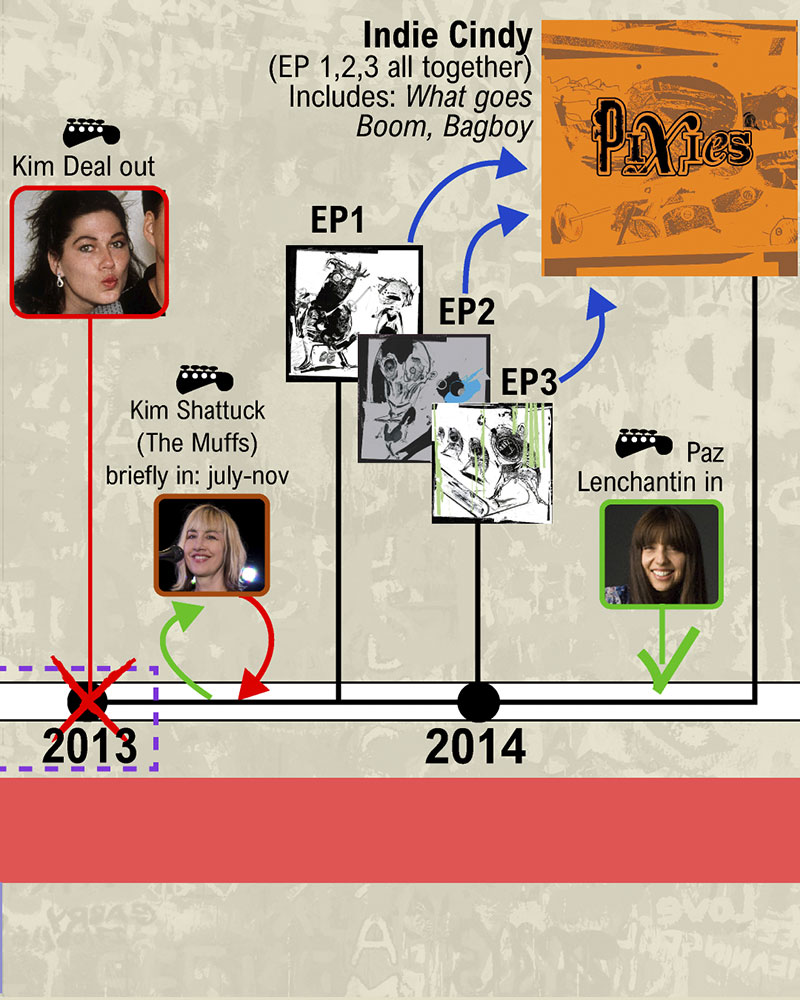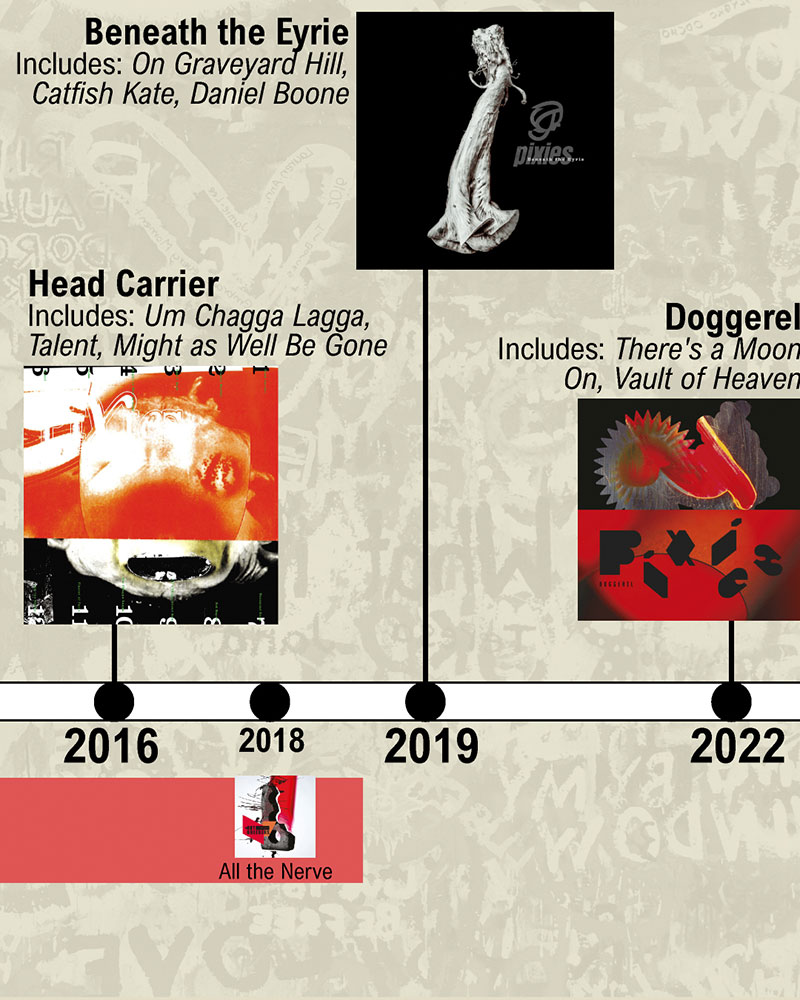 The Pixies history: a summarized version
The Pixies are considered a cult and avant-garde band. Their noisy style, combined with their pop sensibility, laid the foundations of the alternative rock fom the nineties. Kurt Cobain has recognized them as a clear influence and even talked about how he tried to steal from them when composing Smells Like Teen Spirit. Other notable fans of the band include David Bowie (he recorded a cover of Cactus for his 2002 album, Heathen) and Radiohead.
At the beginning of their career, The Pixies released a series of cult albums that are today regarded as masterpieces. Their two most relevant releases are their debut album, Surfer Rosa (1987), and their sophomore effort, Doolittle (1989). They went to release two more records before disbanding.
In the year 1990, while there was tension within the band, Kim Deal decided to start a side project with his sister Kelley Deal. This other band was called The Breeders and after releasing their debut album entitled Pod (1990), in 1993 they got a minor hit with the song Cannonball, which belongs to their second LP, Last Splash.
As a result of the growing tensions among The Pixies' members, the band broke up in 1993.
On his side, lead singer and chief songwriter Black Francis began a prolific solo career as Frank Black in 1993. Around 1998, he formed his band Frank Black and the Catholics, a project that remained active until 2003. After that first period, he began recording new music under his Pixies' era artistic name, Black Franci. He continued releasing albums until 2011 when he decided to call guitarist Joey Santiago to bring back The Pixies.
Which is The Pixies' discography?
During their first era (1986 – 1993) The Pixies released five albums:
Come on Pilgrim (1987)
Surfer Rosa (1988)
Doolittle (1989)
Bossanova (1990)
Trompe le Monde (1991)
Some of the most acclaimed from this first part of The Pixies career are Debaser, Where is My Mind, Allison, Here Comes Your Man, Monkey Gone to Heaven.
At the beginning of 1993, The Pixies split. It was not until 2004 that they got back together, only for concert tours. After this, in 2013, original Pixies' bassist Kim Deal decided to part ways with the band for good.
In 2014, the band started recording new music again. After several bass players were part of the band for short periods, Paz Lenchantin (formerly from A Perfect Circle and Zwan) was recruited as Deal's replacement that same year. She became an official member of The Pixies in 2016.
Since 2014, The Pixies have released three albums to date:
Indie Cindy (2014)
Head Carrier (2016)
Beneath the Eyrie (2019)
These three albums are way more polished in production terms, something that many fans of the first era of the band criticize.