This diagram features some of the musical influences of the Foo Fighters, as well as some of the artists that they have inspired. Dave Grohl's band development has been extremely relevant for post-grunge rock.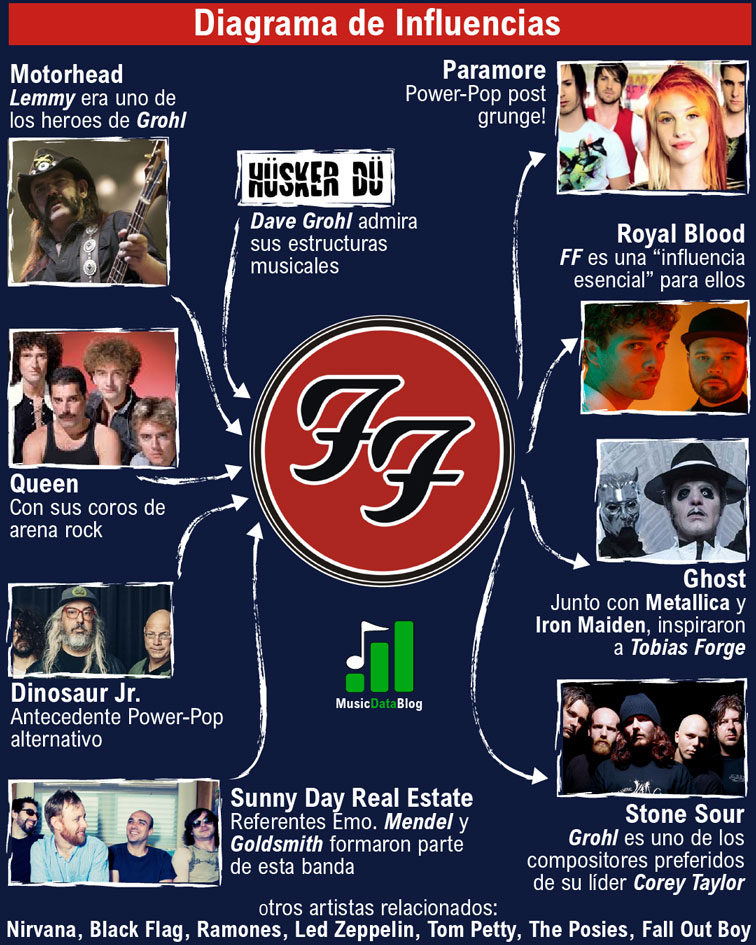 Foo Fighters, the band fronted by the ex-drummer from Nirvana, Dave Grohl, released their most recent album, Medicine at Midnight, in early 2021. Based on prominent guitars and a loud sound style, this band has managed to stay relevant over the years. Let´s review some of the musical inspirations of the Foo Fighters.
Which bands influenced the Foo Fighters?
On the left side of the infographic shown above, we find five musicians and bands that influenced the Foo Fighters.
Dinosaur Jr.: Alongside other bands like Weezer and The Posies, Dinosaur Jr. was key to the development of nineties power pop and opened the door to the Foo Fighters, in some sort of way. These mentioned bands crafted songs with nice hooks and clear links with Grunge, but their music style cannot be fully categorized in this genre. Usually, the movement that we are mentioning here is widely alluded to as college rock, wich is a significant predecessor for the Foo Fighters's sound. College rock bands music style sounded full of energy, pop output, and sing-along choruses.
Motorhead: Motorhead's influences on the Foo Fighters' music is mainly related to heavy riffs, frantic tempos, and their high gain sound. This is especially notable on some specific tracks such as White Limo (from Wasting Light, 2012, featuring Lemmy on the music video). Lemmy Kilmister was one of Dave Grohl's rock idols. Also, this iconic bass player and frontman was enlisted by the ex-Nirvana drummer for his heavy metal project, Probot. At Lemmy's funeral Dave Grohl gave a speech where he told exactly how he met him: Grohl casually bumped into him at a bar when Lemmy was playing arcade video games. Dave just went to say hi to him and tell him he was one of his heroes.
Hüsker Dü: Dave Grohl has expressed on several occasions his fondness for the hardcore band Hüsker Dü. Specifically, he cited them as an influence on the Foo Fighters in terms of song crafting and musical structure. At the moment of writing songs, the ex-Nirvana member says he likes to hear this band and get inspiration from their songs.
Queen: This is one of Foo Fighter's Arena rock influences. The band fronted by the gifted singer Freddie Mercury has been mentioned many times, alongside ABBA and AC/CD, as a big influence on the Foo Fighters. They usually cover many of Queen's classics at their concerts. Just to name a few renditions, Foo Fighters have performed live famous Queen tracks such as Under pressure, Tie your mother down and Love of my life. Also, let's not forget that Dave Grohl and Foo's drummer Taylor Hawkins gave the induction speech for Queen's Rock n Roll Hall of Fame in 2001. In that opportunity, they basically described their idols as a "hit song machine".
Sunny Day Real Estate: This band that pioneered Emo, originally from Seattle, performed nostalgic and yet powerful songs. The overwhelming voice of lead singer and guitarist Jeremy Enigk was one of their style trademarks. In that sense, Sunny Day Real Estate is one of the predecessors of the Foo Fighters' power on and off melodic music. Also, we must note that both bands have members in common: The Foo Fighters' first drummer, William Goldsmith, and also their bassist, Nate Mendel, were part of Sunny Day Real Estate. Goldsmith parted ways with the Foo's really early in their career in 1997, but Mendel remains with the band since 1995 and until the present times.
Which artists have been inspired by Foo Fighters?
Now we are going to through the right side of the graphics, which shows four bands that are inspired by Foo Fighters.
Paramore: This is one obvious example. Paramore has covered My Hero, a Foo Fighter's classic from their album The Colour and the Shape, originally from 1997. The impact of the Foo Fighters has paved the way for the project fronted by lead singer Hayley Williams, known for their alternative power pop and post-grunge tracks.
Ghost: Dave Grohl produced their 2013 album If you have Ghost. Even though the leader of the Swedish heavy metal band, Tobias Forge, has gone on the record to demystify the story that Grohl's was once a Nameless Ghoul (that is how Ghost´s members are called in secrecy), he did in fact say that the Foo Fighters acted as their mentors, with the likes of Iron Maiden and Metallica.
Royal Blood: Bassist and singer Mike Kerr said that Foo Fighters were a big influence on Royal Blood. In another interview, this hard rock and blues duo mentioned that Foo Fighters was one of the bands that they wanted to tour with at the beginning of their career. It is also known that same as Dave Grohl's project, they too like to play loud and in big stadiums.
Stone Sour: This band belongs to the post-grunge metal music field. According to Stone Sour's -and Slipknot– lead singer Corey Taylor, Dave Grohl is one of his favorite songwriters. The band had the chance to collaborate with Foo's frontman while working on their second album, Come What(ever) May (2006), recorded in studio 606, owned by Grohl. Corey Taylor also added that he really digs Foo Fighter's lyrics.