In the early nineties, Kurt Cobain's band, Nirvana, brought alternative rock into the mainstream and changed this music genre forever. Taking inspiration from several punk and metal acts, they inspired several generations of new musicians.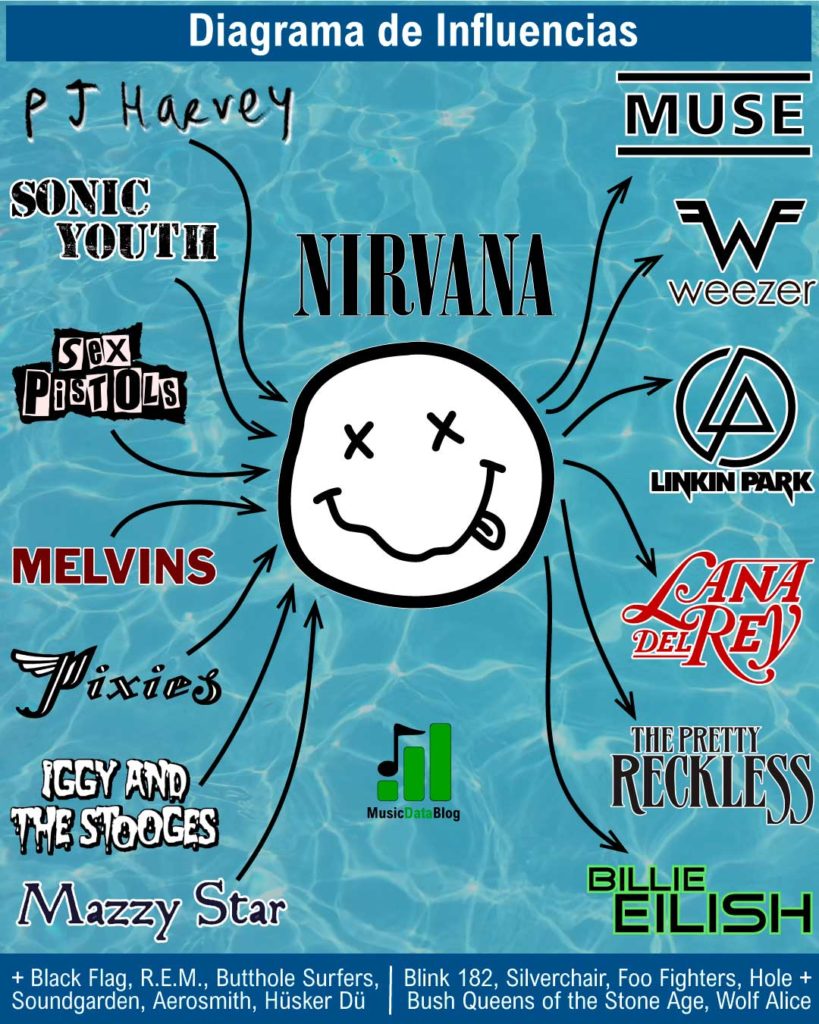 In addition to the graphic shown above, you can also check out our History Timeline about Nirvana here.
Which bands and artists influenced Nirvana?
Sonic Youth
Nirvana's more direct influences go back to the alternative scene of the late 1980s. The first band we will mention from that strain will be Sonic Youth: they were friends, and they helped Kurt Cobain and his band get their record deal and took them on tour. Also, it was bassist Krist Novoselic's wish to sound like Kim Gordon's, Thurston Moore & Co.
The Pixies
Another pioneering alternative band from that era is The Pixies. Kurt Cobain admitted that when he wrote Smells Like Teen Spirit he was trying to steal from them. As an additional fact, producer Steve Albini, responsible for recording Surfer Rosa from The Pixies (an album Cobain really liked) in 1988, was recruited by Nirvana to record In Utero (1993).
P. J. Harvey
Specifically, the idea of Albini producing Nirvana's third album came from P. J. Harvey's Rid of Me (1993). Albini sent the record to Kurt as a "how could they sound" proposal. With its raw drum sound, the "roomy" vibe of Pixies' Surfer Rosa and Polly Jean's Rid of Me, forged the aesthetic imprint of that latest Nirvana studio album.
The Stooges
To follow this list, we will mention Raw Power: that fundamental album from 1973 for punk. Even though the album failed to establish Iggy and The Stooges as a best-selling band, its musical influence on punk, heavy, and alternative rock runs to this day.
Mazzy Star
On the quieter side of things, we have Mazzy Star. Hope Sandoval's and David Roback's debut album, She Hangs Brightly, is also on Kurt's favorite album picks. Perhaps it is not something you would expect, but you can actually note the influence in some of the Nirvana's quieter tracks, like Nevermind's closer, Something in The Way, or In Utero's track Dumb.
Kurt Cobain's favorite albums
We could go on for hours, but here I will refer to two mentioned artists that Kurt Cobain listed on his favorite albums, as published by Kerrang: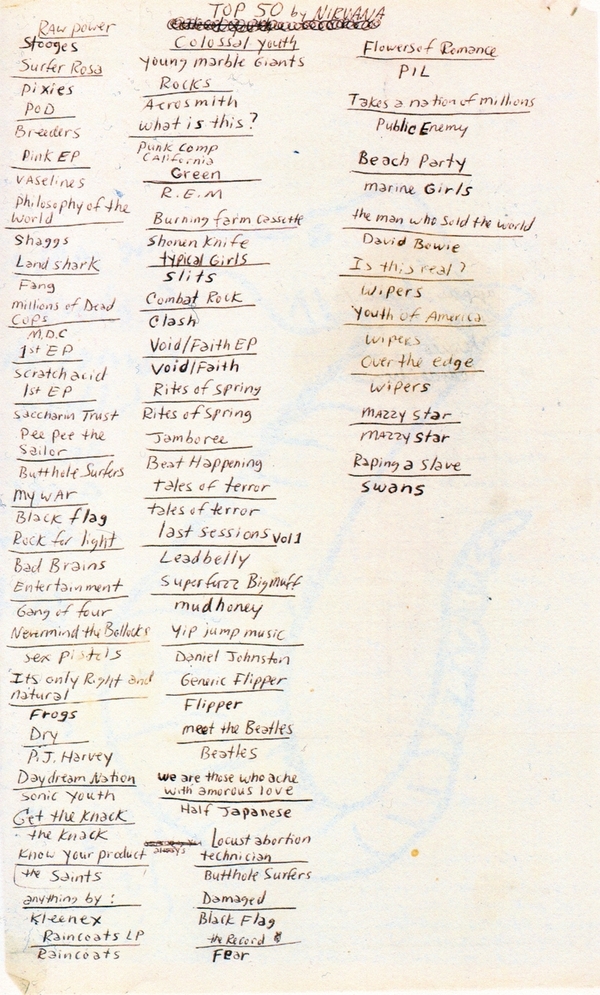 Musicians inspired by Nirvana
Weezer
One band that had great influences from Nirvana is Weezer. Their leader, Rivers Cuomo, created an "Encyclopedia of Pop" for himself, where he studied the composing methods, song structures, and melodies of various artists, and he extensively dedicated it to the Seattle band.
Linkin Park
The late Linkin Park singer Chester Bennington mentioned Nirvana as one of the bands that motivated him to make music. Recalling a joint show by Pearl Jam, Red Hot Chili Peppers, and the band at hand here, he explained, "Nirvana helped me shape my point of view on music."
Billie Eilish
The last (and most contemporary) example we'll take: Billie Eilish was compared by David Grohl to Nirvana. Amid all the fuss over whether the comparison was excessive, pertinent, or totally wrong, the leader of the Foo Fighters had to come out to explain his sayings. Beyond that, Billie has admitted that she grew up listening to bands like Nirvana, which she admires.
The Pretty Reckless
Taylor Momsen's heavy and hard rock band, The Pretty Reckless, owes a lot to Nirvana. From their raging guitar sound to their blue-mooded lyrics, the band created their music with the grunge scene in mind. Taylor Momsen has cited Nirvana as one of the bands she listened to the most, alongside Soundgarden.
Lana del Rey
A bit of a surprise here, but Kurt Cobain has also been an inspiration for Lizzy Grant, AKA Lana del Rey. The dream-pop singer has covered Nirvana's classic track Heart-shaped Box and cited the band as a source of inspiration. This influence is not mainly in Lana del Rey's music, but you can hear some of Cobain's despair echoes in her lyrics. You can expand more on Lana del Rey's musical influences here.
Muse
Muse's approach to alternative rock music would not be possible without Nirvana. The band has mentioned their admiration for the band's music and you can trace their inspiration, especially in their noisy first two records, Showbiz (1999) and Origin of Symmetry (2001).
Bush
The British band led by Gavin Rossdale was compared countless times with that of Kurt Cobain. There was even a well-known article in RollingStone magazine titled "NirvanaWannabes" as a complaint. The fact that they called in producer (oh!) Steve Albini to work on their second album, Razorblade Suitcase (1996), didn't help.
Other artists influenced by Nirvana are Hole, Wolf Alice, Silverchair, Queens of the Stone Age, and Blink 182.
More grunge-related content: