The infographic below shows some of the musical influences of the iconic grunge act Soundgarden. This band was one of the most important icons of that music genre and their legacy is still alive today.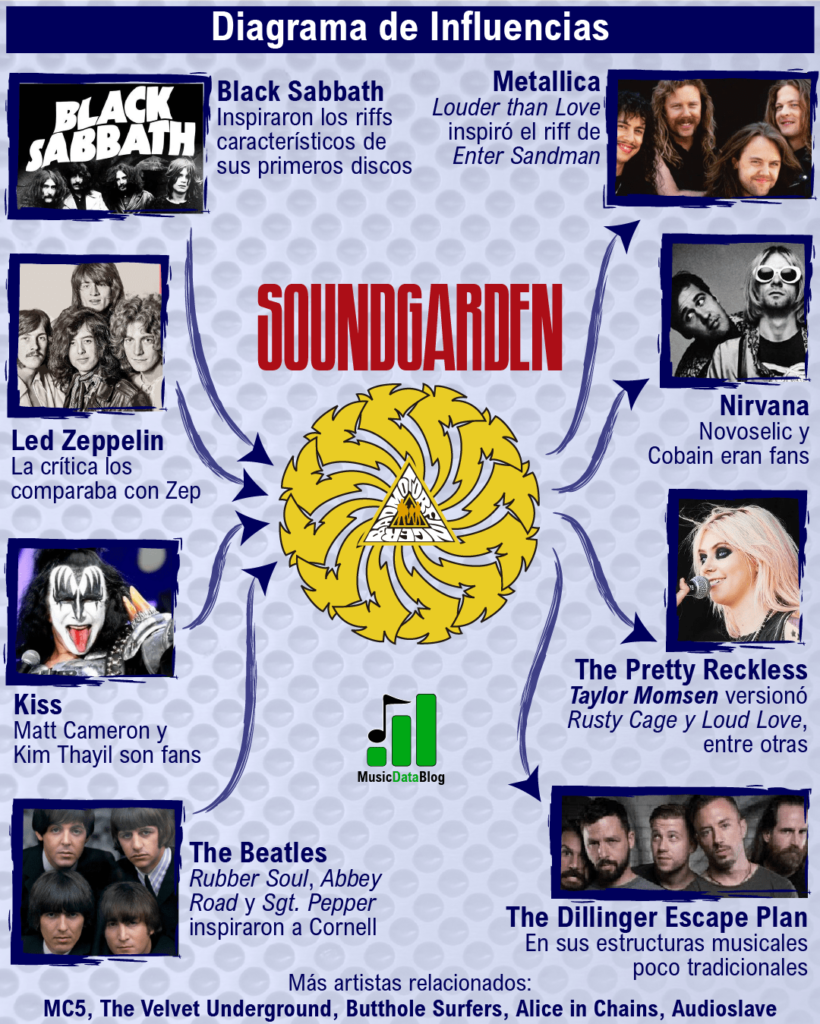 To expand information about the band, you can also check out Soundgarden's history timeline.
Soundgarden and their musical influences
Fronted by world-famous lead singer Chris Cornell, Soundgarden was a very successful band in the mid-nineties. Some of the bands and artists that influenced the band are Kiss, Led Zeppelin, Black Sabbath, MC5, and even The Beatles.
Led Zeppelin
Especially when breaking into the mainstream with their 1991 album Badmotorfinger, critics compared Soundgarden to the classic heavyweight champions, Led Zeppelin. About this matter, guitarist Kim Thayil has admitted that they used to revisit records of this English band, especially when it came to addressing creative processes. Tahyil mentions two of their records specifically: Led Zeppelin IV (1971) and Houses of the Holy (1973).
Black Sabbath
Especially at the beginning of their career, Soundgarden's musical approach was full of guitar riffs directly inspired by Black Sabbath. Their non-standard tunings, as well as their gloomy and heavy-sounding style, are really reminiscent of the first eight albums from this band, with singer Ozzy Osbourne.
Kiss
Kiss is another band that Kim Thayil mentions "made him discover heavy metal." Also, Soundgarden's drummer, Matt Cameron, explained that Kiss were responsible for showing him the loudest possibilities in rock. It was with this band that he discovered that not everything was about The Beatles.
The Beatles
Chris Cornell said that the Beatles were a huge inspiration for him, especially during his teenage years. The lead singer also mentioned being a big fan of albums like Abbey Road, Rubber Soul and Sgt. Pepper. Also, he said that the White Album track "Everybody's got something to hyde (except me and my monkey)", could have perfectly been a Soundgarden composition In fact, Soundgarden covered the track, and they really make it sound like their own. Another thing about The Beatles that really inspired Chris Cornell was the plurality of their songwriting mechanisms.
Other bands that influenced Soundgarden are Butthole Surfers, MC5, The Velvet Underground, and The Stooges.
Which bands were influenced by Soundgarden?
Soundgarden was also an inspiration for several of their contemporaries, like Metallica and Nirvana. Also, several bands from the current rock scene, such as The Pretty Reckless, The Dillinger Escape Plan, have also been inspired by the band.
Nirvana
Back in the late eighties, Soundgarden was one of the bands that promoted Grunge music in the first place. Kurt Cobain really looked up to them. He was a big fan of their music, as he wore Soundgarden t-shirts frequently and even can be heard on the documentary Montage of Heck singing their song Outshined. In Cobain's biography Heavier than Heaven (2001), Charles R. Cross also points to Soundgarden as one of the main motivations for Nirvana's signing to a multinational record label. To expand more on this topic, visit Nirvana's musical influences post.
Metallica
Guitarist Kirk Hammet has told how the main riff of Metallica's classic song Enter Sandman was inspired by Soundgarden's album Louder than Love. Metallica's self-titled "Black Album" and Soundgarden's Badmotorfinger, were both released in 1991 and became critically acclaimed works. These releases helped the heavy metal genre break into the "alternative" mainstream.
The Pretty Reckless
Taylor Momsen was very saddened by the passing of Chris Cornell. The lead singer from The Pretty Reckless has covered Soundgarden songs, like Loud Love and Halfway there, on several occasions. Apart from this, she has even appeared live with Soundgarden to sing Rusty Cage. Needless to say, the frontwoman made a splendid rendition of this Soundgarden's classic.
The Dillinger Escape Plan
This mathcore and progressive metal band owe their use of tempo changes and unorthodox song structures to Soundgarden. In fact, Dillinger's guitarist Ben Weinman had the opportunity to interview Kim Thayil and talk about Soundgarden's influence on music, especially since their mainstream breakthrough in the mid-nineties.
Garbage
Even though they are not included in this graphic, we can also mention Garbage's singer Shirley Manson. In an interview, she explained that the song Fix me Now was inspired by Chris Cornell. This track belongs to the band's self-titled debut album, Garbage from 1995. According to Shirley, during that time she was obsessed with the leader of Soundgarden and their video for Black Hole Sun.
Other Grunge-related content: