This chart shows some of the Red Hot Chili Peppers's biggest influences. With an outstanding career, this band achieved stardom both during the 90s and 2000s and later became one of the most relevant bands from their era.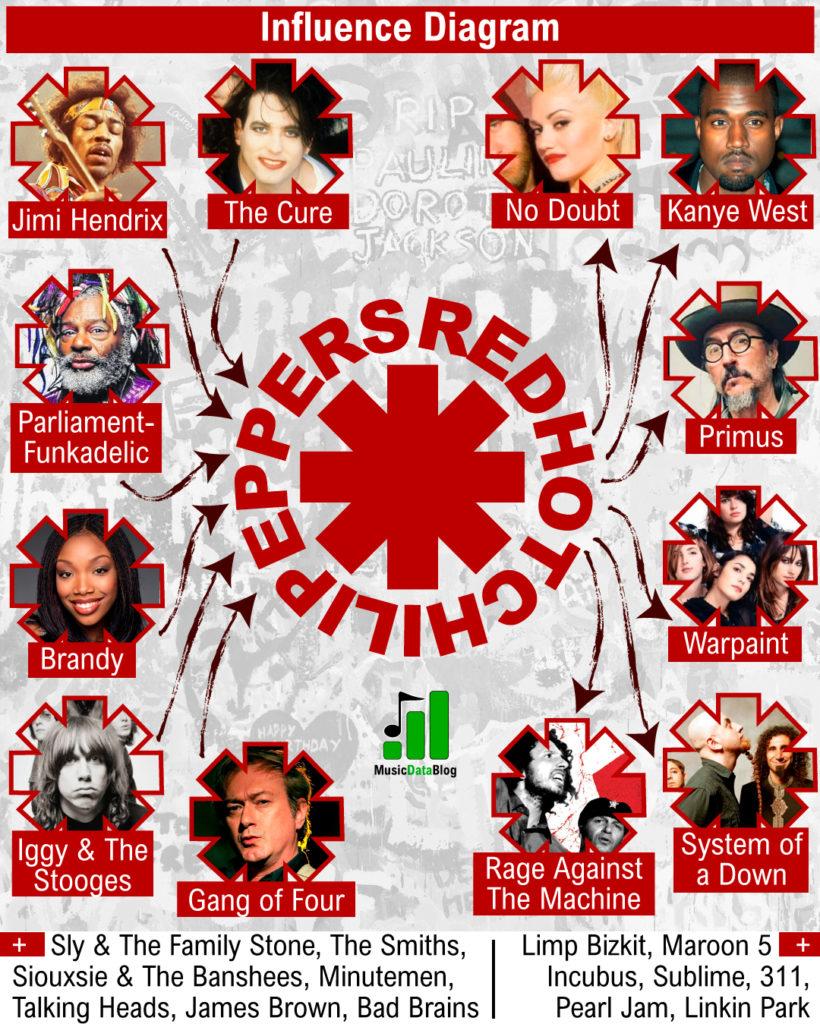 Which are the influences of the Red Hot Chili Peppers?
Red Hot Chili Peppers is a band that started playing rock music with a funk style. As an underground group, they had strong hardcore and punk influences and after achieving success, they refined their sound. Bands such as Bad Brains, The Minutemen, Black Flag; as well as Funkadelic, Parliament, Sly & The Family Stone and James Brown, are among their musical references. With many changes in their lineup -especially guitarists- their sound went through several phases.
Here we will try to summarize some of the musical influences of the Red Hot Chili Peppers:
Parliament – Funkadelic
George Clinton produced RHCP's second LP, Freaky Styley, released in 1985. Two classic albums from Clinton's project P-Funk are among Flea's favorites: Parliament's The Clones Of Doctor Funkinstein (1976) and Funkadelic's Maggot Brain (1971). Also, it's worth mentioning that as a bass player, Flea has a strong influence from Bootsy Collins, who was part of Funkadelic and Sly & The Family Stone, apart from also having recorded with James Brown.
Iggy and The Stooges
Iggy Pop's style and stage presence are a strong influence on Red Hot Chili Pepper's singer Anthony Kiedis. Especially at the beginning of RHCP career, Iggy Pop was the template for RHCP frontman's attitude and also for the rest of the band: their powerful performances, as well as their aggressive sound and stage presence, were inspired directly by Iggy Pop.
Jimi Hendrix
One of John Frusciante's key inspirations, as well as for every guitarist that ever played with the Red Hot Chili Peppers. Also to note, Flea has a tattoo of Hendrix on his arm. RHCP have covered the Jimi Hendrix Experience's classic track Fire. Hendrix is one of the Red Hot Chili Peppers's heroes and one of their most important influences when it comes to guitar riffs and rock style.
Brandy
Yes, the R&B singer. Brandy Norwood inspired John Frusciante's songwriting for Stadium Arcadium. It may sound strange, but the truth is that the RHCP's guitarist has influences from a wide variety of styles. When asked about Brandy, Frusciante recommended her album Afrodiciac, from 2004, because of the sound engineering and style, as well as for the singer's vocal melodies. "Much of the blues from my playing style comes from singers such as Brandy and Beyonce, rather than blues guitarists", he explained.
Gang of Four
Andy Gill's dance music approach to punk rock was another of the key elements of the Red Hot Chili Peppers' signature sound. Flea spoke on several occasions about how important this band is for him. Also, he and John Frusciante covered Gang of Four's song Not Great Men, which has also been played live many times by RHCP as a full band.
The Cure
John Frusciante commented that they were a big influence when recording 1999's Californication. The title track was inspired by Carnage Visor, a track from 1981's Faith, by The Cure. Talking about the subject, Frusciante explained that The Cure's Seventeen Seconds and Faith were a huge influence on him and also on Flea, especially for working on sound textures and melodies.
The Smiths
are another relevant influence for the Red Hot Chili Peppers, especially after the 2000's. Johnny Marr's signature guitar sound was an influence on By The Way (2002), according to John Frusciante. But also, before that, traces of that "yingli" guitar playing, so characteristic of Marr's sound, can be heard on Red Hot Chili Peppers' cuts such as Around the World, from Californication.
Bad Brains
One of RHCP's hardcore influences. Bad Brains are followed by every member of the Red Hot Chili Peppers. John Frusciante has covered some of their songs in several occasions, while Anthony Kiedis and Flea have occasionally spoken about their love for the band. Chad Smith mentioned that he was introduced to Bad Brains by the rest of the Red Hot Chili Peppers. Any recommendations for us, the fans? Bad Brains' third album, I Against I.
Other influences that shaped the Red Hot Chili Peppers' music style and that are worth mentioning here are: Yes, Rush, Siouxsie and The Banshees and John Coltrane.
Which artists were influenced by Red Hot Chili Peppers?
Many bands influenced by the Red Hot Chili Peppers can be considered alternative rock and nu-metal. To expand, here we will also mention artists from other genres and styles of music:
Kanye West
According to the rapper himself, Red Hot Chili Peppers are his favorite band. Kanye West said that when he thinks about melody, he thinks about Red Hot Chili Peppers. From his point of view, his music has to be as "rock" sounding as the music from the Californian band.
Rage Against the Machine
RHCP preceded them in the underground and metal music style scene. Their bass player, Tim Commerford, commented that all Rage Against The Machine members are fans of Red Hot Chili Peppers, but they also wanted to take a different approach to create their own music. In addition to this, Tim's playing style is referenced to Flea's own style and they even used the same bass: a MusicMan Stingray.
Primus
Bass player Les Claypool compared the Red Hot Chili Peppers with Led Zeppelin. The Primus mastermind especially highlights the Hillel Slovak era of the Red Hot Chili Peppers, which was characterized by a hardcore, punk and rock sound. Claypool recommends RHCP's third album, Uplift Mofo Party Plan.
No Doubt
Also from California, No Doubt started as a ska-punk outfit that later evolved into an alternative rock band. Their 1991 demo was produced by RHCP's Flea. From that moment on, both bands remained friends. Apart from this, their relationship was also about visual style: from their debut album's cover art, reminiscent of Chili Pepper's first releases, as well as their ska/punk underground music vibe.
System of a Down
SOAD's bass player, Shavo Odadjian, mentions Flea as a major influence on his musical beginnings. Prior to becoming world famous with their 2002 album Toxicity, System of a Down followed the way already paved by Red Hot Chili Peppers; who also influenced other related acts such as Rage Against the Machine and Tool. Based on this context, SOAD's Drummer, John Dolmayan, posted his wishes for the return of his own band.
Warpaint
Apart from the close relationship between John Frusciante and Emily Kobal, or the fact that Josh Klinghoffer played with Warpaint, their musical links are more extensive. This is more notable on Warpaint's first EP, Exquisite Corpse, in tracks such as Elephants, Stars and Krimson. A bit later, we can also tell about this influence on their first full LP, The Fool (on tracks such as Composure), which have several passages that remind us of the track Californication, a Red Hot Chili Peppers classic.
Other artists influenced by the Red Hot Chili Peppers are Limp Bizkit, Logic, Maroon 5, St. Vincent, Incubus, 311 and Sublime. Also, it is worth mentioning that -via John Frusciante-, they are related to The Mars Volta.
More content about the Red Hot Chili Peppers