In this timeline infographic shows the trajectory of Red Hot Chili Peppers from their underground beginnings in the early eighties until their most recent output in 2023. Let's check how RHCP became one of the most popular acts in alternative rock history.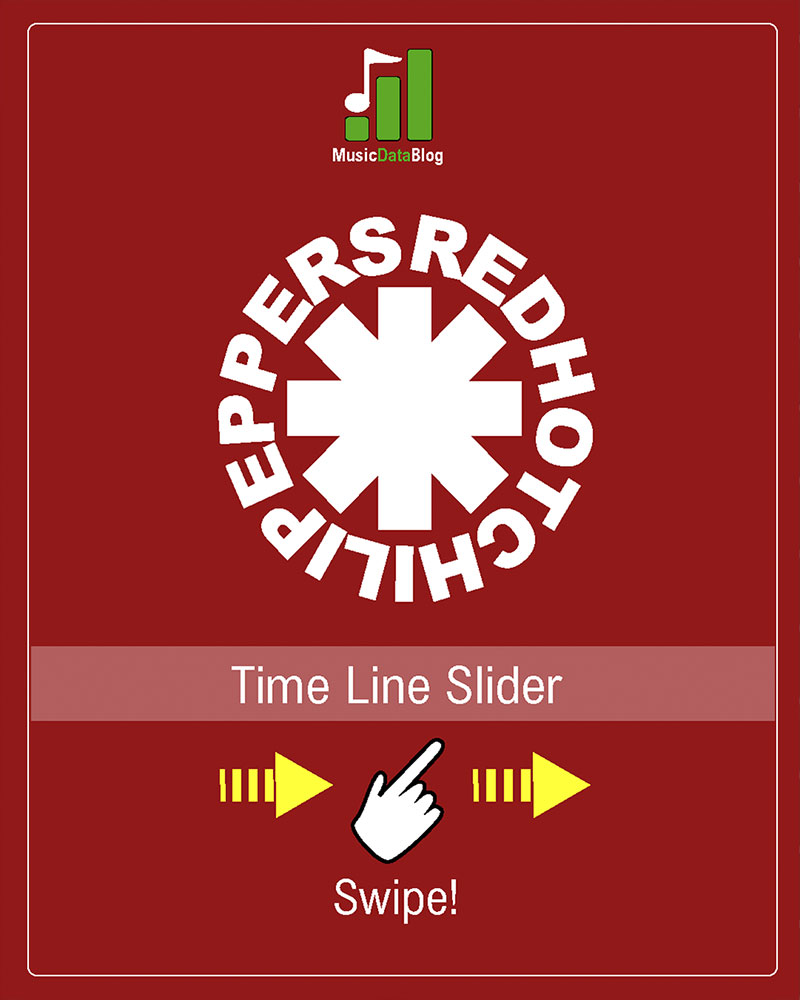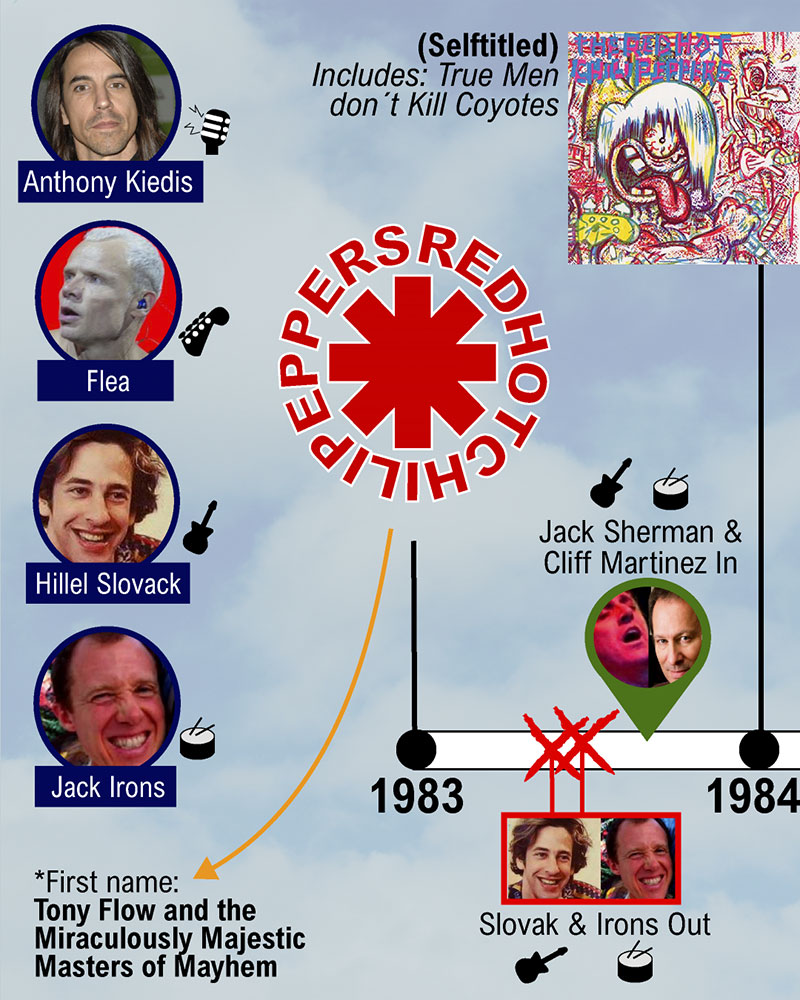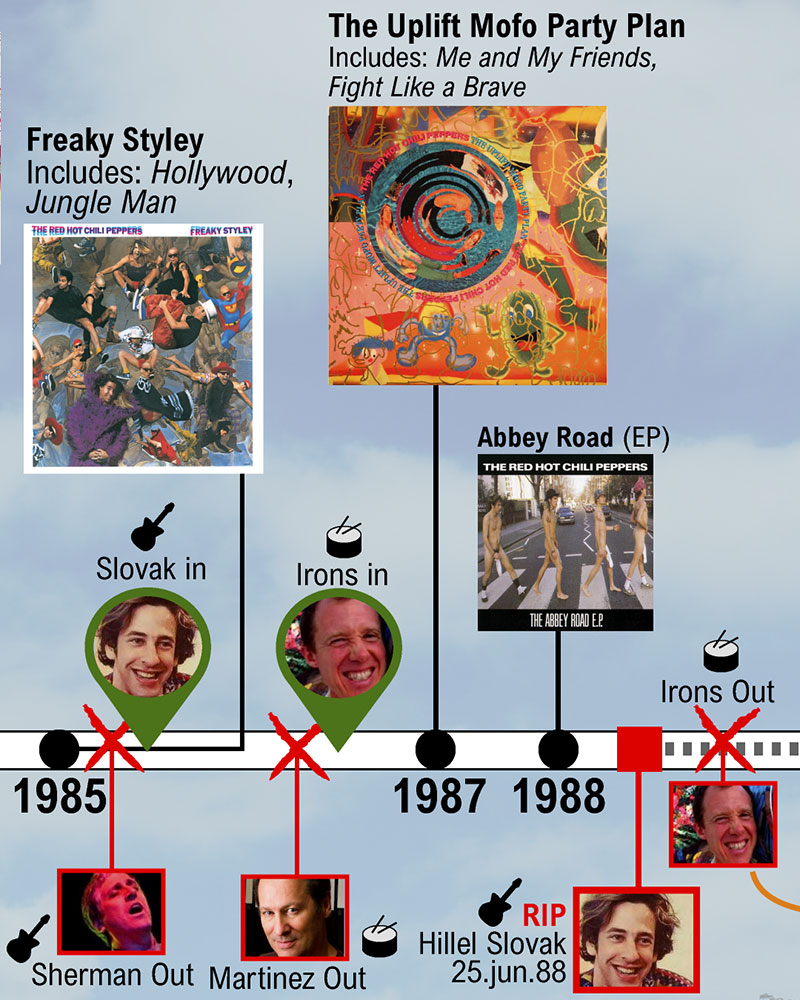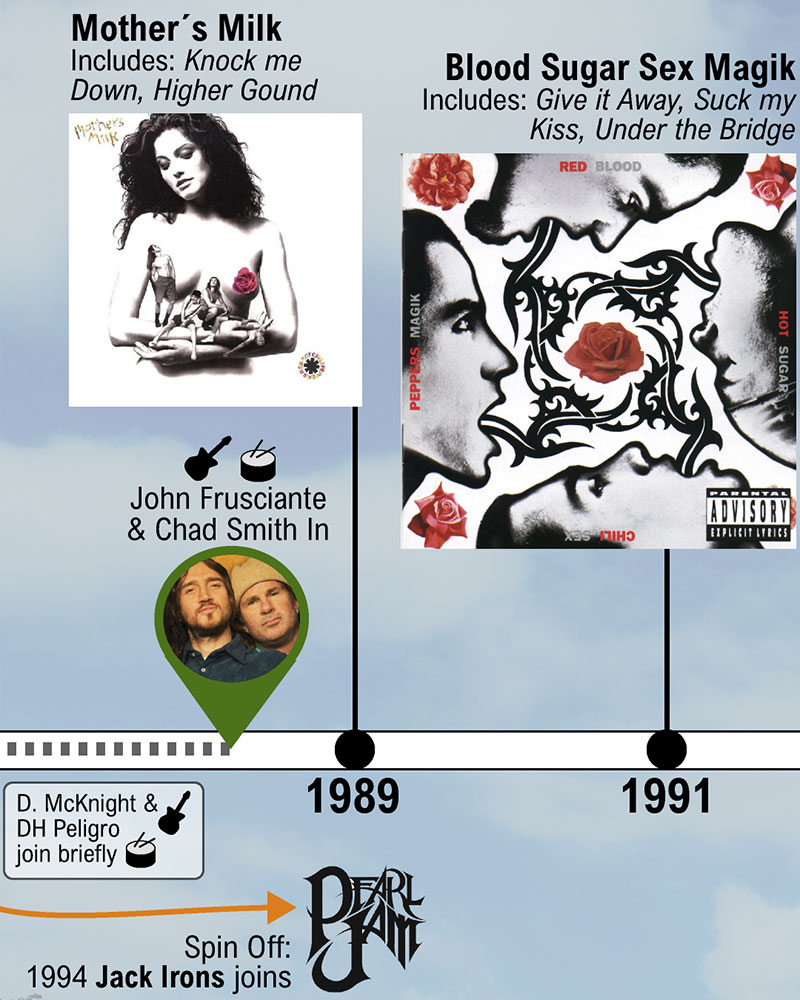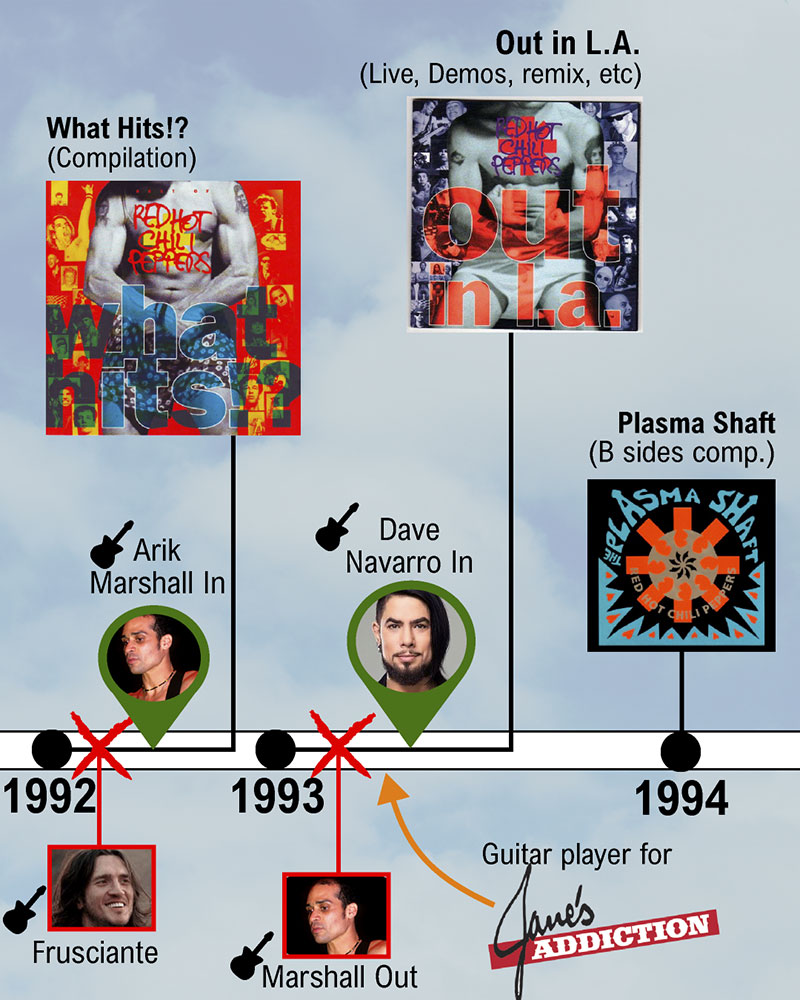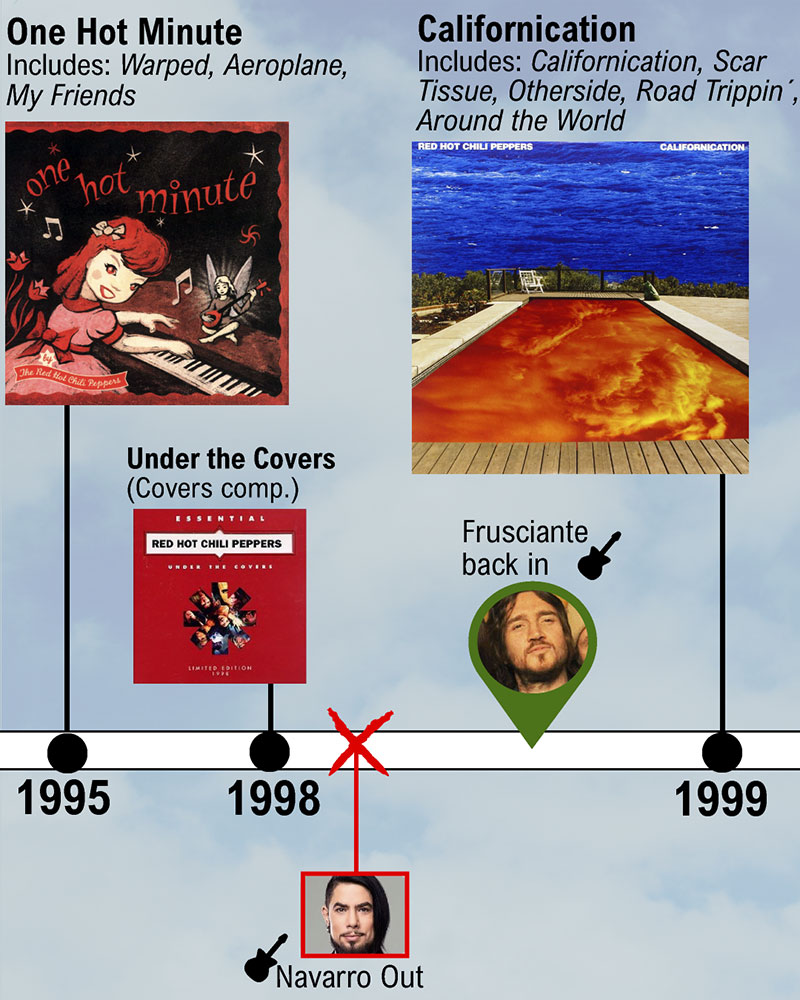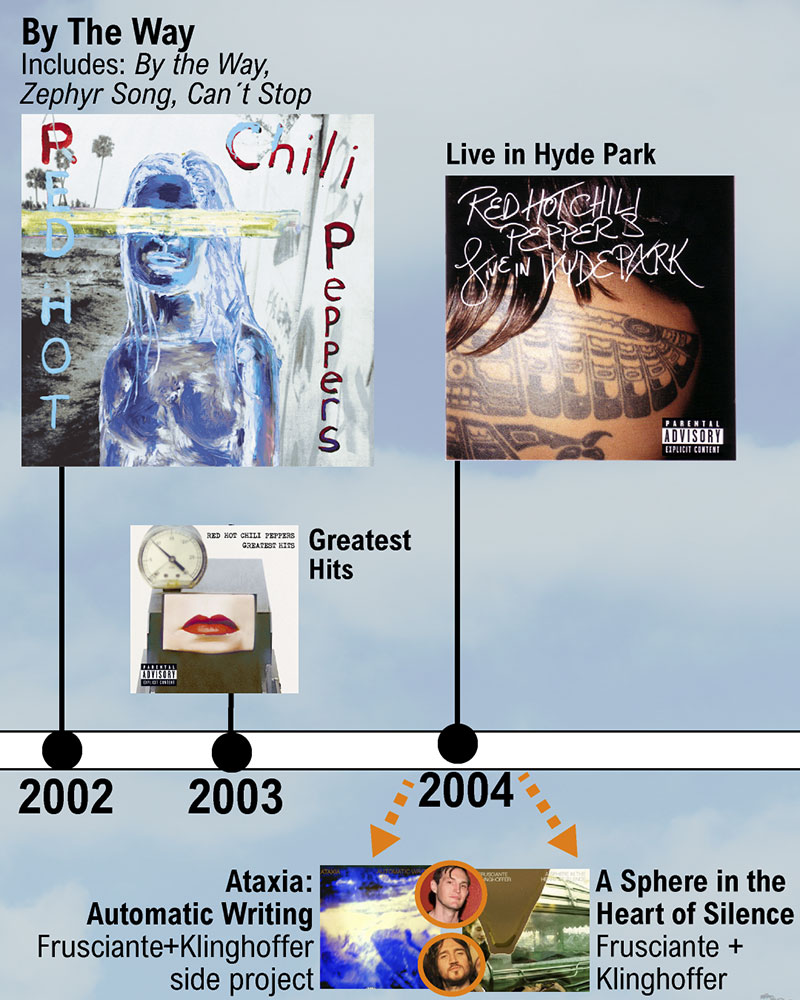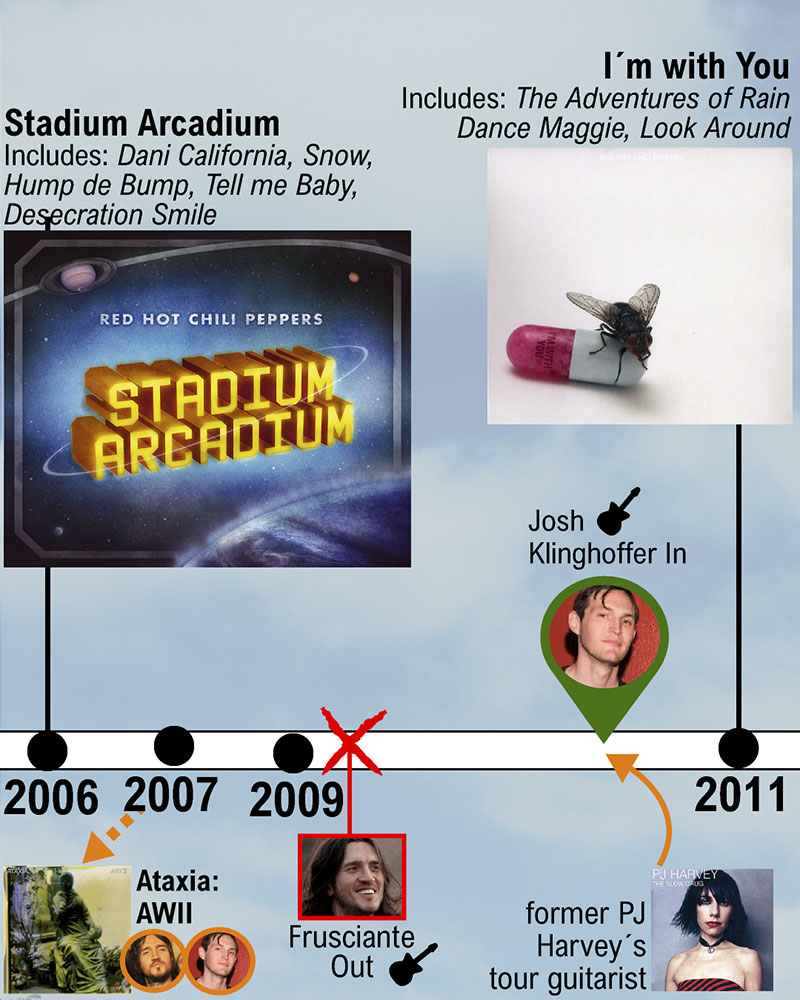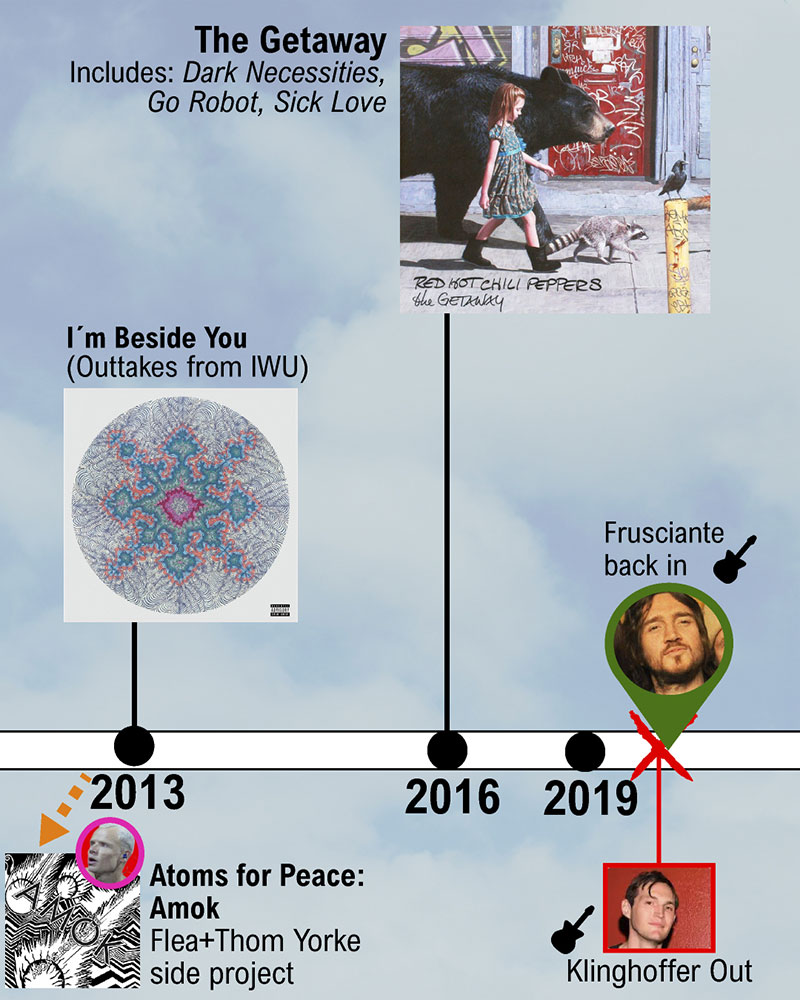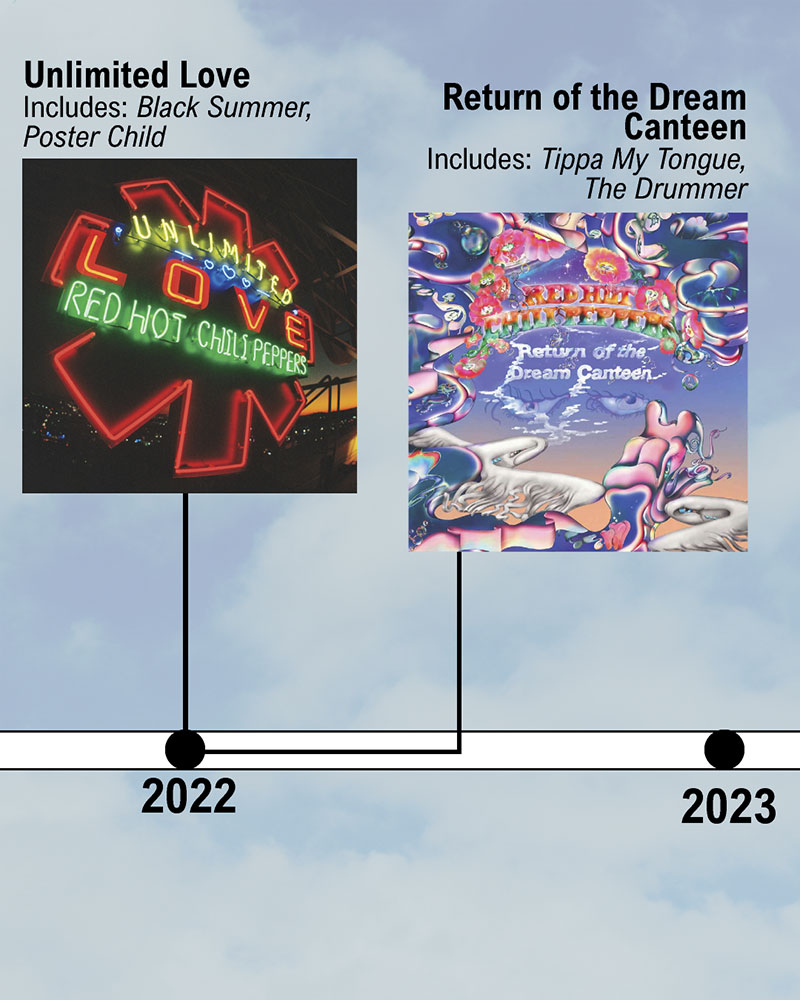 In the mid-eighties, the newly formed Red Hot Chili Peppers were a band without a clear direction: their styling and aesthetics were somewhat sloppy and they were facing difficulties in stabilizing their member's line-up. Added to this, they were not receiving much attention from the music press and critics. But everything changed in the early nineties.
It was with two of their nineties albums, Blood Sugar Sex Magik (1991) and Californication (1999), that they became mainstream acts. Nowadays, as world-famous alternative music icons, RHCP have released their most recent albums, Unlimited Love and Return of the Dream Canteen, both in 2022.
Red Hot Chili Peppers' history: their guitar players
As a way of telling the history of the Red Hot Chili Peppers, first, we will list the band's albums according to the guitarist who participated in each LP. John Frusciante recorded seven studio albums with the Chili Peppers. Josh Klinghoffer two, Hillel Slovak two. Jack Sherman one and Dave Navarro one. The chronological list is right below:
Red Hot Chili Peppers (1984: Jack Sherman)
Freaky Styley (1985: Hillel Slovak)
Uplift Mofo Party Plan (1987: Hillel Slovak)
Mother´s Milk (1989: John Frusciante)
Blood Sugar Sex Magik (1991: John Frusciante)
One Hot Minute (1995: Dave Navarro)
Californication (1999: John Frusciante)
By the Way (2002: John Frusciante)
Stadium Arcadium (2006: John Frusciante)
I´m with You (2011: Josh Klinghoffer)
The Getaway (2016: Josh Klinghoffer)
Unlimited Love (2022: John Frusciante)
Return to the Dream Canteen (2022: John Frusciante)
Red Hot Chili Peppers history: their drummers
In relation to the band's drummers, the task is way more simple. Red Hot Chili Peppers has had only three drummers and Chad Smith has kept the role steadily since 1989.
Cliff Martínez. two albums, in 1984 and 1985 respectively: Red Hot Chili Peppers and Freaky Styley.
Jack irons. Only one record: Uplift Mofo Party Plan from 1987.
Chad Smith since 1989, ten albums: Mother´s Milk, Blood Sugar Sex Magik, One Hot Minute, Californication, By the Way, Stadium Arcadium, I´m with You, The Getaway, Unlimited Love, and Return of the Dream Canteen.

A summarized version of the Red Hot Chili Peppers' history
RHCP career beginnings
In the beginning, it was difficult for the Red Hot Chili Peppers to stabilize their line up. The band, formed in 1983 by Anthony Kiedis (vocals), Flea (Bass), Hillel Slovak (guitar), and Jack Irons (drums) underwent two line-up changes before releasing their self-titled debut album. Slovak was replaced by Jack Sherman and Irons by Cliff Martínez. For the second album, Freaky Styley (1985), Sherman was fired and Slovak rejoined the band. The third LP, Uplift Mofo Party Plan (1987, produced by George Clinton), is the only album in which all the founding members of the Chili Peppers would record together.
Slovak's death and Frusciante joins
In 1988 Hillel Slovak died because of a drug overdose and Kiedis went to rehab. Jack Irons, who was really affected by these events, left the band. By 1989 the Red Hot Chili Peppers incorporated new members Chad Smith on drums and John Frusciante on guitar. With producer Michael Beinhorn they change their sound and release the first album with which they attract significant attention: Mothers Milk.
RHCP mainstream success and crisis
1991: The success of their fifth album, Blood Sugar Sex Magik, gave the band their much-wanted rise to stardom and made them a key band of the decade. Songs, like Give it Away, Under Bridge and Breaking the Girl, became classics in the band's catalog.
In 1992 Frusciante left the band, and after a brief period with Arik Marshall on guitar, the Chili Peppers incorporated Dave Navarro as a permanent member in 1995. That year the band released their heaviest album, One Hot Minute, which disappointed fans and critics but still included great songs like My Friends, Aeroplane and Warped.
By 1998, the creative differences between Dave Navarro with the rest of the band were unsustainable, so the former Jane's Addiction guitarist left the band and allowed the return of John Frusciante.
1999: RHCP consolidation
In 1999, Red Hot Chili Peppers released their best-selling and most popular album to date: Californication, with the homonymous hit, Scar Tissue and Otherside as some of their most notable songs. The album was followed by the also successful release, By the Way, in 2002.
The double album, Stadium Arcadium, came out in 2006 and was also well-received by fans and critics. This album marked the end of Frusciante's second era with the band. By 2010 Red Hot Chili Peppers had enlisted his replacement, Josh Klinghoffer, as permanent guitarist. The band then released two subsequent albums with Kling Klinghoffer: I'm with you in 2011 and The Getaway in 2016, which were not as successful as the band's previous efforts.
At the end of 2019, Anthony Kiedis, Flea, and Chad Smith asked John Frusciante to rejoin the band, which led to the departure of Klinghoffer from Red Hot Chili Peppers.
On April 1, 2022, finally, Unlimited Love was released, by the most successful RHCP line up. Return to the Dream Canteen was released on October 14, 2022, the same year as its predecessor.
More related content