Here we can find the history of the Smashing Pumpkins summarized in a timeline, as a slide show. Swipe below to check out all the chronological details about Billy Corgan's band.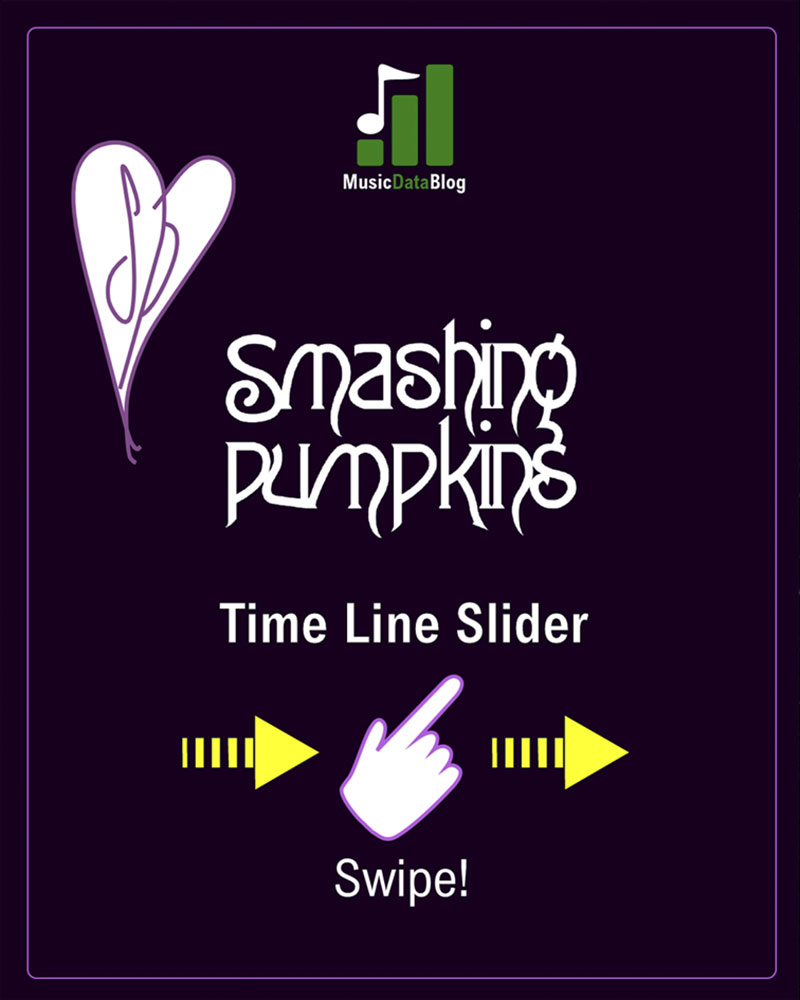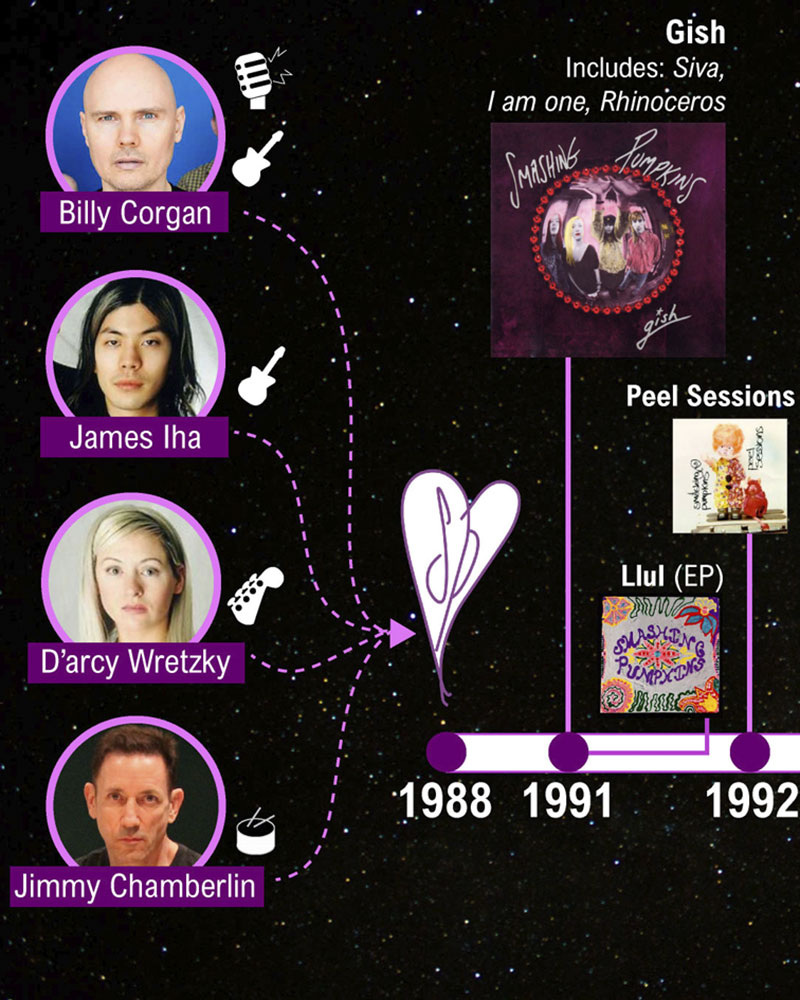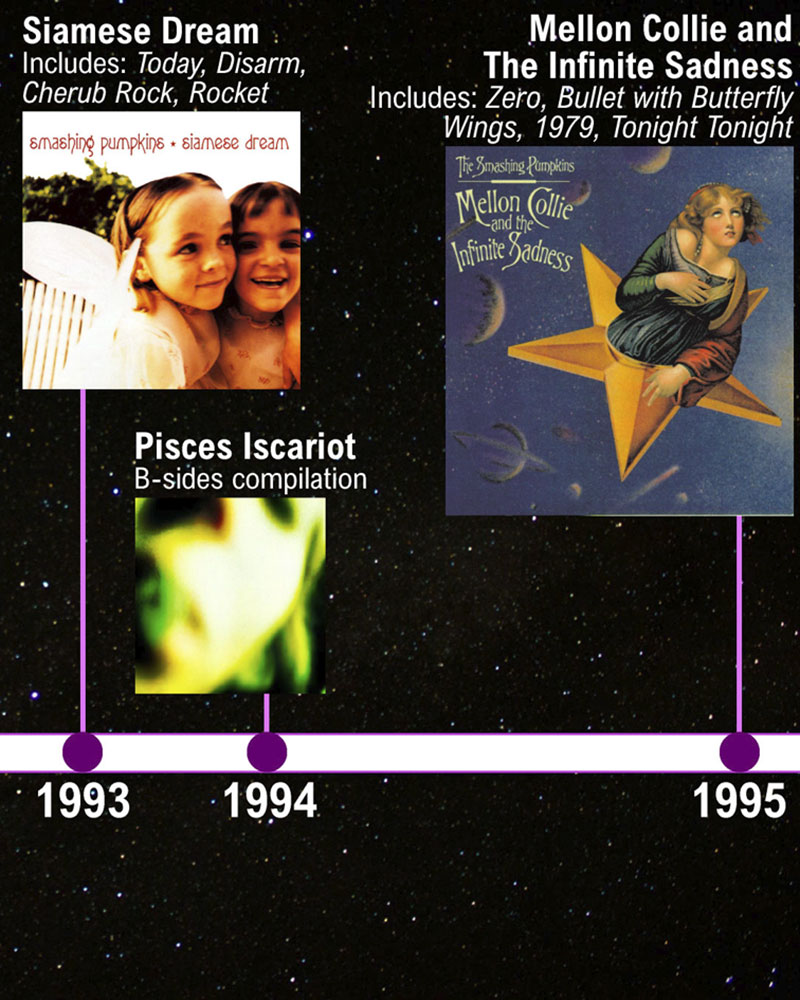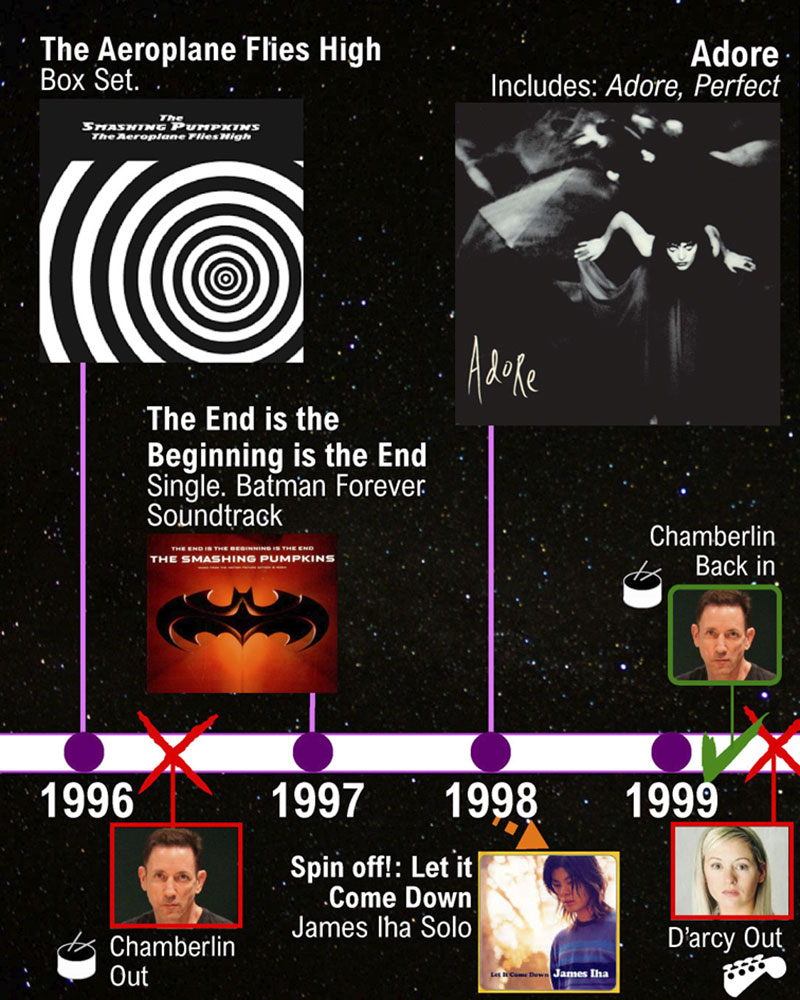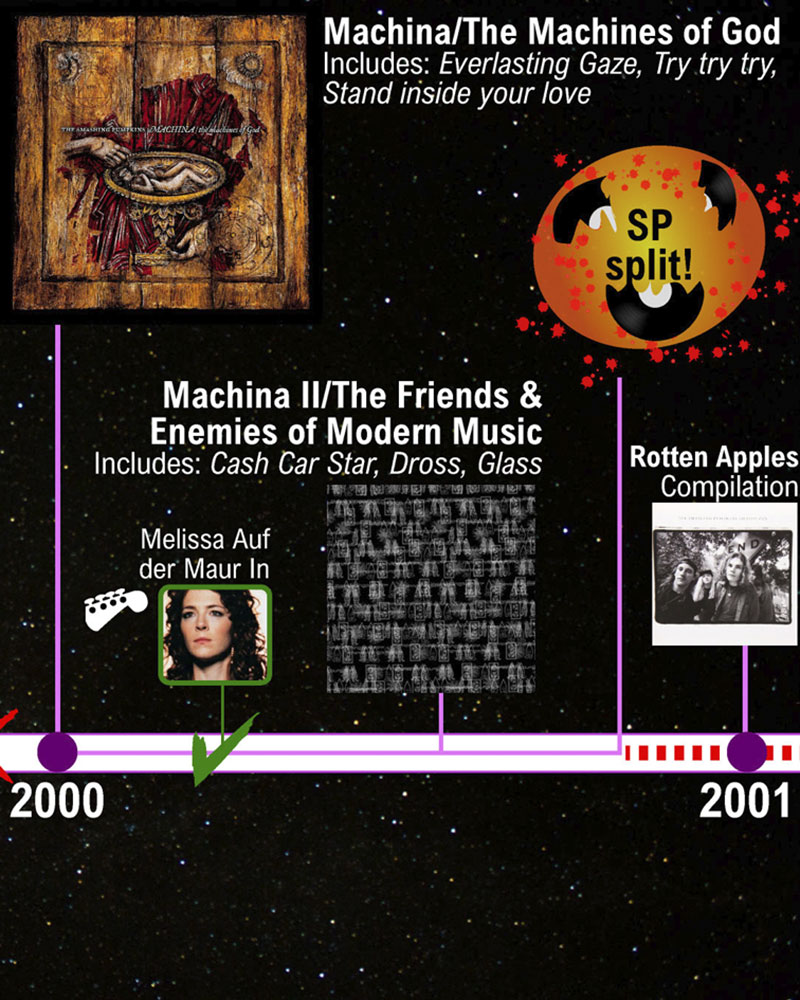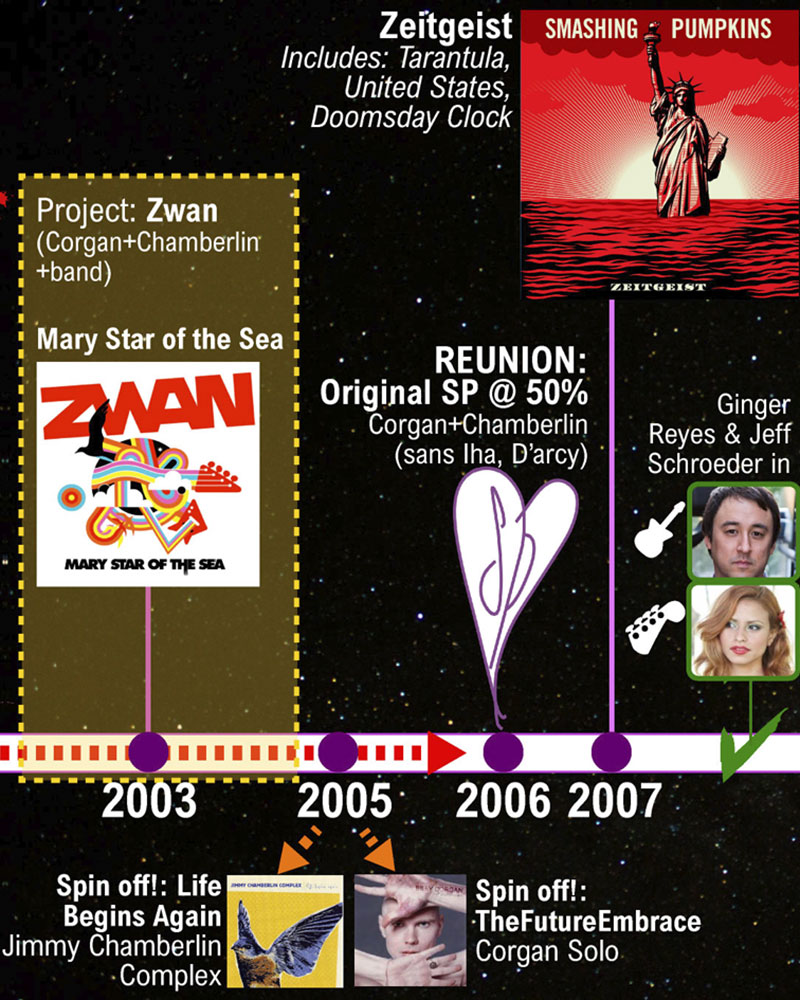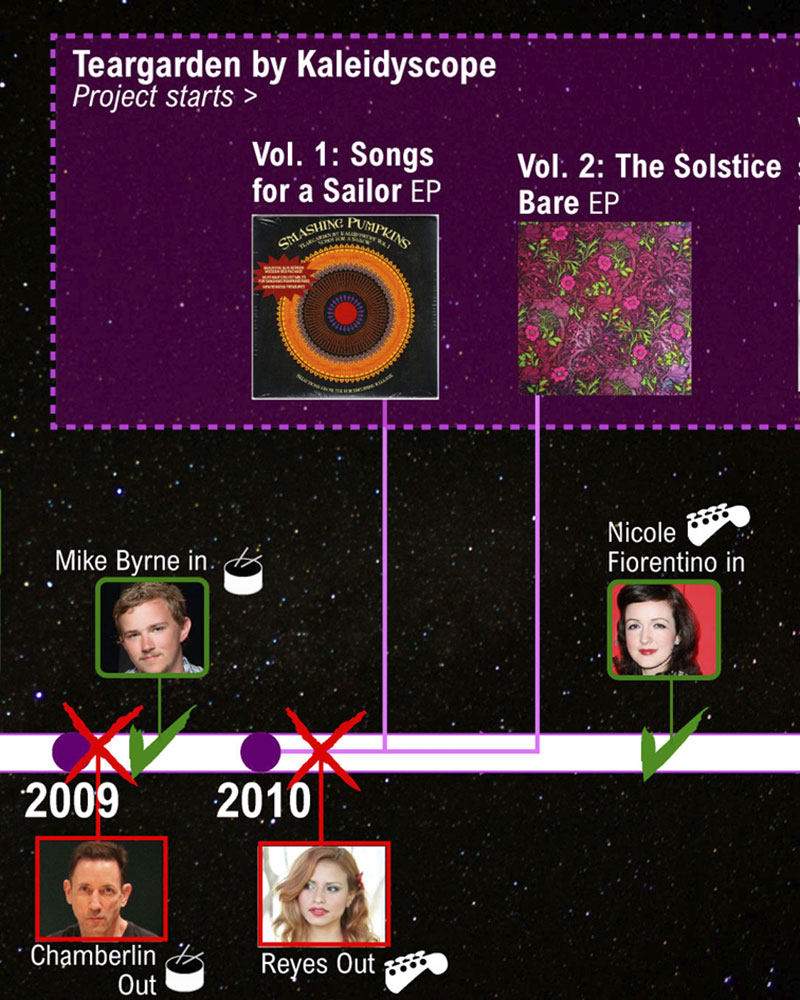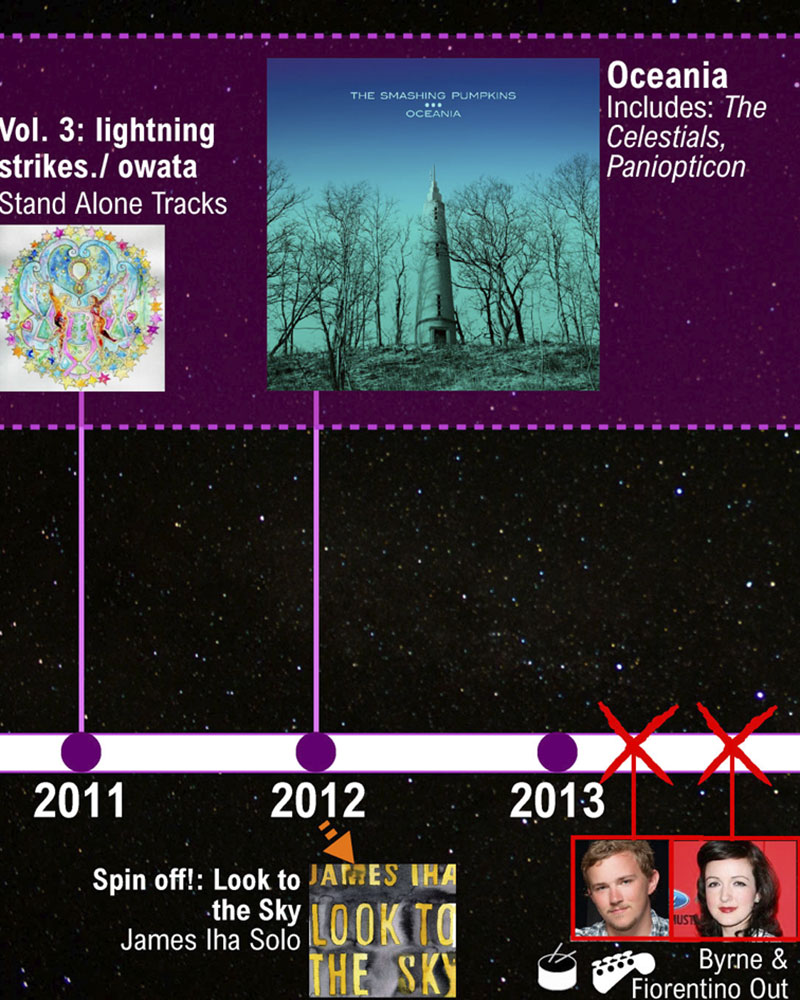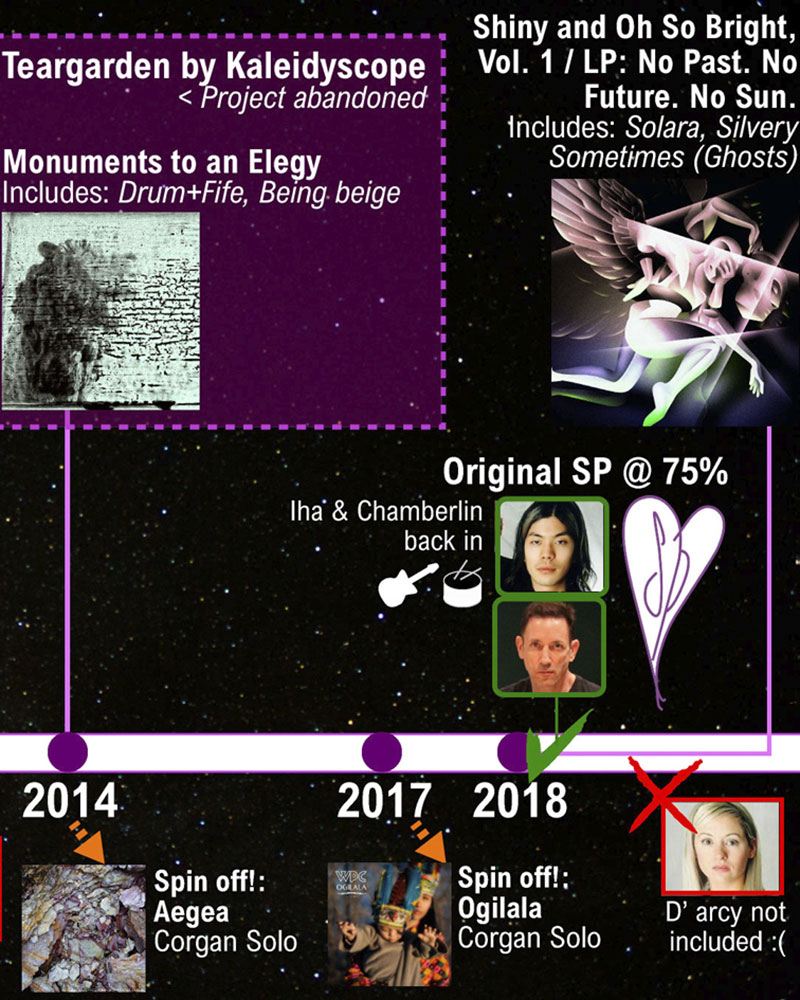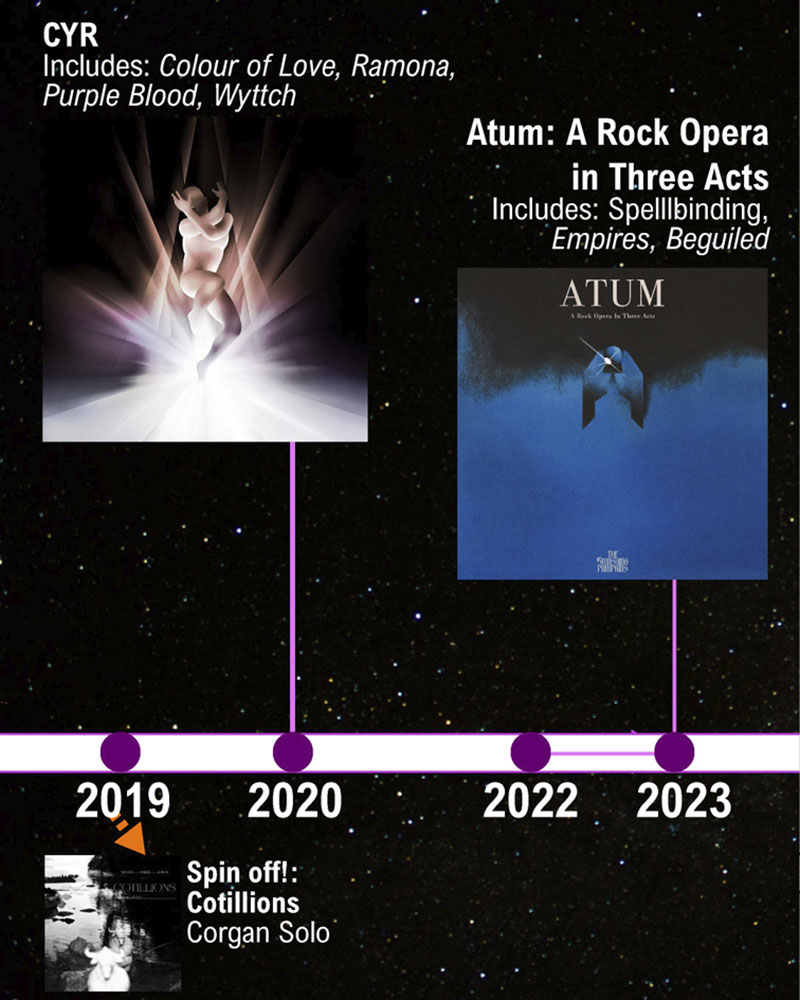 Smashing Pumpkins is an alternative rock band originally from Chicago, United States. Their history spans through over more than 30 years and 11 studio albums. From their beginning in the late eighties until 2021, the band has gone through several line-up changes, with frontman, Billy Corgan as the only permanent member.
Smashing Pumpkins' most recent output is the concept album ATUM: A Rock Opera in Three Acts, released in 2023.
In this post, we will also review other side projects, such as the band Zwan, Billy Corgan's solo output and the Jimmy Chamberlin Complex project.
Smashing Pumpkins Chronology
The Smashing Pumpkins' history can be split into two: their first era, when they enjoined their most significant success, which started in 1988 and ended in the year 2000.
A few years later, in 2006, frontman Billy Corgan revived The Smashing Pumpkins. The band has remained active until today, with different musicians being part of a not-so-stable lineup.
First Era of the Smashing Pumpkins: from 1988 to 2000
1988: The Smashing Pumpkins is formed
1991: Gish, Debut LP
1993: Siamese Dream. Multiplatinum album
1995. Mellon Collie and The Infinite Sadness. Double album, multiplatinum
1996: drummer Jimmy Chamberlin is kicked out of the band
1998: Adore is released
1999: Jimmy Chamberlin returns to The Smashing Pumpkins
2000: Smashing Pumpkins release their album Machina / The Machines of God and Machina II / Friends and enemies of modern music. They announce their breakup. Bassist D'arcy had already left the Smashing Pumpkins and was replaced by Melissa Auf der Maur for the tour.
The second era of The Smashing Pumpkins: 2006 – present
2006: Billy Corgan decided to reactivate the Smashing Pumpkins. The only original member who joins him is drummer Jimmy Chamberlin.
2007: They edit Zeitgeist. They recruited bassist Ginger Reyes and guitarist Jeff Schroeder for their new line-up.
2009: This year Jimmy Chamberlin left the Smashing Pumpkins. His replacement was Mike Byrne. The Teargarden by Kaleidyscope project began this year, and is not initially based on LPS but rather on digital singles.
2010: Ginger Reyes left the band, without having recorded in any studio tracks.
At this point, Billy Corgan decided to stop resealing full-length albums to digitally edit songs. As part of The Teargarden by Kaleidyscope project, Smashing Pumpkins released the "EPs" Songs for a Sailor and The Solstice Bare, in addition to the tracks Lightning strikes and Owata. After these recordings, bassist Nicole Fiorentino joined the Smashing Pumpkins.
At this point, the Smashing Pumpkins established a "relatively stable" lineup, consisting of Billy Corgan, Jeff Schroedder, Nicole Fiorentino and Mike Byrne. This lineup lasted three years.
2012: They release Oceania, their first LP in five years.
2013: Mike Byrne and Nicole Fiorentino left the band. Billy Corgan and Jeff Schroeder are the only remaining members of The Smashing Pumpkins.
2014: With the assistance of drummer Tommy Lee (Motley Crue), they released Monuments to an Elegy.
2017: The Teargarden by Kaleidyscope project is officially abandoned.
2018: The Smashing Pumpkins once again recruit Jimmy Chamberlin and James Iha. Bassist D´arcy Wretsky is not reinstated as bass player. This meant that almost all of the original Smashing Pumpkins members were part of the band again.
This year they also released their album Shiny and Oh So Bright Vol.1/ No Past, No Present, No sun
2020: CYR was released
2023: Smashing Pumpkins release the concept album ATUM: A Rock Opera in Three Acts.
Spin-Off projects: Zwan, Billy Corgan solo, James Iha solo, and Jimmy Chamberlin Complex
During the period when the Smashing Pumpkins were not active (2001 to 2005), Billy Corgan formed the band Zwan with bassist Paz Lenchantin (A Perfect Circle, now a member of The Pixies), guitarists Matt Sweeney and David Pajo, and Smashing Pumpkins drummer Jimmy Chamberlin. They released just an album, Mary Star from The Sea, in 2003.
Billy Corgan released four albums as a solo artist: TheFutureEmbrace (2005), Aegea (2014), Ogilala (2017), and Cotillions (2019).
James Iha as a solo artist released two albums: Let it Come Down (1998) and Look to the Sky in 2012.
Jimmy Chamberlin started his progressive music project The Jimmy Chamberlin Complex, which released the album Life Begins Again in 2005.