Pearl Jam are a grunge band that emerged in 1990 in Seatle, United States. The group formed after a previous project, named Mother Love Bone, ended abruptly with the death of their lead singer Andrew Wood. After this, singer Eddie Vedder met the other band members in 1991 and Pearl Jam properly started their career.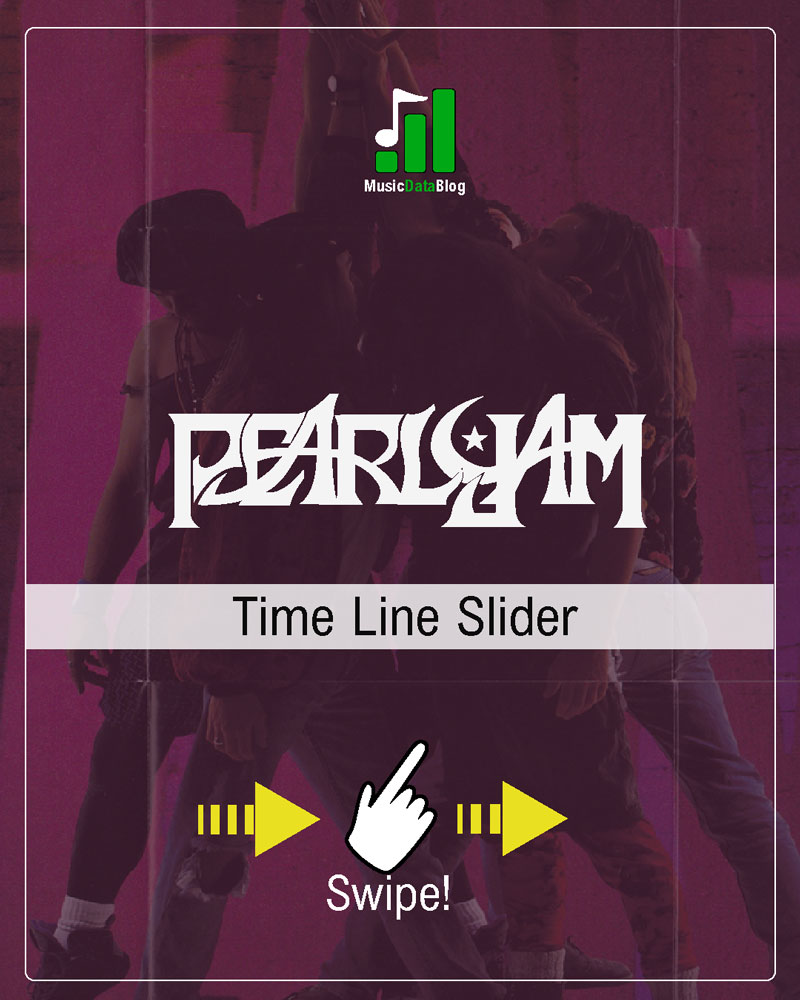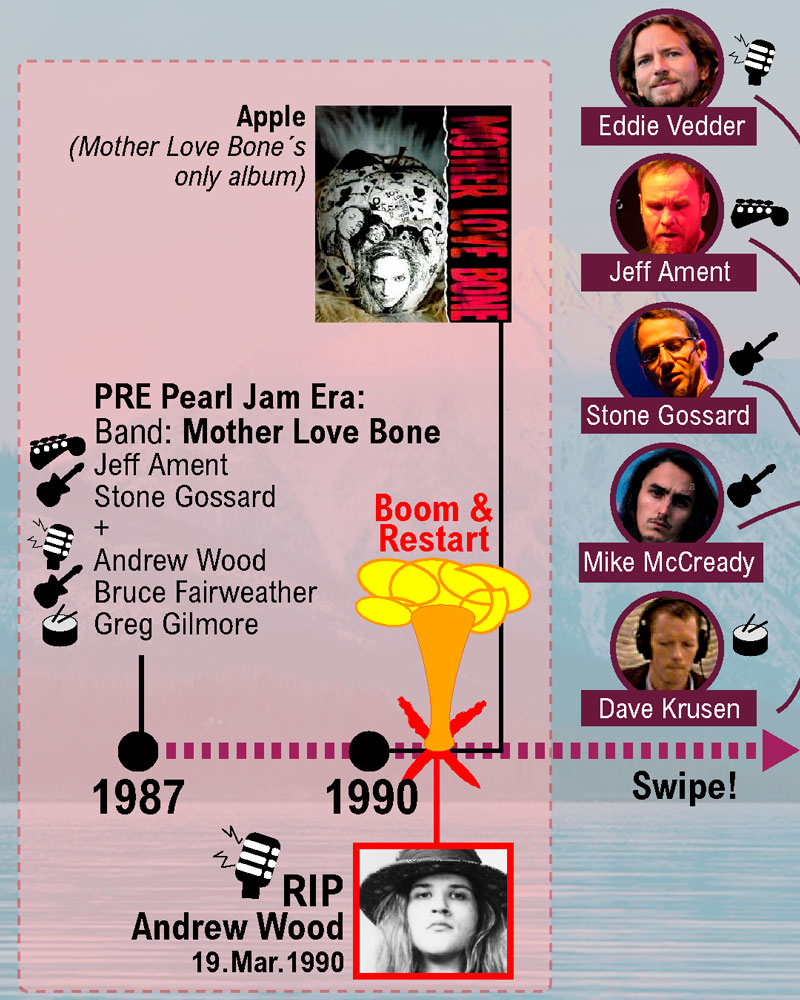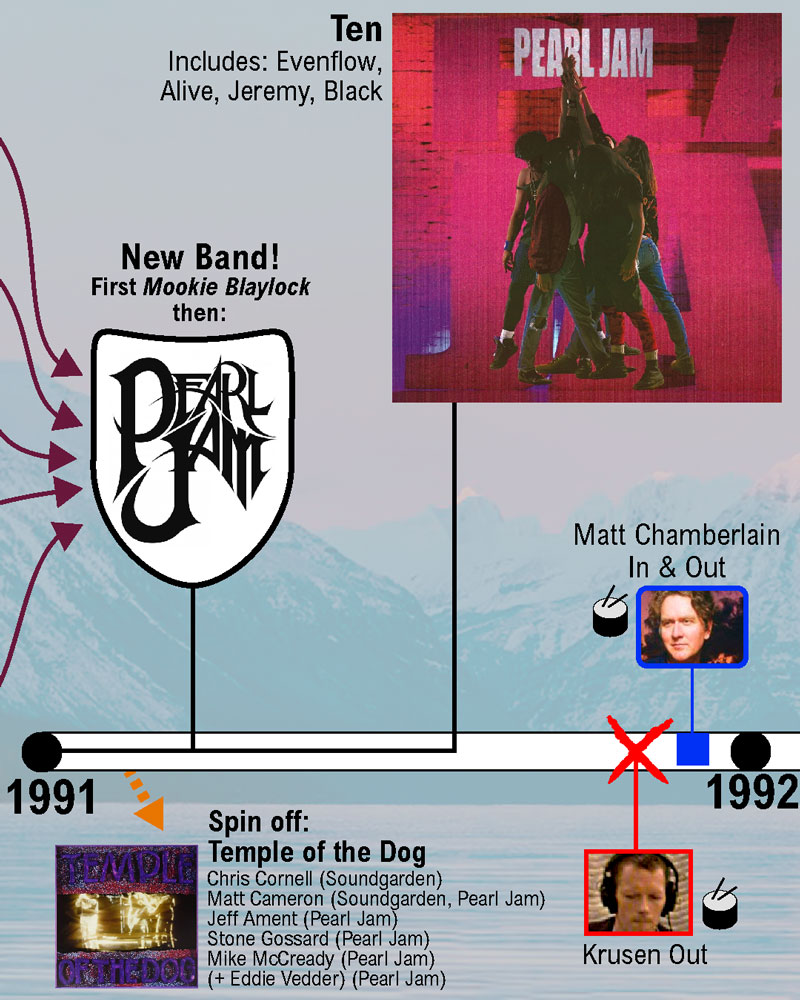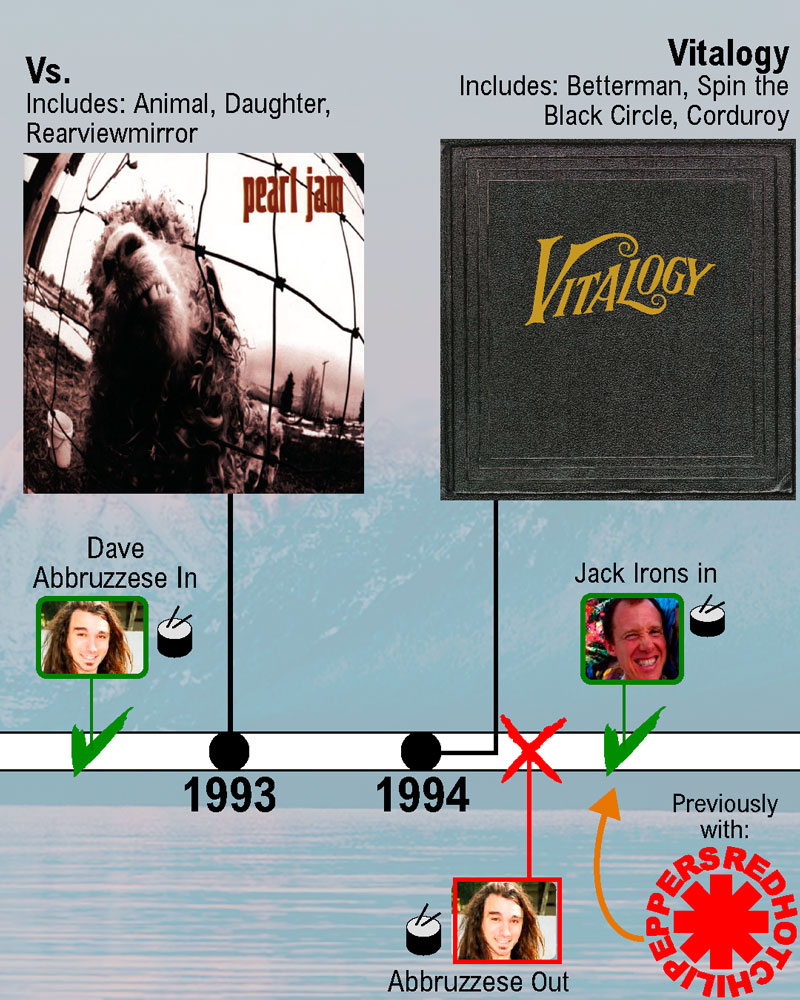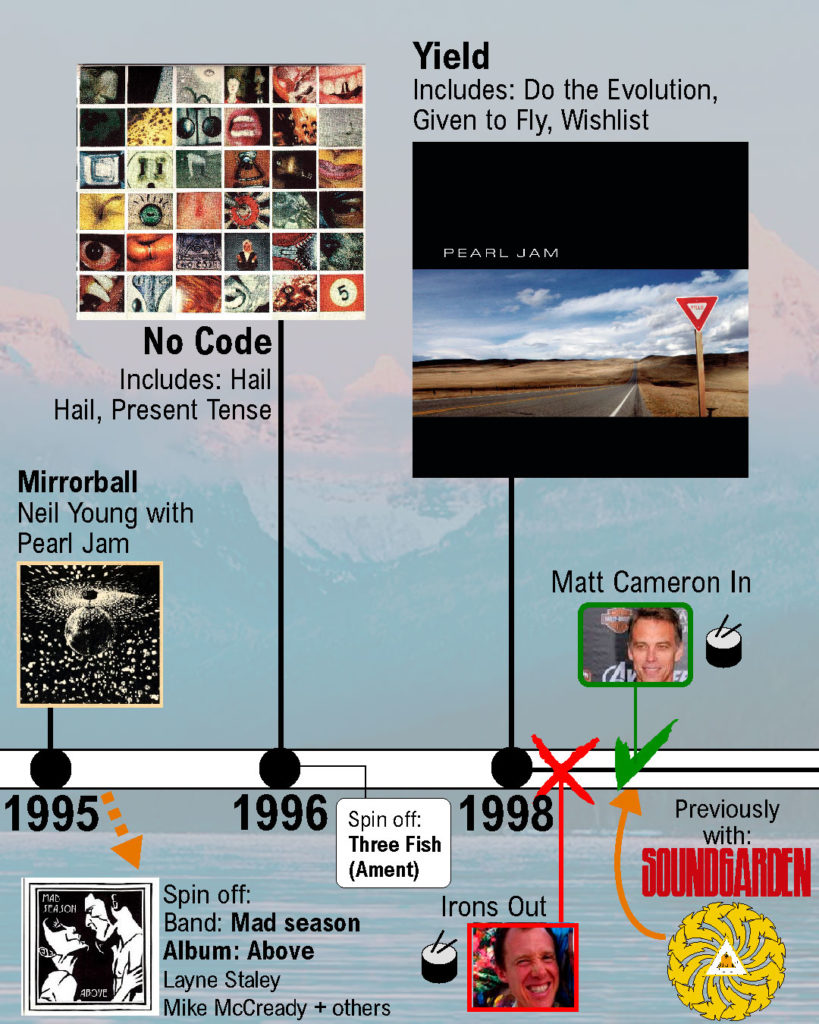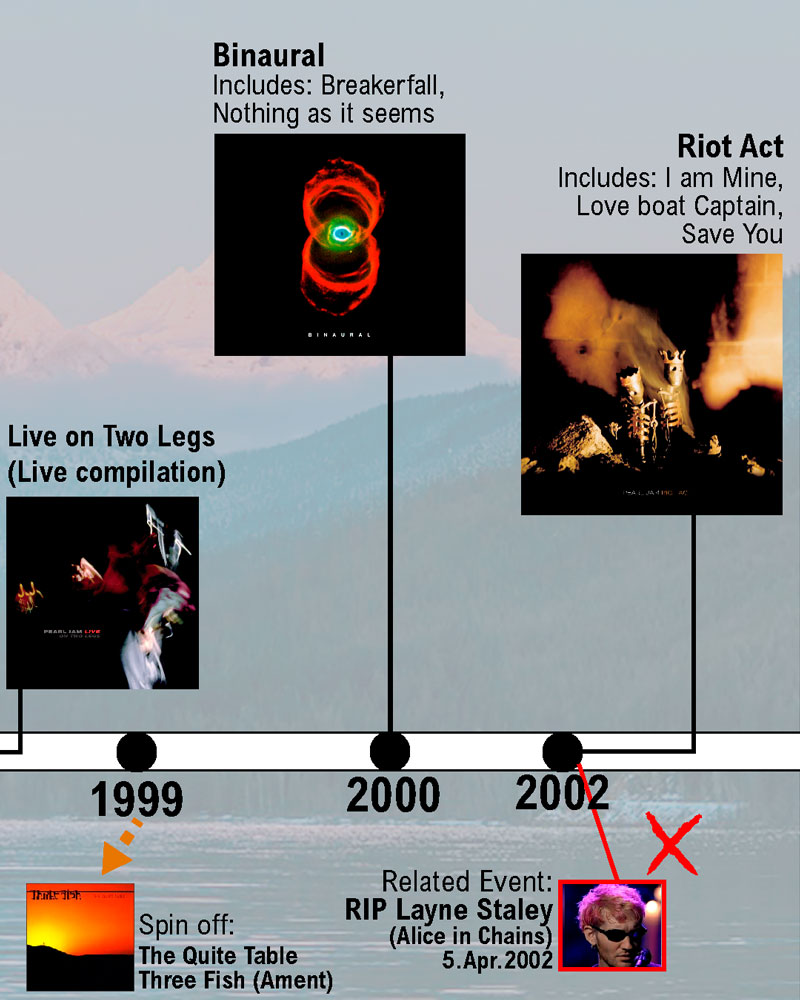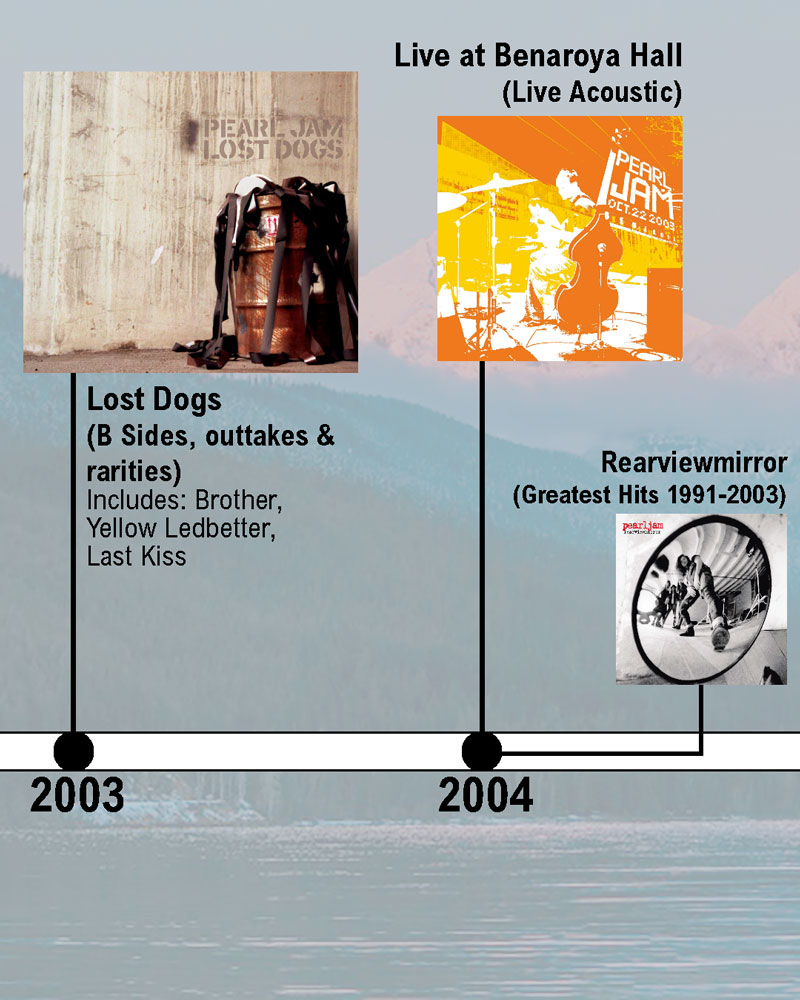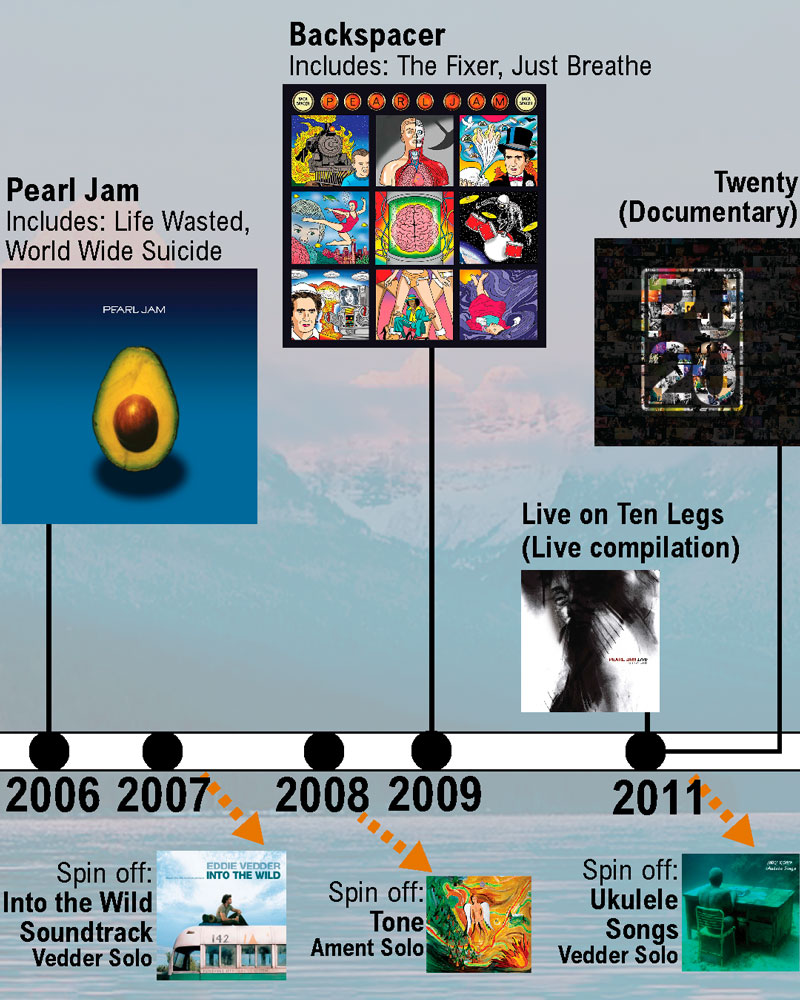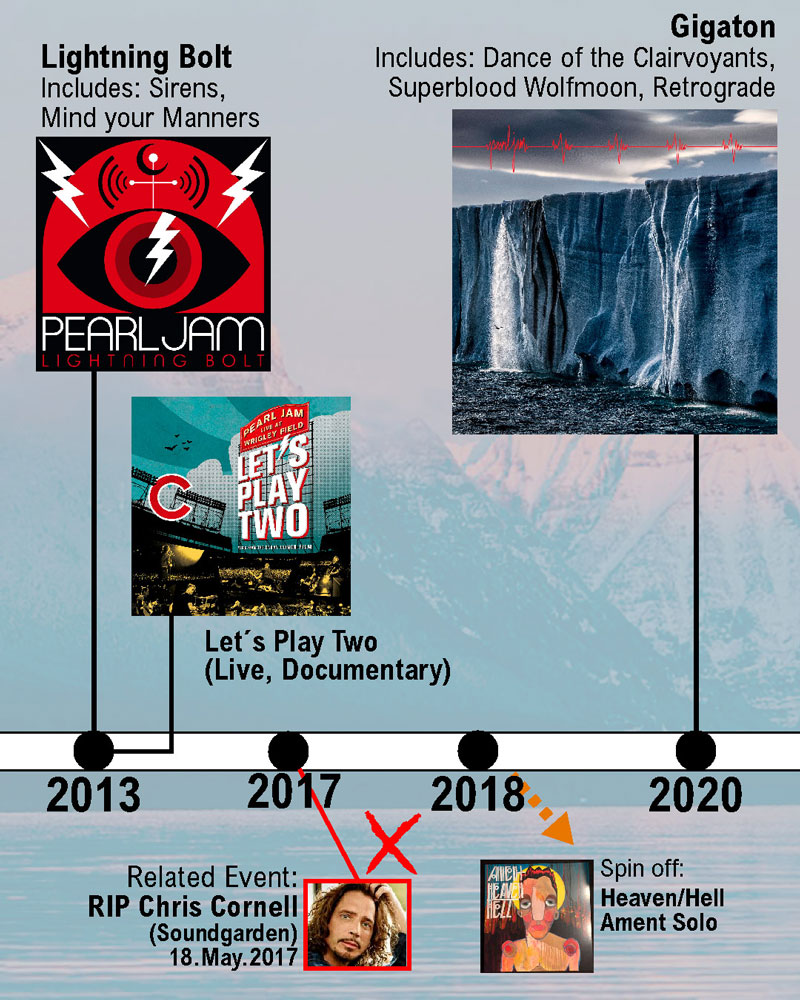 Some spin-offs are included in this story: The tribute to the late Andrew Wood, who was mentioned above, was named Temple of the Dog (1991). This was a project led by Chris Cornell, of Soundgarden.
As a separate project, the fantastic record Above was released in 1995 by the band Mad Season. The group included the late Layne Staley from Alice in Chains on vocals, as well as Pearl Jam guitarist Mike McCready, alongside other members.
Pearl Jam's history: a summary
Pearl Jam's debut album Ten was released in 1991. It took a few months for it to become a hit, but by 1992 the band was enjoying a lot of success with songs like Jeremy, Alive, and Evenflow becoming classics of their setlists.
Before going on, just a paragraph about Pearl Jam's lineup and how they changed drummers over time:
The band's consistent members that were always in the band include Eddie Vedder (vocals), Mike McCready (guitar), Stone Gossard (guitar), and Jeff Ament (bass). All lineup changes in Pearl Jam were drummers. They have had several people behind the drum kit, being the first Dave Krusen, who only played in the album Ten. After him, Dave Abbruzzese was in Pearl Jam for two records, until 1994. Jack Irons replaced Abbruzzese as drummer for two more records, until 1998. Then, Soundgarden's Matt Cameron joined as a steady drummer and has remained with the band ever since.
Back to Pearl Jam's history: Drummer Dave Kruzen left the band immediately after their debut. With Dave Abbruzzese on the drums, the band continued to be successful with 1993's Vs. and 1994's Vitalogy, but they were not at all enjoying their new rock star status. This is why they stopped releasing music videos at that time. During the recording process of Vitalogy, Abbruzzese was kicked out of the band and replaced with Jack Irons, a former member of the Red Hot Chili Peppers.
By 1996 Pearl Jam was living through difficult times, having entered a legal fight with Ticketmaster and struggling with inner tension. Their fourth album, No Code was released that year.
In 1998 they released their amazing Yield, an album that features Pearl Jam´s first video in 6 years: Do The Evolution. Right after the release of this album, Jack Irons left the band and was replaced with Matt Cameron, formerly of Soundgarden. As said above, he still remains a member of Pearl Jam nowadays.
The early 2000s were a little quiet for Pearl Jam, as the grunge movement had already faded away in the previous years. 2000's album Binaural and 2002's Riot Act were well received but not a commercial success. Their self-titled album from 2006, Pearl Jam, geared up their sound a little bit.
In 2009 Pearl Jam released their shortest and most punk-style album to date: Backspacer. It notably includes the single Just Breathe, a well know acoustic track. Years later, in 2013 they released what I consider to be their weakest album, Lightning bolt.
Gigaton was released in 2020. This is not their best record, but definitely better than the previous one. Includes the Zeppelinesque track Quick Escape, definitely a great tune.
Recommended Pearl Jam albums:
Here is a really short and personal list of Pearl Jam´s best records. 1993's Vs. is my favorite Pearl Jam album, but I am a fan of their complete discography. Said that these are my top choices:
Vs. (1993)
Ten (1991)
Yield (1998)
Pearl Jam (2006)
Vitalogy (1994)
Having said that, Vitalogy is a fan favorite, often referred to as their second-best album. The debut Ten is often considered their best record.
More grunge content: