Here we have almost all of the Smashing Pumpkins albums (sans the recently released CYR) ranked according to the rank aggregations of AlbumOfTheYear, which is based on 131 professional reviews: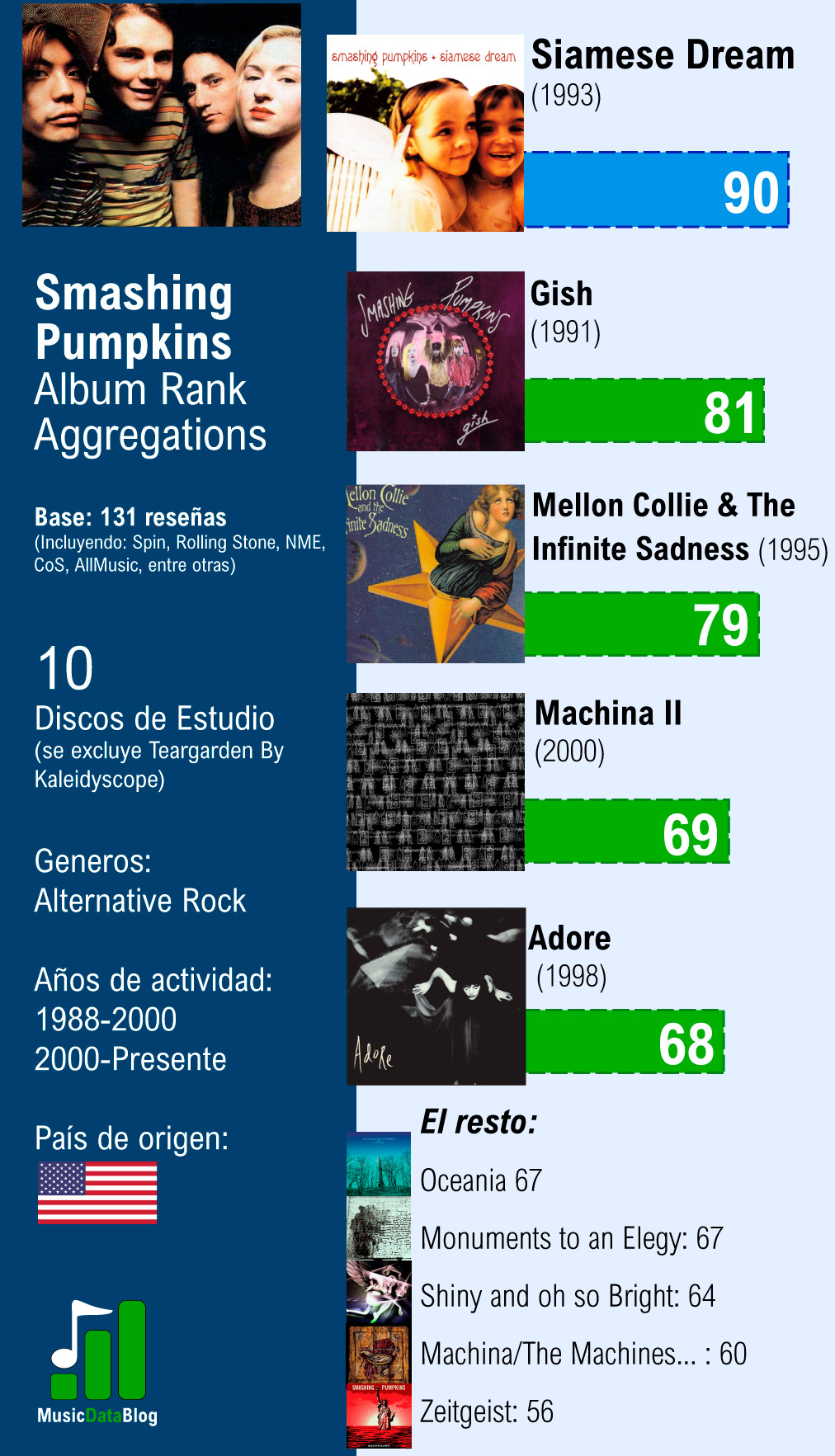 Which are The Smashing Pumpkins best records?
Siamese Dream is at the top of the list. Fresh, accesible and contains hits. It is their second album, which according to urban legends, was mostly recorded by Billy Corgan alone with drummer Jimmy Chamberlin. The other band members, guitarist James Iha and bassist D´arcy Wretsky, they did not seem to be able to record as quickly as Corgan wanted. Also, their debut album, which is ranked second, was seemingly recorded the same way.
Their third album, the ambitious Mellon Collie & The Infinite Sadness (1995) is a double album that ranks in the third place. Enormous, orchestral, it contains classics such as Bullet with butterfly wings, Zero, 1979 and Tonight Tonight that launched the Smashing Pumpkins into their peak of popularity and greatness.
Now here is a surprise: we find in the fourth spot the not so promoted Machina II: Friends and Enemies of Modern Music, from 2000. This record was not properly launched, as band leader Billy Corgan himself handed a few pressings to friends and radio stations with the instruction of distributing digital copies of it. It´s predecessor, Machina/The Machines of God, did enjoy a proper physical release but was not as well received. Having said that, it is un fact one of my favourite Smashing Pumpkins records.
1998 was a year of changes for the Smashing Pumpkins. Without their magical drummer Jimmy chamberlin, who is responsible for a dramatic dynamic shift in their sound, they recorded Adore, an album that was more electronic and less of a rocker. It features Soundgarden´s and Pearl Jam´s member Matt Cameron drumming on some tracks.
The Smashing Pumpkins worst albums
The second era of the Smashing Pumpkins is described as their less trascendent. Basically, any album that was not released by their classic line up. The fact that Oceania (2012) is a fair good album did not convince the critics or the fans. Many criticized that founding members James Iha, D´arcy Wretzky and Jimmy Chamberlin were not in the band. Basically, it was Billy Corgan with other people as the Smashing Pumpkins. Those were the years were Corgan had embarqued in another ambitious project colled Teargarden by Kaleidoscope, which consisted in releasing separate songs. In fact, Oceania was a departure in that scheme of things, but remained as part of the project.
Oceania features Nicole Fiorentino on bass and Mike Byrne on drums. Both of them did a great job and this is the only SP record that they play in. Guitarist Jeff Shroeder has been in the Smashing Pumpkins since 2007.
The worst Smashing Pumpkins album is, in my humble opinion, Monuments to an Elegy. It has no big songs, almost as if all of the tracks included were just fillers. I usually blame this on the session drummer in charge here, Tommy Lee (from Mötley Crüe), who has no dynamic or skills to match any of the previous band´s drummers.
At the bottom of this ranking we find one of their last releases, Shiny and oh So Bright Vol 1: No Past, No Future, No Sun, (2018) along with Machina/The Machines of God and Zeitgeist (2007). I sincerely believe that they deserve better. Sure, Shiny and Oh So Bright was not spectacular, but I did enjoy it. Machina is one of their best in my opinion and with time I have come to appreciate Zeitgeist as a big sounding loud album.
More related content