Let´s check some of Radiohead´s influences: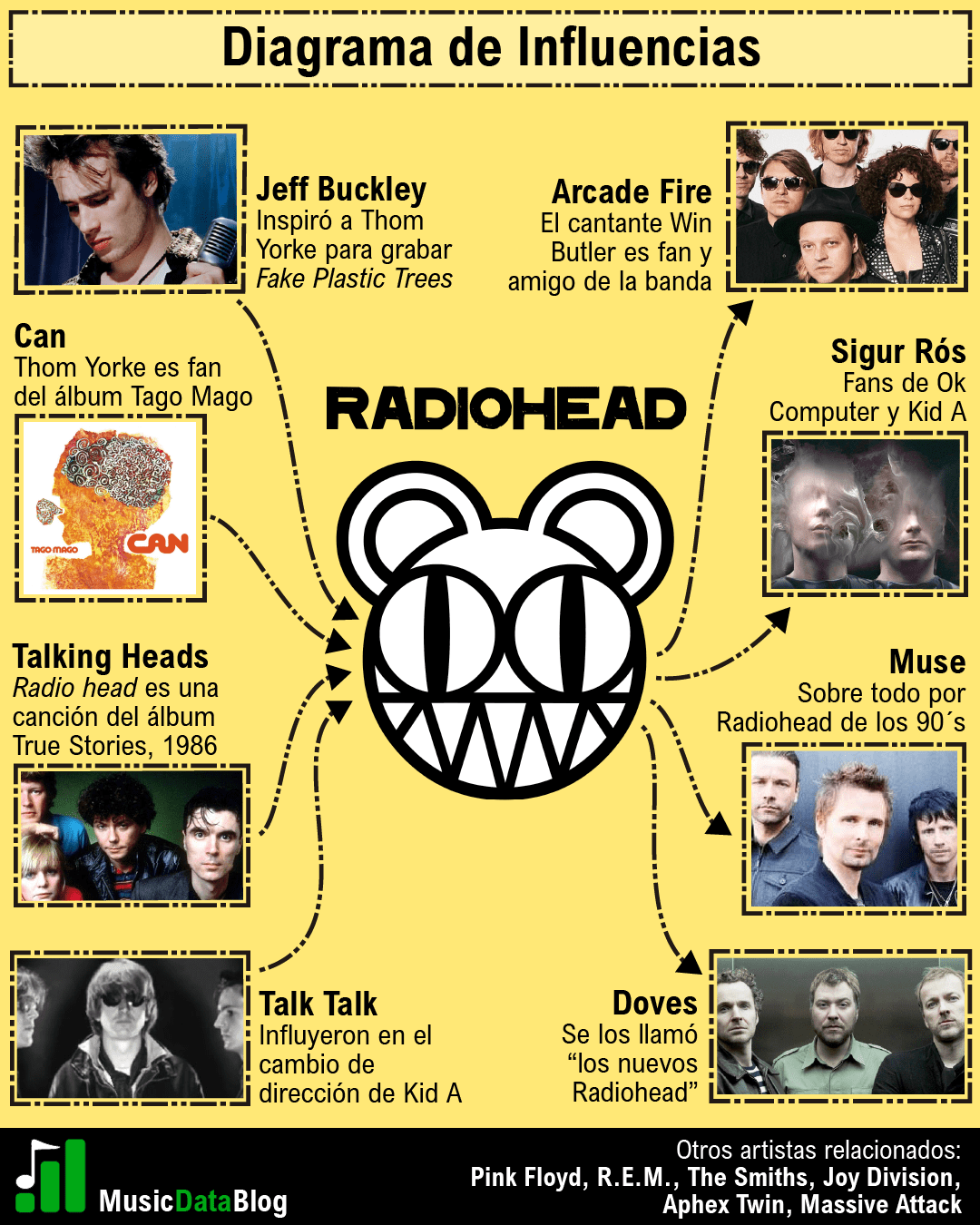 *This infographics has been created in collaboration with blog Pop Is Dead.
Radiohead is one of the most influential bands emerged from the nineties. They started as an alternative rock band (quite a wide label, if there is) and they knew how to change their own way, specially since Kid A (2000). Before that, they created a masterpiece that defined the next geneartion of musicians: OK Computer (1997).
Which are Radiohead´s influences?
Let´s start with the simple and direct: Their name Radiohead comes from a song recorded by Talking Heads for their album True Stories (1986). Thom Yorke and his band mates are big fans of David Byrnes group. This record also has the classic track Wild Wild Life.
Another influence that impacted the british quintet was the mythical singer and guitarist Jeff Buckley (RIP). Known for his beautiful and dramatic version of Leonard Cohen´s megaclassic Hallelujah, Buckley was a big influence in Radiohead and specially regarding their singer. About this, Thom Yorke says he was inspired in Jeff Buckley dramatic vocal delivery notably while recording the song Fake Plastic Trees, from their second album The Bends (1995).
The rupture that Kid A implied in Radiohead´s career was inspired by a similar move that the band Talk Talk made in their trajectory: this band started as a Synth pop act and later they turned more in a Post Rock project. Other pioneers in Krautrock and psychedelic rock, like the german experimental band Can, influenced Radiohead in this new adventurous level that they decided to take their music to.
More on this: we have a separate infographics about Pink Floyd is another big influence in Radiohead´s Music.
Artists influenced by Radiohead
Radiohead consists in Thom Yorke (vocals), Colin Greenwood (bass), Jonny Greenwood (guitar and keys), Ed O´Brien (guitar) y Phil Selway (drums). This five man band has been cited as an influence by many 2000´s artists. To name two obvious ones, because of their sound, Muse and Coldplay have been often compared to Radiohead´s earliest work. So if you want to hear the roots of these two bands, perhaps you should check songs from Pablo Honey (1993, includes the hit Creep) and the forementioned The Bends and OK Computer.
The british trio Doves are reminiscent of a britpop sound, but have incorporated experimental and progressive elements in their career. By the time of their second album, the successful The Last Broadcast (2003), many critics named them the New Radiohead. I this case the comparison was made more in a positive way, not like the case of Muse which was more of a mockery.
Sigur Rós is an islandic post rock band which has mantained some sort of dialogue and mutual influence with Radiohead along their trajectory. This can be heard specially in Sigur Rós´s Agaetis Byrjun (1999), which came out just between Radiohead´s OK Computer and Kid A.
As a last mention we have Arcade Fire, who are friends with Radiohead and have played live with them in several occasions. Win Butler, Arcade Fire´s lead singer and song writer, has claimed to love Radiohead´s music more than once and has even writen a review on their last album, A Moon Shaped Pool from 2016.
More related content: