This diagram shows some of Björk's most relevant influences, which include electronica, pop, and concrete music. Also, her experimental style and approach inspired several artists that came after her.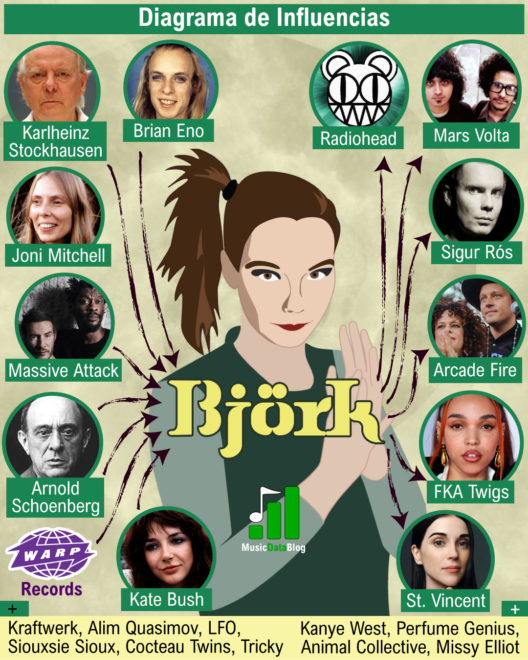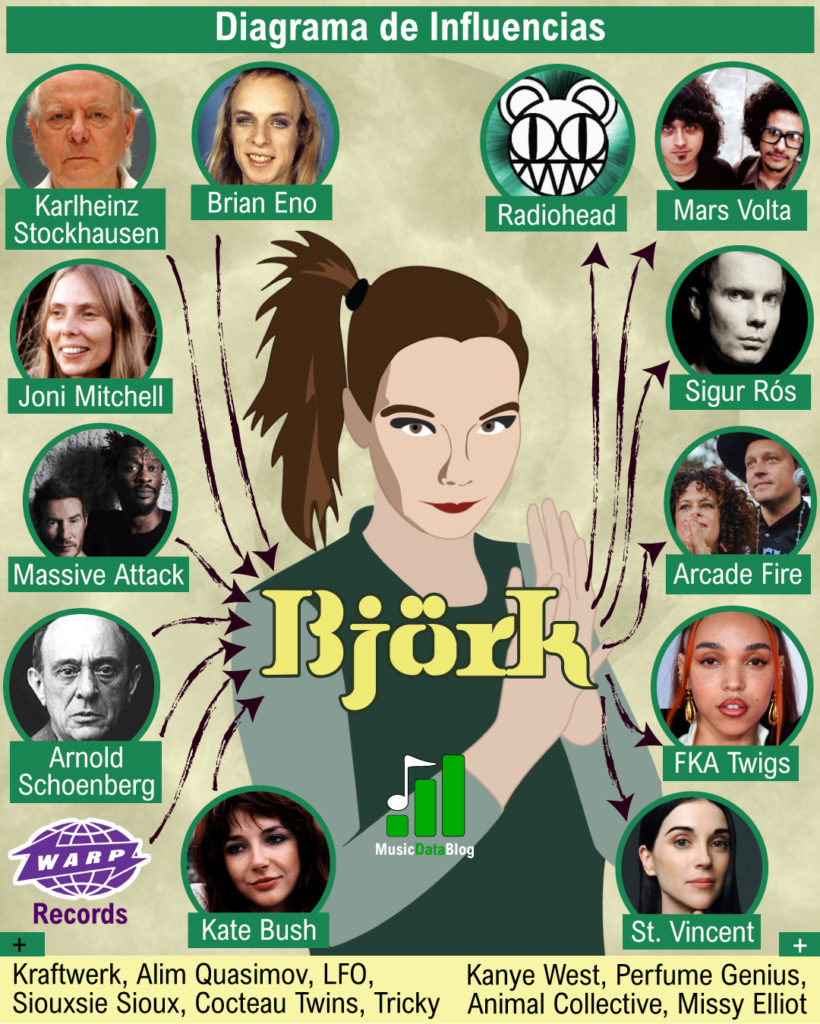 Björk's music has a profound link with the British electronica movement that rose to popularity during the nineties decade. But her influences go way beyond, as early in her career she was also interested in other genres, like jazz, world music, and other experimental and psychedelic artists.
You can check out Björk's history timeline to know more about this fine artist and singer.
Which artists influenced Björk's music?
As seen in the artwork graph above, Björk is influenced by artists such as Kate Bush, Joni Mitchell, Massive Attack, Kraftwerk, Siouxsie Sioux, LFO, many DJs from the label WARP, and music composers such as Arnold Schoenberg and Karlheinz Stockhausen.
Kate Bush
Nicknamed "The Queen of alternative pop", Kate Bush, is one of the key musical inspirations that Björk took for her album Debut (1993). When asked about her style, the Icelandic singer elaborated on what she called "matriarch electronic music": a style that combines the sound of nineties British electronic music with Kate Bush's inspirations. It was the latter's experimental approach to pop music that encouraged Björk to expand her sound right from the beginning of her professional solo career. Her favorite album from Kate Bush is Dreaming, from 1982. If you would like to expand more on this specific topic, you can also check out Kate Bush's influence diagram.
Joni Mitchell
To keep reviewing Björk's experimental inspirations, we will mention Joni Mitchell. This great Canadian songwriter certainly has a diverse and impressive style and back catalog of her own. She is one of Björk's most notable influences in terms of folk and jazz fusion, and she mentioned on several occasions that Hejira (1976) and Don Juan's Reckless Daughter (1977) were her favorite albums from her.
Massive Attack
This British duo from Bristol, England, is one of the key figures of trip-hop music, which usually features down-tempo songs and a chill-out vibe with the use of rock, soul, reggae, and hip hop elements. As part of Björk's emerging musical context, Massive Attack was vital for her first professional steps in the entertainment industry. It is also worth noting that to work on her album Debut, the Icelandic singer enlisted producer Nellee Hooper, who was linked to the sound system known as The Wild Bunch. This music collective eventually evolved into Massive Attack. Björk also collaborated with another former Massive Attack member: Tricky.
Brian Eno
Brian Eno is a big influence on Björk in terms of ambient music especially. With the creation of soundscapes and atmospheric music pieces, this type of music evokes wide open space and is often characterized as minimalistic. Being a musical genre hugely influenced by jazz and even folk, it is no surprise that an album like Homogenic (1997) takes a lot of ideas from it. Alongside Kraftwerk and LFO, Björk has mentioned Brian Eno as one of her key influences.
Arnold Schoenberg
The Austrian expressionist composer Arnold Schoenberg has been cited by Björk as an inspiration on several occasions. In 1996 the singer was part of a performance of his theatre play Pierrot Lunaire, originally from 1912. Apart from this fact, on her track Hidden Place, from the album Verpertine (2001), she sampled another work from this composer called Transfigured Nights. Björk does not follow the influence of classical music composers such as Mozart or Bach. She is more interested in figures like Schoenberg, who belong to the XIX and XX centuries and have a considerable avant-garde music influence. Other symphonic composers admired by Björk are Gustav Mahler and Steve Reich.
Karlheinz Stockhausen
German composer and musical theorist Karlheinz Stockhausen is another great source of inspiration for Björk. She has written about Stockhausen contributions to music in general, she shared studio time with him and even got the chance to interview him and talk about his musical approach. Stockhausen's trajectory had an impact on opera, electronica, and concrete music. Björk has remarked that his work in regards to the use of the human voice as an instrument was vital. This specific influence can be heard on her album Medulla from 2004, which was recorded almost entirely using only vocals.
Other artists who inspired Björk were Krafwerk, LFO, Alim Quasimov, Tricky, Siouxsie Sioux, and Cocteau Twins. Acts linked to the Britsh electronic label Warp also had a huge influence on this singer, especially on her career beginnings.
Which artists were influenced by Björk?
Björk's legacy is undeniable, as her songs and artistry have had a great impact in musicians such as The Mars Volta, Evanescence, Radiohead, FKA Twigs, Perfume Genius, Arcade Fire, St. Vincent, Missy Elliott, and Animal Collective.
Radiohead
Radiohead have cited Björk as one of their key inspirations for changing their musical approach on their famous album Kid A, from 2000. As part of this shift in style, the band switched their guitar-driven sound for a prominent use of synthesizers, ambient soundscapes, and less traditional instruments and rhythms. Specifically, the album from Björk that changed everything for Thom Yorke's band is 1997's Homogenic. You can explore more about this band on Radiohead's influence mini chart.
The Mars Volta
The widely known psychedelic and progressive rock band The Mars Volta blends many musical styles to achieve one of their own. One of their main influences on the group, according to singer Cedric Bixler-Zabala, has been Björk. The Mars Volta's vocalist is really fond of all of her discography, with the album Medúlla (2004) being his favorite because of its approach to vocals.
FKA Twigs
British singer FKA Twigs' music mixes different genres, from Hip Hop and Electronica to Avant-Garde and Soul. This exploratory approach was clearly preceded by Björk's album Homogenic. The Dance and Hip Hop beats used by FKA Twigs, as well as her singing style, established her as one of the best representatives of Björk's legacy. This influence can be heard especially on albums like Magdalene (2019) and her most recent output, Caprisongs (2022). It is also worth noting that the extravagant stage presence and performance antics of both singers really stand out.
Sigur Rós
Both Björk and Sigur Rós are perhaps the two most popular musical export from Iceland. But it is not only about their country of origin, as we can also relate the sound style and trajectory of these two acts. Usually described as a post-rock band, Sigur Rós incorporated much of Björk's experimental background, especially ambient and the use of ethereal sound passages. Especially on the bands' first two albums, Von (1997) and Ágætis Byrjun (1999), were highly influenced by their collage from Iceland. As direct examples of this influence, we can cite Björk's track Venus as a Boy (included in Debut) or almost any track from her album Homogenic.
St. Vincent
Being an adventurous and extravagant artist, Annie Clark -AKA St. Vincent- is perhaps one of Björk's most relevant students. Although her music is usually described as pop and rock, the truth is that her style resists conventional categorizations. Both in her experimental approach to composition and her use of striking vocal arrangements, the reference to Björk's influence on her can't be overlooked. Would it have been possible for St. Vincent to release an album like Marry Me (2007) without Björk previously releasing Post (1995)? No, at least here we don't think so.
Arcade Fire
With the previously mentioned Radiohead, another relevant act inspired by Björk is the Canadian baroque pop outfit Arcade Fire. The Icelandic singer is described by the lead singer of this band, Win Butler, as one of the musicians from the nineties that inspired him the most. As Arcade Fire usually experiments with various instruments and sounds to achieve their complex songs, Björk's influence is not a surprise here.
Evanescence
The band's frontwoman, Amy Lee, has stated that she loved Björk's live performances of Cornucopia, as she also explained that she is a big inspiration to her. Amy chose 2001's Vespertine as her favorite Björk album, especially the lyrics about letting go of the past and acceptance, themes that she incorporated into her own songs. The singer from Evanescence also mentioned that Debut and Post are albums that she is really fond of.
Other artists that have been influenced by Björk are Kanye West, The Weeknd, Florence + The Machine, Missy Elliot, Paramore and Animal Collective.
More content related to Björk