In this chart, we take a look at all Sigur Rós albums ranked according to their score reviews on several music websites. This Icelandic band certainly has a solid discography.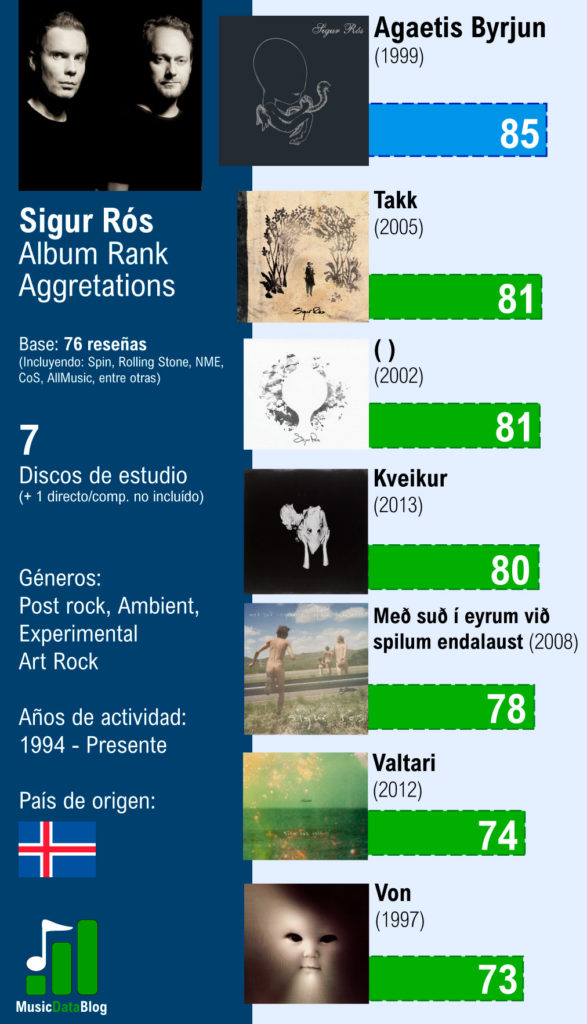 Icelandic post rock / ambient pop / experimental band "whatever" Sigur Rós has a high-quality discography.  In general, critics consider their second album, Ágætis Byrjun ("A Good Beginning") from 1999, to be their best.
In my opinion, Takk (2005) is the best album to start listening to Sigur Rós. Critics recommend this album almost as much as they recommend Ágætis Byrjun. We can also note that the "titleless" parentheses record, () from 2002, has the same score as Takk, this latter is way more accessible. With a much more song-based, Takk contains amazing tracks such as Hopipolla and Glósóli.
In terms of being easy to listen to, 2008's Með suð í eyrum við spilum endalaust (which means something like "With a ringing in our ears we play forever") is also an excellent option. My favorite Sigur Rós album today is Kveikur from 2013: a little thicker in sound but very solid and strong. I was lucky enough to see them live for the tour of this album and I must say it was an unforgettable show.
Other albums, like Von (1997) and Valtari (2012), appear as the least valued. But we can say that Sigur Rós, even in their least surprising efforts, create excellent music. If you liked the band's previous output, these two are also worth it.
Data expressed on this chart refer to scorings of the Sigur Rós discography on the website Album of the Year.