This chart is a ranking of Radiohead albums, from best to worst. It is based on data from the meta critic aggregator website, Album Of The Year.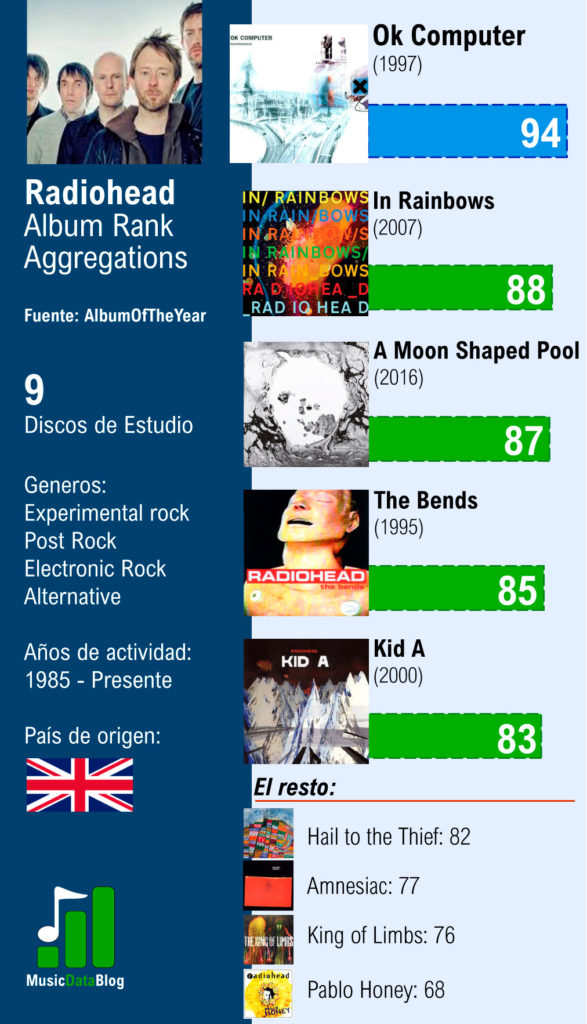 Radiohead's best albums

As almost everyone expected, Ok Computer is Radiohead's best-ranked album. It is followed by the also popular album, In Rainbows. At least for me, it was a surprise to find their most recent album, 2016's A Moon Shaped Pool, on the third spot.
The Bends and Kid A make it into Radiohead's top 5 albums. The first of these records leans towards a Grunge style sound: guitar driven, with powerful songs and also introspective ballads. On the other side, Kid A is an album that meant a significant change in Radiohead's trajectory, as nobody was expecting such a shift in their sound. Audiences and critics alike were stunned by the bands' new musical approach, as they seemed to resist their own success by completely reinventing themselves.
Radiohead´s least appreciated albums
Towards the bottom of the chart we find Hail to the Thief, Amnesiac, The King of Limbs, and Pablo Honey.
Hail to the Thief and The King of Limbs are not bad records, they just don't seem to stand out as Radiohead's best work. Right below these two albums we find Kid A's "brother", Amnesiac. Personally, I like its ethereal approach and careful sound. It is an album that I tend to listen to and enjoy every once in a while.
What about Radiohead's first album, Pablo Honey? As much as many fans and the band themselves don't fully appreciate it, it is a good effort. The openning track You is a preview of what was to come on their next album The Bends. Pablo Honey also includes some standard ballads, but many band followers seem to be extremely bothered by the song Creep, which to this day is the band's most popular hit.
You can check the complete information reviewed in this post on Radiohead's ranking page in Album Of The Year.
Do you want more content about Thom Yorke's band? Check out Radiohead's influence diagram