Kate Bush is a highly influential British singer who started her career at the end of the seventies. Her pop music style has been characterized by a consistent experimental approach.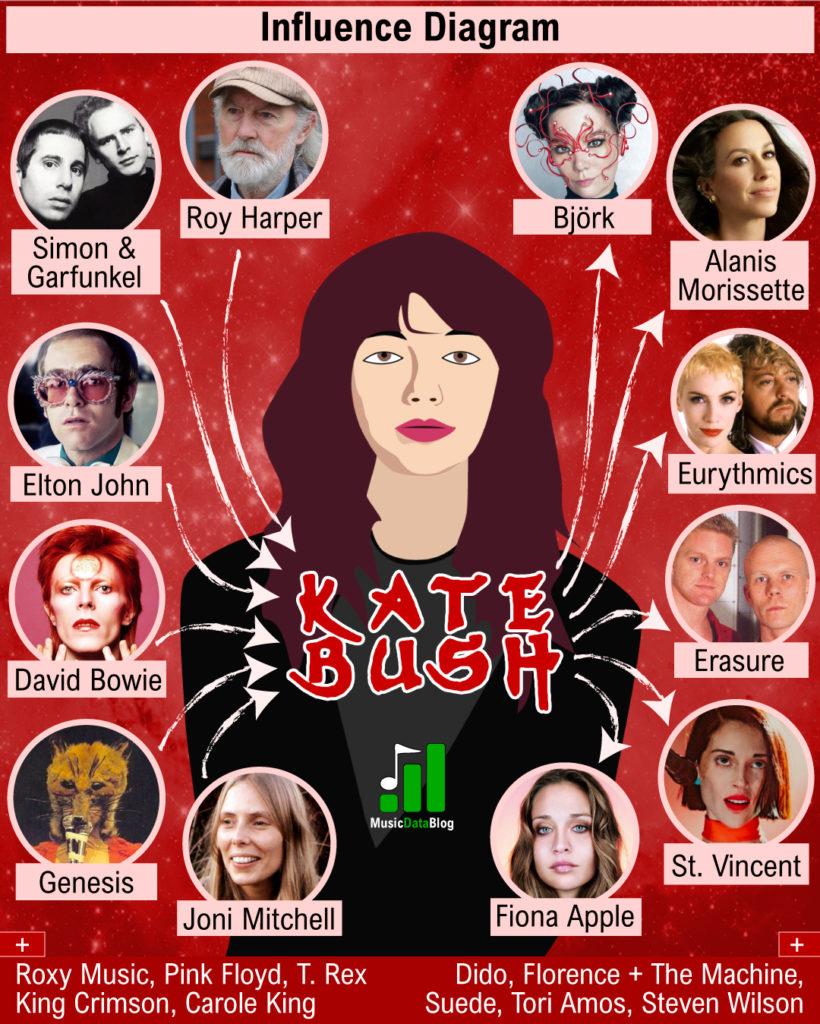 Nicknamed "The Queen of Alternative Pop", she recently found new fame in 2022 because her classic track, Running up that Hill (originally released in 1985), was included in Netflix's Stranger Things' fourth season.
Which are Kate Bush's musical influences?
Among Kate Bush's influences, we find folk classics like Roy Harper and Simon & Garfunkel, alongside other pop greats like Elton John and David Bowie. Other inspirations in her music relate to progressive rock from acts such as Genesis, Pink Floyd, and King Crimson, as well as sixties singers Joni Mitchell and Carole King.
Elton John
One of her most admired artists. Kate Bush has acknowledged Elton John as one of her main musical influences when it comes to piano playing. Known as one of the most relevant pop performers of the seventies, Elton John's music can be described as glam, psychedelic rock, and soft rock. As opposed to the guitar-driven music style of that era, Kate Bush felt that Elton John's paino-based music and lyrics poetry suit her better.
David Bowie
Another important glam influence was David Bowie, who was one of Kate Bush's creative heroes. She admired his bravery, as well as the way he crafted his different stage personas and diverse musical and artistic approaches. In 1975, Kate Bush composed her song Humming to honor Bowie. She even took classes with Lindsay Kemp, the same choreographer who worked with David Bowie on the famous Ziggy Stardust character. Bowie`s music style during that era (1972) was one of the main influences on Kate Bush, at a musical, visual and stage performance level.
Simon & Garfunkel
Part of Kate Bush's folk music influences come from the creators of hits such as Mrs. Robinson and The Sound of Silence, Simon & Garfunkel. Their classic album from 1970, Bridge Over Troubled Water, was the first album that the Queen of Alt Pop bought with her own money. This early influence molded the singer's classic folk side. According to Kate Bush's family, Simon & Garfunkel was almost the only "traditional" pop and folk music that was played in their house during her youth.
Roy Harper
Roy Harper is one of the most influential British folk artists, whose songs You and Another Day were covered by Kate Bush in collaboration with other artists such as David Gilmour and Peter Gabriel. She has acknowledged Harper as another of her key influences regarding traditional music, especially commenting on the quality of his lyrical poetry.
Joni Mitchell
As one of the most relevant singers in popular music, Joni Mitchell has had a major influence on Kate Bush's music. Classic Mitchell albums, such as 1975's Hejira and The Hissing of Summer Lawns, are clear precedents to an album like Bush's Hound of Love from 1985, which features the previously mentioned Running up that Hill. Regarding this, Joni Mitchell is one of the few female influences that Kate Bush mentions.
Genesis
One of Kate Bush's main progressive rock influences was Genesis' first era, fronted by Peter Gabriel. Specifically, 1972's album Foxtrot, with its quite long track Super's Ready, was one of the inspirations behind the concept of Kate Bush's album The Hounds of Love. Apart from this, the diversity in terms of musical instruments was part of the signature of Genesis' style since their beginnings, something that was fundamental for Kate Bush's progressive music education. It is worth mentioning that Peter Gabriel and Kate Bush have collaborated on several occasions.
Other Kate Bush influences include Roxy Music, Marc Bolan from T. Rex, King Crimson, The Incredible String Band, and Carole King.
Which artists were influenced by Kate Bush?
The influence of Kate Bush on the pop music scene was vital to opening the genre to a variety of new styles and variants. Singers like Björk, Alanis Morissette, Fiona Apple, Tori Amos, Sia, and Regina Spektor have drawn inspiration from her. In addition to this, synth-pop projects such as Erasure and Annie Lennox's Eurythmics, as well as rock acts Coldplay, Placebo, and Suede, all have expressed their admiration towards Kate Bush.
Fiona Apple
Talking about her influences, Fiona Apple has stated that Kate Bush is one of her musical heroes. Apple has referred to Kate Bush's bravery, which served her as an inspiration for her own work, especially on her albums The Idler Wheel (2012) and Fetch the Bolt Cutters (2020). Also, many ballads from Kate Bush's debut album The Kick Inside (1978) have served as a reference for tracks on Fiona's debut album, Tidal (1996), and also later songs. To expand on this subject, here you can check the Fiona Apple influence diagram.
Björk
One of Iceland's best know artists, Björk, is a singer with incredible experimentation capabilities both in her music and her performances. She is especially fond of Kate Bush's 1982 album, The Dreaming. You can hear Kate Bush's influence in Björk when it comes to experimentation in terms of instrumentation, the use of different rhythm signatures, and complex arrangements, as opposed to more traditional pop song structures.
Alanis Morrissette
As we have already covered in our post about the influences of Alanis Morissette, Kate Bush inspired her to become a singer in the first place. The truth is that we can compare ballads from Kate Bush's first albums to the mellower tracks on Morissette's Jagged Little Pill from 1995. Certainly, the Canadian singer's approach was more traditional in terms of song composition and incorporated alternative rock elements that took her music in a different direction. But the inspiration from Kate Bush in terms of singing style and vocal melody still remains.
Erasure
Another important band that was influenced by Kate Bush are synth-pop greats Erasure. According to their singer, Andy Bell, The Hounds of Love has inspired many of the group's songs. Erasure's other half, Vince Clarke, was really interested in a collaboration with Kate Bush, but this project never materialized.
Eurythmics
Eurythmics is certainly one of the most recognizable synth-pop outfits from the eighties, with their classic track Sweet Dreams. For their singer, Annie Lennox, Kate Bush is one of her most admired singers. Lennox described her as one of the most innovative artists in British culture, whom she had as an inspiration when she was part of Eurythmics. Moreover, Lennox's theatrical performances and stage presence were strongly influenced by Kate Bush.
St. Vincent
St. Vincent's striking musical and aesthetic style has much in common with Kate Bush. Her very own style of music composition, which can feature non-conventional uses of percussion, as well as a really versatile approach to singing, make St. Vincent one of contemporary pop/rock unique acts. Kate Bush's 1989 album, The Sensual World, is one of St. Vincent's favorites.
Other artists that have been influenced by Kate Bush are Steven Wilson (from Porcupine Tree), Suede, Coldplay, Dido, Placebo, Tori Amos, Florence + The Machine, and Sia.
More related content