Fiona Apple's musical influences have a lot to do with jazz and experimental pop. With a unique voice, her songwriting skills took her from a jazz background to a new experimental and unapologetic approach to pop music.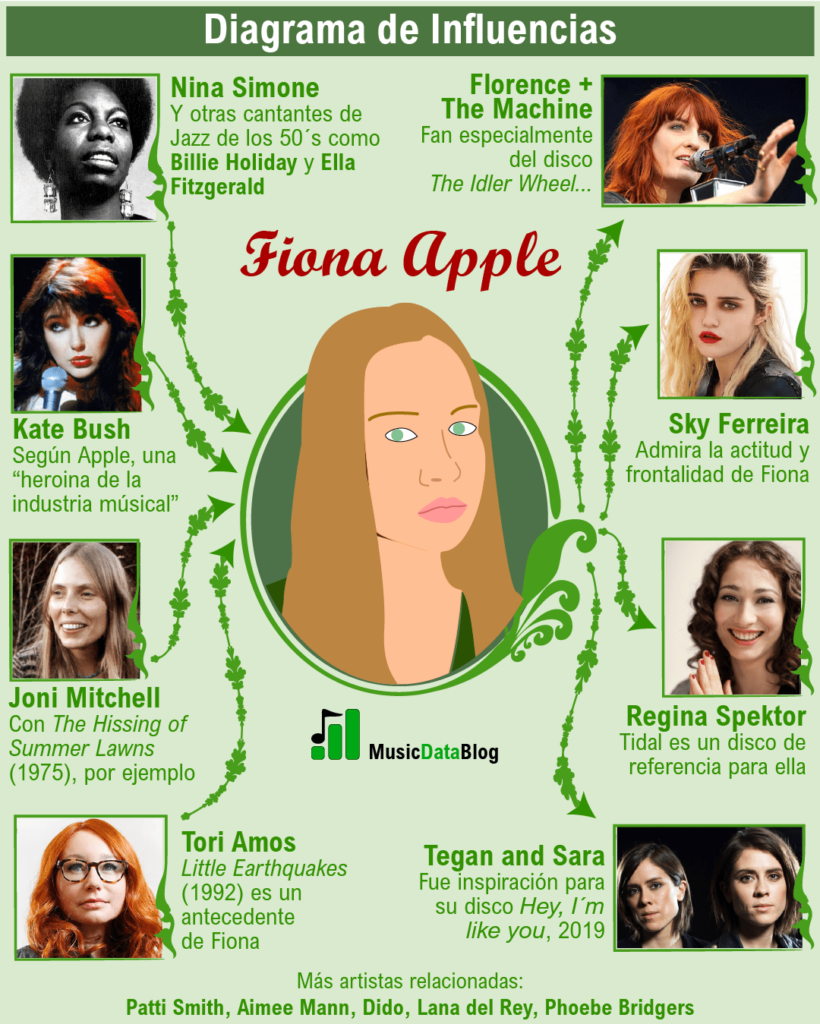 2020 marks Fiona Apple's comeback, as her fifth album, Fetch the Bolt Cutters came out on April 17. In this post, we will review some of her influences.
Fiona Apple and her musical influences
Jazz: Nina Simone, Ella Fitzgerald, Billie Holiday
Fiona's background is strongly marked by Jazz singers of the fifties, such as Nina Simone, Ella Fitzgerald and Billie Holiday. Especially on her debut album Tidal (1996) the influences of these three North American musicians are quite strong. Songs like Criminal, Shadowboxer and Slow Like Honey owe a of their vibe to jazz standards of that time. Specifically, Fiona says that she began to play the piano following the jazz standards found in the Real Book.
Kate Bush
Fiona Apple has referred to Kate Bush as one of the "heroes of the music industry." There is also the fact that the long-awaited album Fetch the Bolt Cutters refers to Kate Bush. The heroism that Fiona talks about is strongly related to her feminist perspective and the impact of Kate Bush on the musical and cultural context. You can expand more information about Kate Bush's musical influences here.
Joni Mitchell
Another important figure is world-famous Canadian singer-songwriter Joni Mitchell. Specifically, Fiona Apple's most recent work, Fetch the Bolt Cutters, finds a precedent in Mitchell's 1975 album, The Hissing of Summer Lawns. The track The Jungle Line, which is included in that album, is a good example. At that time, Joni was criticized for having gone wild with experimentation. Luckily, the situation for Fiona is different, as she has received excellent reviews for her newly released album. It is also worth mentioning that both Joni and Fiona have repeatedly criticized the music industry.
Tori Amos
Another precedent, who paved the way for Fiona's debut in 1996, was Tori Amos. Without a doubt, Little Earthquakes (1992) was still one of the key references in Fiona Apple's context when she released her own debut, Tidal.
Aimee Mann
Even though she does not appear on the chart, at a technical and production level, Aimee Mann was Apple's forerunner with her melodic and soft rock sound. Producer Jon Brion worked with Mann on his first two albums (1993's Whatever and 1995's I'm With Stupid). Later Brion assisted Fiona in the Tidal recordings, became a producer on her second album, When The Pawn … (1999) and a few tracks from her third album, Extraordinary Machine (2005). In subsequent years the producer collaborated with Dido.
Singers influenced by Fiona Apple
Fiona Apple inspired several singers of the early 2000s and also contemporary ones. Some obvious references would be Lana del Rey and Dido. Without disregarding these inspirations, in this infographic we choose to include the following:
Florence + The Machine
First is British singer Florence Welch (basically, Florence + The Machine), who has declared via Twitter to be a fan of Fiona Apple and was excited about her album The Idler Wheel specifically. The inspirational quota includes Florence's pop styles, as well as her expressive and dynamic vocal delivery, which indeed seem to have an anchor point on Fiona's fourth album.
Tegan and Sara
Indie Rock / Pop duo Tegan and Sara have mentioned Fiona Apple as one of their influences for the 2019 album Hey, I'm Just Like You. As a whole, the duo's inspirational panorama is quite nineties styled, including not only Fiona but also Tori Amos and The Cardigans. About this subject, here you can see the Spotify list that Tegan and Sara put together.
Sky Ferreira
Sky Ferreira has also acknowledged Fiona as an inspiration. Ferreira admires Fiona Apple's attitude against society's labels, as well as her confrontational attitude. Fiona has been a critic of the music industry since her inception, for example, when giving her famous 1997 MTV Video Music Awards speech: "The World is Bullshit". Her criticism continued on several other occasions, one of them being the historical "anti-Portnow" performance at the 2018 Grammys with fellow singer Shirley Manson, an open response to the dismissive attitude towards female artists of Neil Portnow, CEO of The Recording Academy and MusiCares.
Regina Spektor
Regina has cited the album Tidal as an influence when starting her singing career. Both records share in deed elements of jazz, piano ballads and pop songwriting. Regina Spektor has expressed in several occasions her admiration for Fiona Apple.
A final comment, not completely related to the rest of the artists mentioned here: Fiona Apple denied Panic! At The Disco the sampling of Every Single Night.
More related content