Polly Jean Harvey is one of the most intrepid musicians to emerge from the alternative rock of the nineties. Her inspirations come from blues, experimental music, and punk rock.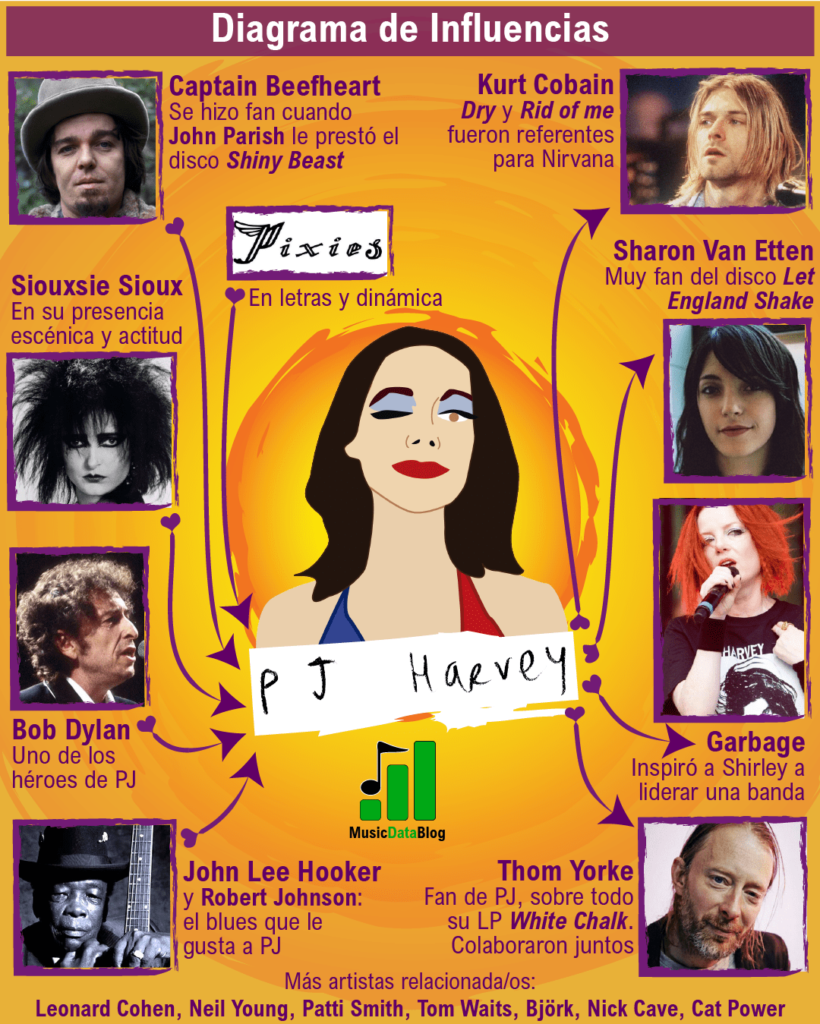 P. J Harvey's style has changed consistently over the years. She has a solid discography in which we find noise rock, blues, folk, pop, grunge, chamber music, and more. Here I summarize some of her influences on this chart.
Which bands and artists influenced P.J. Harvey?
P.J. Harvey has cited legend Leonard Cohen, rock hero Neil Young and Tom Waits as references for her musical inspirations. Here I will keep expanding the list of her influences:
Captain Beefheart
In the graphic, I chose to include Captain Beefheart, a champion of avant-garde and experimental rock. Polly says that as a child, Captain Beefheart was extensively heard at home but she did not like him at the time. It was in her teens that his friend and "musical soulmate", John Parish, gave her a copy of the album Shiny Beast (Bat Chain Puller) from 1978. It was at that moment that he could assimilate Beefheart's music, she became a fan of his work and even became friends with the singer.
John Lee Hooker
Alongside Robert Johnson, John Lee Hooker makes up much of Polly's bluesy background. The blues makes intermittent but almost permanent appearances in PJ's discography, both in her early works Dry (1992), Rid of Me (1993) and To Bring you my Love (1995), and most especially in Uh Huh Her (2004). Blues influences even go as far as some tracks from her latest album The Hope Six Demolition Project of 2016.
Bob Dylan
Apart from the cover of Highway 61 revisited that PJ Harvey recorded for her second album, She explained that she specifically was inspired by Dylan's poetry and his way of acting as a kind of chronicler to tell small stories or everyday scenes realistic.
Siouxsie Sioux
The singer from Siouxsie and The Banshees is a clear influence on Polly Jean Harvey's attitude. That sensual, punk, flashy and frontal "stage persona" constituted an anchor point for singers that came after her. According to P.J. Harvey, Siouxsie Sioux was her main reference in her stage attitude. Also, P.J. Harvey selected Anima Animus from The Creatures (a later Siouxsie Sioux musical project) in her 1999 top ten albums.
The Pixies
"It was completely new to me," explains P.J. Harvey. Surfer Rosa (1987), The Pixies' first LP, was produced by Steve Albini (to whom we will return in brief). The lively and raw sound was a reference for the early P.J. Harvey trio. The dynamics between the powerful choruses, the quieter melodies and the pop hooks were the elements that P.J. Harvey found attractive in this band's sound.
Patti Smith
I have a hard time not naming Patti Smith. Specifically, I was listening to her album Easter from 1978 and the link with Polly seems inevitable to me. Investigating the matter further, I found that P.J. Harvey said that comparisons between Patti Smith and her are an act of "lazy journalism". Something similar happened with Kate Bush, who P.J. has praised but minimized the influences she had on her. More on P.J. Harvey's influences here.
Which bands and artists were inspired by P.J. Harvey?
Nirvana
As we've already seen from the Nirvana influence chart, Kurt Cobain was a fan of P.J. Harvey: the first album Dry is mentioned among his favorites. In addition, when Nirvana were looking for a producer to work on their third album, In Utero, (1993), Steve Albini sent to the band a copy of his recently produced P. J. Harvey album, Rid of Me (1993), as a sound reference. Of course, we know, Albini got the job. When listening to Surfer Rosa by the Pixies, Rid of me by P.J. Harvey, and Nirvana's In Utero you can hear the producer's signature live sound aesthetic.
Garbage
According to Garbage singer Shirley Manson, P.J. Harvey inspired her to lead her own band. She specifically cites To Bring You My Love as one of her favorite albums. Both P.J. Harvey and Shirley Manson have a special appreciation for Siouxsie Sioux, with clear influences in their upfront and dazzling stage behavior. We also have a Garbage influence chart in another post, if you want to expand on this other band.
Thom Yorke
The Radiohead frontman has collaborated with P.J. Harvey on her fifth album, Stories from the City, Stories from the Sea (2000). In addition to lending keyboards and backing vocals on some tracks, he provides lead vocals for the excellent song This mess we're in. Apart from this, Thom Yorke said that he became obsessed with her album White Chalk (2009) and that he is a fan of all of Polly's work. On the other hand, Burn the Witch, the opener of Radiohead's Moon Shaped Pool (2016) has similarities to P.J. Harvey's sound. On her side of the story, she explained that working with Yorke was very positive for exploring her music in a different way.
Sharon Van Etten
American indie folk / rock / pop singer-songwriter, Sharon Van Etten, has said that she is a fan P.J. Harvey. Specifically, she digs her acclaimed 2011 album Let England Shake, which has been well-received by Sharon Van Etten by describing P.J. Harvey as her hero.
And this is how far I have come with this brief review of influences by P.J. Harvey. Surely we could include many more, but to start, not bad, huh?
Other related content
More about women in rock music: