This infographic shows some of the influences and inspirations from the alternative rock band Garbage. The band's lineup consists of Shirley Manson (vocals), Butch Vig (drums), Steve Marker (guitar, synths), and Duke Erikson (guitar).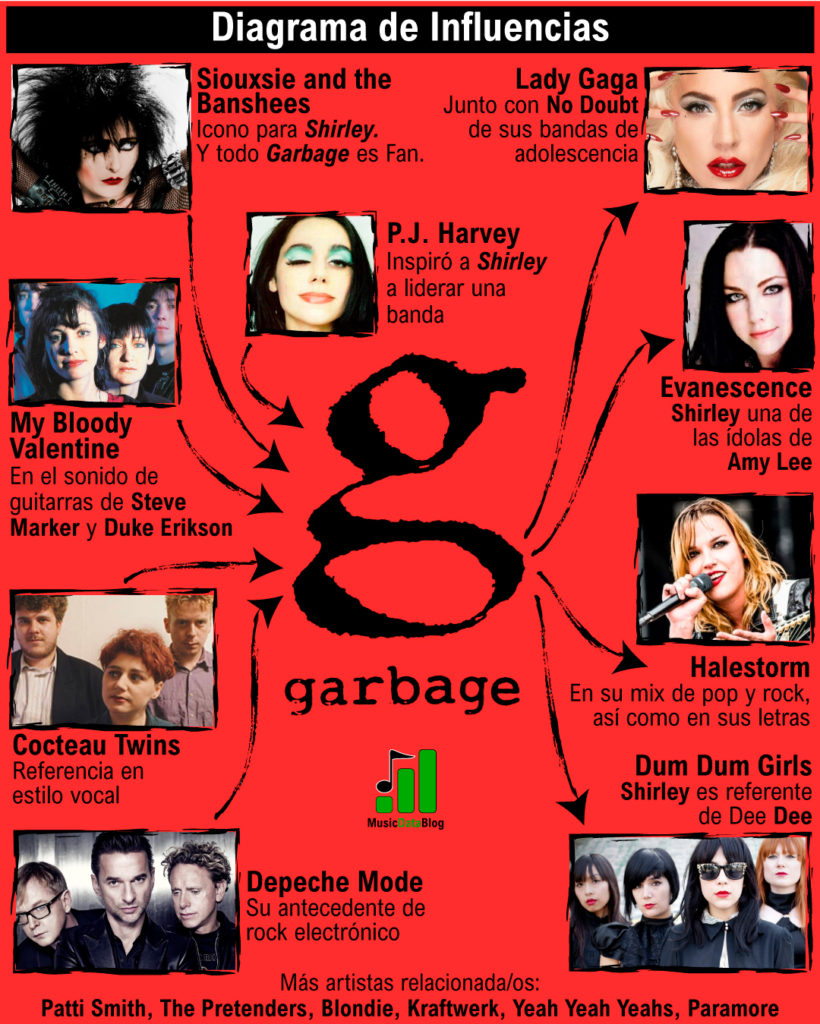 Garbage made their debut in 1995 with their self-titled album. They achieved early success with tracks like Only Happy When It Rains and Stupid Girl. In 2022 they released their seventh studio album, No Gods No Masters.
Which are Garbage's musical influences?
Garbage's musical background ranges from classic rock and electronica to shoegaze and alternative rock. Below you can read more about a few of these musical influences.
P. J. Harvey
We have already referred to this matter on the P. J. Harvey influence chart. Polly Jean was one of the reasons why Shirley Manson decided to become a lead singer. P.J.'s attitude on stage, as well as her unapologetic style, are a clear inspiration for Garbage's frontwoman.
Siouxsie & The Banshees
According to Shirley Manson, she fell in love with the post-punk genre because of Siouxsie Sioux. Her stage persona and powerful vocal style are another clear inspiration for Garbage's singer. Specifically, she and Butch Vig mentioned Souxie & The Banshees, David Bowie and Cocteau Twins as key influences for Not Your Kind of People, their 2012 album.
Cocteau Twins
Shirley Manson really digs Cocteau Twins' dream-pop music style. We just need to remember the real excitement that Shirley Manson felt when meeting Elizabeth Fraser, Cocteau's singer. The stylistic similarities in their singing styles are evident: melodic and carefully performed vocals, that at the same time feel deep and powerful.
My Bloody Valentine
MBV is one of Garbage's main inspirations in terms of guitar sound. More precisely, this band is an influence on Garbage's guitarists Steve Marker and Duke Erikson. Both bands can craft catchy riffs as well as ethereal arrangements full of delay and reverb sound effects. Other bands mentioned by Marker and Erikson are Television, The Pretenders, and Roxy Music.
Depeche Mode
This is a dark, gothic, and electronic influence in Garbage's sound. These sound moods can be heard especially on their self-titled debut album, but also on their later releases like Version 2.0 (1998) and Strange Little Birds (2016). Depeche Mode's approach to mixing guitar sounds with electronics are one of the key precedents for Garbage's sound. In relation to this, we can also mention that Butch Vig, Duke Erikson and Steve Marker worked on remixes for Depeche Mode, as well as for U2 and Nine Inch Nails.
Other important influences on Garbage's music are The Jesus and Mary Chain, The Ramones, The Clash, Patti Smith, and Debbie Harry from Blondie.
Which musical artists were influenced by Garbage?
Here we list four artists and bands that have been influenced by Shirley Manson and Garbage:
Lady Gaga
The new queen of pop has a wide range of musical influences, which include an extensive background of alternative rock from the nineties. Speaking about her key influences, she cited two frontwomen specifically: Gwen Stefani from No Doubt and Shirley Manson from Garbage. Lady Gaga, she has been a huge fan of both bands since her high school years. It is also worth noting that both singers, Shirley Manson and Lady Gaga, are outspoken advocates of LGBT rights.
Evanescence
Lead singer Amy Lee has mentioned that Garbage's frontwoman is one of her idols. She especially admires Shirley Manson's onstage attitude. In many interviews, she has remarked that Evanescence's music is a sort of tribute to alternative rock bands from the nineties, such as Garbage and Nirvana.
Halestorm
This alternative hard rock band has a heavy guitar sound, which can sound dark or epic without losing certain catchiness. This balance between rock is a key element that singer and guitarist Lzzy Hale remarked about Garbage's style. In addition to this, Garbage can be taken as a reference for Halestorm's style regarding lyrics, which often address themes like internal conflicts and introspections.
Dum Dum Girls
Dum Dum Girl's lead singer, Dee Dee -AKA Kristin Kontrol-, has mentioned that seeing Garbage live in the mid-1990s really impressed her. The influence on Dum Dum Girls music is especially evident in the album Too True (2014), which has a retro and dreamy sound.
Other artists that have been influenced by Shirley Manson and her band Garbage are:
Karen O, from Yeah Yeah Yeahs
Taylor Momsen from The Pretty Reckless
Hayley Williams from Paramore
Florence Welch, from Florence + The Machine
More related content