Here are the influences of Mazzy Star, band that David Roback leaded together with singer Hope Sandoval: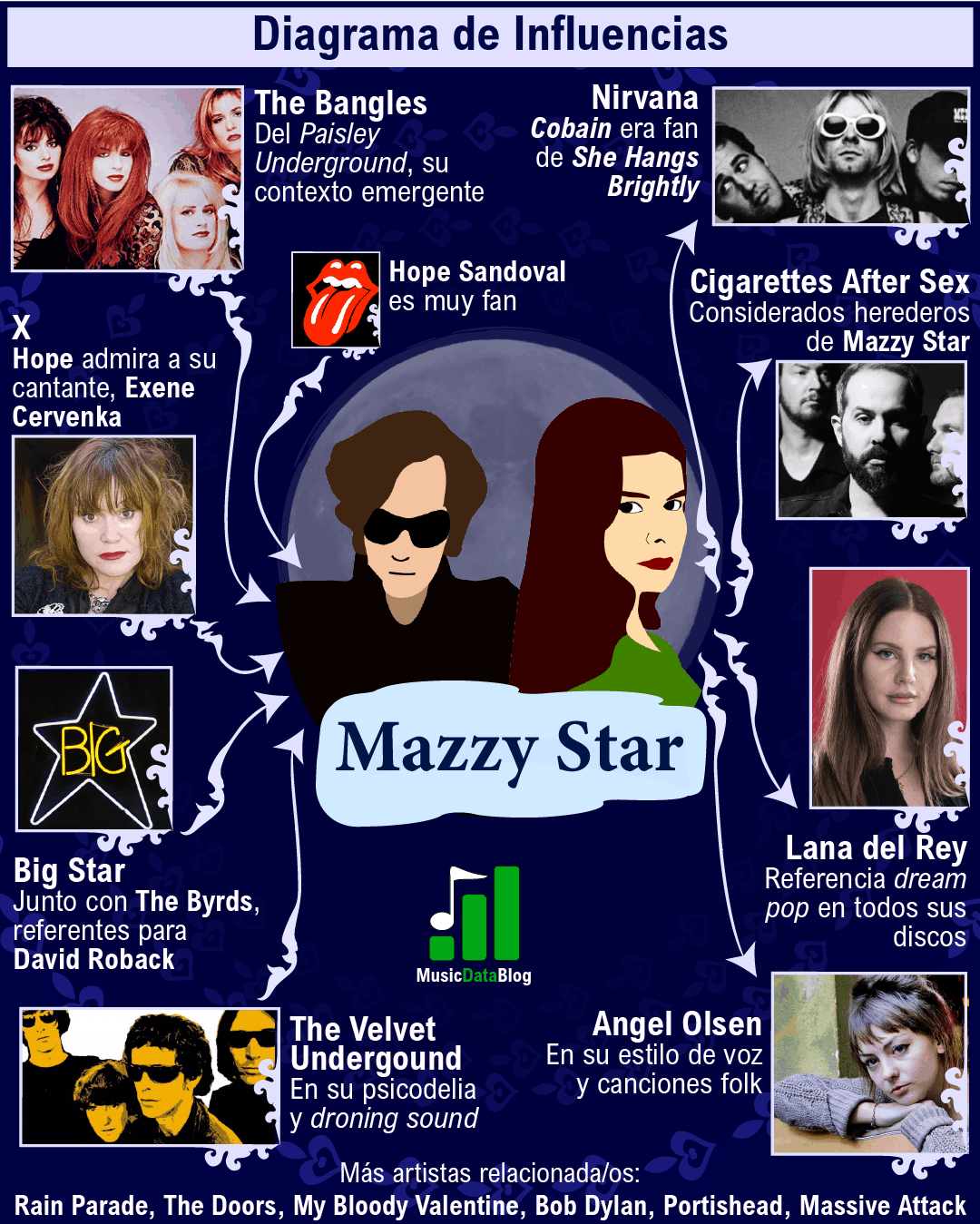 On February 24, 2020, with the death of David Roback, the possibility that Mazzy Star would return with new music was shattered.
Five influences on Mazzy Star
While David Roback composed the music for Mazzy Star, Hope Sandoval provided the lyrics. Here are some of his inspirations:
The Rolling Stones: According to Hope Sandoval, the fundamental band of Mick Jagger and Keith Richards was one of her motivations for approaching music, when she was only 13 years old. She also claimed to be a fan of Pink Floyd's first mastermind, Syd Barret.
X: Another inspiration for Mazzy Star's voice is the '70s punk band X. Hope Sandoval said that singer Exene Cervenka has been a strong influence on her singing. To such an extent that she posted about her on Facebook. That´s a lot of appreciation from someone who doesn't usually speak so much publicly.
The Velvet Underground: As Sandoval explained, David Roback was an expert on The Velvet Underground. Together with The Doors, they laid the psychedelic foundations of Mazzy Star's musical proposal: climates based on guitars and ethereal voices, with recurrent use of droning and delays.
The Bangles: In truth, the reference should be to the entire scene of what was called the Paysley Underground: a series of bands incorporating psychedelia and harmonies. The Bangles (with hits like Manic Monday and Walk Like an Egyptian) was the most recognized of them, but Roback himself was able to participate in the scene with projects like Rain Parade and The Dream Syndicate.
Big Star: The Paysley Underground was based on pop and rock bands of the seventies, especially Big Star and The Byrds. Roback was very influenced by these types of bands in his way of composing and playing the guitar.
Which artists were influenced by Mazzy Star?
Nirvana: While the grunge mainstay band Nirvana is not usually recognized for calm, quiet songs, Kurt Cobain was a huge fan of Mazzy Star's first album, She Hangs Brightly (1990). To such an extent that he listed said album among his fifty of reference, alongside artists such as The Pixies, The Stooges and Sonic Youth.
Cigarettes After Sex: One of the groups that was a sensation before 2020. With two albums released, they are considered one the most relevant dream pop bands nowadays. Singer, Greg González, has recognized that Mazzy Star is an influence on Cigarettes After Sex, with its dreamy sweet climates, which are very reminiscent of the Roback and Sandoval project.
Lana del Rey: Mazzy Star is a reference that runs through the entire discography of Lana del Rey. Many of his songs have that deep voice, that ethereal instrumentation, that downtempo. Critics have made repeated references, even pointing out that Lana del Rey emulates the singer of Mazzy Star with her voice. But on the contrary, Hope Sandoval does not know who Lana del Rey is 🙁
Angel Olsen: Another singer who is also recognized for the influence of artists like Cat Power in a certain melancholy in her songs, a certain "low pace". Especially in the slow songs and ballads of Burn Your Fire for No Witness (2014) and My Woman (2016), specialized journalism has echoed the inspiration that Angel Olsen has from Mazzy Star. Tracks like Sister or the Unfuck The World itself has acoustic and dreamy reminiscences that Roback and Sandoval loved so much.
More related music content