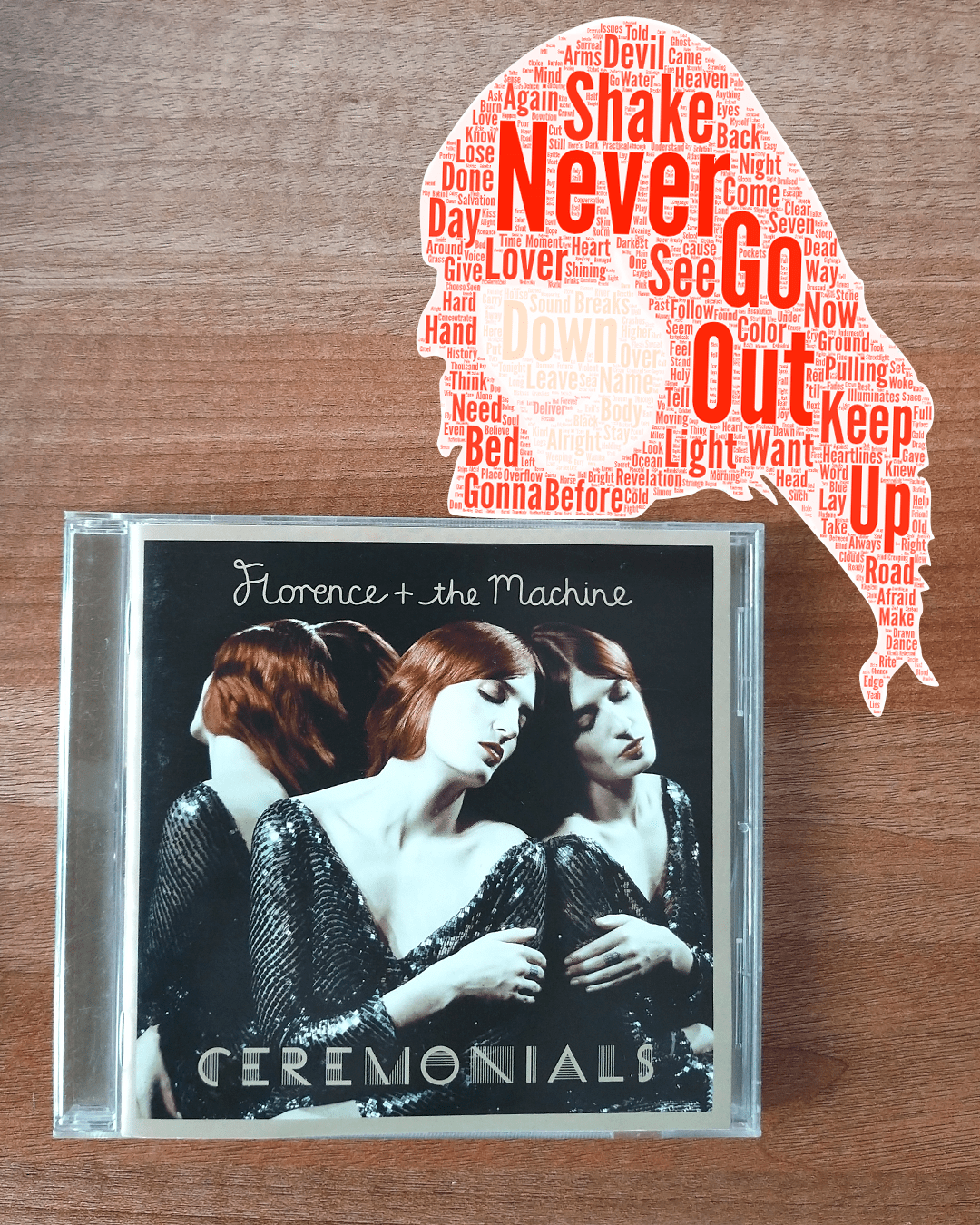 Lyrics by Florence Welch (AKA Florence + The Machine) usually build complex images with words: from vivid dreams to lost summarized memories that come from the darkness, or someone that finally reaches enlightenment in a really desired love encounter. Here we can see some usual references that the British dream pop singer makes on her sophomore album Ceremonials, from 2011.
As seen in the image above, her most mentioned words are Never, Lover, Light, Night, Up and Down and Shake. This last one appears so much because of the track Shake it out 's repeating chorus, a song that was a massive hit. Let's check out some other notable phrases in Florence + The Machine lyrics.
Let´s start with one favorite track, the already mentioned Shake it out, which features quite an up and down lyrical figure: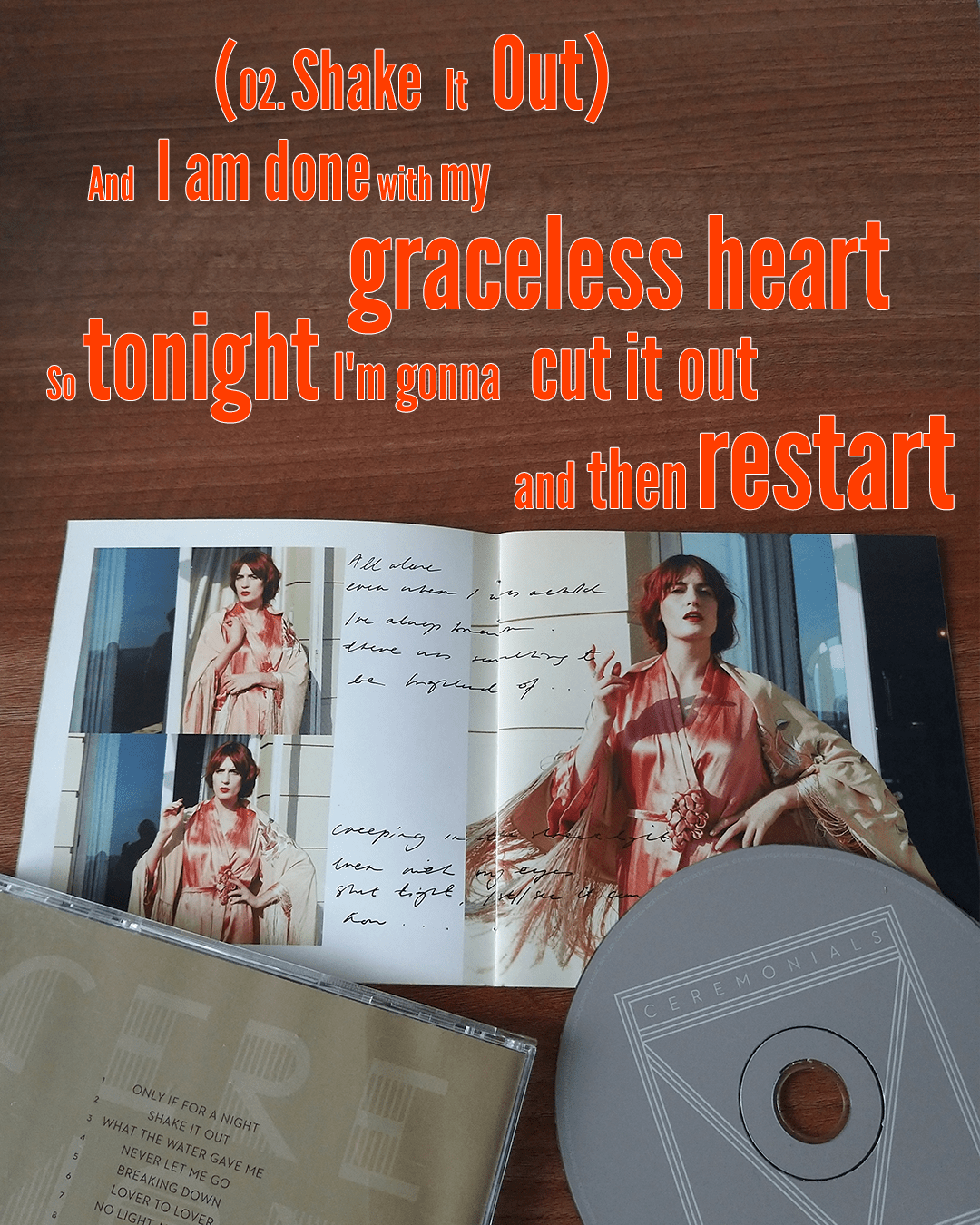 Another stand-out track for me is Only if for a Night. In the picture below we can read another common metaphor in Florence Welch's lyrics, that evokes ritual imagery and the idea of enlightenment, like reconstructing some kind of dream she had. According to the singer's own explanation, the song is about her grandmother: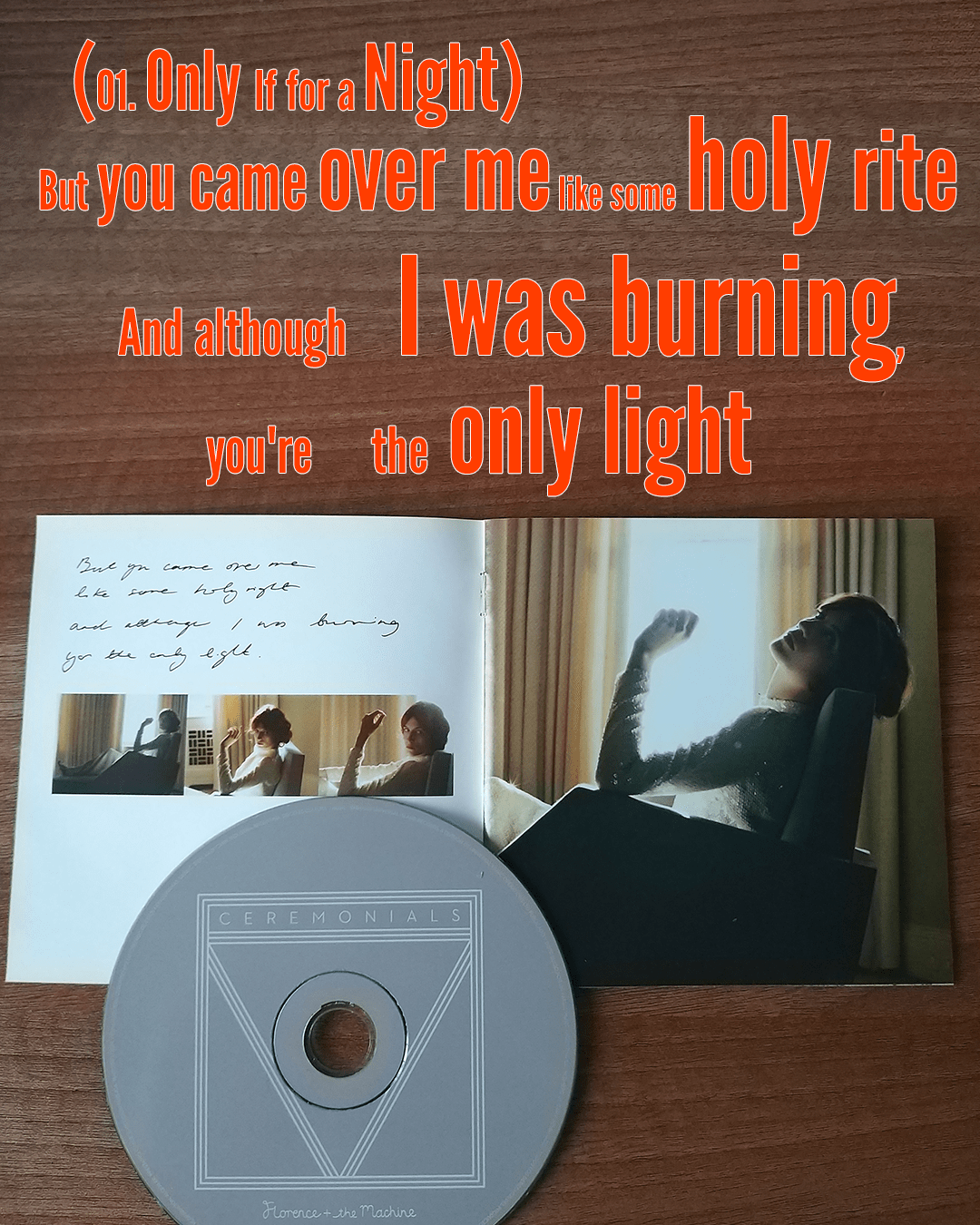 Florence + The Machine's lyrics usually refer to contradictory feelings, as a passage from darkness to light (or vice versa). Also, she usually sings about despair and salvation, perhaps not in a religious way but certainly in an existentialist sense. Surely, Florence Welch wonders a lot about her soul and the meaning of life, love, existence and death.
In Florence + The Machine lyrics, the light, and the brightness are moments of the soul: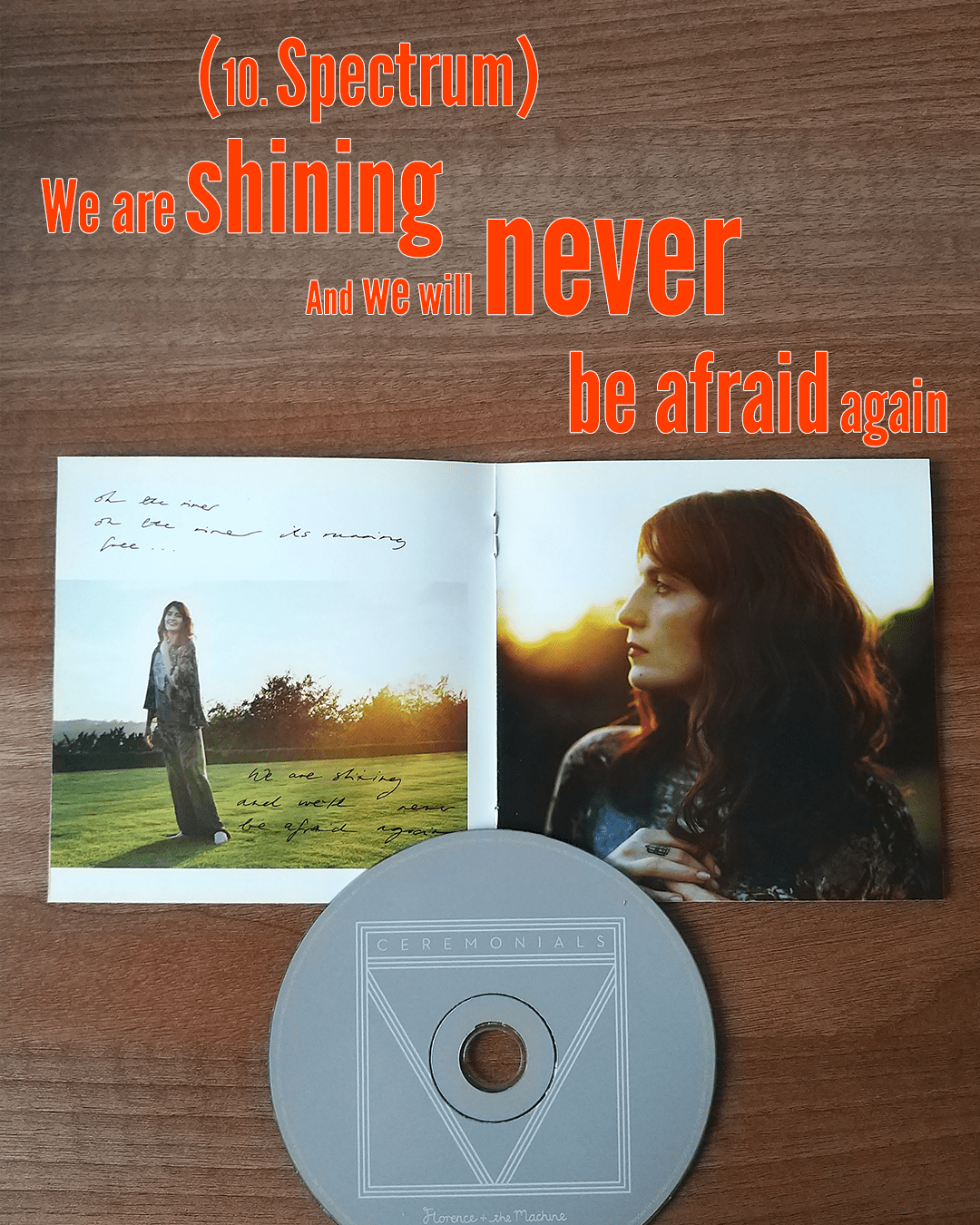 References to fear, being frightened and being scared are also common in the singer's lyrical themes. Of course, we may think about this as a reaction to some of the deep questions that she is throwing at herself, as mentioned above. And that fear has a particular side effect as if we were talking about some kind of inner aggression that she is holding. Here we have a sample on that, from the excellent No Light No Light, perhaps one of my favorite songs from her: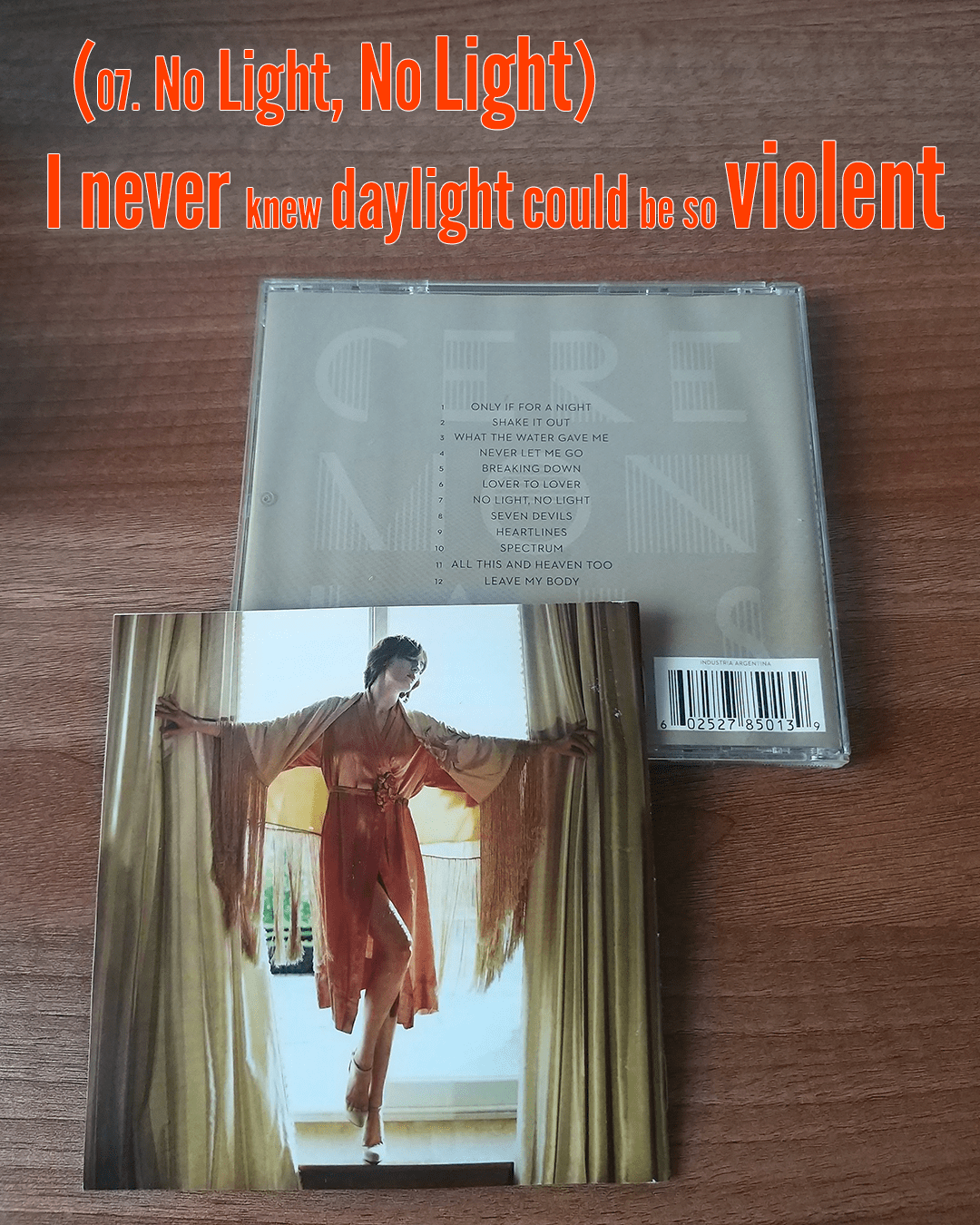 This post was just a quick review about some of the topics that Florence + The Machine constructs in her lyrics on the famous album Ceremonials. Some of these references, especially the ups and downs and the fear, also appear in other releases of the singer. Ceremonials remains her most successful piece of work, at least for now. We certainly hope to hear something new from her powerful voice soon…