In this post, we will go through Lana del Rey's history in a timeline infographic. Her career beginnings as May Jailer, as well as her work as Lizzy Grant are also featured in this chronology.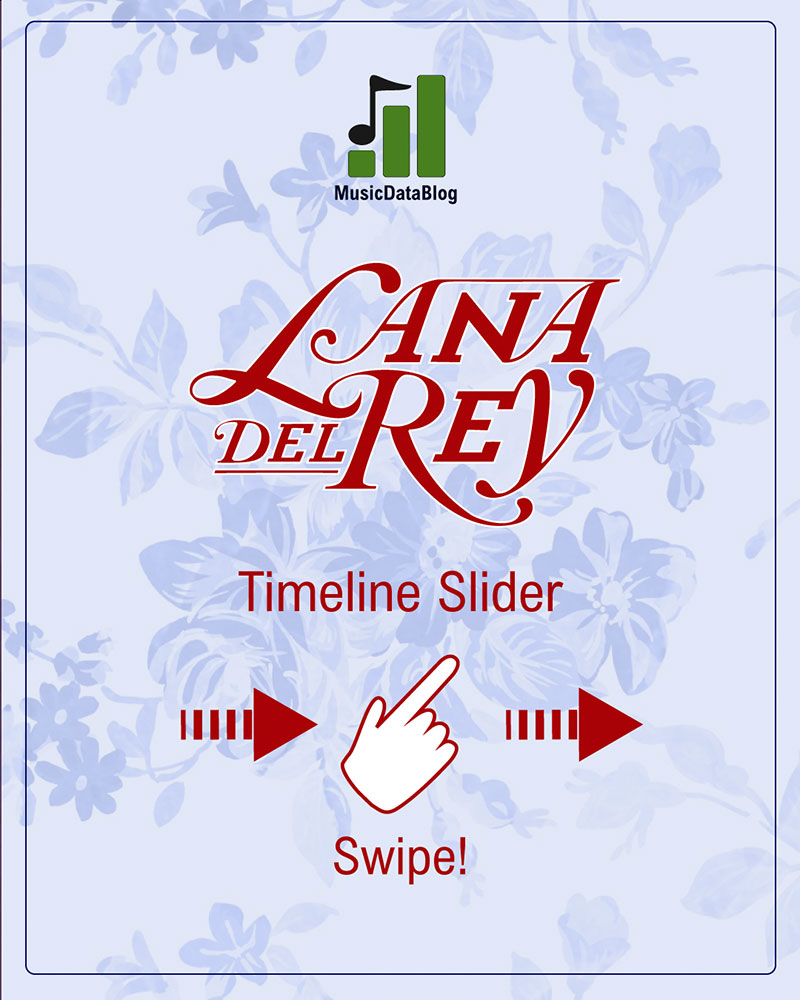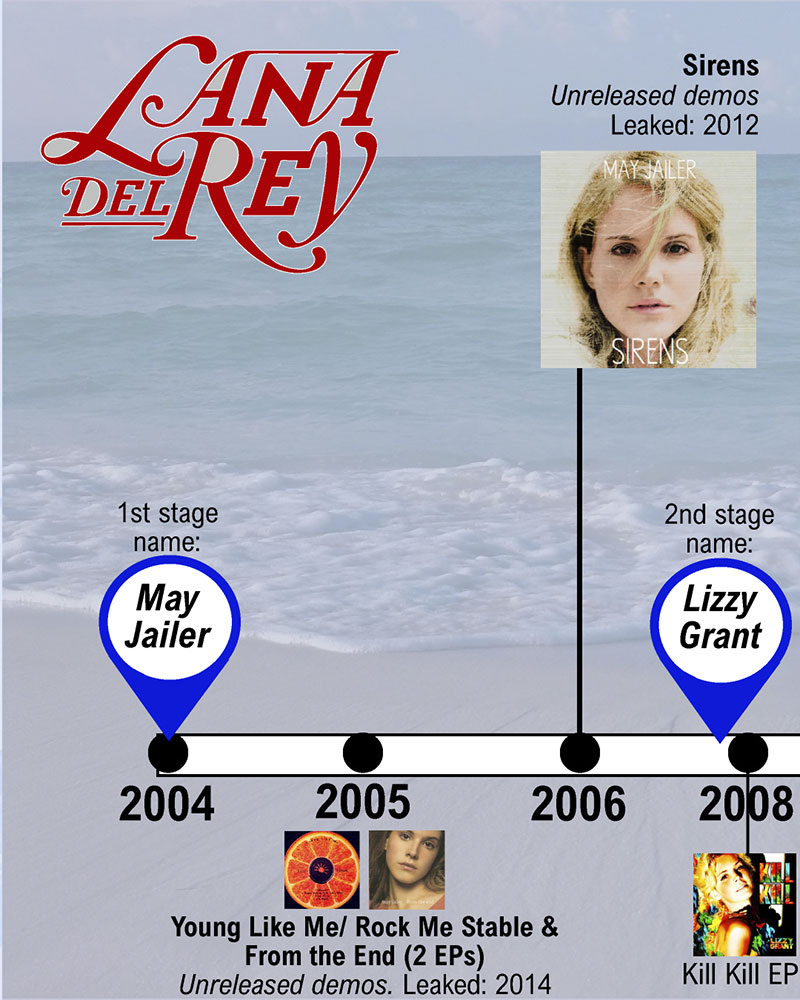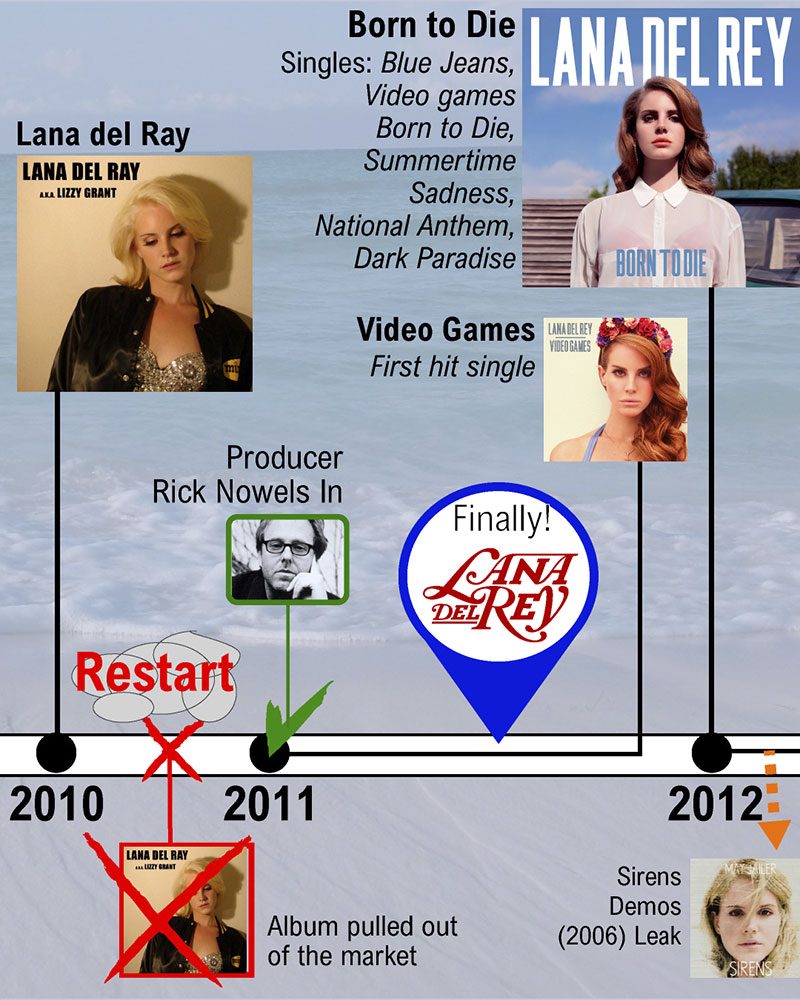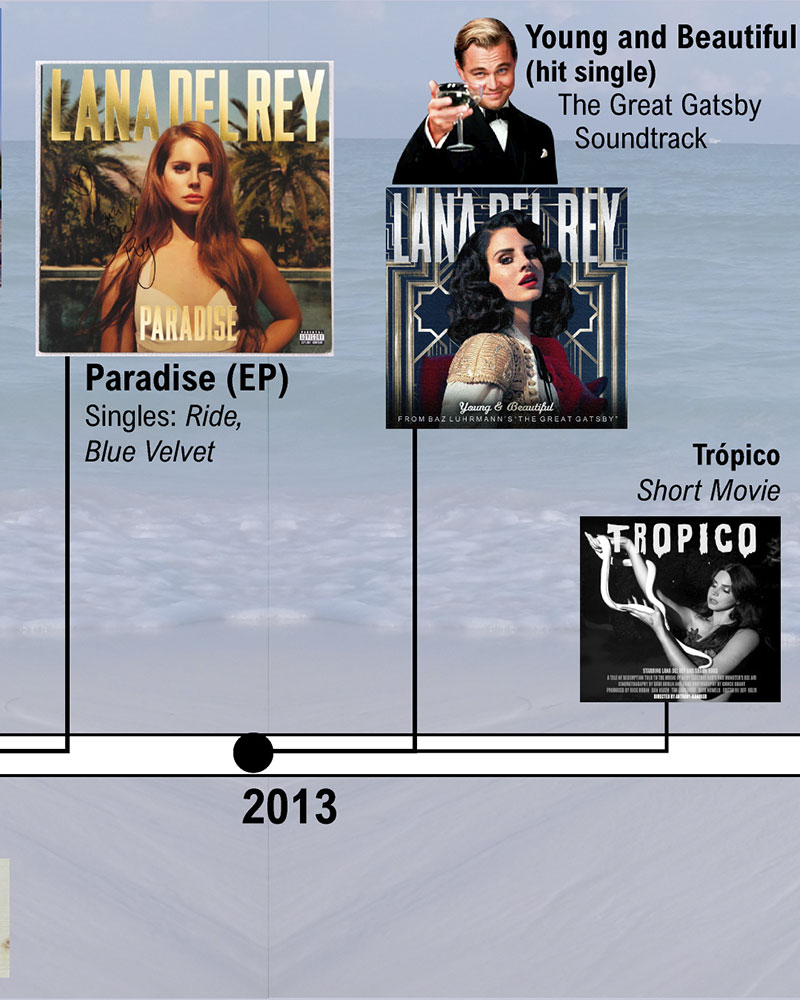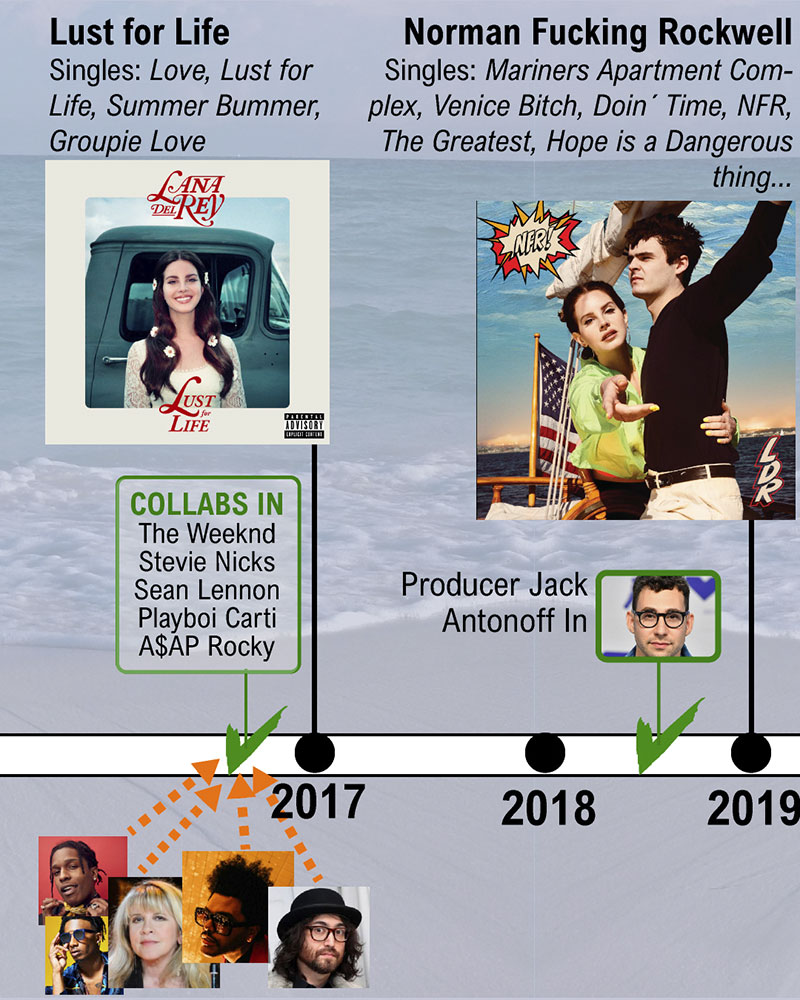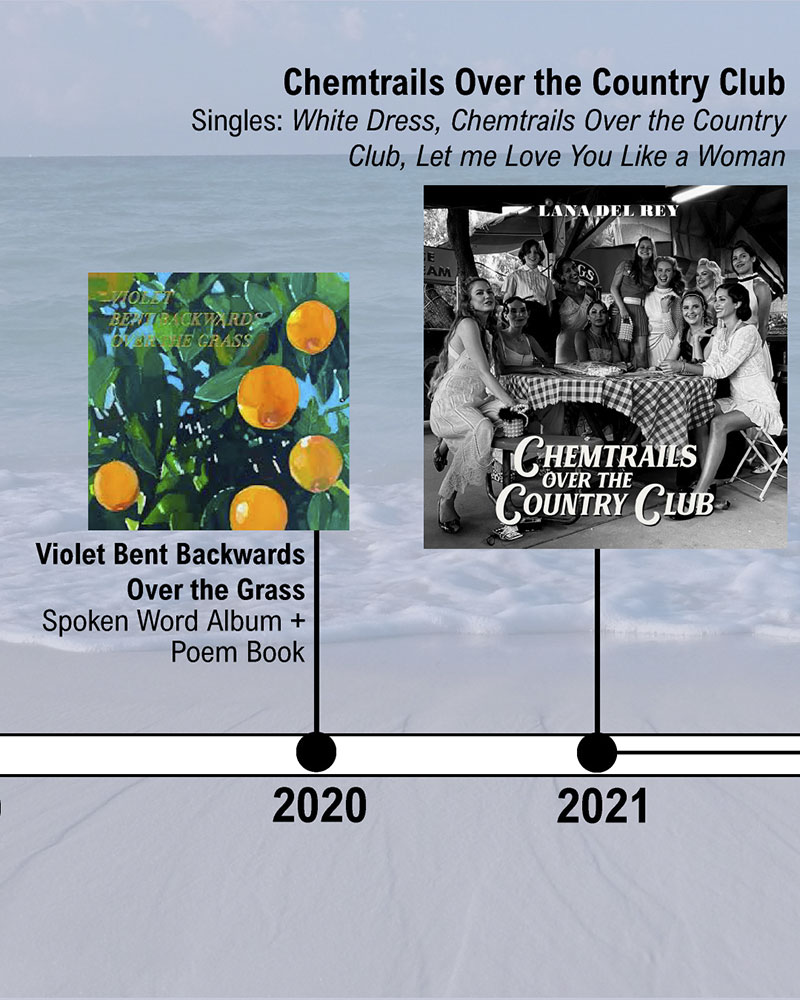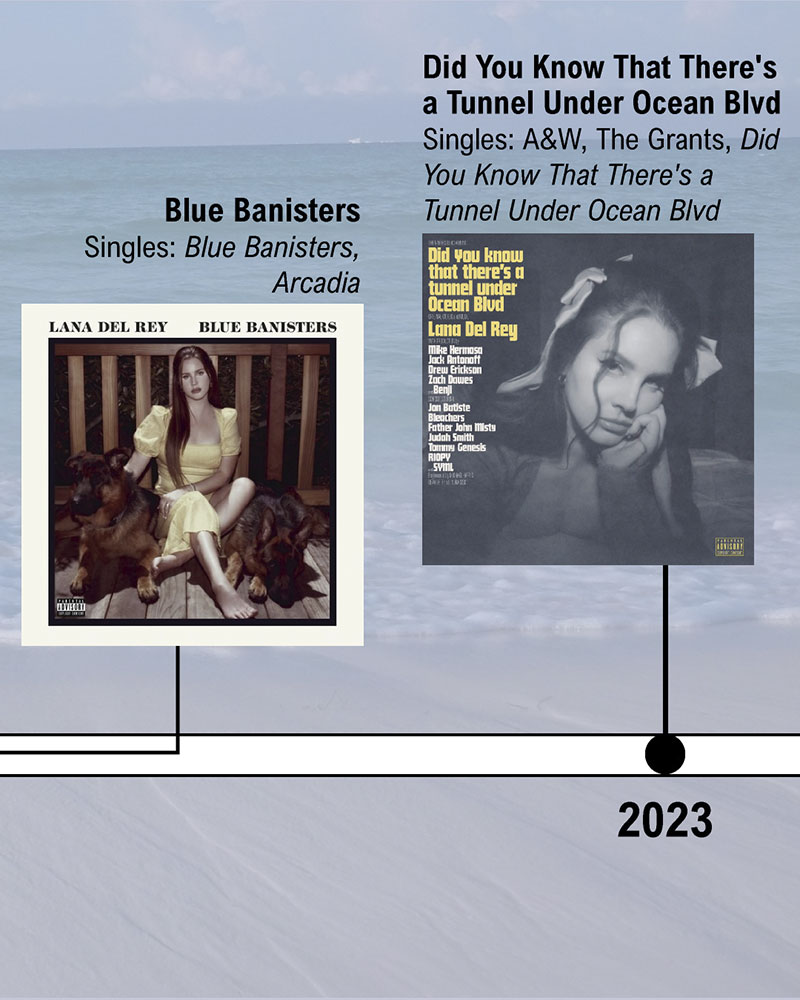 Lana del Rey's history starts with some stage name changes, before she consolidated as one of today's greatest singers. This timeline chart is updated with her most recent studio output: both 2021 albums Chemtrails over the Country Club and Bue Banisters, as well as You Know That There's a Tunnel Under Ocean Blvd, released in 2023.
If you want to learn more about this famous singer, check out Lana del Rey's influence chart.
How Lizzy Grant Became Lana del Rey
Elizabeth Grant's career in music started in the mid-2000s when she was yet trying to find her own sound and voice. She recorded a few demos in 2005 before her first and not officially released LP Sirens (2006). This LP surfaced on the internet in 2012.
By 2010 she had changed her name to Lizzy Grant, in order to record and release her first "official" album, titled Lana del Ray (2010). She later adopted the stage name of Lana del Rey. After adopting her new artistic name, she retired the previously mentioned album from the music market and reset her career. With another approach to her music and sound, she decided she wanted to become a different kind of singer, a really famous one.
Before her new debut with Born to Die (2012), she scored one big hit included in that same album: Video Games gained much popularity on the internet and started to gather significant media attention. Blue Jeans is another big hit from this record.
With her steady recording partner, producer Rick Nowels, she continued to release other successful albums. The EP Paradise did pretty well in sales and included Ride as a lead single.
She contributed to the soundtrack of the film The Great Gatsby with another hit, Young and Beautiful, in 2013. One year later, the album Ultraviolence (2014) was also critically acclaimed and commercial success.
In 2015, Lana del Rey released her weakest album in my opinion: Honeymoon, which included hit songs like High by the Beach.
2017 saw the release of Lana del Rey's most collaborative album yet: Lust for Life. This album featured collaborations with The Weeknd, Sean Lennon, Stevie Nicks, and Playboi Carty, among others.
Norman Fucking Rockwell was released in 2019. This album gardened critical acclaim, as it showcased Lana del Rey's music in a much more piano-based style.
In 2020 she released her spoken word album Violet Bent Backwards Over The Grass, which was also published including a poem book with the same title.
In 2021 she released two more albums: The critically acclaimed Chemtrails Over The Country Club, which was quickly followed by Blue Banisters. In 2023 Lana del Rey released her most recent work, Did You Know That There's a Tunnel Under Ocean Blvd.
Lana del Rey's complete discography
Born to Die (2012)
Ultraviolence (2014)
Honeymoon (2015)
Lust for Life (2017)
Norman Fucking Rockwell (2019)
Violet Bent Backwards Over The Grass (2020)
Chemtrails Over The Country Club (2021)
Blue Banisters (2021)
Did You Know That There's a Tunnel Under Ocean Blvd (2023)
More content