Lana del Rey (AKA Elizabeth Grant) is one of the most relevant singers that emerged in the 2010's decade. In this post, we check out some of her inspirations as well as some of the artists she influenced.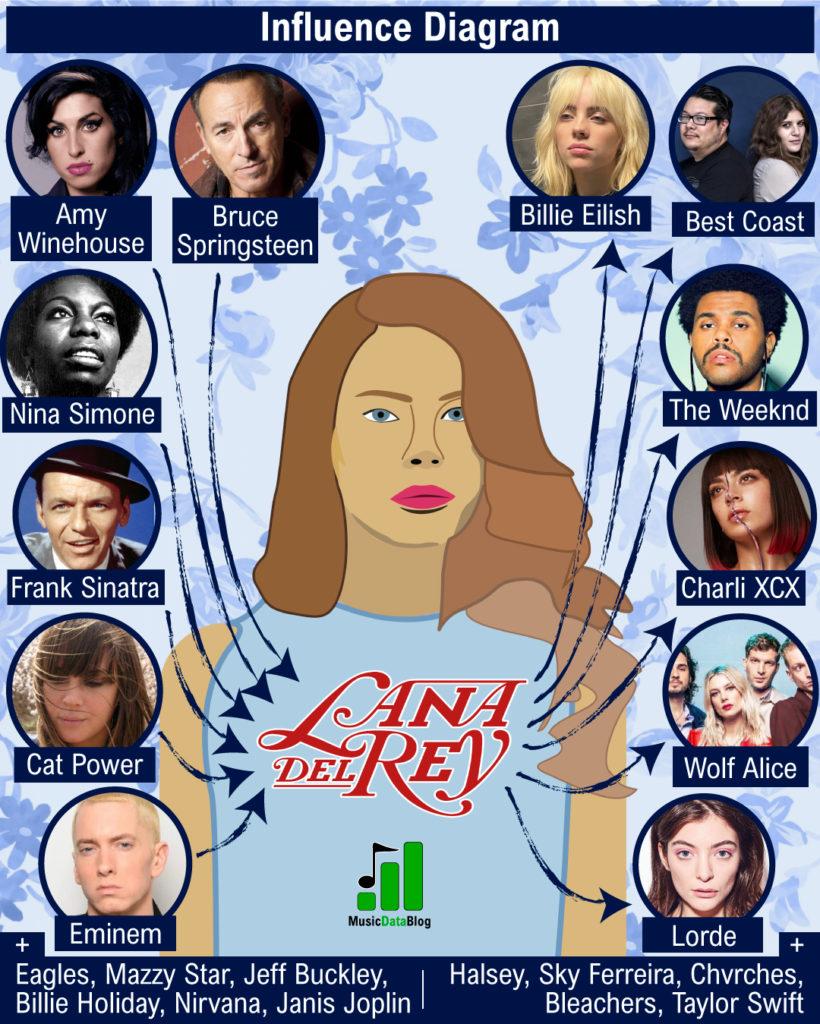 Who influenced Lana del Rey?
Since her "official debut" with 2012's Born To Die, Lana del Rey's influences have been classic singers such as Frank Sinatra, Nina Simone, Leonard Cohen, Billie Holiday, and Joni Mitchell. Regarding her rock music inclinations, Fleetwood Mac, Eagles, Janis Joplin, Nirvana, Bruce Springsteen, and Cat Power are among the artists that inspire her. Also, we can include pop singers such as Britney Spears, Madonna, and Beyoncé. We will review some of these influences that appear on the infographic.
Lana del Rey's musical style can be categorized within the dream pop and baroque pop genres, also with hip hop, jazz, and rock influences.
Frank Sinatra
One well-known fact is that Lana del Rey was influenced by classic jazz singers from the middle XX century. Perhaps the most relevant name for Lizzy Grant is her favorite singer, Frank Sinatra. On the other hand, a series of her videos which include Born to Die, National Anthem, and Young and Beautiful feature Lana del Rey's character known as "Gangster Nancy Sinatra", a clear reference to Frank's daughter.
Nina Simone
Besides this, Lana has clear influences in Billie Holiday and Nina Simone. In fact, she even got the names Billie and Nina tattooed on her arm. Really, both of these singers influenced the whole pop and rock culture since the fifties, but are a clear reference in Lana's vintage compositions and singing style.
Amy Winehouse
Another blues and jazz influence for Lana del Rey is Amy Winehouse. Amy also had a vintage style, based on some of the same previously referred classic singers. She became famous for her catchy jazzy and R&B songwriting. Her life is quite a sad story, that as we all know, ended with her passing on July 23, 2011.
Eminem
Even though Eminem may not like her, Lana del Rey cited him as an inspiration. She is certainly not a rapper, but Slim Shady provided her with hip-hop style inspiration for some of her songs and for lyrics. Lana del Rey thinks that Eminem is a "master of lyrics" that taught her how music can be smart and intelligent.
Cat Power
With a completely different music style, we can cite Cat Power as a strong influence on Lana del Rey: her deep singing voice has become a style signature for sad songs. If Cat Power helped coin the term "sadcore" to refer to her music style in the middle of the nineties, Lana del Rey was the artist that expanded the term and made it a mainstream success in the 2010s: "Sad Pop". It is also worth noting that Lana del Rey collaborated with Cat Power on the song Woman, included in the album Wanderer, released in 2018.
Bruce Springsteen
To end with the first part of this influence graphic, we will mention one of the strongest rock influences in Lana del Rey's music: the author of the rock hit Born in the USA, Bruce Springsteen. It is actually the whole narrative about the American dream, with the stars, the red and blue flag, and the US national pride that appear here. Bruce Springsteen is actually referred to in several of Lana del Rey's songs, like the hit track Video Games. Another good thing is that "The Boss" himself has praised Elizabeth.
Other relevant names for Lana del Rey's music are her Nirvana Influences and also her inspirations taken from Mazzy Star.
Which artists influenced Lana del Rey?
Also, here we feature some artists that were influenced by Lana del Rey. The list includes The Weeknd, Billie Eilish, Carli XCX, Sky Ferreira, and Lorde. Lana also inspired other singers that preceded her, such as Florence Welch and Taylor Swift. Rock bands such as Best Coast, Wolf Alice, and The Pretty Reckless are also among her followers.
Billie Eilish
Here we will start with one of the most relevant pop artists from these recent years: Billie Eilish has explained that she does not want to be compared to Lana del Rey, not because she does not like her music but because of the contrary. According to Eilish, Lana del Rey is a pioneer and has an extraordinary career. Billie is perfectly aware that the singer also known as Elizabeth Grant was the one that paved the way for artists like herself.
The Weeknd
Another well-known pop singer that has taken a lot of inspiration from Lana del Rey is The Weeknd. They have worked together, with the latter appearing on Lana's track Lust for Life and she also appeared on some of his tracks, like the single Prisoner. Apart from these collaborations, The Weeknd explained that Lana del Rey has been a major influence on the way he sings and performs vocals.
Charli XCX
Another of the new pop sensations, Charli XCX, has expressed her admiration for Lana. Certainly, the hipper pop genre owes a lot to an album like Born to Die. For Charli XCX, Lana del Rey is a legend, a true artist that paved the way for a whole new generation of new pop artists that appeared in 2012.
Lorde
Even though she may not like it, Elizabeth Grant's popularity also helped Lorde to reach success. Fairly enough, Lorde's first single, Royals, is inspired by Lana del Rey: a straight answer to all the imagery expressed in Del Rey's debut, Born To Die. But influences here go beyond this: Lorde has even been accused on several occasions of imitating Lana del Rey, being a song Stoned At the Nail Salon (Solar Power, 2021) a similar take from Wild At Heart (Chemtrails over the Country Club, 2021) and also Hope Is A Dangerous Thing For A Women Like Me To Have (Normal F Rockwell, 2019). Is there a way to compare these two singers even more? Hitmaker producer Jack Antonoff has worked with both of them.
Wolf Alice
Moving into rock territory, it is time to talk about Wolf Alice. Especially for their third album, Blue Weekend (2021), a lot of dream pop inspiration can be heard on those tracks. Wolf Alice's lead singer, Ellie Rowsell, stated that Ultraviolence (2014) was one of their influences when it came to sound production and style. She commented that the focus was to produce an organic-sounding record with well-crafted instrumentation.
Best Coast
As a last reference from the graphic we will mention Best Coast: Bethany Cosentino got inspired by Lana del Rey for their "punk" dream pop music, reminiscent of the nineties. If we go through Best Coast's music catalog, we will find plenty of references to alternative rock and surf rock. In tracks like When I'm with You and Heaven Sent, where Bethany Cosentino even dresses like Lana del Rey. Many of the band's songs are directly inspired by Lana del Rey, but presented in a direct rock style. It's like going from dream pop to power pop.
Even though she became popular before her, Adele has expressed on several occasions her love for Lana del Rey. It is said that the British singer had the word "Paradise" tattooed in reference to Lana's EP Paradise. Both singers are different in regards to music style, but they surely share a type of sad vibe in their music.
More content related to Lana del Rey