Why is this singer's style so relevant for alt-rock and pop? Here we will go through some of Elliott Smith's influences, which include artists from the sixties and connect with today's music scene.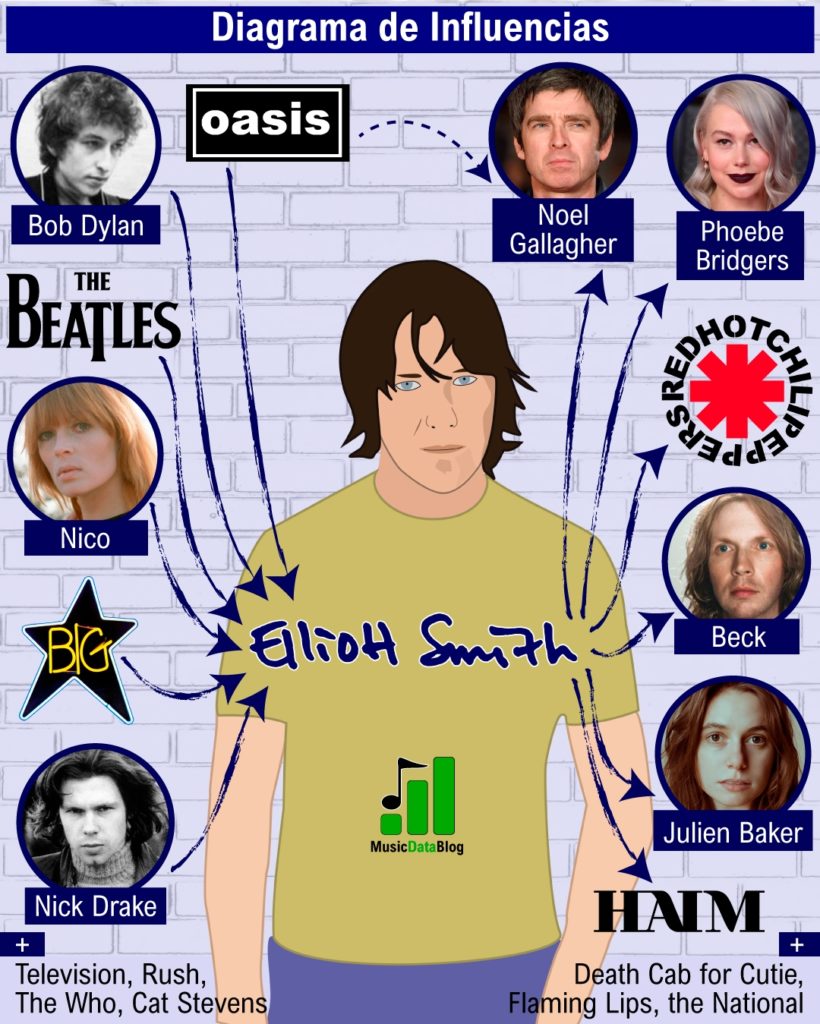 Which artists influenced Elliott Smith?
Elliott Smith's influences go back to the beginning of more classic pop and rock, with the obvious reference to The Beatles, but also to Nick Drake, Nico and Bob Dylan. British bands like Oasis and The Who also served as inspiration for his rockier output.
The Beatles
When I started working on the Elliott Smith influences, the obvious mention was The Beatles. It is known that Elliott was a fan of all four, but especially John Lennon and George Harrison. Elliott Smith's cover of Because is famous, but he also covered several other songs. The influences of Abbey Road specifically are evident in its baroque, its more elaborate and complex structures: a factor that separated it from the traditional pop verse and chorus proposals. Elliott's final album in life, Figure 8, was recorded at Abbey Road Studios in London.
Bob Dylan
Bob Dylan was one of Elliott Smith's favorite singer-songwriters, whom he had known since childhood. According to Elliott himself, "My father taught me to play Don't think twice, it's all right." I love Dylan's lyrics, but more than that, I love the fact that he loves writing lyrics. "Since Elliott Smith put a lot of effort into his lyrics, it's no surprise that Bob Dylan was one of his role models. several of his songs, such as the aforementioned Don't think twice and Ballad of a thin man.
Nick Drake
Comparisons between Elliott Smith and Nick Drake are usually mentioned. Both created songs with lyrics full of poetry, melancholic, and somewhat tormented. Of erratic and depressive behaviors, the downward spiral brought them to the early end of their days. Nick Drake died at 26 and Elliott Smith at 34.
Nico
When Elliott Smith was asked about his favorite records, he mentioned two: Television's Marquee Moon and Nico's The Marble Index. Indeed, it is enough to listen to the second album of the German singer and there is no doubt that it was an inspiration for Smith. But his eagerness went even further: Elliott Smith said that Nico was one of his favorite singers and that he even wished he were in his head.
Big Star
Beyond the usual rendition of the classic Thirteen track, Elliott Smith was a special Big Star fan. He admired their leader, Alex Chilton, whom he apparently credited as an inspiration in his singing. Elliott's mentions of his fondness for Chilton appear mostly on show recordings.
Oasis
Elliott Smith did not escape the eagerness of the Britpop explosion. It was no wonder: from one big Beatles fan to another, from Elliott to the Gallagher brothers. According to the biography "Elliott Smith and The Big Nothing", the singer went through a great period of fanaticism for Britpop, as he was looking for new sounds and ideas. Around that time, he began to play the Oasis classic Supersonic at his recitals.
Which bands and artists were influenced by Elliott Smith
Indeed, my idea of ​​revisiting Elliott's inspirations came from contemporary female artists: Phoebe Bridgers, Julien Baker, and Haim, to be more precise. I was also pleased to discover the explicit appreciation of Noel Gallagher and corroborated what he thought: that John Frusciante of Red Hot Chili Peppers is also a fan.
Noel Gallagher
We will just pick up where we left off: in a kind of circular exercise, Noel Gallagher's High Flying Birds post-Oasis efforts have clear nods to Elliott Smith. From tracks like Everybody's on the run or Dead in the water. Noel Gallagher has given more space to an acoustic but arranged production. "The chief" has also expressed his respect for Elliott Smith in terms of his quality as a lyricist.
Phoebe Bridgers
I move on to a self-confessed Elliott Smith fan, Phoebe Bridgers: "He's like The Beatles to me." She has covered Elliott live on several occasions (Whatever, Say Yes). She cited New Moon, the Elliott Smith Demo Collection, as her favorite work. But it is enough to listen to Punisher, the most recent work of the singer-songwriter, to find clear intimate echoes and arrangements that go from high to low, with clear inspiration from Elliott.
Julien Baker
On behalf of a co-religionist of Phoebe Bridgers, Julien Baker, she credits Elliott Smith with his most intimate and minimalist approach (specifically, "Needle in the Hay" in a scene from Wes Anderson's film The Royal Tenenbaums). It is perhaps in the lyrical character where Baker finds the greatest inspiration: lyrics that speak of internal struggles, of an existential drama whose only relief seems to be to put them into songs to make sense of them.
Both singers represent a current generation of indie musicians that, via Elliott Smith, have given way to influences from the rock of the sixties, as detailed before.
Haim
Continuing with the list of inspired, in the cut of pop or soft rock we find Haim. Specifically who I'm targeting is their lead singer, Danielle Haim, who pointed to Elliott Smith as an influence when writing songs. The last album Elliott released in his lifetime, Figure 8, is her favorite thanks to its inventive melodies and lyrics.
Red Hot Chili Peppers
Among the great rock bands of the last thirty years, we find Red Hot Chili Peppers. The funny thing here is that the influences of Elliott Smith can be found in any of the last guitarists of the band: be it John Frusciante or Josh Klinghoffer. In the case of Frusciante, the influence is most evident in his solo output (for example, in To record only water for ten days). In the case of Klinghoffer, he has paid tribute to Smith in concert, with versions of Twilight and Angeles, Be that as it may, the approach to the quieter guitar passages.
Beck Hansen
If Beck Hansen's records are to be placed as indebted to Elliott Smith's influence, one would be Sea Change and the other would be Morning Phase. These are not the quirky inventions of Beck's earlier productions (like Odelay), but rather acoustic-based work and quieter songs. In these works, Beck is much more stripped-down, revisionist and confessional. It should be noted that Beck and Elliott Smith knew each other, and it seems they had even discussed collaborating together.
More related content