With no new music from this britpop massive band in the 2021 agenda, at least we can check some of Oasis influences below: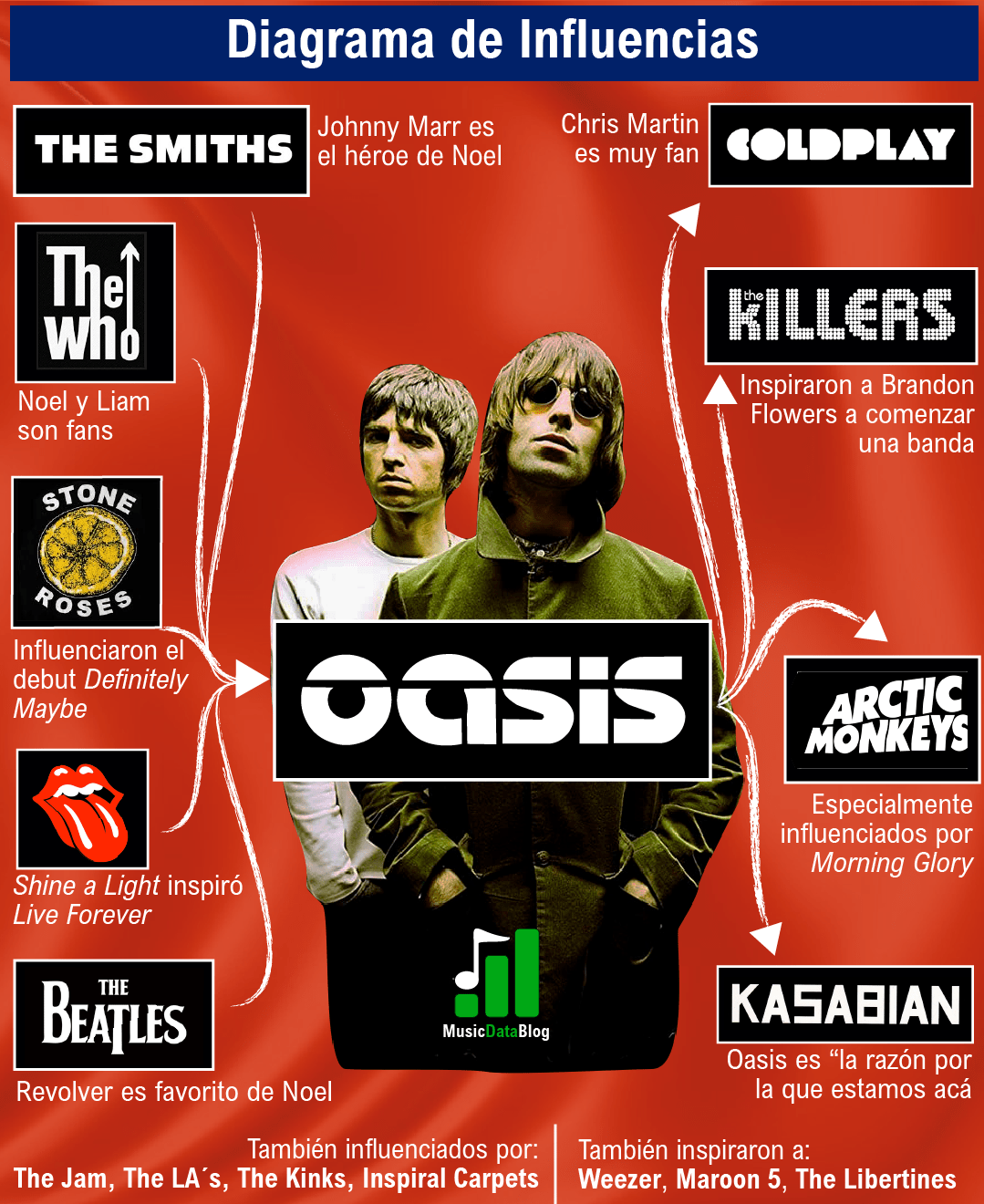 On October 2, 2020 it was the 25th anniversary of Oasis´ masterpiece (What´s the Story) Morning Glory? Also, Liam Gallagher released his MTV Unplugged which contains many of this classic album´s tracks. There has been a lot of talking about an Oasis reunion, a thing that lead songwriter Noel Gallagher seems to be not willing to do.
Oasis influences: previous to britpop
There are two inmediate influences on Oasis mid nineties sound: one of them is The LA´s, who released their only hit single There She Goes in 1990. The other band -that at first looked like they were going to take over the world- are The Stone Roses, which is the one that I will highlight in this infographic. Liam Gallagher has cited their song I wanna be adored as an inpiration and also his brother and bandmate (and fighter) Noel Gallagher said that Cinamon Girl was the track that turned him into a fan of the band. Having said that, it is notable that the sound on Oasis first album, Definitely Maybe (1994) is similar to The Stone Roses debut album (1989): psychedelic delay guitars, spacey sound and big tunes.
Another big influence on Oasis successful britpop sound were The Smiths. Many tracks from this eighties band leaded by Morrissey have been covered by Noel Gallagher (There is a Light that never goes out is a good example).  The Smith´s guitarist Johnny Marr is one of his personal idols, with whom he has collaborated in one of his solo tracks, The Ballad of the Mighty I. Also, Marr gave Noel a special guitar which has been previously used The Who´s Pete Townshend.
Speaking about The Who, they are also a big influence on Noel and Liam Gallagher´s band. Noel has explained that The Who were an inspiration on Oasis track Lyla, from Don´t Believe the Truth (2005), and album that owes a lot to the british rock sound from the sixties. Oasis recorded a version of My Generation, a real classic from The Who, as a B side from their single  Little by Little (Heathen Chemistry, 2002). Also to note, Pete Townshend also admires Liam and Noel.
Noel Gallagher explained on the documentary Live Forever: The Rise and Fall of Britpop, that the inspiration for Oasis´ classic song Live Forever came from The Rolling Stones´ Shine a Light, originally from Exile on Main St. (1972). And another thing: Oasis recorded a version of Street Fighting Man, a Stone´s stand out track.
As a last mention on the Oasis influences of course I will mention The Beatles. Revolver (1966) is one of Noel Gallagher´s favourite albums. On his side, Liam Gallagher is such a fan of John Lennon that he even named his son after him. As we all know, many cover versions of The Beatles have been recorded and played live by Oasis.
Bands influences by Oasis
One of Oasis most popular "studends" is Coldplay. They have covered Live Forever (with Liam Gallagher) and their frontman Chris Martin also mentioned that Cast No Shadow from (What´s the Story) Morning Glory? is a big influence for him.
Another outspoken Oasis fan is Brandon Flowers: according to the singer from The Killers, it was at an Oasis concert in 2002 in Las Vegas that made him want to form his own band. The Killers have covered the Britpop titans many times live, performing tracks such as Live Forever, Wonderwall and Acquiesce.
The drummer and the singer from Arctic Monkeys, Matt Helders and Alex Turner, used to dress like Oasis in their adolescence. Oasis has been an influence on their lyrics about the workers life, the neighbourhood and the reality on the streets, as well as their pop search on their many style phases.
As a last mention I will write about the lead singer of The Libertines: in 1997 a really young Pete Doherty was filmed in the crowd on the release date of Oasis third LP, Be Here Now. At the time he just pretended to be a real fan of Oasis and he took advantage of the situation to appear on camera. Many years later he would clarify that jokes aside, Oasis were one of the bands he listened the most even though at the time of the footage he was just pretending.
More related content:
An extra note: you can see the reaction of Brandon Flowers when he was surprised on stage by Liam Gallagher.