This graphic timeline shows the history of Oasis, as well as the solo careers of brothers Noel Gallagher and Liam Gallagher. Swipe here for a Britpop story: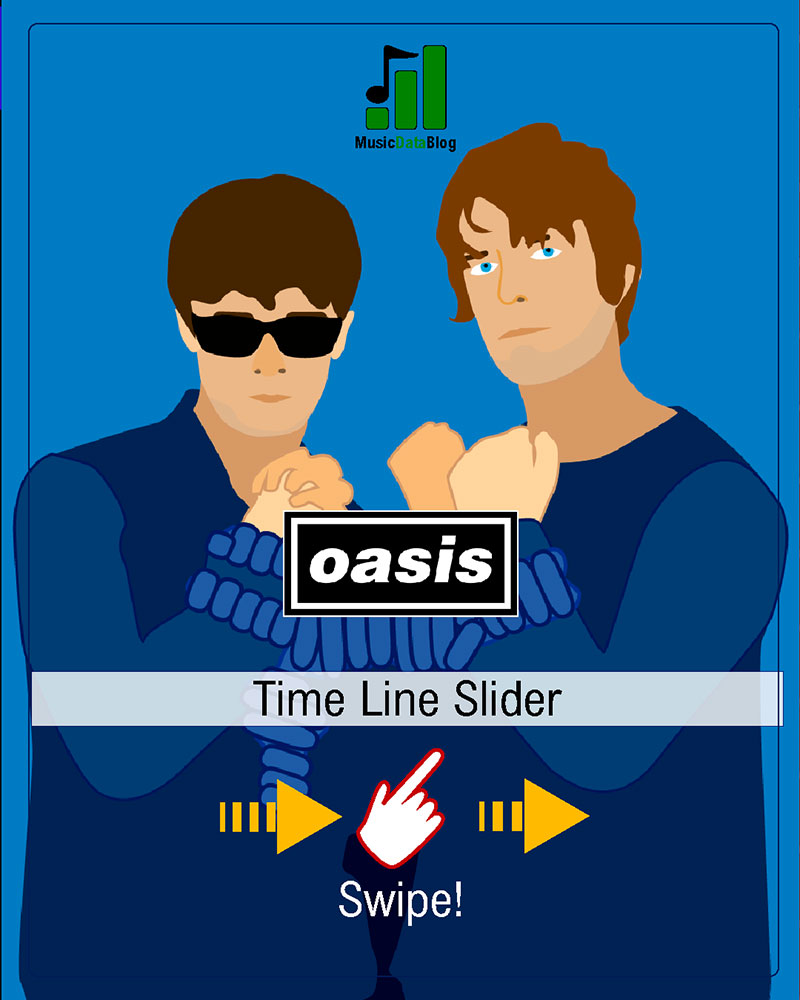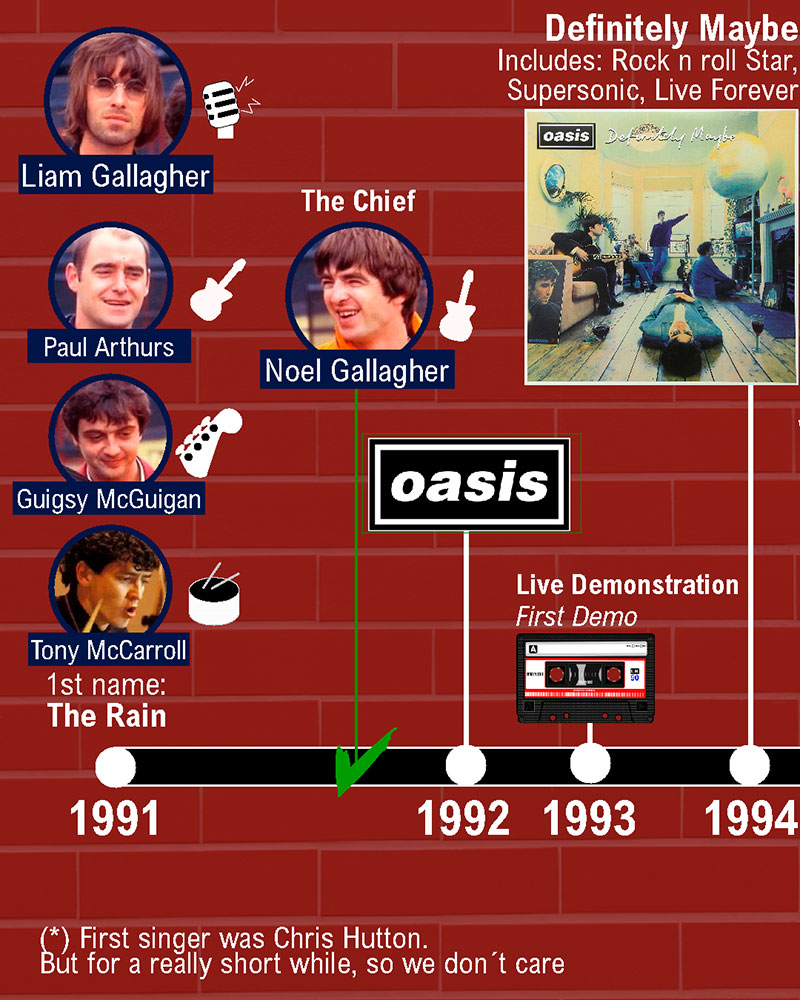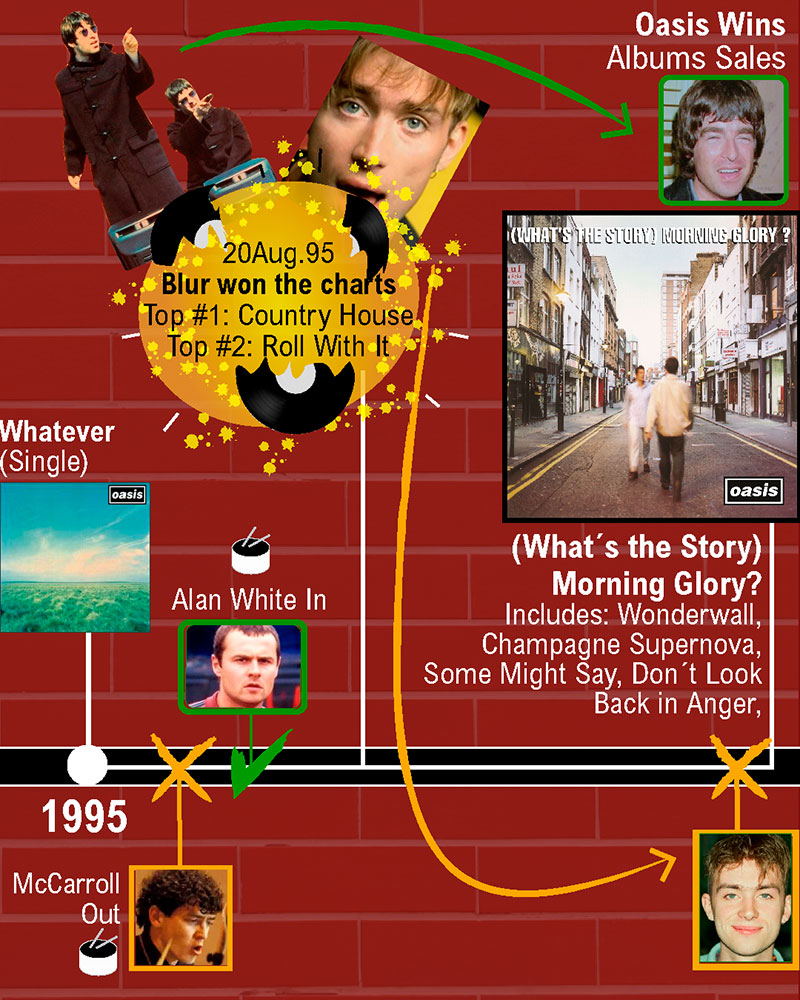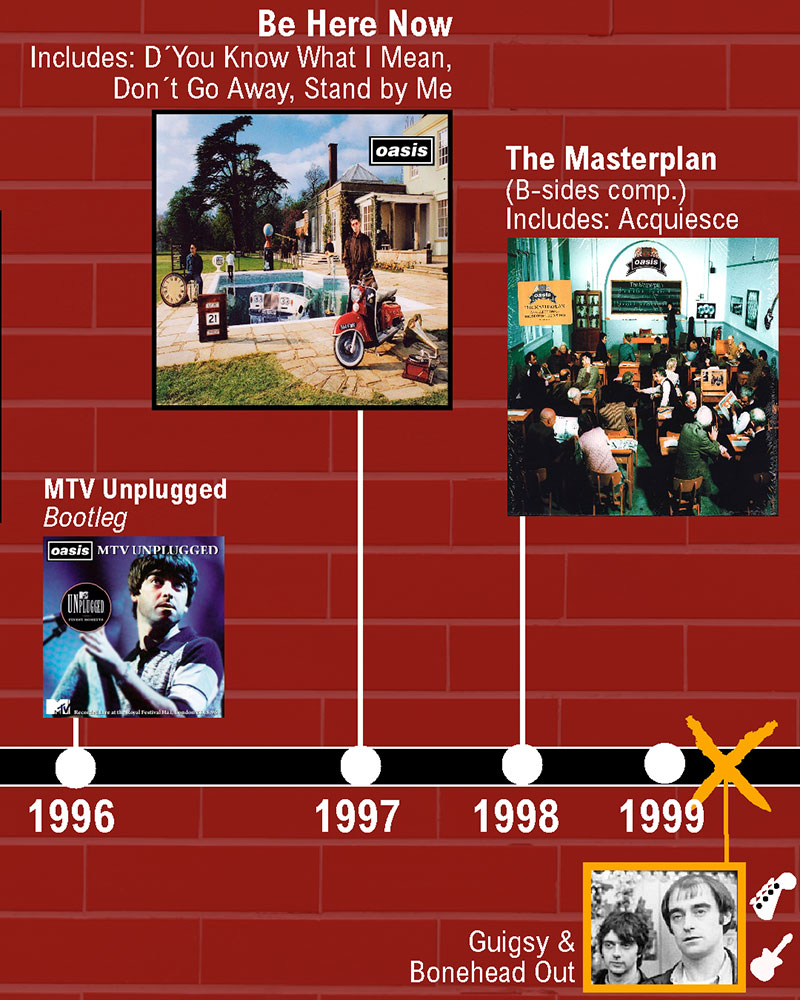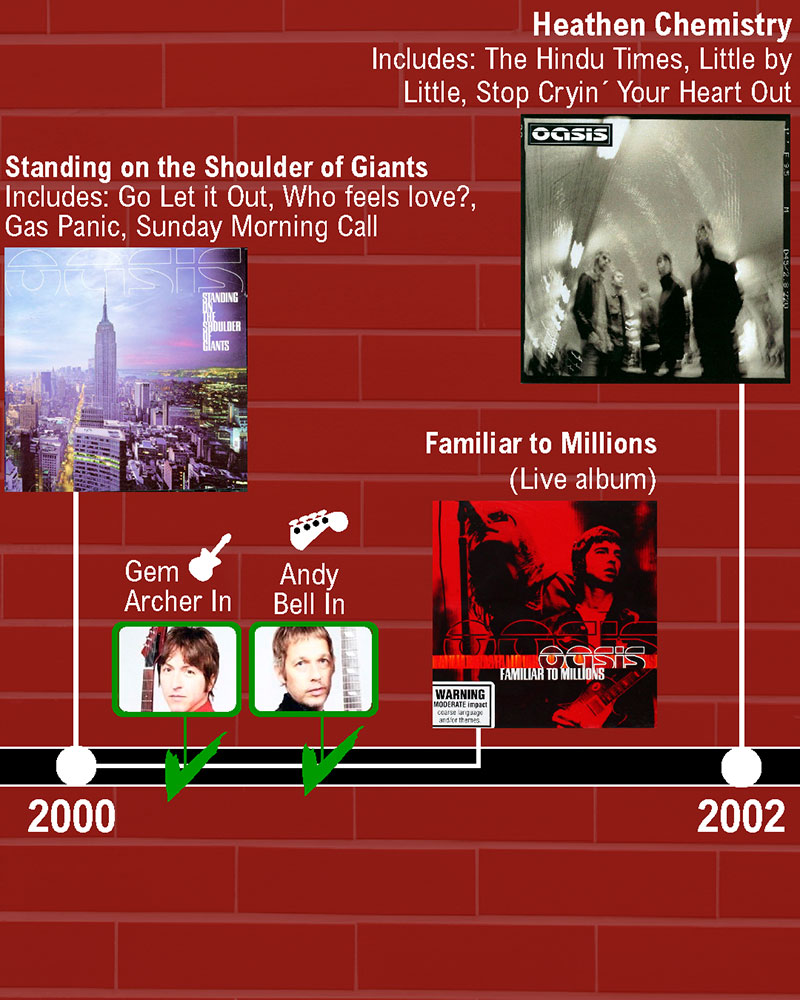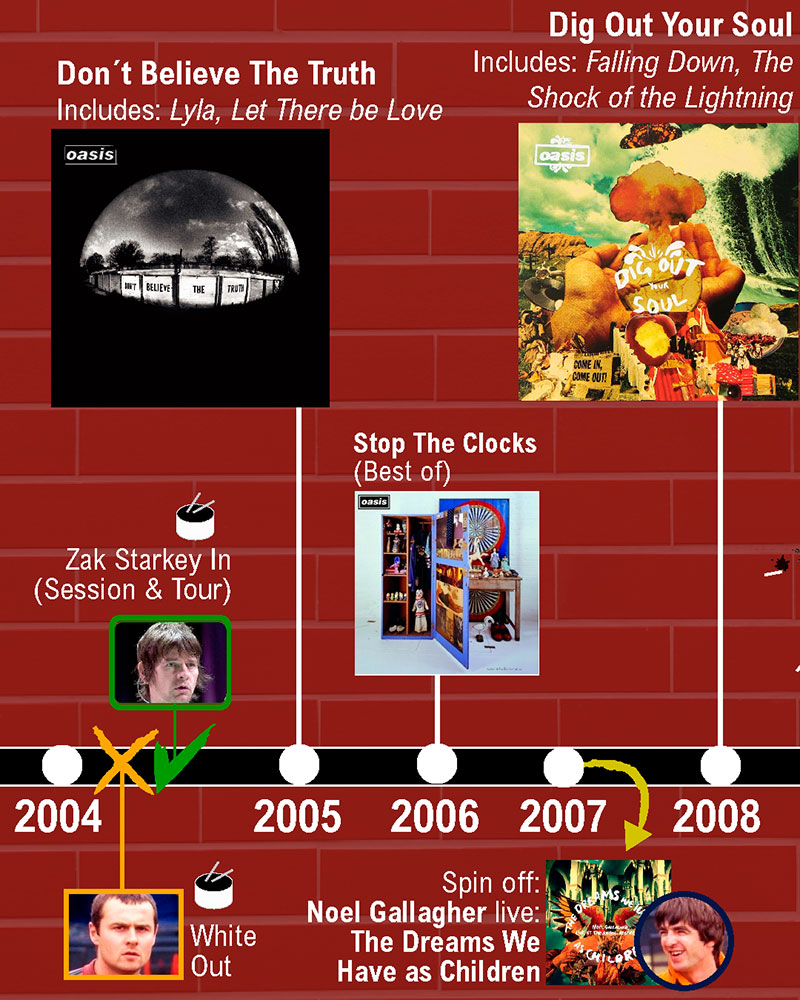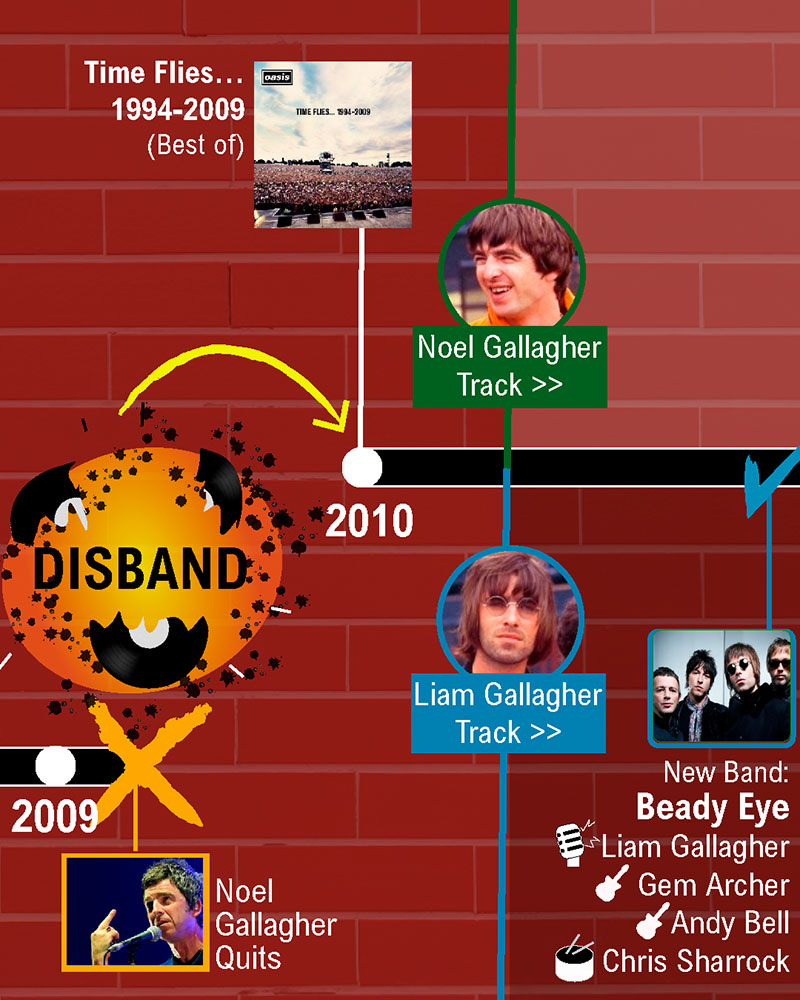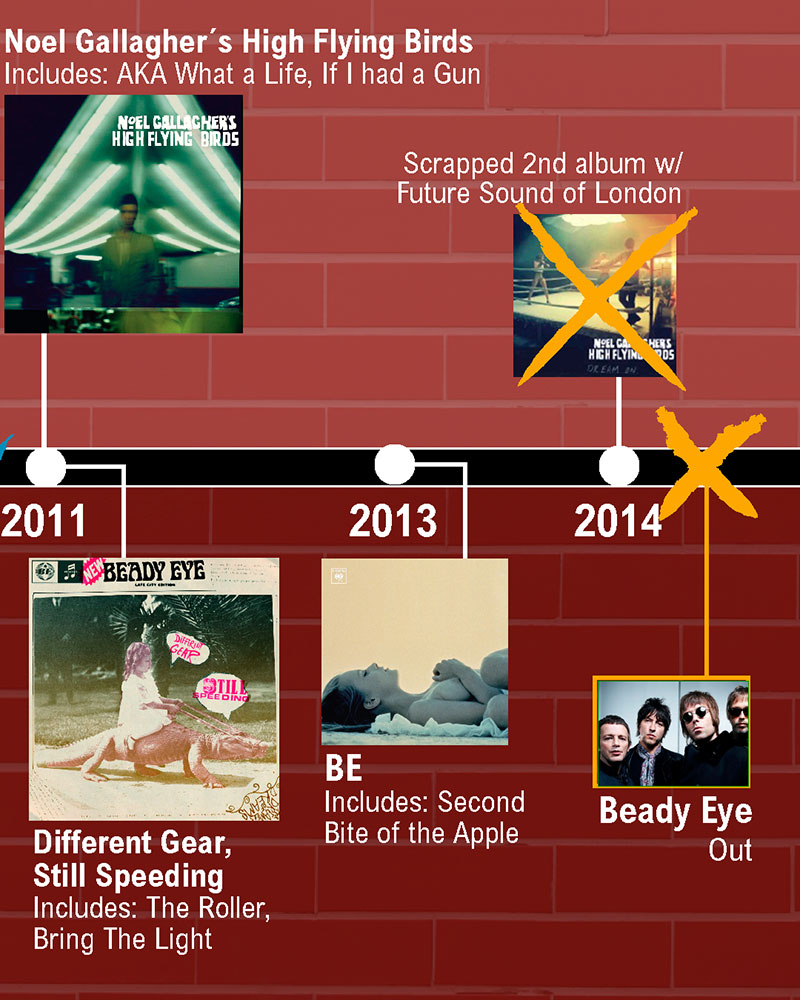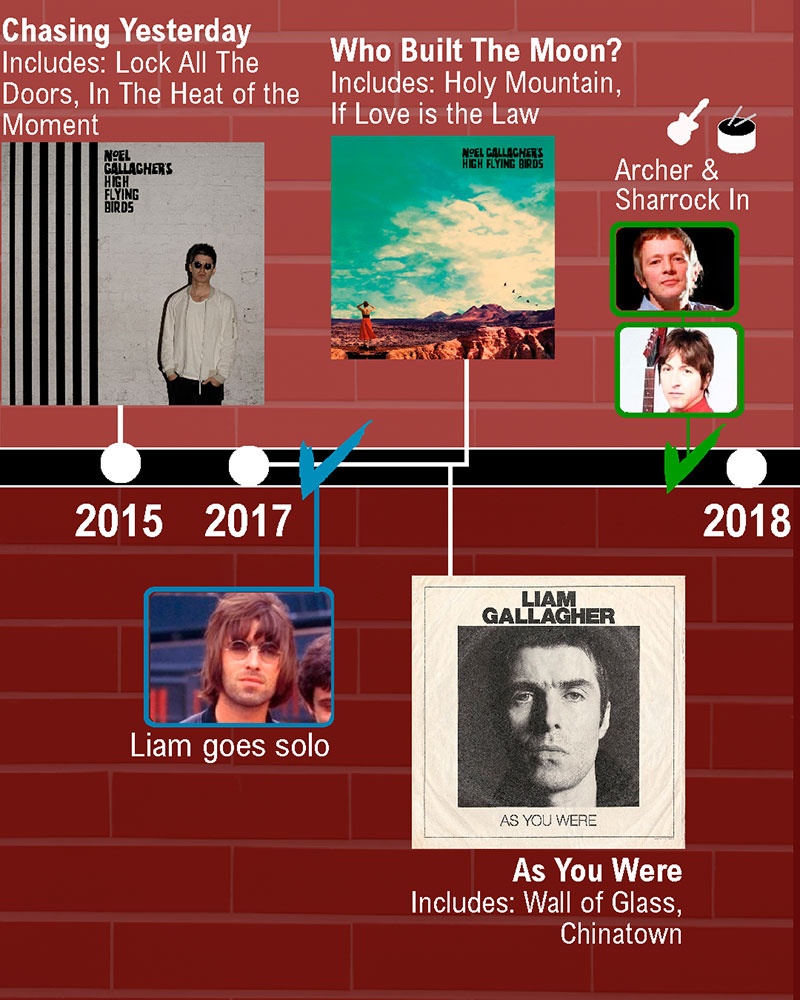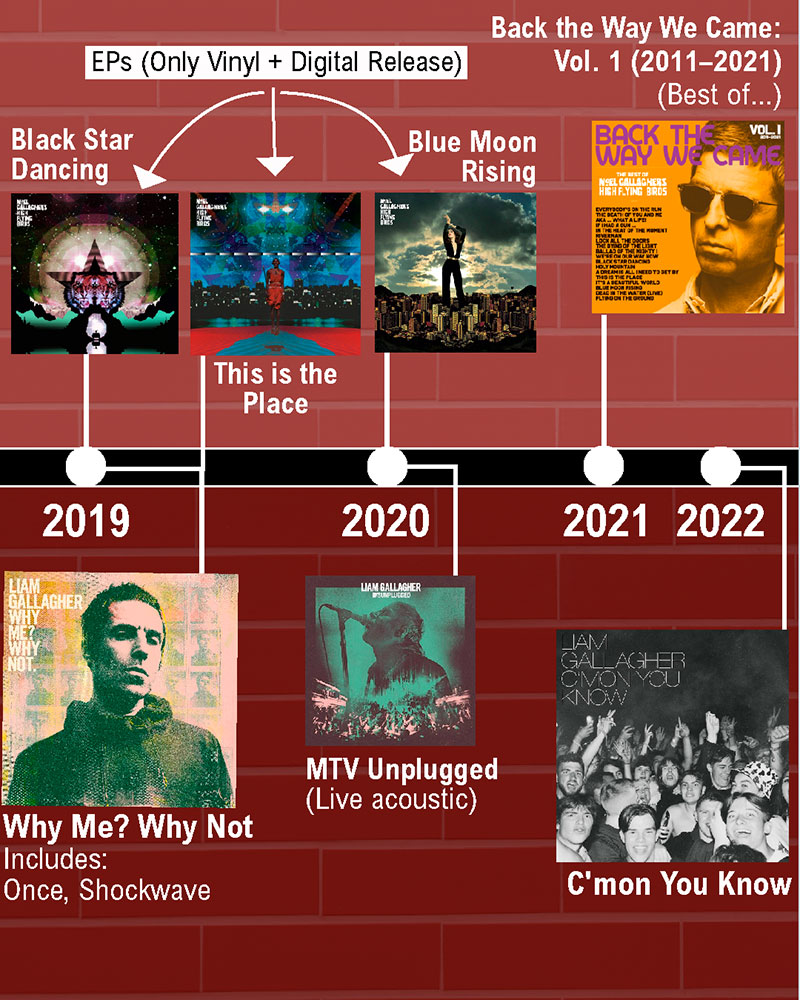 Also, if you want more on the band and Britpop, you can visit the Oasis Influence diagram.
The biography the mythical Manchester band Oasis is full of changes of members, record releases, and some other events until their split.
The history of Oasis: a summarized version
Oasis started in 1991 with singer Liam Gallagher, alongside Bonehead Arthurs (guitar), Paul McGuigan "Gypsy" (bass) and Tony McCarroll (drums). Noel Gallagher later joined as a songwriter and lead guitarist.
Oasis' debut album, Definitely Maybe, was released in 1994 to critical and commercial success. It features many popular singles like Cigarettes & Alcohol, Supersonic and Live Forever.
Just before recording their second album Tony McCarroll was fired and Alan White became the new drummer. By this time the Gallagher brothers were widely known for their aggressive attitude and constant fighting with each other.
Oasis' second album, (What´s the story) Morning Glory? was released in 1995. It remains as their most successful album to date, with hit singles such as Wonderwall, Roll with it, Don't look back in anger and Champagne Supernova.
Previously to the release of (What´s the story) Morning Glory?, Oasis engaged in the media-fueled Battle of Britpop against Blur. As part of that media battle, the single Roll with it lost the chart battle against Blur's Country House, but in album sales, Oasis outsold Blur's The Great Escape. 1995 was the peak of Britpop craziness.
In 1997, Oasis released Be here now, an album that contains successful singles such as D'you know what I mean, Don't go away and Stand by me. Nevertheless, it was not as well received by the critics. This album is quite a loud piece of work with prominent use of distorted guitars.
In 1998 the b-sides collection The Masterplan was released. The akbum contains popular songs such as Acquiesce, Rocking chair and title track, The Masterplan.
In 2000 the dark-mooded and more quiet-sounding album Standing on the Shoulder of Giants was released. During the recording process, Gypsy and Bonehead left the band, so Noel Gallagher recorded all bass and guitar parts himself. After the album was released, new members Gem Archer (guitar) and Andy Bell (bass) joined Oasis.
In 2002 Heathen Chemistry was released. This album marked a return to the classic Oasis sound, with the singles The Hindu Times, Stop Cryin' your heart out and Little by Little enjoying media and popular success. After this album, Alan White was fired from the band. Even though he was never credited as an official member, Zack Starkey, son of legendary Beatles drummer Ringo Starr, became their session drummer for the final two albums.
In 2005 the 60's rock-influenced Don't believe the truth was released, with the song Lyla enjoying moderate success.
Dig Out your soul, Oasis's final studio album was released in 2008. It spawned the singles The shock of the lightning, I'm outa time and Falling down. In 2009 Noel Gallagher quit Oasis due to a huge fight with his brother Liam. That was the end of Oasis.
By this time Chris Sharrock was performing as a touring drummer.
Oasis discography
Definitely Maybe (1994)
(What´s the Story) Morning Glory? (1995)
Be Here Now (1997)
Standing on the Shoulder of Giants (2000)
Familiar to Millions (live album) (2000)
Heathen Chemistry (2002)
Don't Believe the Truth (2005)
Dig Out Your Soul (2008)
Liam Gallagher's later solo projects
Liam Gallagher, alongside the remaining members of Oasis (Liam, Andy Bell, Gem Archer and Chris Sharrock) started a new band called Beady Eye. Their sound was quite reminiscent of Oasis. With Liam having promoted the project as the next big thing, the band released two disappointing albums: Different Gear, Still Speeding (2011) and BE (2013). After releasing these two records, Beady Eye disbanded.
Liam Gallagher started his solo career in 2017 with the release of As you were. His second solo album, Why me why not? was released in 2019 and the MTV unplugged was released in 2020.
In 2022 Liam Gallagher released his latest record: C'Mon You Know.
Liam Gallagher discography
As You Were (2017)
Why Me? Why Not (2019)
MTV Unplugged (2020)
C'Mon You Know (2022)
Noel Gallagher's High Flying Birds: post-Oasis History
Noel Gallagher started his new project, the High Flying Birds, in 2011 with the release of the self-titled debut. It spawned the moderately successful singles Everybody's on the run, If I had a gun and AKA what a life.
In 2015 Noel Gallagher's High Flying Birds released their second album Chasing Yesterday, which features singles The heat of the moment, Riverman and The ballad of the Mighty I. It is regarded as Noel Gallagher's best solo work.
2017 was the year for the release of Who built the Moon? With an overproduced sound and more psychedelic in approach, it contains the singles Holy Mountain, She Taught me how to fly and It's a beautiful world.
After that, Noel Gallagher released a series of EPs: Black star dancing, This is the place and Blue Moon rising. In 2021 Noel Gallagher's High Flying Birds released their best of compilation, Back the way we came, to celebrate 10 years of his career after Oasis.
In 2023 Noel Gallagher will release their new album, Council Skies.
Noel Gallagher discography
Noel Gallagher´s High Flying Birds (2011)
Chasing Yesterday (2015)
Who Built the Moon? (2017)
Black Star Dancing (EP) (2019)
This is the Place (EP) (2019)
Blue Moon Rising (EP) (2020)
Back the Way We Came (Best of…) (2021)
Council Skies (2023)
More content about Britpop