With eight studio albums to their credit, Blur's discography on Spotify says the following about their streaming popularity today: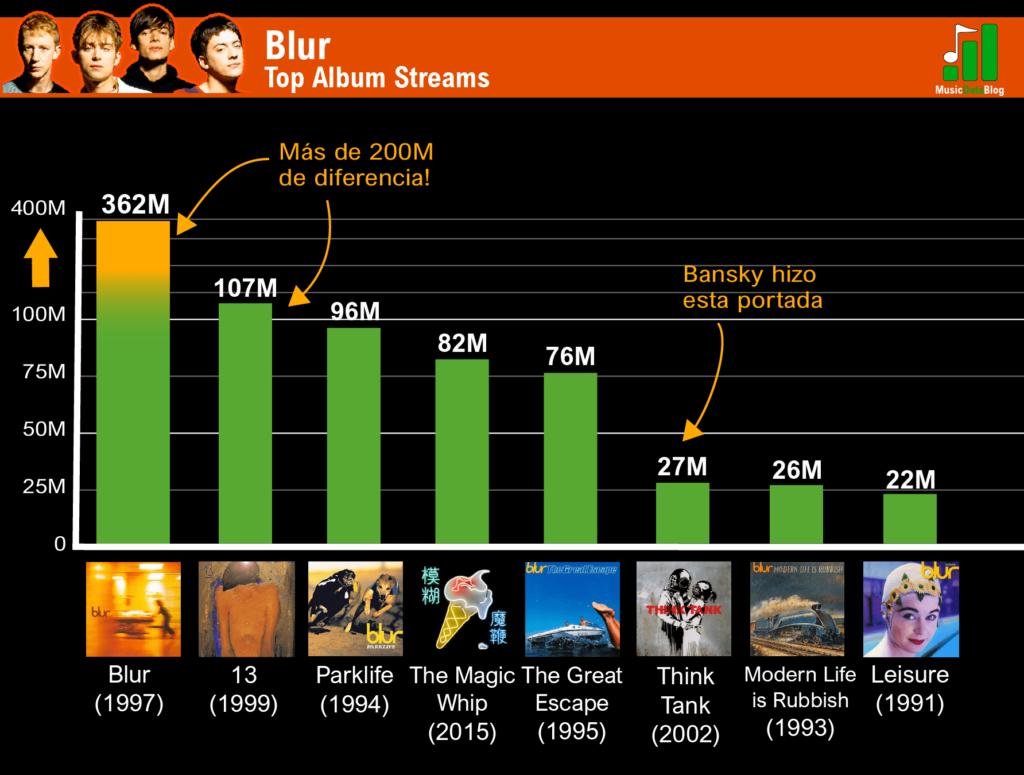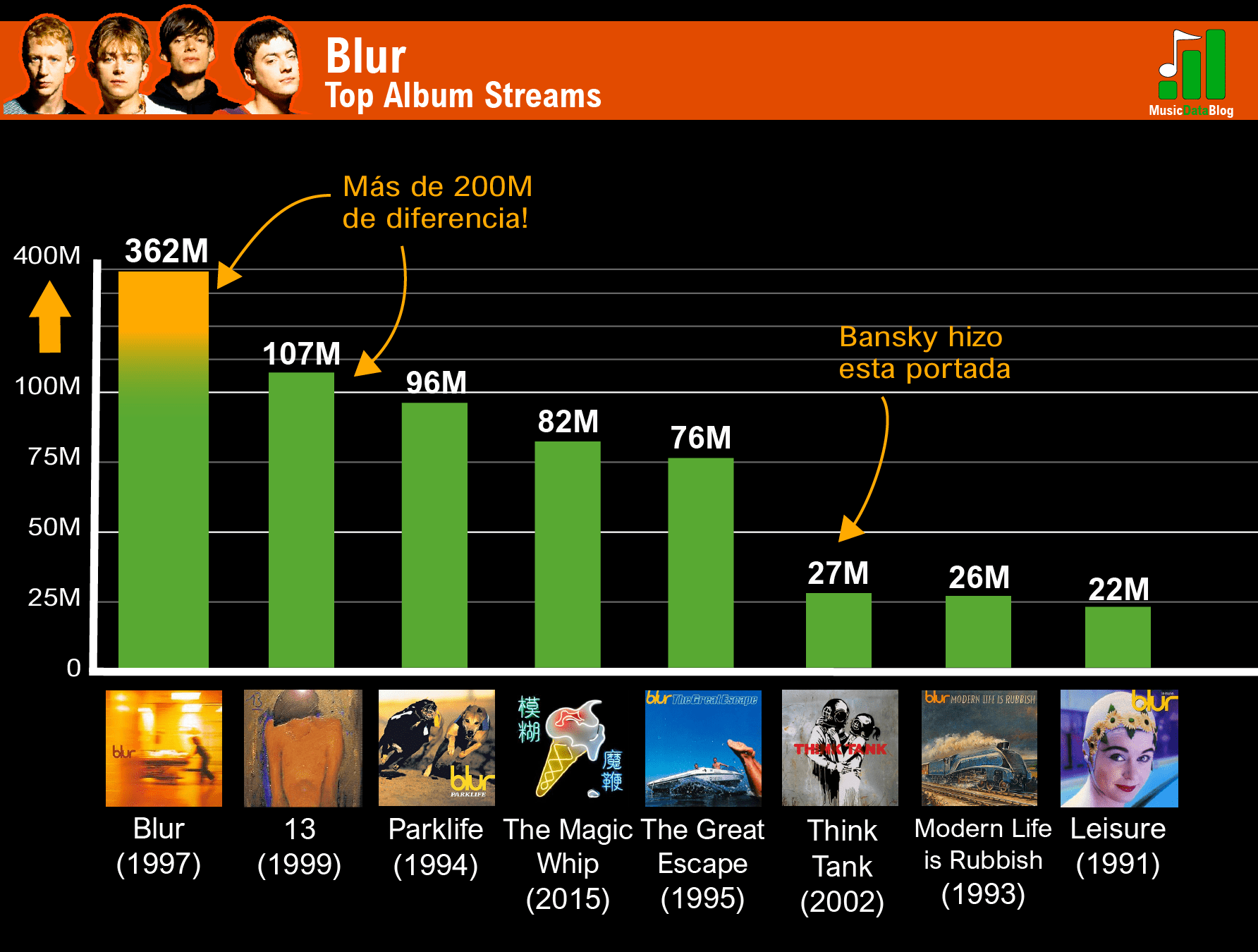 It has to be said: if you ask someone about Blur, one of the first things that he or she will come up with is the classic "woo hooo" chorus from Song 2.
Song 2 is Blur's biggest hit
In retrospect, the impact of the album with which Blur broke into the United States is the one that performs the best. The self-titled album Blur (1997) includes the megahit Song 2, a song that has appeared in multiple media (movies, games, series and media) and is currently their most listened to on Spotify.
Song 2 lasts only two minutes and is the second track of their self-titled album. Short and quite forward in sound, it has probably managed to transcend the band themselves. Beetlebum, the other well-known single of this era, makes it really well in terms of streaming volume and is placed within Blur's top five. Said this, Song 2 is by far the go-to song in terms of streaming popularity.
Beyond the overwhelming numbers for Blur's most popular song, I was personally surprised to find the album 13 (1999) placed so high on this chart. I did further research about this matter and found out the following: one of the main singles of that album, Coffee & TV, has a good amount of streams and is currently the third most played song by Blur on Spotify.
What about Blur's nineties hit songs?
What is considered to be one of Blur's best albums can be found in third place on this chart. 1994's Parklife is still quite popular today. The fact is that hit songs like Parklife and Girls & Boys continue to sound in bars and dance clubs, even in offices and at people's homes. This album is exactly the one that propelled Blur to world stardom and fame.
In terms of stream popularity, The Great Escape (1995) is currently below Blur's most recent album, The Magic Whip (2015). It seems that classic songs like Charmless Man, Country House, and The Universal, are not enough to beat the band's new and fresh tracks, such as Ghost Ship, Lonesome Street, and Go Out.
Blur's least popular albums
At the bottom of the ranking chart, we find Blur`s first two albums. Modern Life is Rubbish (1993) does not feature any hits and the debut album, Leisure (1991), includes the singles There´s no other way or She´s so High, which were not even popular back in the day.
For its part, Think Tank (with cover artwork by graffiti artist Bansky) does not include many memorable tracks. The single Crazy Beat sounded as if the band was trying to write Song 2 part II.m but the truth is that this album -the only one in which Graham Coxon had almost no involvement- is not their best. It does feature some bonus tracks, something that may be increasing its streaming volume. Otherwise, Think Tank would probably be Blur's least popular album on Spotify.
Listen to Blur's most popular album on Spotify here: Blur by Blur (1997)
Also, you can hear the band on YouTube: Song 2