With eight studio albums to their credit, Blur's album infographic on Spotify streams says the following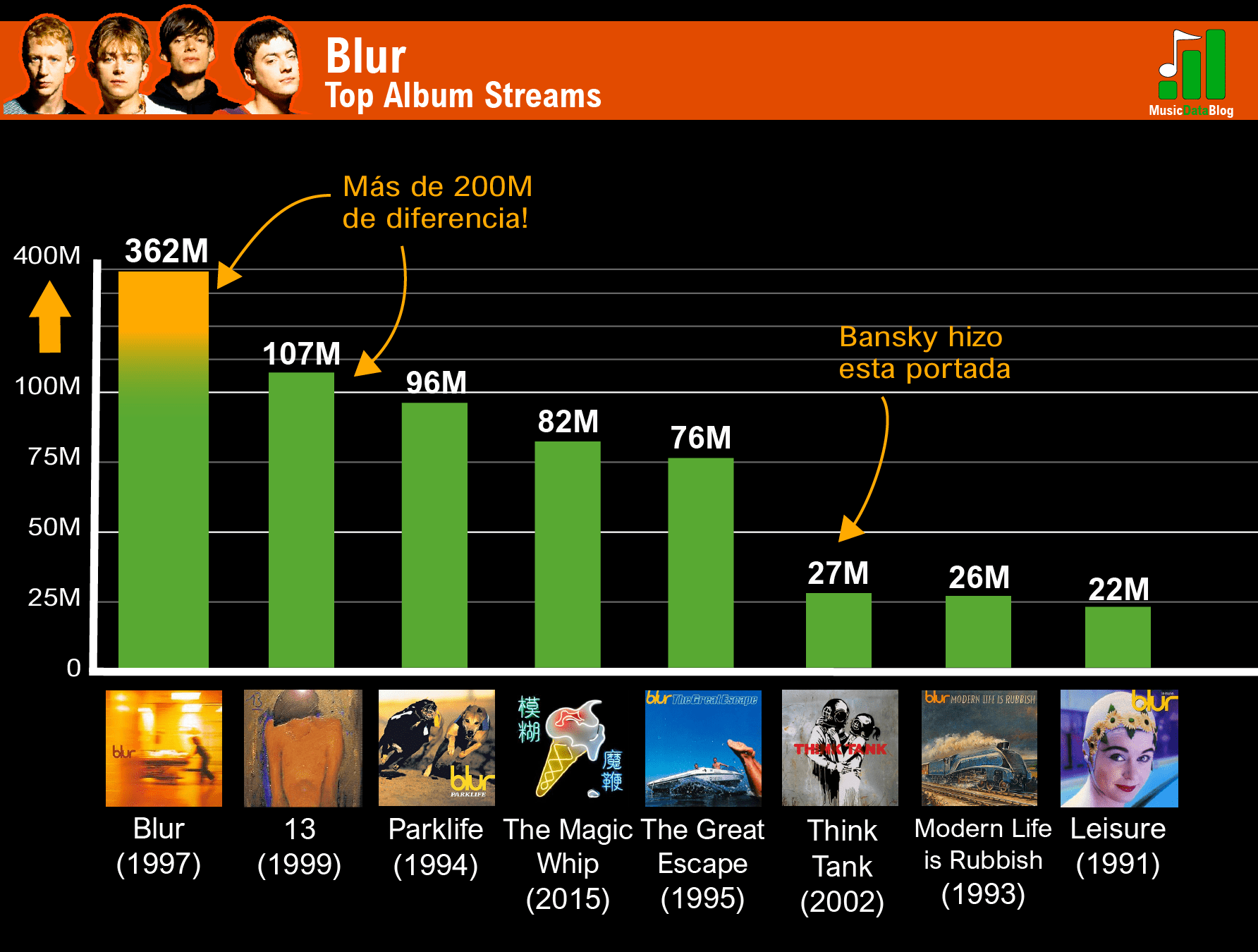 It has to be said: if someone is asked about Blur they will name first, second or third the classic cry "woohooo" from Song 2.
Song 2 is Blur´s biggest hit
In retrospect, the impact of the album with which Blur hit it in the United States is the one that survives the best: the self-titled album Blur (1997) included the megahit Song 2, a song that has appeared in multiple media (movies, games, series and media) is currently the most listened to by this British band.
Song 2 lasts two minutes and is the second track on the album. Short and solid, it has probably managed to transcend the band itself. The other well-known single of this era, Beetlebum, survives well in terms of views and sneaks into Blur's top five, but Song 2 is by far the go-to for streams.
Beyond the overwhelming numbers for the most recognizable British hit, I was personally surprised to find 13 (1999) so high on the chart. Shelling out the information I found the data: the broadcast single for that work, Coffee & TV, has a good amount of reproductions and is currently the third most played song by Blur on Spotify.
What about Nineties Blur?
The peak of Blur's Britpop is to be found in third place on the chart: 1994's Parklife has a good share of popularity today. It is that the songs Parklife and Girls & Boys continue to sound in bars, any dance venue or disco, in offices and homes. It is nothing more and nothing less than the album with which Damon Albarn (vocals), Graham Coxon (guitar), Alex James (bass) and Dave Rowntree (drums) were catapulted to fame.
In terms of stream popularity at least, The Great Escape (1995) is currently beating The Magic Whip (2015). On the side of the classics of this plate from the nineties are Charmless Man, Country House and The Universal, which are not enough to surpass the last work to date of Blur, driven by tacks like Ghost Ship, Lonesome Street and Go Out.
Lo menos de lo menos de Albarn & Co.
The place that the infographic assigns to the first two Blur albums is the bottom of the jar. Modern Life is Rubbish (1993) for not having produced notorious hits and the debut Leisure (1991) cuts like There´s no other way or She´s so High are not enough.
For its part, Think Tank (with cover art by graffiti artist Bansky) has nothing so memorable. The single Crazy Beat wanted to be Song 2 II, but the truth is that this album -the only one in which Graham Coxon hardly participated- is rescued by the extra tracks, otherwise it would fall into the misfortune of being the weakest and least reproduced of Blur.
Listen to the most popular on Spotify here: Blur by Blur (1997)
And on YouTube, the top of the top: Song 2
More related content: