In the following infographic we can see all Massive Attack albums ranked according to the music reviews aggregator Album of the Year: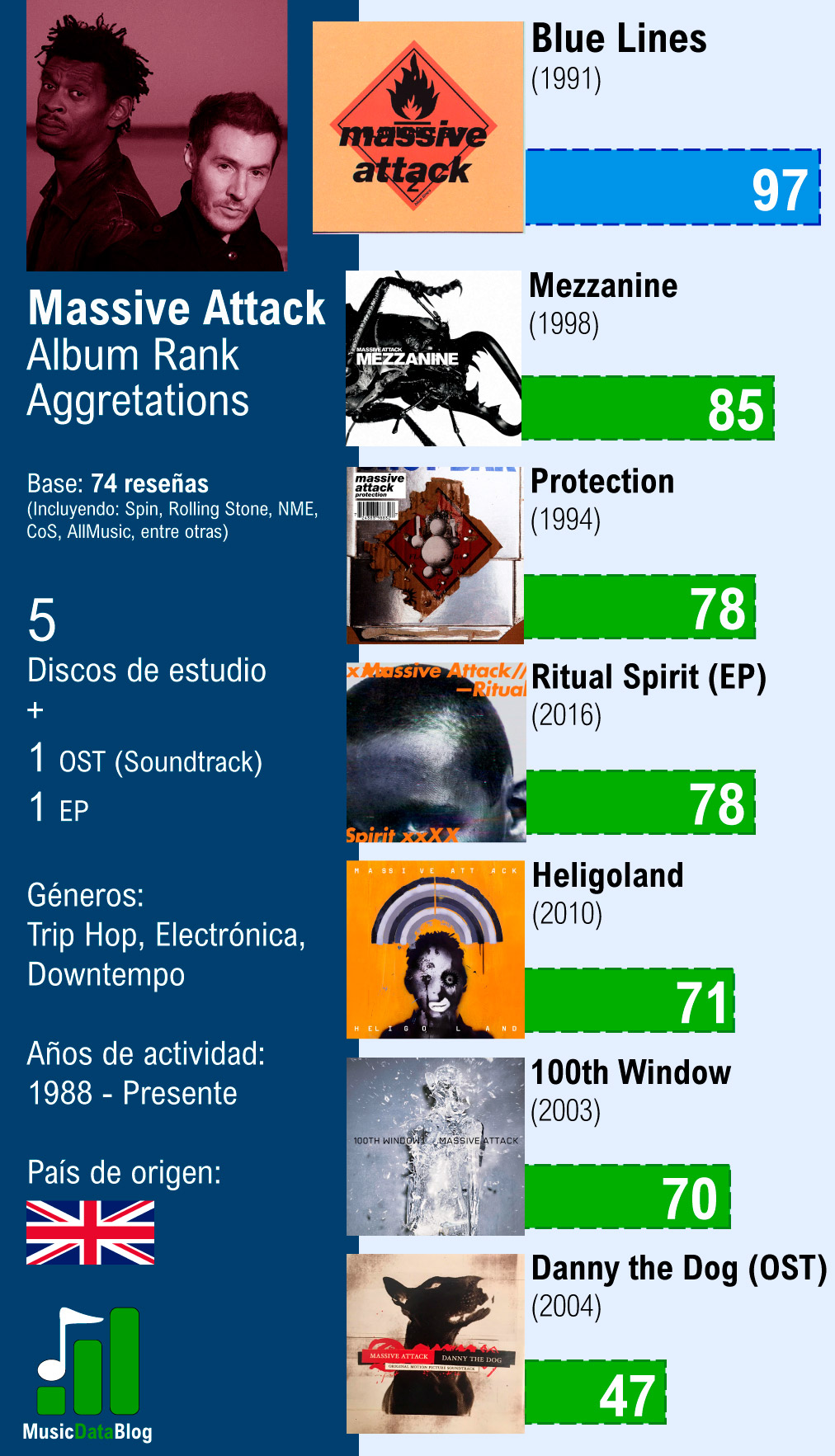 Massive Attack are a band formed in Bristol, England, that acchieved success since their debut album Blue Lines, released in 1991. Their characteristic downtempo electronic tunes helped shape early nineties trip hop that became a huge trend at the time.
Which are Massive Attack´s Best Albums?
Massive Attack have a solid discography. Their first album is a critics and fans favourite, always praised by music lovers. Easy to listen to and accessible, it contains some really great tracks like Daydreaming, Unfinished Sympathy and Safe from Harm. This is specially recommended if you are seeking for some chill out and relaxed music from this English project.
In second place we have what I consider to be Massive Attack´s masterpiece: Mezzanine (1998). It is certainly a less relaxed and more complex piece of work than Blue Lines, but it´s mixture of jazz, rock, electronica and house elements makes it an outstanding record. Every song sounds great and is at the right spot on the track list. Some highlights of this album are the song Angel and perhaps their most well known piece of music, Teardrop.
Protection stays in a solid third place. This album serves as a not so surprising but yet good follow up to Massive Attack´s debut. The title track, which features Everything But The Girl´s lead singer Trazy Thorn is definitely it´s most popular from this release.
The EP Ritual Spirit is Massive Attack´s most recent output, at lease until 2020. It was well received by critics and fans alike. Even though it is not a full lenght LP, it is nice to hear that the british duo is still able to create some really good music.
Massive Attack´s least interesting albums
Music reviews on 2010´s Heligoland were positive, but not outstanding. Never the less, this album contains one of Massive Attack´s most popular songs: Paradise Circus. There are definitely some other great tunes on this record, like Pray for Rain and Girl I love you, which are my personal favourites from this era of the band. Heligoland was recorded in collaboration with Blur´s and Gorillaz lead singer Damon Albarn.
At the bottom of this ranking list we find the only two albums that were recorded solely by band member Robert del Naja, without his bandmate Daddy G. 100th Window is a good album, I really dig it. It has Sinead O´Connor´s vocals on some notable tracks like Prayer for England and What your Soul Sings. Having said this, it contains less friendly climaxes and progressions, which makes 100th Window a less popular option in Massive Attack´s discography.
At the last spot we have Massive Attack´s soundtrack for the 2004 movie Danny the Dog, which is not usually considered in the band´s main production. It is an instrumental record that even though it does not contain many tracks that will catch your attention, it definitaly has variety in it. This is not a a stand out in Massive Attack´s career, but if you happen to bump into it, it usually is underpriced and worth your money if you are a fan of the band.
More related content