Massive Attack's musical influences blend elements of reggae, electronic music, jazz, hip hop, and rock. This group became pivotal for the genre known as Trip-Hop, emerging in the early 1990s. Keep reading and learn how modern electronic music was shaped.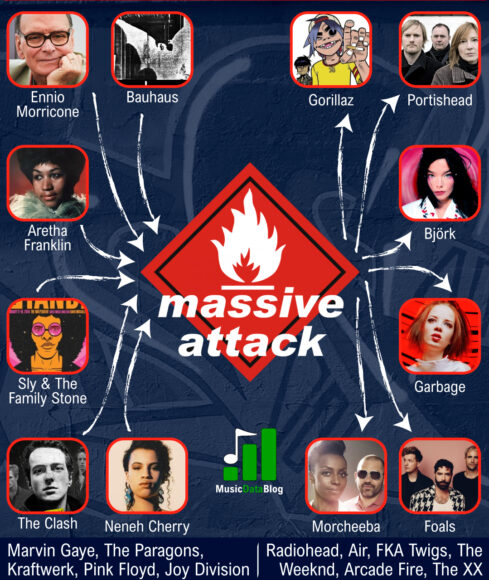 Which Artists Influenced Massive Attack?
Among Massive Attack's influences, we find composer Ennio Morricone and rock bands like The Clash and Bauhaus. We can also list other artists such as Sly & The Family Stone, Aretha Franklin, Mad Professor, and Neneh Cherry.
The Clash
Massive Attack is a group linked to art and street performance, whose ethos goes beyond the strictly musical. It is this, in addition to some of their dub, reggae, and punk influences, that we can detect through The Clash. The punk band, emerging in the late seventies, transcended music to become a way of doing things. To learn more about Massive Attack's connection to this band, we can refer to The Clash's influence diagram.
Ennio Morricone
In relation to the previous point, we will now discuss the cinematic nature of Massive Attack's music. Many of their tracks have an immersive aesthetic and a sonic narrative that makes them ideal for audiovisual projects. Ennio Morricone is known for his grand orchestral pieces for films. In a 2011 interview with The Quietus, Robert del Naja explained how Morricone influenced them, "especially in how he fused classical music with popular music and how he could create an emotional ambiance in the music." This intricate narrative can be heard in Bristol's collective albums like "Mezzanine" (1998) and "100th Window" (2003
Neneh Cherry
When Neneh Cherry released her debut album in 1989, "Raw Like Sushi," she set one of the main precedents for hip hop and R&B for Massive Attack. In fact, Robert del Naja collaborated on the track "Manchild" from that album. The artist not only inspired this iconic trip hop duo musically but was one of the main driving forces in their career. Daddy G remembers, it was Neneh Cherry who saw the true potential of Massive Attack's music and brought them to record at her home with the idea of creating "dance music for the head and not for the feet."
Sly & The Family Stone
Especially present in Massive Attack's early works, funk and disco grooves have been some of their most attractive elements. It is within this stylistic spectrum that Sly & The Family Stone has been of great importance to the Bristol duo. Both in their use of gospel vocalizations, psychedelic arrangements, and jazz-based instrumentations, Massive Attack has drawn great inspiration from Sly Stone's project. Additionally, Massive recorded the track "Sly" in his honor.
In Sly and the Family Stone's music, elements of psychedelic music, jazz, and Gospel can also be found, leading to the creation of a distinctive and unique sound. This idea of blending different music genres has been a key influence in Massive Attack's music, known for their ability to create a fusion of sounds and styles.
Bauhaus
The story goes that it was at a Bauhaus concert that Robert 3D Del Naja and Tricky decided to form Massive Attack. Bauhaus has been one of the most influential bands in gothic rock, with the classic "Bela Lugosi's Dead," which has been covered by Massive Attack. Already in tracks like "Double Dare" from their debut album "In The Flat Field," Bauhaus relies on sound effects and guitars to create dark atmospheres that influenced especially Massive Attack's album "Mezzanine."
Pink Floyd
These are Massive Attack's rock influences. Especially Pink Floyd's 1977 album "Animals" inspired the musical narrative of Del Naja and Daddy G's project, capable of taking us through various moods, both somber and euphoric. This is especially notable from the successful "Mezzanine" in 1998.
Aretha Franklin
After their debut album, "Blue Lines," Massive Attack had to look for new female vocalists to work with. When they announced the search, they mentioned they were looking for Aretha Franklin influenced musicians. The group sought female voices that could convey emotion like the "Queen of Soul." Both Robert del Naja and Daddy G have mentioned this singer as a huge influence in production and musical arrangements, as well as in their exciting musical style.
Mad Professor
One of the most relevant influences for Massive Attack in their beginnings was one of the iconic personalities of Dub music, Mad Professor. His remix work for various reggae and electronic music artists has inspired the Bristol duo in terms of production, sound, and collaborative spirit. So much so that in 1995, Mad Professor remixed the album "No Protection" alongside them, a series of remixes of Massive Attack's second album, "Protection."
Other groups that have influenced Massive Attack's music are Joni Mitchell, Kraftwerk, Brian Eno, The Slits, Joy Division, Marvin Gaye, and The Paragons.
Which Artists influenced Massive Attack's music?
Below, we list some musical projects that were influenced by Massive Attack, including Gorillaz, Portishead, Morcheeba, Foals, Garbage, and Björk.
Gorillaz
One of the first and most obvious references is Damon Albarn's animated band project, Gorillaz. According to the singer, Gorillaz combines the influences of Massive Attack and The Specials. This inspiration is especially noticeable in Gorillaz's self-titled debut album, which often uses spoken word and collaborations with guest artists. Over time, Albarn has formed a friendship with the members of Massive Attack.
Portishead
Massive Attack paved the way for many of their contemporaries. This is the case with Portishead: emerging in 1994 with immediate success, the germ of the project was linked to Del Naja's group. Geoff Barrow, one of Portishead's main architects, recalls that he used to go to Massive Attack shows in their early days. During those encounters with Del Naja's group, the future members of Portishead began shaping their own musical project. After recruiting singer Beth Gibbons, releasing their debut album "Dummy," they burst into a burgeoning Trip-Hop scene that Massive Attack had helped create.
Morcheeba
After the success of Massive Attack's debut in 1991, "Blue Lines," Morcheeba had the path cleared to become recognized. The emerging trip-hop was a breath of fresh air in electronic music, easy to listen to, with a rich sound and enough pop elements to achieve success. With Skye Edwards' vocals and the musical production of Paul and Ross Godfrey, Morcheeba could continue the path initiated by "Blue Lines."
Björk
As we've seen in Björk's influence diagram, Massive Attack was one of the key projects for her musical context. The English electronic music scene, especially the innovative trip-hop of the time, has been crucial for the Icelandic singer. Both Massive Attack and Björk have had a connection to electronic music producer Nellee Cooper.
Garbage
It was the initial idea of Butch Vig, Steve Marker, and Duke Erikson: to form a band with a rotating cast of female singers, like Massive Attack. As we know, when Shirley Manson auditioned with the three musicians and producers, she got the position permanently. Beyond this, Garbage's music combines various elements of rock and electronic music, where the darker experiments sound inspired by Massive Attack. To delve further into this topic, the Garbage influence diagram is also here published.
Foals
Foals is a British psychedelic indie rock band that has been influenced by Massive Attack in incorporating elements of electronic music. The band's leader, Yannis Philippakis, explained that "Mezzanine" had a significant impact on their band's sound. Foals' musical style has been marked by experimentation and also by a strongly emotive character in their songs, which was certainly inspired by the Bristol Trip Hop pioneers.
Other artists influenced by Massive Attack are Radiohead, Air, FKA Twigs, The Mars Volta, Arcade Fire, and The Weeknd.