In this chart, we take a look Depeche Mode's albums ranked, according to their streaming volume on Spotify. Their most successful albums prove that they are still relevant, while their most recent releases are not so popular.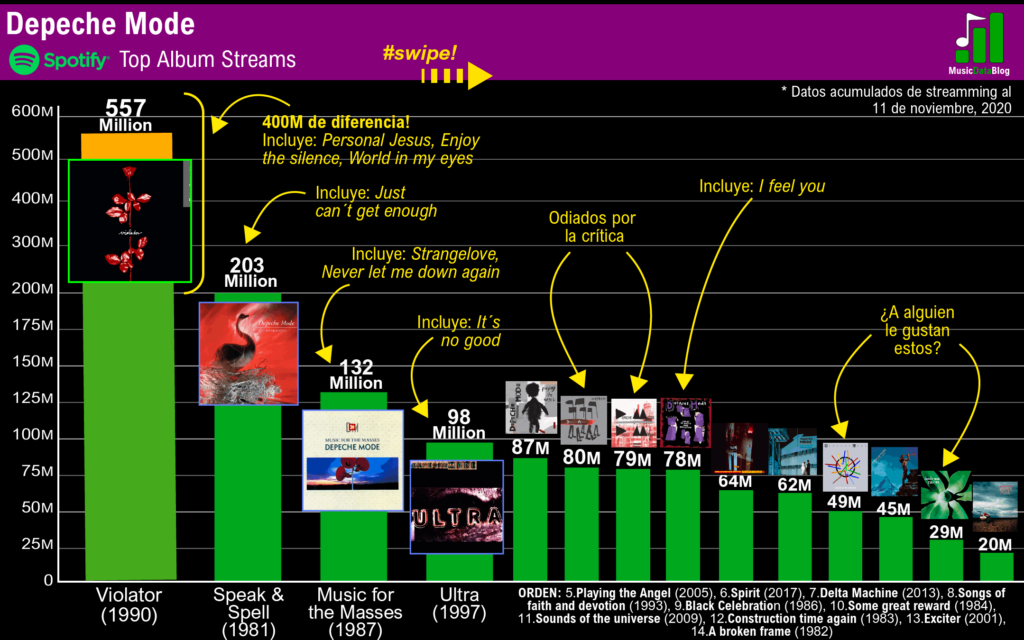 * Depeche Mode discography based on popularity on Spotify, as of November 11, 2020
In 2020, Depeche Mode were inducted into the Rock n Roll Hall of Fame.
Depeche Mode's most popular albums
In the top position, we find the classic Depeche Mode album, Violator, from 1990. No wonder, since it contains the hit songs Personal Jesus and Enjoy the Silence, which are two of Depeche Mode's best-known tracks. This album has more than twice the number of listens than the album that I will mention next.
In second place we can find Speak & Spell, their 1981 debut. Mostly driven I Just Can't Get Enough, which is also a mega-popular song by the band. But for the specialized critics and the most adept fans, in this album Depeche Mode had not yet achieved an identity of their own, something that they developed in later records.
In third place, we find the album Music for the Masses from 1987. With classics like Strangelove and Never let Me Down Again, this is the album before the band established themselves as one of the greatest synth music projects of their time.
In fourth place, we find Ultra, their last output from the nineties. It contains the popular cut, It's No Good.
Depeche Mode's worst albums?
Perhaps the albums listed in this section are not their most recognized ones by specialists and music critics. Also, we find three of their 2000's era albums at the bottom of this chart: Playing the Angel from 2005 and two of their latest works: Spirit (2017) and Delta Machine (2013).
Surprisingly, here in eighth place appears a notorious piece within Depeche Mode's discography: Songs of Faith and Devotion (1993). It is strange that such a well-known album does not find greater popularity. It includes the popular track I feel you.
At the bottom of the chart, we find mostly the first releases of Depeche Mode's catalog, during the eighties: Black Celebration (1986), Some Great Reward (1984), Construction Time Again (1983), and A Broken Frame (1982). Two albums from the 2000s fall also within Depeche Mode's least popular albums: Sound of the Universe (2009) and Exciter (2001).
Top 10 Depeche Mode songs on Spotify
Here is a small ranking of the most popular songs by Depeche Mode:
Enjoy the Silence 237,415,664
Just Can't Get Enough 175,986,465
Personal Jesus 173,437,546
Precious 53,766,368
It's No Good 39,525,028
Policy of Truth 38,620,266
People Are People 34,214,806
Strangelove 33,631,143
Wrong 27,010,664
Everything Counts 26,347,347