In this chart we take a look at which Depeche Mode albums have survived better than others in the streaming age: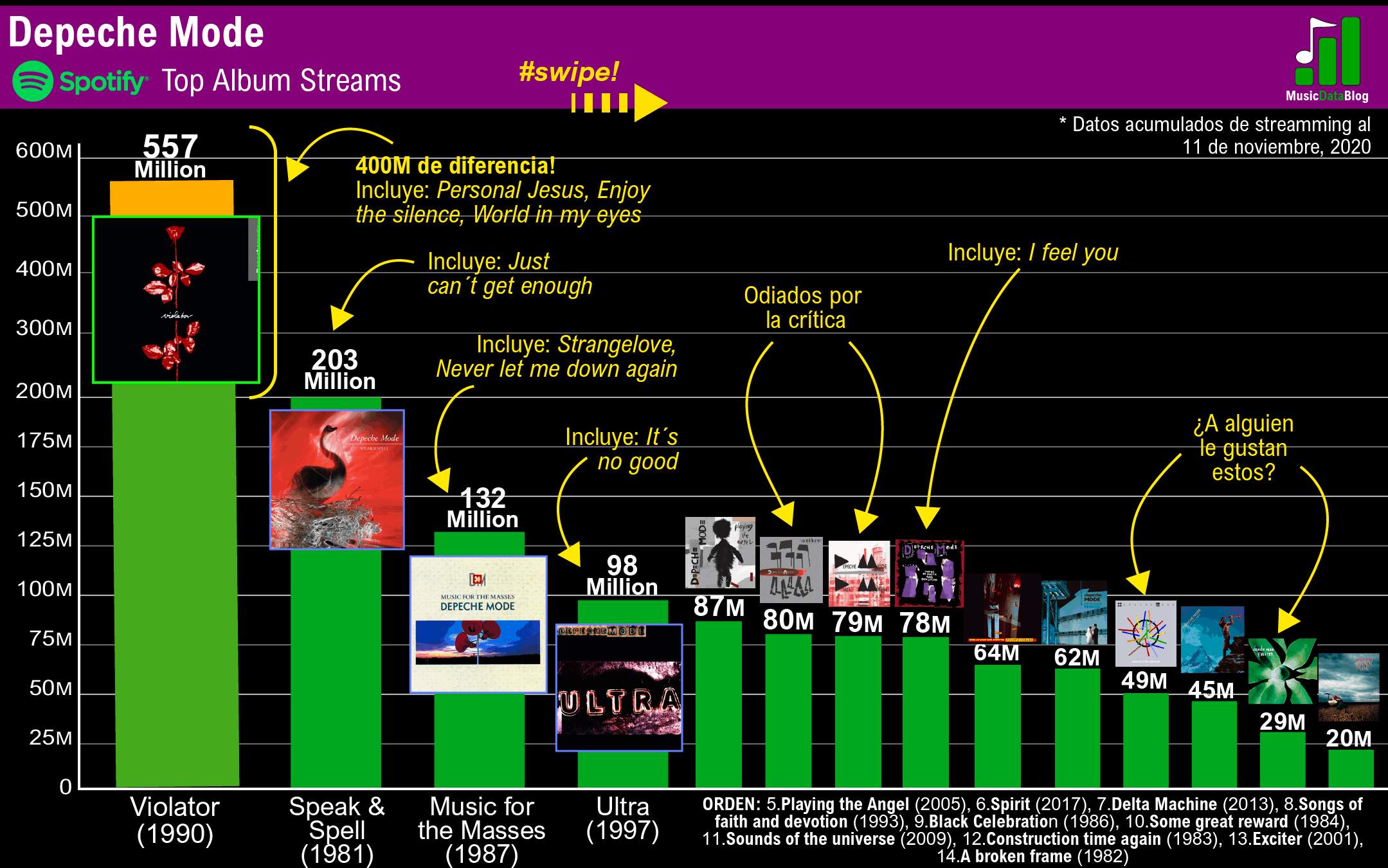 * Depeche Mode discography based on popularity on Spotify as of November 11, 2020
Depeche Mode is from 2020 part of the Rock n Roll Hall of Fame.
Depeche Mode´s most popular albums
They may not be the best, but we are talking about the most popular in the digital age. The top position goes to Violator, from 1990. No wonder, since it contains the megahits Personal Jesus and Enjoy the Silence, which are two of Depeche Mode's best-known songs. It has more than twice the number of views of the album that I will mention next.
Then in second place, Speak & Spell, their 1981 debut, appears surprisingly. How? Well, mostly driven by I Just Can't Get Enough, also a mega-popular song by the band. But for the specialized critics and the most adept, in this album Depeche Mode had not yet achieved the identity of its own that they would develop later.
In third place is Music for the Masses from 1987. With classics like Strangelove and Never let me down again, this is the album before the band established itself as a benchmark of its time. In fourth place we find Ultra, his last output from the nineties, which contains the popular cut It´s no good.
Depeche Mode´s least recognized work
Perhaps they are not his albums most recognized by specialists or better greeted by critics, but the triad that follows are Playing the Angel from 2005 and some of his latest works: Spirit (2017) and Delta Machine (2013).
Surprisingly, only here in eighth place appears a notorious piece from Depeche Mode's discography, Songs of Faith and Devotion (1993). It is strange that such a well-known album does not find greater popularity -because it even has I feel you-.
Then, for the most part, we find the previous works of Depeche Mode, with the exception of two forgotten circa 2000: Black Celebration (1986), Some Great Reward (1984), Sound of the Universe (2009), Construction Time Again (1983), Exciter (2001) and A Broken Frame (1982).
Top 10 Depeche Mode songs on Spotify
And here is a small ranking of the most popular songs by Depeche Mode:
Enjoy the Silence 237,415,664
Just Can't Get Enough 175,986,465
Personal Jesus 173,437,546
Precious 53,766,368
It's No Good 39,525,028
Policy of Truth 38,620,266
People Are People 34,214,806
Strangelove 33,631,143
Wrong 27,010,664
Everything Counts 26,347,347
More related content