In the following infographic, we take a look at five musical influences on Trent Reznor´s Nine Inch Nails (NIN). Also, we take a look at four examples of artists he inspired.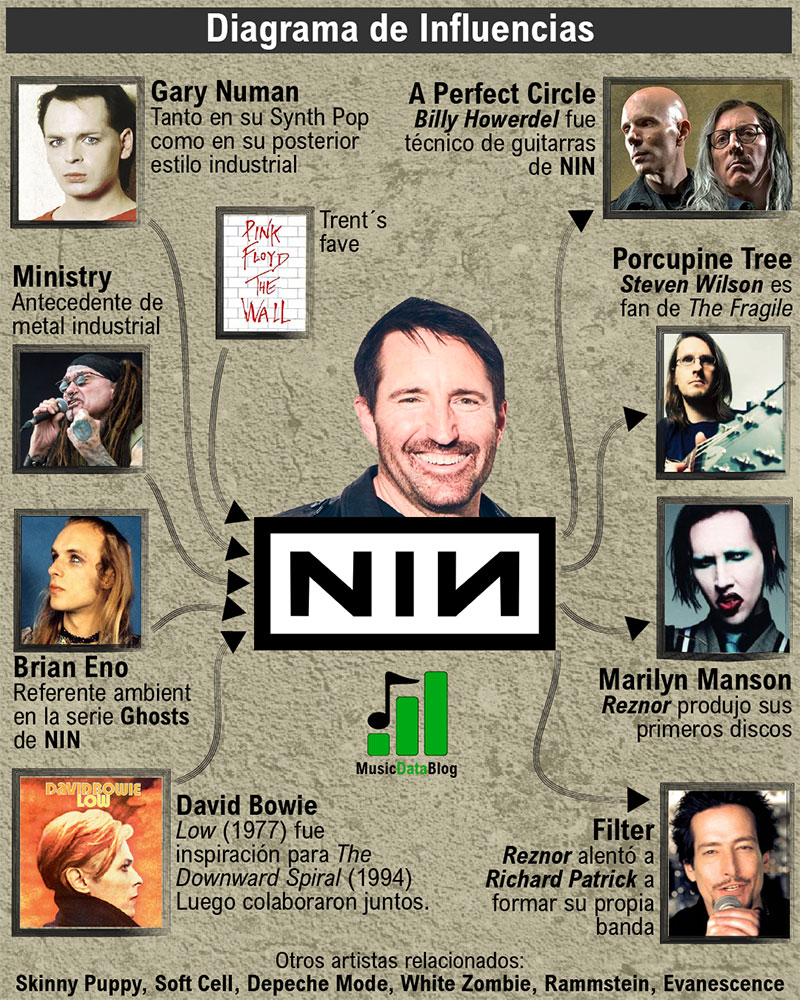 Who influenced Nine Inch Nails?
Nine Inch Nails' experimental and elaborated approach to rock music has made them a reference for other genres like electronic, metal, and industrial rock bands. The ones mentioned in this post are just some of the influences of NIN. It is worth noting that, apart from the artists listed here, Trent Reznor has repeatedly expressed his admiration for Queen's singer Freddie Mercury.
Gary Numan
One of the most powerful references in NIN's sound style is electronic music pioneer Gary Numan. It was after listening to Numan's song Cars that Trent Reznor decided to make music with synthesizers. Also, Gary Numan has cited Trent Reznor as great motivation to stay active, so we can say the admiration between the two artists is mutual.
Ministry
Skinny Puppy and Ministry are two predecessors of industrial rock from whom Nine Inch Nails has taken aesthetic and sonic elements. In particular, Ministry was also a direct inspiration for NIN's super classic, Head Like A Hole: "Listening to Ministry is like having a nine-inch nail driven into your head", Reznor stated.
Brian Eno
Nine Inch Nails have also used ambient influences in several of their works. Present throughout their entire discography, the influence of Brian Eno stands out in the Ghosts series of albums, which range from volume I to IV, all released in 2008, until the most recent releases of that same series, Ghost V and VI, from 2020.
David Bowie
Related to the previous point, we will talk about the first album of the "Berlin Trilogy" by David Bowie: Low, released in 1977. This album also featured big influences from Brian Eno. Trent Reznor was specifically inspired by that Bowie album when recording what many consider the best Nine Inch Nails album: The Downward Spiral (1994).
Pink Floyd
Finally, I'm specifically citing Pink Floyd's hyper-classic album The Wall here because it was a "turning point" for Trent Reznor. According to the leader of Nine Inch Nails, tis is one of the records that he listened to the most as a young man. He describes it as some of the most honest and unassuming music he has ever listened to. Also, the story of The Wall's main character is comparable to that of the protagonist of The Downward Spiral, as both works relate to similar themes such as isolation and madness. In addition to this, NIN's albums like 1999's The Fragile and 2007's Year Zero address Floydean themes such as power, political plot, loneliness, and dominance.
Which artists were inspired by Nine Inch Nails?
Trent Reznor has had a notable impact on rock bands and artists that came after him. Here is a short list of four artists that he inspired:
A Perfect Circle
The first of them is guitarist Billy Howerdel from A Perfect Circle. Howerdel has mentioned that during his time as a NIN sound technician in 1995, Reznor gave him a guitar from The Downward Spiral tour. In an interview, Howerdel recounted that same experience and how it contributed to defining APC's guitar sound.
Filter
Former member of Nine Inch Nails in their beginnings, guitarist Richard Patrick came to participate in the subsequent tour for Pretty Hate Machine, NIN's debut album. It was thanks to that first experience and the encouragement from Trent Reznor that Patrick formed Filter, his own music project.
Marilyn Manson
In addition to appearing in the NIN video for the song Gave Up, Marilyn Manson 's first three albums were produced by Trent Reznor: 1994's debut Portrait of an American Family, 1995's Smells like Children, and his best-known work, 1996's Antichrist Superstar. The NIN leader helped Manson to sign a contract with music label Interscope. Later, Trent Reznor and Marilyn Manson had several disagreements that led them to stop being friends with each other. More recently, upon the claims of abuse against Marilyn Manson, Trent Reznor again distanced himself from him.
Porcupine Tree
Finally, we will mention Porcupine Tree's Steven Wilson, a real master of progressive rock. According to the leader of Porcupine Tree, he admires NIN's third album The Fragile. While both bands emerged around the same time -late 1980s-, Wilson stated that he has taken Reznor's conceptual elaborations and ethereal, heavy sound as a beacon for his own work.
More related content