In this post, we will take a look at the musical influences of the band Tool. Their inspirations come mainly from progressive music and have had an impact on plenty of other several artists.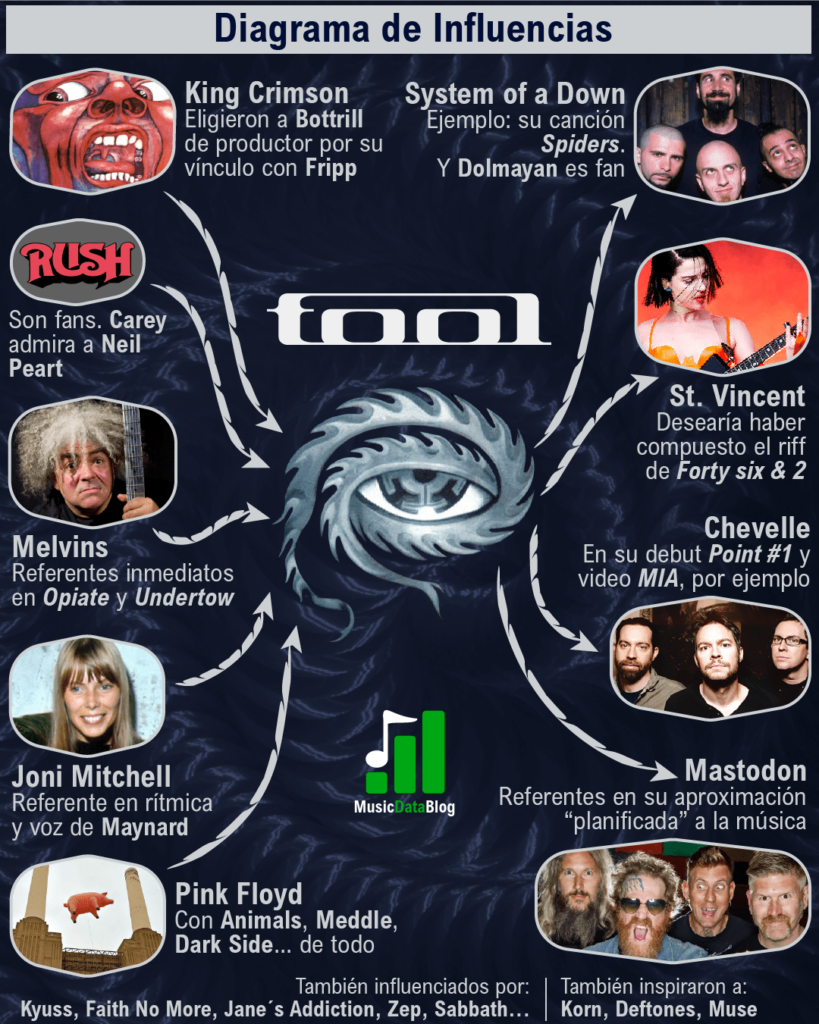 They are a four-piece band, consisting of members Maynard James Keenan (vocals), Adam Jones (guitar), Justin Chancellor (bass) and Danny Carey (drums).
Which are Tool's musical influences?
What is Tool? Tool is a leading experimental and progressive metal band. They are known for their dense and existentialist concepts, as well as their very "particular" aesthetic. In most recent years, Tool also became known for taking a really long time (13 years, to be precise) to release their latest album, Fear Inoculum (2019).
Among all of the influences that the band Tool has, here we will mention five:
King Crimson
This is one of the influences that fans highlight the most, going so far as to explain which Tool songs have been inspired by which King Crimson songs. Instrumental and melodic progressions are a signature in the sound of both bands. Now, here is a relevant historical detail: Tool chose producer David Bottrill to work on their albums Ænima (1996) and Lateralus (2001) because he had recently worked with King Crimson as well as in Robert Fripp's solo albums. Bottrill at first thought Tool members were wrong for wanting to work with him, but the band told him they intended to sound different from any other act on the alternative scene in California.
Melvins
Melvins' frontman Buzz Osborne is a very close friend of the members of Tool. Above all, on Tool's first albums, the Opiate EP and their first LP, Undertow, the Melvins' dark, aggressive, and fierce sound is evidently present. It is because of this initial influence that Tool aimed to broaden their musical palette following their previously mentioned album, Ænima. This also explains the departure of bassist Paul D´Amour, who was replaced by Justin Chancellor.
Rush
Danny Carey has expressed his admiration for Rush's drummer, Neil Peart. Just like Peart used to, Carey uses an expanded drum kit to get his complex percussive playing style going. Additionally, guitarist Adam Jones often incorporates a live intro taken from the track A Passage to Bangkok when they play the Tool classic, Cold & Ugly.
Pink Floyd
Another great musical reference when talking about Tool. According to Keenan, one of his favorite albums is Animals (1977). On the other hand, the members of Tool explained they understand the comparisons with Pink Floyd since they do not consider themselves a metal band. For Tool, Pink Floyd is a narrative, aesthetic and conceptual template. Comparisons have been made between Floyd's album Meddle (1971) and Tool's album Lateralus. To expand on Tool's influences, you can check the graphics about the progressive influences of Dark Side of the Moon and also listen to their hyper classic record, The Wall.
Joni Mitchell
Another important album mentioned by Maynard James Keenan is Joni Mitchell's Blue, from 1971). Joni Mitchell's vocal style, as well as her approach to unorthodox rhythms, has been a consistent inspiration for Tool's music.
Other honorable mentions of bands that influenced Tool include Black Sabbath and Led Zeppelin, as inspirations for their heaviest riffs. Also, other references to alternative 80's and 90's eras, such as Jane's Addiction or Faith No More, paved the way for bands such as Tool. In addition to this, be can cite Failure, Peach and Soundgarden could also appear more extensively here.
Four artists inspired by Tool:
System of a Down
I remember when I first saw the Spiders video from the first System of a Down album, back in 1998. I immediately thought about Tool. And I'd say a song like Aerials, from the critically acclaimed album, Toxicity (2002), also has a strong Tool sound vibe. SOAD's singer, Serj Tankian, has performed live with Tool for a performance of the song Tool song, Sober. Apart from this, another member of System of a Down, drummer John Dolmayan, has expressed his admiration for Tool.
Chevelle
Their comparison with Tool is well known. Just listen to their debut album Point # 1 (1999), and especially watch their stop-motion video of the song MIA. Chevelle certainly have a much more simple approach to song composition style. I think about them as a radio-friendly and accessible version of Tool: without bizarre tempo changes, but with a similar vocal style and guitar dynamic that are derived exclusively from Tool's albums Undertow and Aenima.
St. Vincent
A prolific and talented guitarist, St. Vincent has acknowledged that the track Forty Six & 2 is one of the riffs she wishes she had composed. Even though St. Vincent's music style falls within the wide range of experimental pop, her guitar inspirations have several rock influences, such as Pearl Jam.
Mastodon
Their drummer, Brann Dailor, cites Tool as an influence on Mastodon and their music style as a whole. Specifically, both bands use unusual tempos and tend to modify them during the development of a song. Also, both Tool and Mastodon take their time to think and make decisions about the composition, arrangement, and production process of their music.
Among other musical projects influenced by Tool are Limp Bizkit, Korn, Staind, Breaking Benjamin … and, surprisingly, another famous Tool fan is Justin Bieber XD
More related content: