Here we take a look at the history of heavy metal pioneers, Black Sabbath. It is quite a complex story to tell, especially when it comes to their lineup changes. Find the band's graphic timeline and swipe below: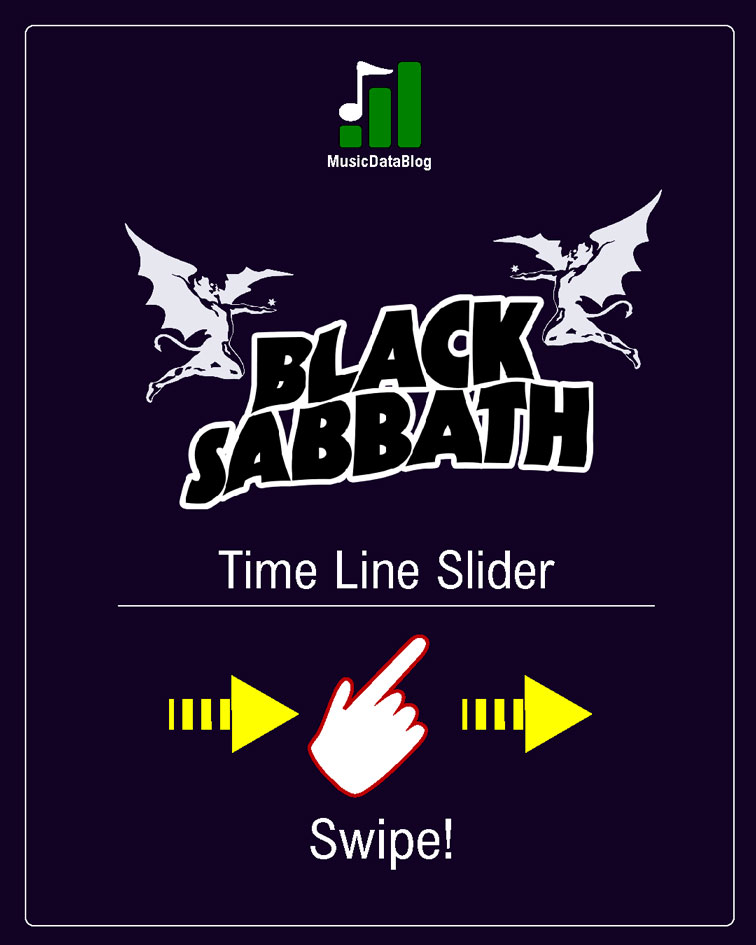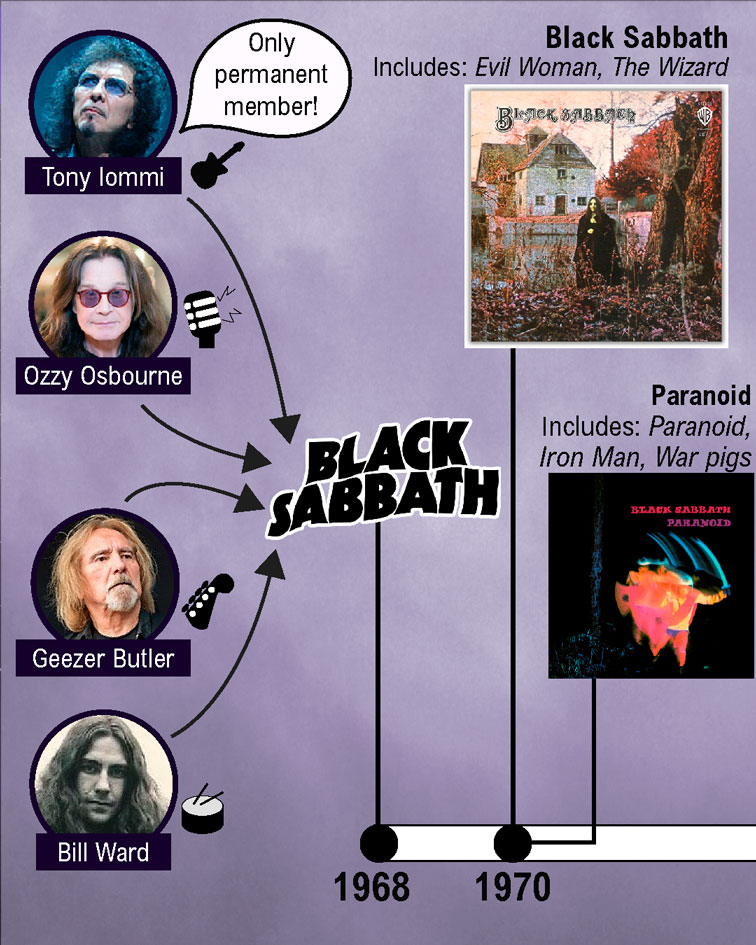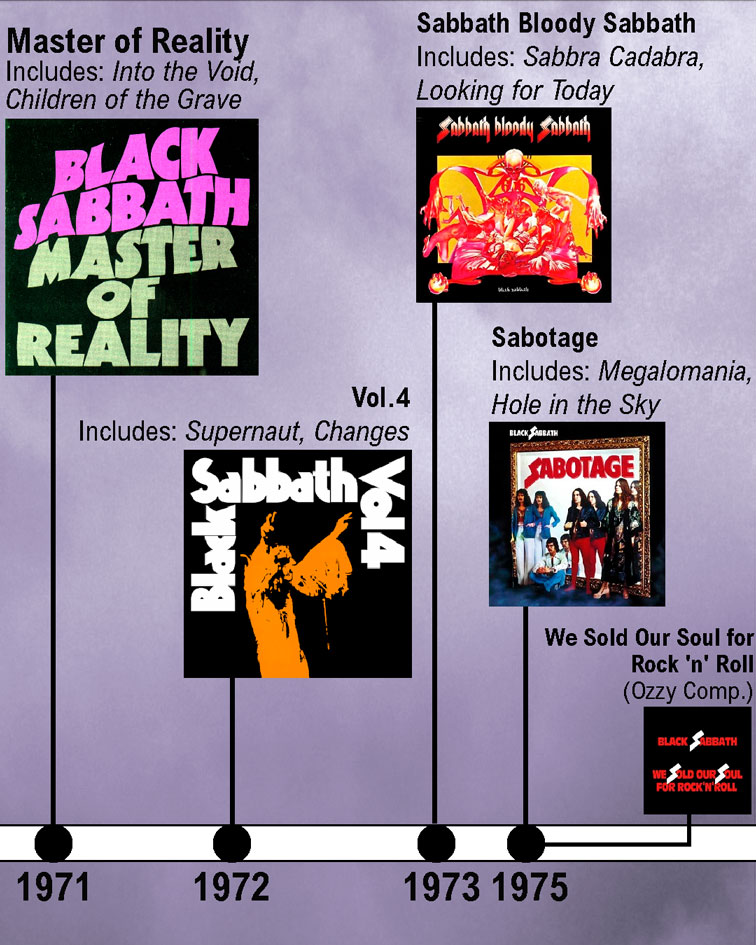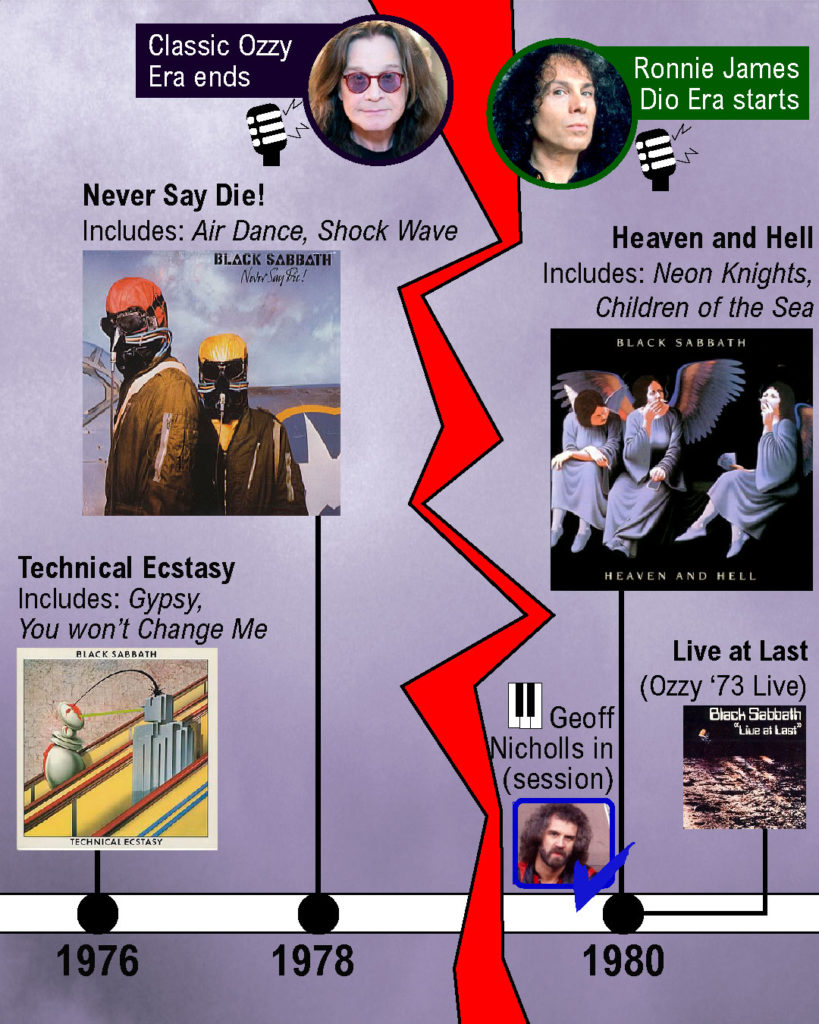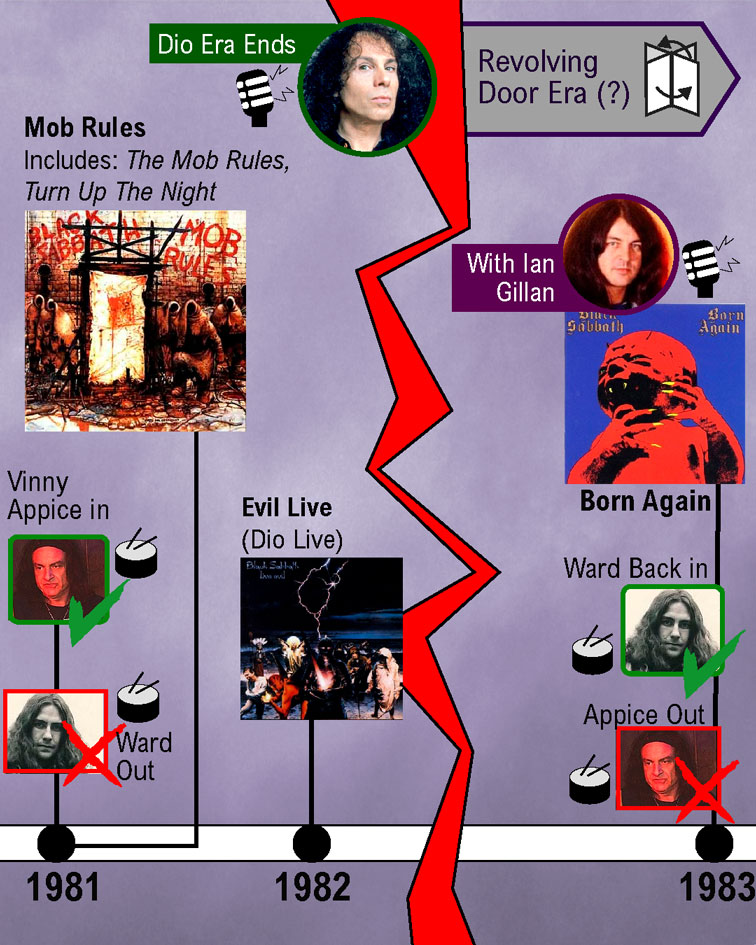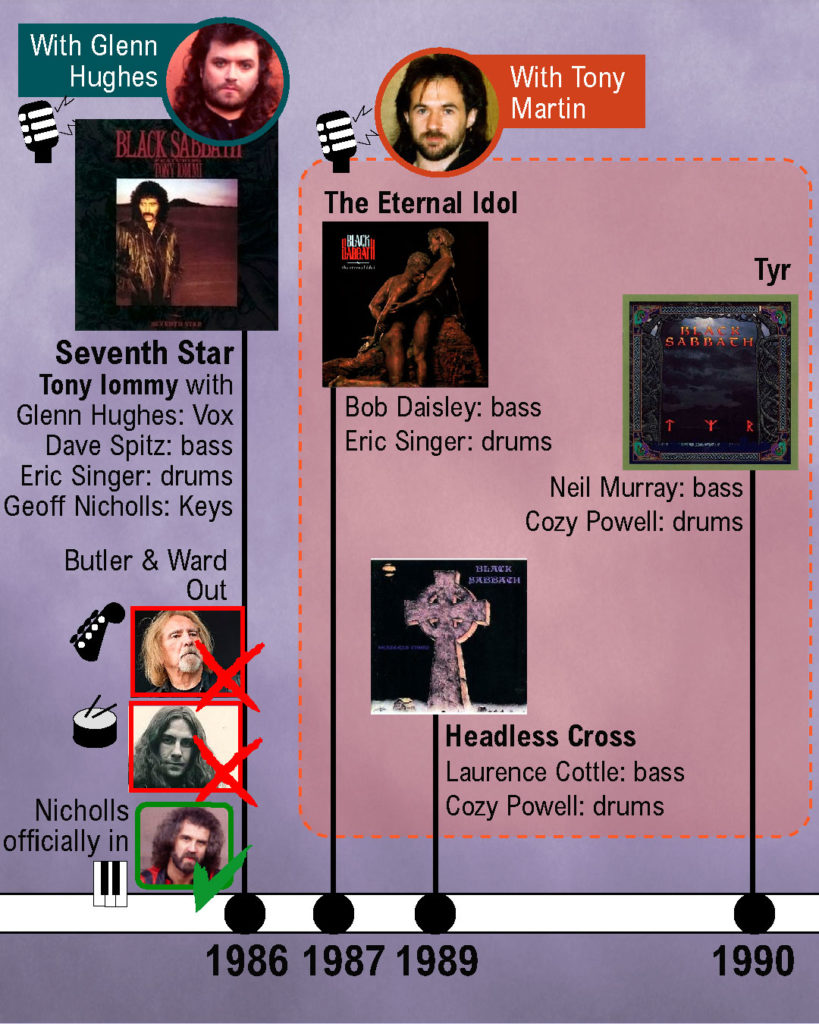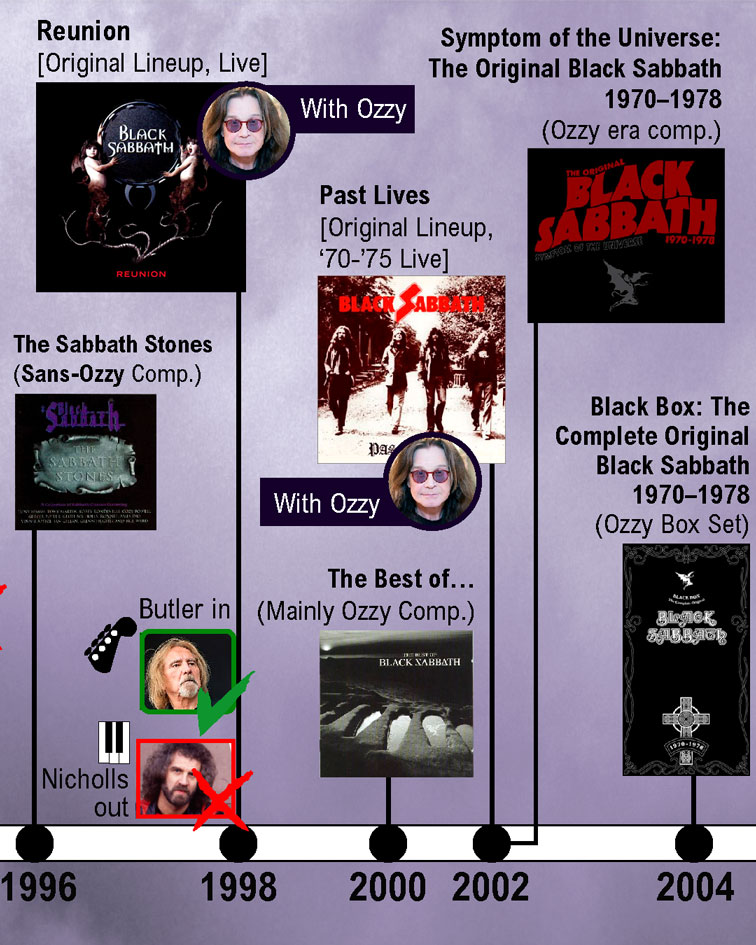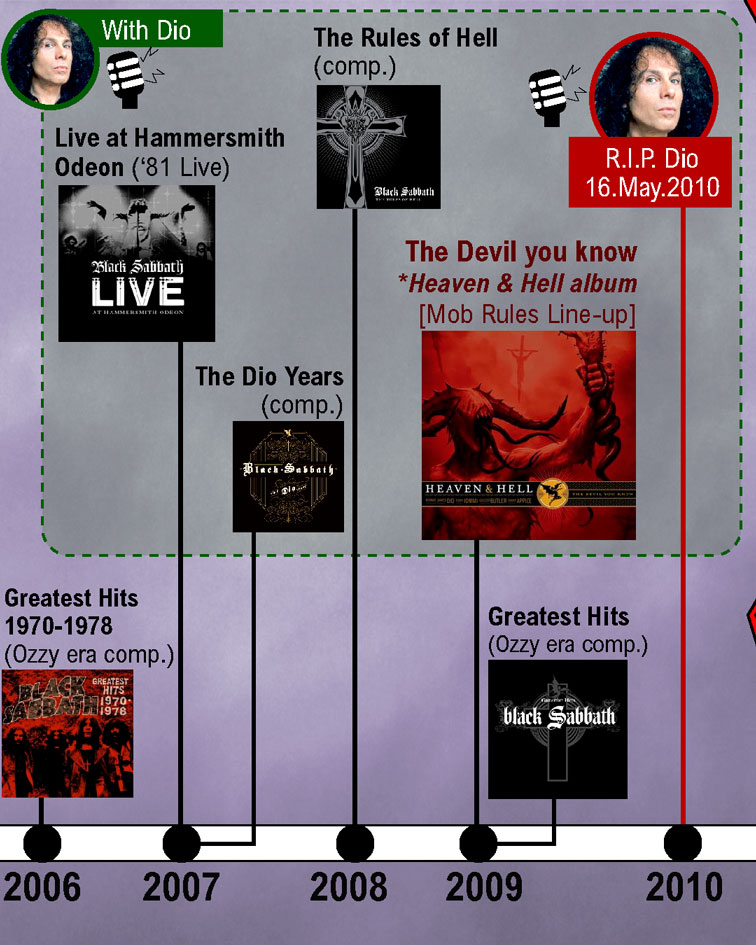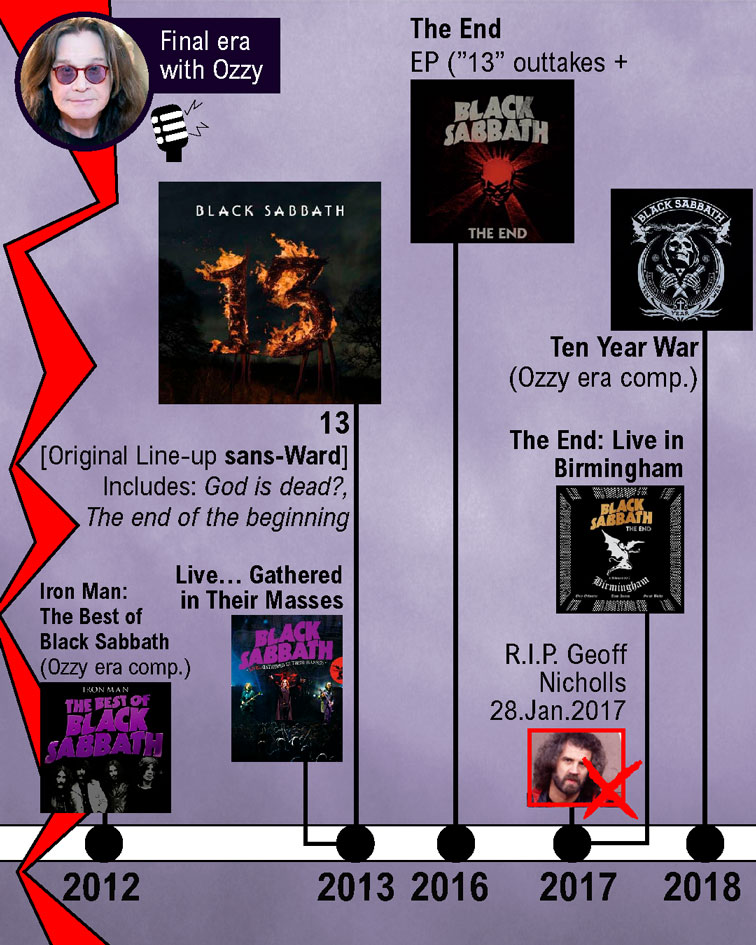 The first era of Black Sabbath with Ozzy Osbourne as lead singer
Black Sabbath was formed in 1968 in Birmingham, England, with Ozzy Osbourne on vocals, Tony Iommi on guitar, Geezer Buttler on bass, and Bill Ward on drums. This lineup is considered the classic Black Sabbath, which released eight studio albums, considered by many as their most fundamental output.
Their debut album, simply titled Black Sabbath, was released in 1970 and it also contains the song named Black Sabbath. It is considered a milestone for stoner and doom rock. Their second album, Paranoid, was released also in 1970 and is regarded by critics and the public as their best record. It contains hit songs such as War Pigs, Ironman, and Paranoid.
Master of Reality, Black Sabbath's third album, was released in 1971. It expanded the band's influence in stoner rock, doom, and heavy metal. One of the most popular tracks on the album is Into The Void.
In 1972 Vol 4. was released, maintaining the band at the peak of their popularity and influence. Their next LP, Sabbath Bloody Sabbath (1973), was also well received. It featured a more arranged and light sound, with less heavy guitar riffs, but good quality songwriting, for example on tracks like Sabbra Cadabra and Looking for Today.
Sabotage was released in 1975, while the band was experiencing issues with drugs and alcohol, alongside legal problems with their publishing company.
In 1976 Technical Ecstasy was released, by many considered the first album which did not do as well as the previous releases. After Technical Ecstasy, Ozzy Osbourne was not on good terms with the rest of the band, so he briefly left the group.
The rest of Back Sabbath tried to recruit a new singer: Dave Walker, who had recorded with Fleetwood Mac. The recording sessions with him did not result as well as expected, and eventually, Ozzy Osbourne came back to the band to release what would be the final album of the classic Black Sabbath era: Never Say Die!, in 1987.
By 1979 Ozzy Osbourne was out of the band again. The singer started a new and prolific solo career, while Black Sabbath recruited their next singer.
The second era of Black Sabbath with Ronnie James Dio
In 1980 Black Sabbath already had enlisted a new singer: Ronnie James Dio, a former member of the band Rainbow. His singing style was way different than Ozzy's, but he could establish a different version of Black Sabbath in its own right.
During the beginning eighties decade, Black Sabbath released two albums with Ronnie James Dio: their classic LP Heaven and Hell in 1980 and Mob Rules in 1981. Both albums are considered a completely different approach to Black Sabbath's music, but still good on their own terms. For Heaven and Hell, Bill Ward was still on the drums but for Mob Rules, due to his problems with alcohol, he was replaced by Vinnie Appice. The lineup of Dio, Iommi, Buttler, and Appice would become known as the "Mob Rules lineup".
By 1982, internal conflicts with Ronnie Dio ended his participation in the band and Black Sabbath again started looking for a new singer. This ended the Dio era of Black Sabbath and started a "revolving door" era of singers and band members.
The third era of Black Sabbath: too many lineup changes
After Dio was out of Black Sabbath, the band recorded with several new lead singers. The longest-serving of them was Tony Martin. Martin, not usually appreciated by fans, music critics, and even the band themselves, recorded five LPS with Black Sabbath. Before Martin, Black Sabbath recorded albums with Ian Gillan and Glenn Hughes, who both were at some point part of Deep Purple.
But let's continue with a chronological order of this era on the history of Black Sabbath:
In 1983 Black Sabbath recruited Deep Purple's lead singer Ian Gillan. Also, drummer Bill Ward was back in the band by that year. Born Again was released in that year, and is the only record in which Gillan performed with the band. Black Sabbath simply never bothered to call him back again. What about the album Born Again? It was not a hit then, but with time many listeners started to appreciate it a bit more.
In 1986, the album Seventh Star was released. It is quite a particular record, as it did not feature any of the original Black Sabbath members except for Tony Iommi. Glenn Hughes was recruited as a vocalist. Seventh Star was supposed to be Iommi's first solo record but the label insisted on calling it a Black Sabbath album
Around this time, in the middle eighties, keyboard player Geoff Nicholls was added as a permanent member of Black Sabbath.
The "Tony Martin" era started in 1987 with the release of The Eternal Idol. After this, in 1989 Headless Cross was released. Tyr, in 1990, was the third installment with Tony Martin on lead vocals. In none of these records did Geezer Butler perform bass. Bill Ward was also out of the band again at this point, with drums being performed by Eric Singer and Cozy Powell.
How Dio briefly returned to Black Sabbath… And then Tony Martin again
Without ever having officially fired Tony Martin from Black Sabbath, in 1992 the band reunited again with singer Ronnie James Dio to record another album: Dehumanizer. For this record, drummer Vinnie Appice also came back. This configured once again what is known as the "Mob Rules lineup", from 1981.
This lineup only lasted for that one record, and by 1994 Black Sabbath was again recording with Tony Martin. Martin's final albums with Sabbath are Cross Purposes in 1994 and Forbidden in 1995.
The classic Black Sabbath lineup, with Ozzy Osbourne on vocals and Bill Ward on drums returned for the live album Reunion, released in 1998. Other compilation albums were released at this time, and then the band parted ways with Ozzy again.
In 1998 keyboardist Geoff Nicholls left Black Sabbath
Another relapse with Dio: Heaven & Hell
Between 2007 and 2010 the "Mob Rules" lineup regrouped. Because of legal problems with Ozzy Osbourne about the use of the name Black Sabbath, the band had to perform using another moniker. Tony Iommi, Dio, Geezer Butler, and Vinnie Appice recorded as the band named Heaven & Hell. The resulting album was The Devil you Know, released in 2009.
On May 16th, 2010 Ronnie James Dio passed away and Heaven & Hell ceased to exist.
Final era back with Ozzy Osbourne
In 2013 Black Sabbath would reunite with Ozzy Osbourne to release their final album before retirement. The record was called 13 and it featured three original band members Tony Iommi, Geezer Butler, and Ozzy Osbourne, with Bill Ward not participating. Drums were performed by Rage Against the Machine's Brad Wilk as a session musician.
The last release of the band was the EP titled The End, which consists of outtakes of the album 13 alongside some live tracks.