Having emerged in 1985 in Los Angeles, California, Guns N' Roses established themselves as a bridge between rock music from the 80s and 90s. Their original members created a style of hard rock that was distinctive, powerful, and aggressive, with which they achieved success as rapidly as they fell apart, due to their own excesses and egos.
Swipe through the timeline below and check out the complex history of Guns N' Roses: from their initial success to their decline; from Axl Rose's increasing dominance over the band to the constant personnel rotation and their current "almost" comeback line up.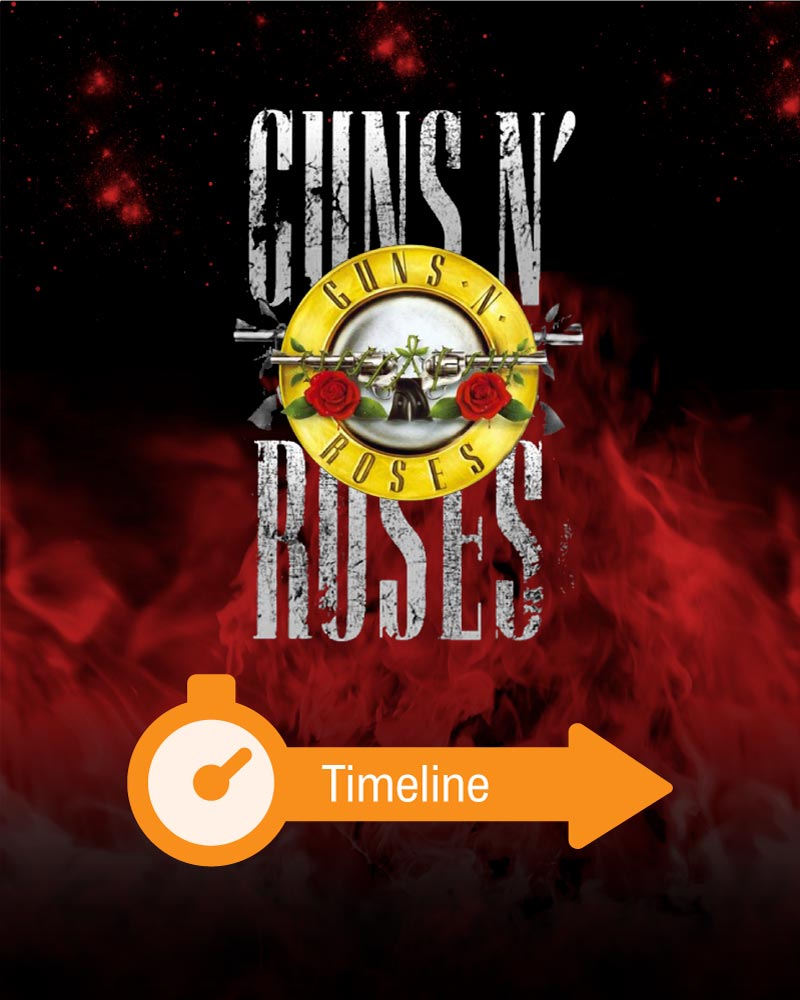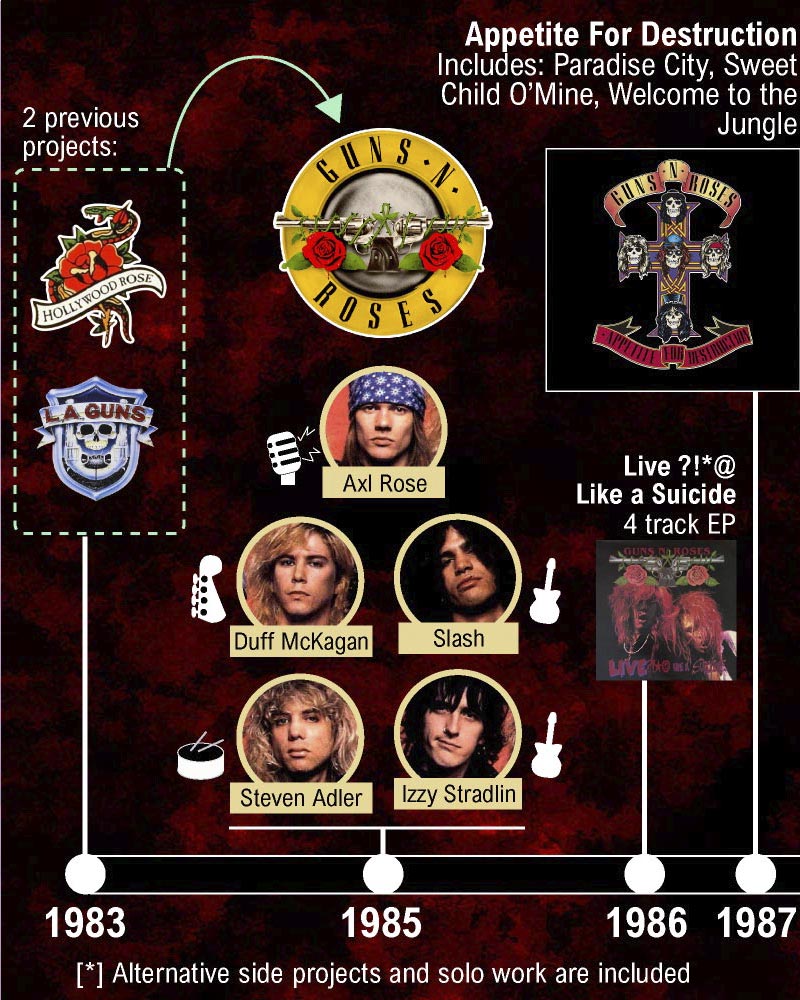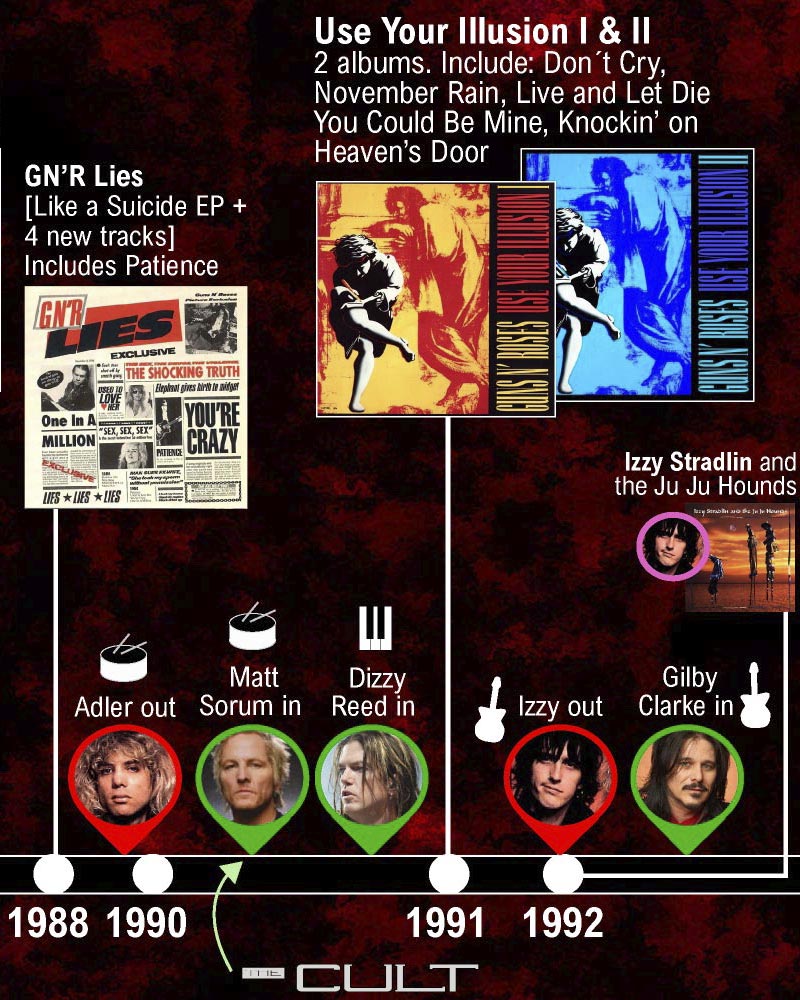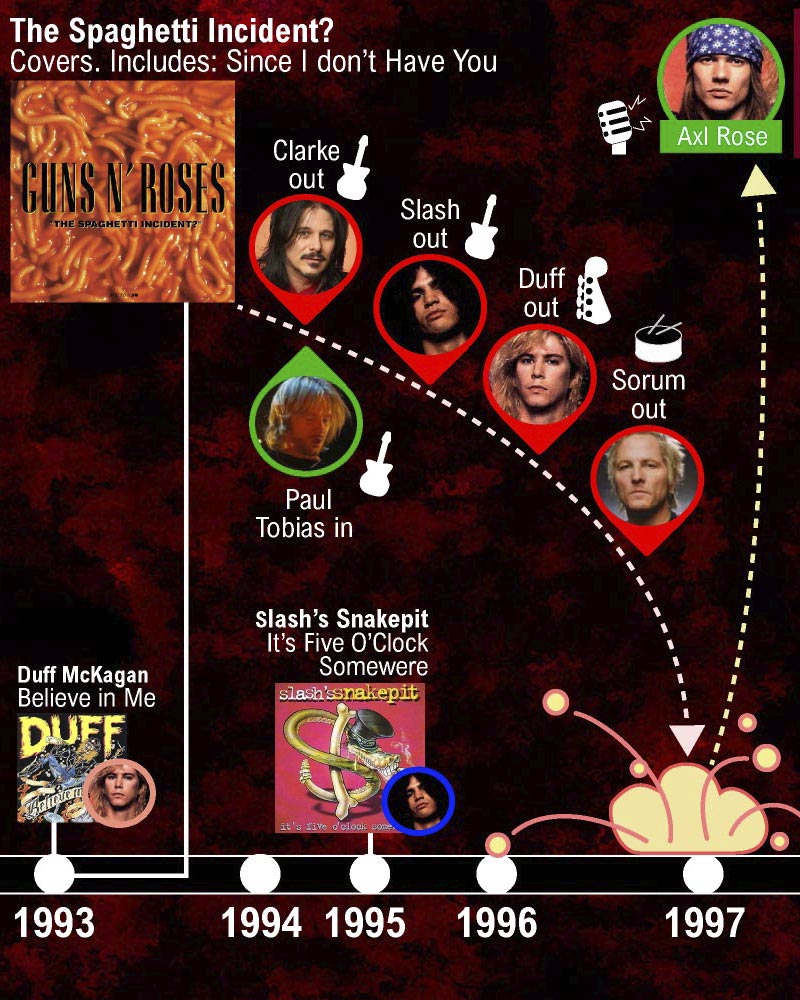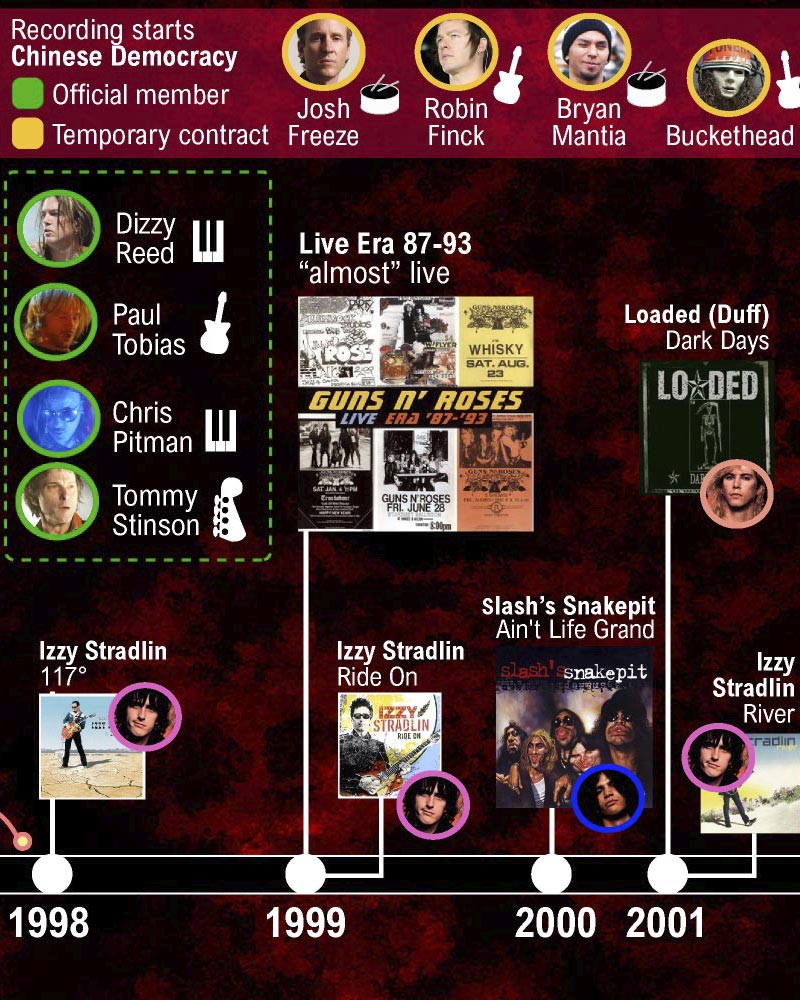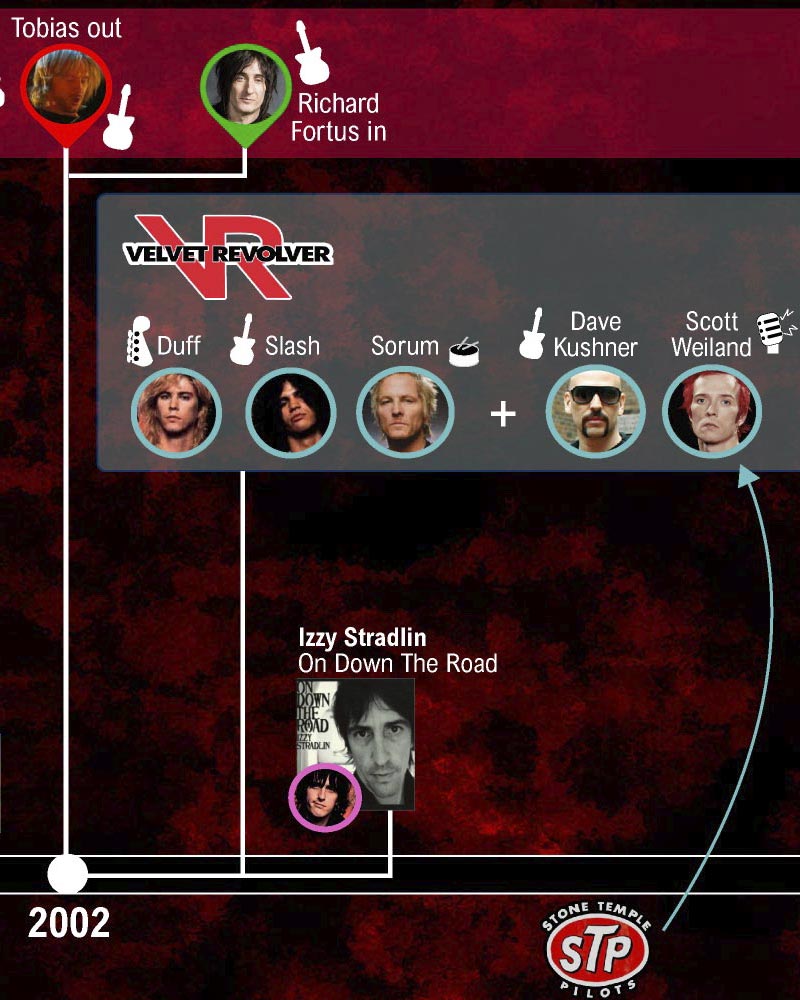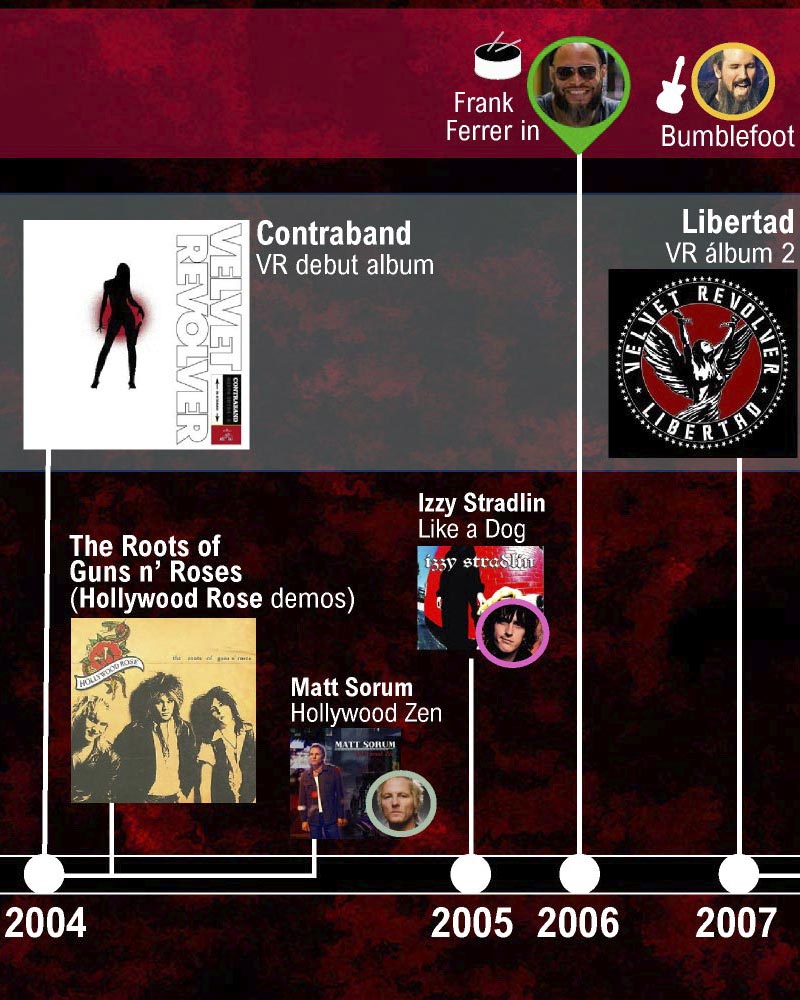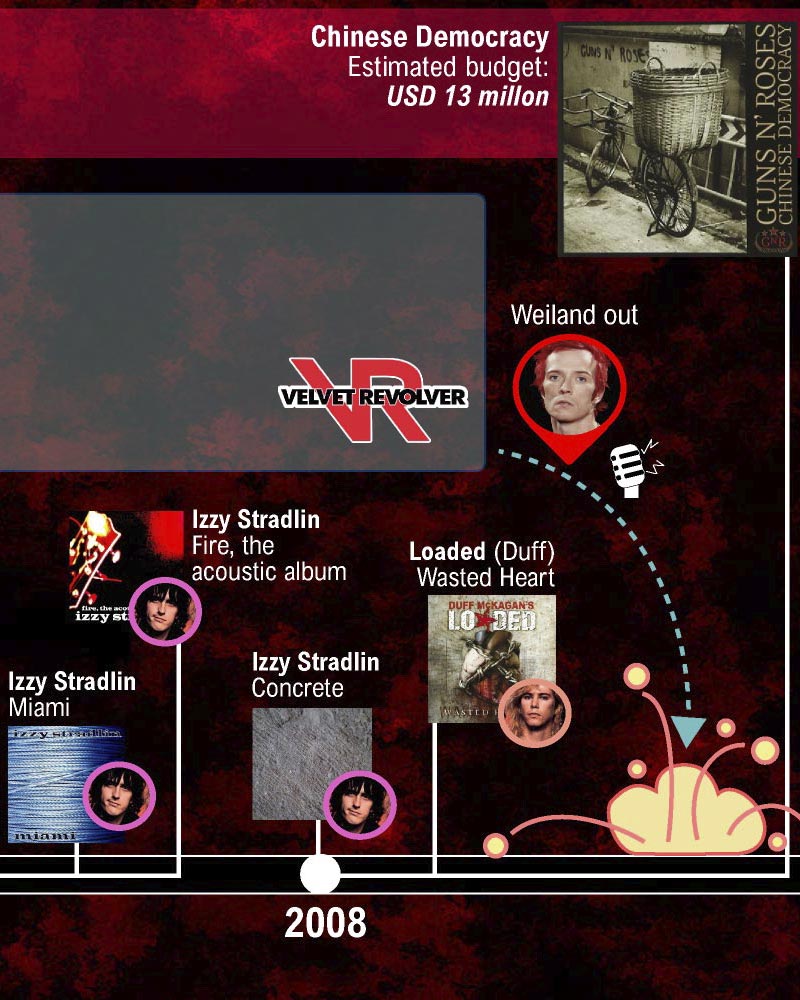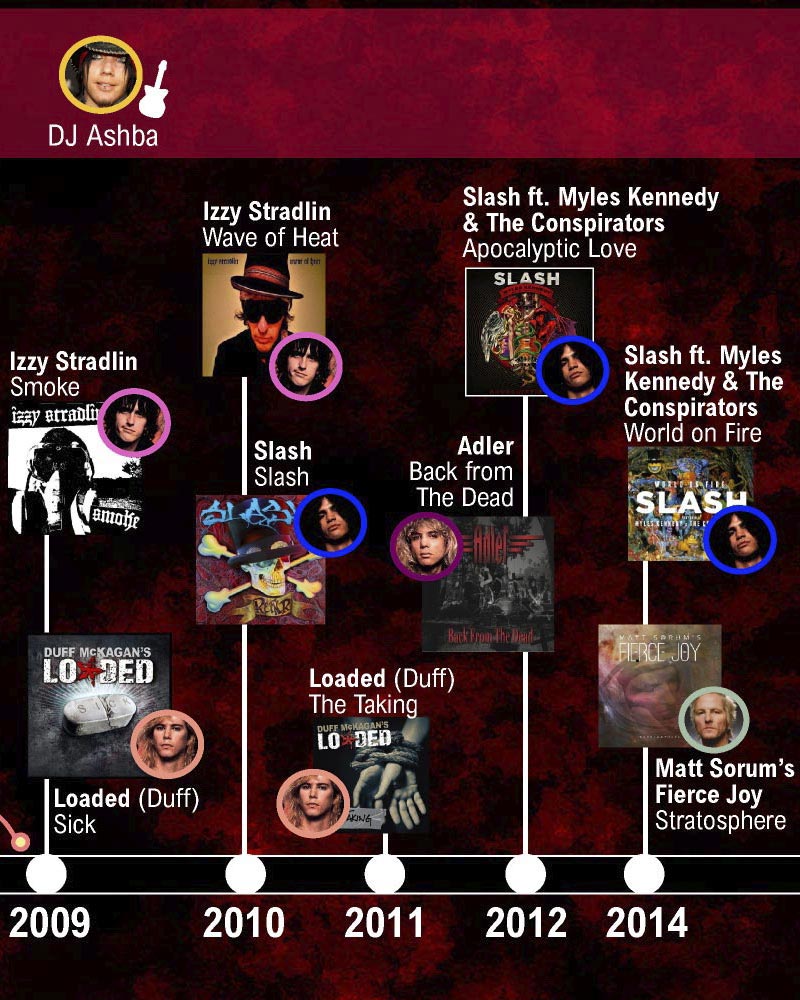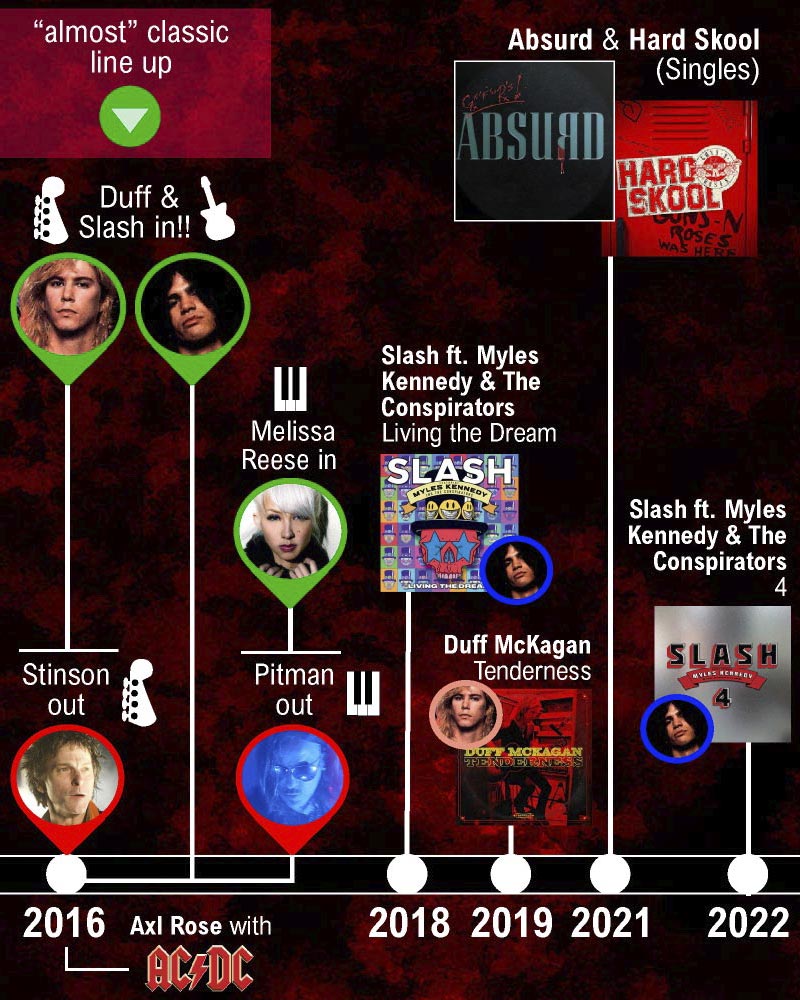 Note that other alternative projects to Guns N' Roses also appear in this timeline, such as Velvet Revolver, Slash's Snakepit, Duff's Loaded, and Izzy Stradlin's prolific solo career, among others.
Back to Guns n Roses, in summary, the band has released six studio albums. At least three of them are considered among the best in their genre.
Appetite for Destruction: Their 1987 debut album contains hits such as "Sweet Child O' Mine," "Welcome to the Jungle," and "Paradise City."
Use Your Illusion I and II: Simultaneously released in 1991, the former contains classics like "Don't Cry" and "November Rain," as well as "Live and Let Die" (originally by Wings, the project of former Beatle Paul McCartney). The latter album includes essential tracks such as "You Could Be Mine" and "Knocking on Heaven's Door" (originally by Bob Dylan), as well as an alternate version of "Don't Cry."
What happened with Guns N' Roses? Keep reading to find out.
The origins and immediate success of Guns N' Roses
Where does the meaning of Guns N' Roses come from? The band was founded in 1985 from the ashes of two previous groups: the first was Hollywood Rose, in which singer Axl Rose and guitarist Izzy Stradlin participated. The other was the friend's band L.A. Guns, in which guitarist Tracii Guns notably participated. Although L.A. Guns members quickly left the project, Axl and Izzy decided to recruit new musicians to continue making music as Guns N' Roses.
After several changes in their personnel, Guns N' Roses established their "classic lineup" in 1986:
Axl Rose: Vocals, piano
Izzy Stradlin: Rhythm guitar
Slash: Lead guitar
Duff McKagan: Bass
Steven Adler: Drums
This lineup recorded their previously mentioned debut album, Appetite for Destruction, in 1987, which was an immediate success. A year later, in 1988, Guns N' Roses released their second studio album, Gn'R Lies, which included four new songs and four from a 1986 EP.
After releasing their first album, the band found success and fame. Due to his drug habits and disorderly lifestyle, drummer Steven Adler was fired from the band. What's curious is that no one in Guns N' Roses was actually living a quiet and sober lifestyle, but quite the opposite. Guns N' Roses were literally: sex, drugs, and rock 'n' roll.
In 1990, drummer Matt Sorum from The Cult was added to Guns N' Roses, along with keyboardist Dizzy Reed. This lineup recorded the ambitious (and successful) Use Your Illusion I and Use Your Illusion II, released simultaneously in November 1991.
Why did the Classic Guns N' Roses line-up split?
Guns N' Roses never really broke up. What happened was that gradually all the band members left the project, except for Axl Rose.
By 1990, the internal relationships between GNR members were deteriorating. Axl Rose's behavior was becoming increasingly erratic, with him frequently arriving late to their live performances. Especially, the relationship between the singer and Duff and Slash was deteriorating more and more.
At the same time, Izzy Stradlin had decided to detox and distance himself from excesses. This is not a minor thing, as he was one of the main music composers in Guns N' Roses, alongside Axl Rose. Izzy Stradlin was an important part of the band's compositional engine, co-authoring several of the band's songs, including the classic "Don't Cry".
In 1992, after actively participating in the recordings of both Use Your Illusion I and Use Your Illusion II, Izzy Stradlin left Guns N' Roses and was replaced by guitarist Gilby Clarke. Without one of its main architects, Guns N' Roses were on the verge of its definitive crisis. With some difficulty, the band managed to record the cover album The Spaghetti Incident?, released in 1993.
It was in 1994, as a result of unsustainable internal tensions, that Guns N' Roses began to crumble. Without much time in the band, guitarist Gilby Clarke was dismissed and replaced by Paul Tobias. Gradually, the rest of the classic members left the group: both Slash and Matt Sorum were tired of Axl Rose attitude, and Duff McKagan was frustrated because the recording sessions were not productive.
1998: the long road to Chinese Democracy
By 1998, Axl Rose was the undisputed leader of Guns N' Roses and the only founding member still in the band. With him remained keyboardist Dizzy Reed and guitarist Paul Tobias.
The singer's plan was to recruit new band members and record a new album. With this in mind, Axl Rose recruited new musicians.
Lead Guitar players: Replacing Slash proved to be the most difficult task for Axl Rose, and he never could on a steady basis. Initially, guitarist Robin Finck, who came from Nine Inch Nails, participated under a limited contract. Later, in 2004, guitarists Buckethead and Bumblefoot also joined temporarily.
As composer and co-author: The creative role that Izzy Stradlin had previously occupied was taken over by multi-instrumentalist Chris Pitman until 2016.
As a bassist: The "permanent" replacement for Duff McKagan was ex-The Replacements member Tommy Stinson.
On drums: Session musician Johh Freeze initially joined, but by 2000, Primus drummer Bryan Mantia took over the role. In 2006, Frank Ferrer joined definitively as Guns n' Roses' drummer.
Rhythm guitar: Paul Tobias held this role until 2002 when he was replaced by Richard Fortus.
After an investment of 13 million dollars and a recording process that spanned 10 years, Chinese Democracy was finally released in 2008. The sessions were marked by Axl Rose's perfectionism and the constant rotation of band members, especially guitarists.
After the recording of Chinese Democracy, guitarist DJ Ashba briefly joined Guns n' Roses, but without much impact.
In 2016, the unexpected happened: Slash and Duff McKagan returned to Guns N' Roses, thus reconfiguring most of the classic lineup of the band. Additionally, Guns N' Roses added Melissa Reese as a second keyboardist and replacement for Chris Pitman.
As of 2022, the current Guns n' Roses lineup is the following:
Axl Rose: Vocals, piano
Slash: Lead guitar
Duff McKagan: Bass
Richard Fortus: Rhythm guitar
Dizzy Reed: Keyboard
Melissa Reese: Keyboards
Frank Ferrer: Drums
In 2021, Guns N' Roses recorded and released two new songs: "Absurd" and "Hard Skool." Currently, the band is on a worldwide tour that takes them through the United States, Europe, and Latin America.
Side-projects of Guns N' Roses members
What happened to the other members of Guns N' Roses after the band's most successful era?
Velvet Revolver
Perhaps the most successful project to emerge from the post-Guns N' Roses era. This band was formed by Slash, Duff McKagan, and Matt Sorum, with the participation of guitarist Dave Kushner and Stone Temple Pilots singer Scott Weiland. Velvet Revolver released two successful albums: "Contraband" in 2002 and "Libertad" in 2007, before disbanding a year later due to Weiland's departure.
Izzy Stradlin as a solo artist
Izzy Stradlin quickly established a solo career after leaving Guns N' Roses in late 1991. He has released ten studio albums and collaborated on multiple projects.
Slash solo & Side projects
Slash, with Slash's Snakepit, released two albums. After the end of Velvet Revolver, the iconic guitarist started his collaborative project with Myles Kennedy & The Conspirators and released five studio albums.
Duff McKagan side projects
Duff McKagan has released two solo albums and four with his project Loaded, active between 2001 and 2011. In addition, he has two albums attributed to his solo work.
Matt Sorum solo
On the side of Guns N' Roses' former drummers, Matt Sorum has released two albums, while Steven Adler has a single album with Adler's Appetite, released in 2012.
Axl Rose & AC/DC
Also, it is worth mentioning that Axl Rose was a guest singer for the legendary hard rock band AC/DC as a temporary replacement for singer Brian Johnson. This collaboration with the Australians was limited to the international concert tour in 2016, as Axl then returned to focus on the Guns n' Roses reunion.
More related content