Swipe through this graphic timeline about the history of the band Kiss, including details about each member's character, masks, and make-up. Find a complete chronology of their albums, music career, and lineup changes right here below: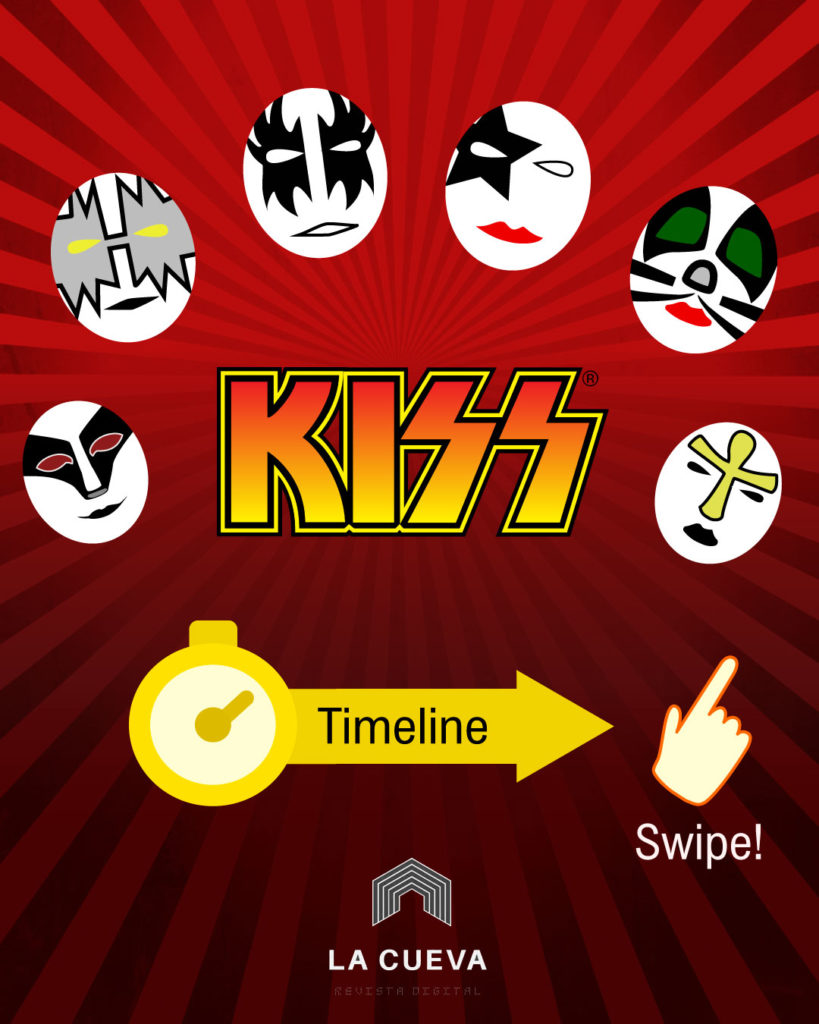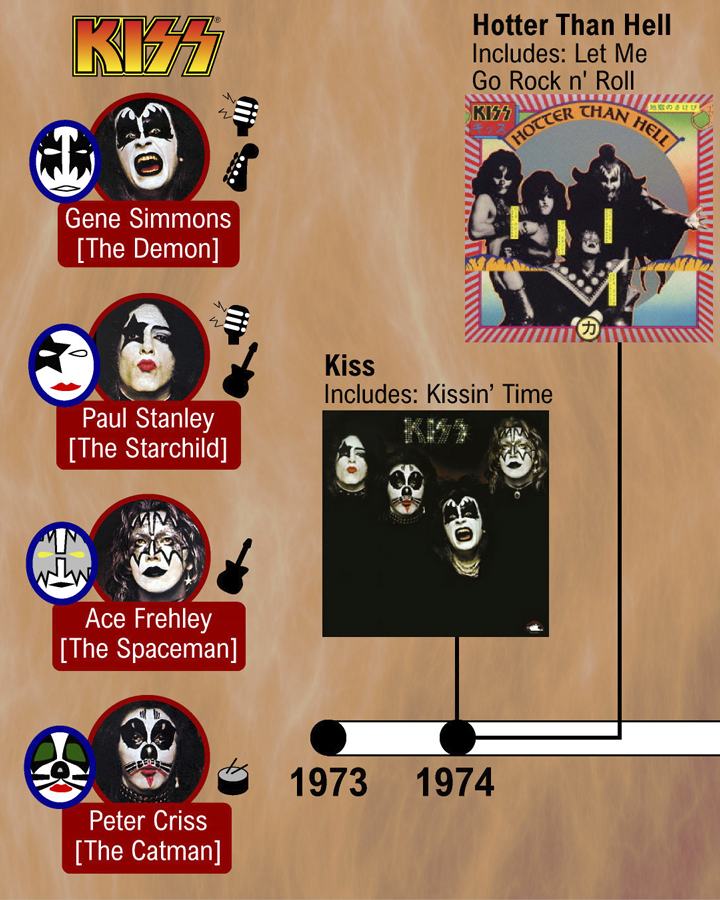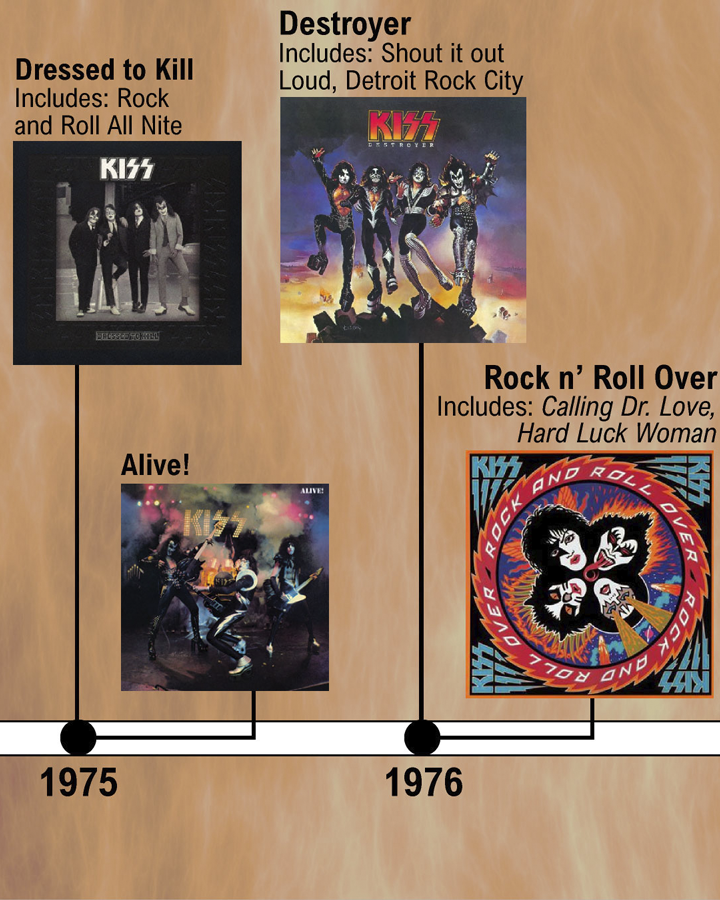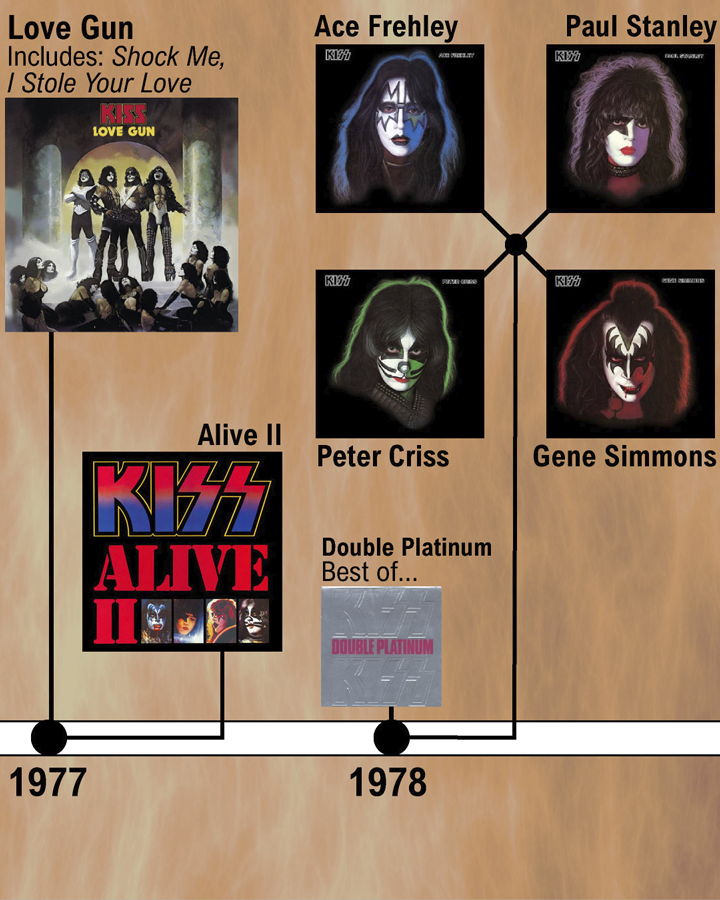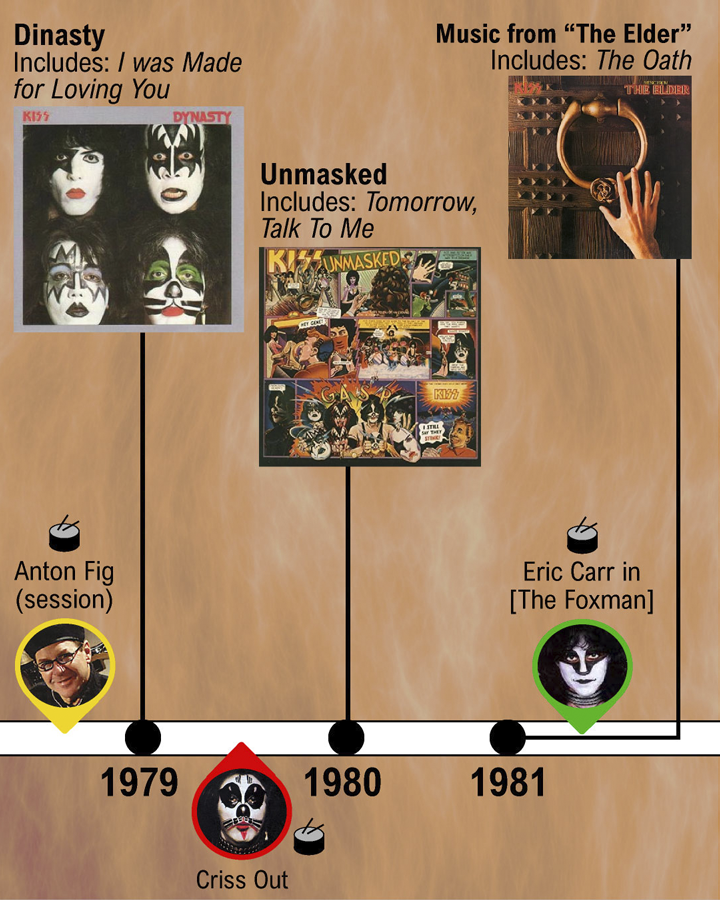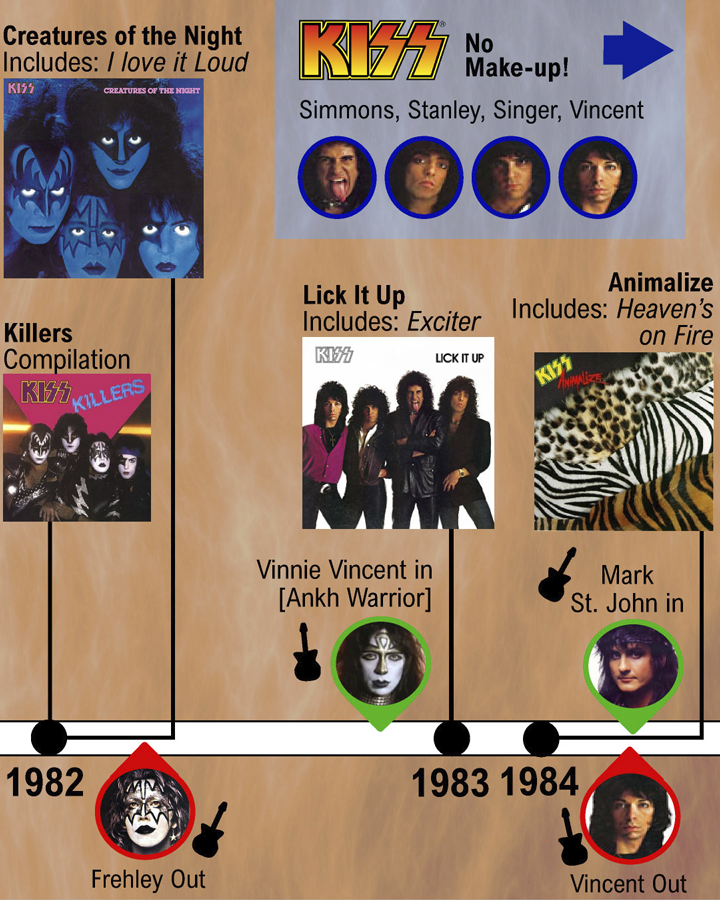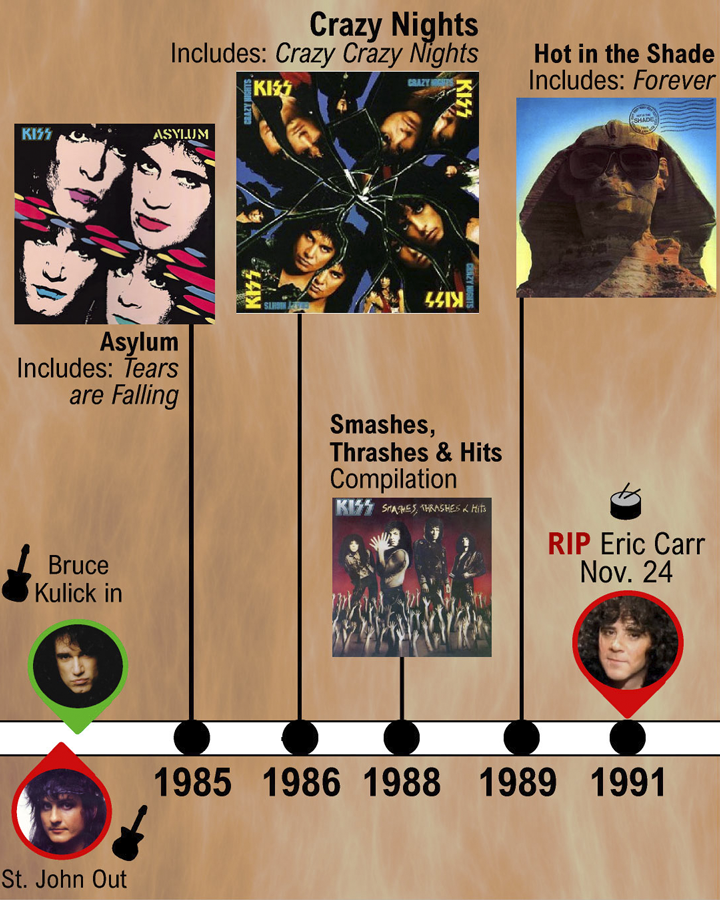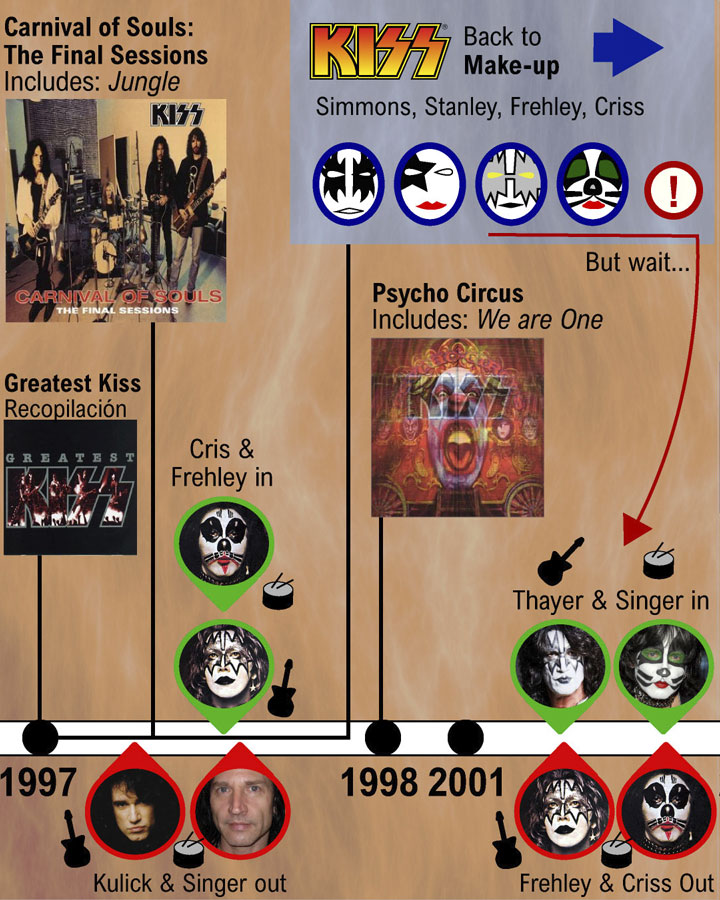 Kiss's career was mainly orchestrated by the band's only two permanent members: guitarist and lead singer Paul Stanley with bassist and supporting singer, Gene Simmons. Along with guitarist Ace Frehley and drummer Peter Criss, they started in New York in 1973, as one of the most recognizable acts in rock history.
(This post was originally written in Spanish. You can find the original Instagram post about the History of Kiss)
Why do Kiss members wear makeup?
All of Kiss's members wore makeup and eccentric costumes, and their shows progressively evolved into more and more spectacular events as their budget allowed. They played using striking stage scenarios for their theatric characters, with explosives, fireworks, and other visual devices to offer a true entertainment show.
Since its inception, the Kiss project was conceived not only as a musical group, but as a full entertainment show and, ultimately, as a business. It is known that the mastermind behind this was Gene Simmons, but all members contributed to the Kiss concept as a whole.
It was not just about painting their faces but assuming mythological aspects with silver and black suits, boots, and other ornaments.
Why did Kiss wear makeup? The idea of each member of the band wearing masks is based on Gastón Leroux's novel, The Phantom of the Opera (1910). Below we list each of the Kiss characters according to makeup:
The Starchild by Paul Stanley
The Kiss guitarist chose to be The Starchild because he liked the stars in the sky. It is just as simple as that. As he explained, he does not identify with his character as much as Gene Simmons does. His makeup style was initially inspired by the classic Western hero, The Lone Ranger.
The Demon by Gene Simmons
Bassist Gene Simmons' character is perhaps Kiss's most iconic: The Demon. He is known for spitting up blood during performances, as well as for the rumor of him stomping on chicks with his huge and pointy boots. Simmons is a fan of science fiction films and comic books, so he based his character on the monster Ymir from the movie The Monster from Another Planet, filmed in 1957 by Nathan Juran. He was also inspired by the Marvel character Black Bolt.
The Spaceman by Ace Frehley
The original Spaceman was portrayed by Ace Frehley. Without having a clear and direct inspiration, ​​Frehley's character was based on his striking guitar-playing skills, which "are from another planet." One of his signature traits was setting his instrument on fire during some of his solos.
Since 2001, The Spaceman character has been taken over by new guitarist Tommy Thayer.
The Catman by Peter Criss
There aren't many explanations as to why Peter Criss chose to be The Catman. What is for sure is that he strongly identifies himself with his original character. He has repeatedly criticized his ex-bandmates for continuing with someone else playing the character he invented.
Since 2001, the character of The Catman has been taken over by drummer Eric Singer.
With the Kiss lineup changes, two additional characters emerged:
The Foxman by Eric Carr
The Fox Man character was created in a rush, since when Eric Carr joined Kiss and they had little time for the next live performances. Initially, they considered another character, The Hawk, but the rest of the band did not like the idea.
The Ankh Warrior by Vinnie Vincent
Guitar virtuoso Vinnie Vincent used cross-styled make-up and became known as The Ankh Warrior, which symbolizes the force of life. Certainly, Vinnie's style was bombastic and creatively powerful. Although his spectacular guitar solos fit very well with Kiss's musical style, his personality was somewhat difficult for the rest of the band, so his stay with them was really short.
The only Kiss members who never wore makeup with the band were guitarists Bruce Kulick and Mark St. John.
3 eras in Kiss history
Below, you will find the history of this band summarized in three eras:
Classic stage with makeup and original members: 1973 to 1983
Stage without makeup and with new members 1983 to 1996
Stage of return to makeup, with its last formation: 1997 to 2022
Related to the historical importance of Kiss, I have also written about how they influenced Soundgarden and how Gene Simmons sponsored Van Halen.
"Masked" Kiss era: 1973 to 1983
Between 1973 and 1983 all the members of Kiss used makeup for their performances and public appearances. It was during this time that the band released their most successful songs, such as Shout it Out Loud, Rock, and Roll All Nite, and I was Made for Loving You.
During this first decade, Kiss released their most successful albums such as Destroyer and Rock n' Roll Over in 1976, Love Gun in 1977, and Dynasty in 1979. At the same time, the group established a new standard for live concert albums, with Alive! and Alive II published in 1975 and 1977 respectively.
But not everything was successful for the band during this decade. In 1978 Kiss mounted a marketing strategy around their alleged break up. To publicize this, each member released a self-titled solo album simultaneously: Gene Simmons, Paul Stanley, Ace Frehley, and Peter Criss. These albums were a commercial flop.
This failed marketing strategy was followed by the success of the previously mentioned album. Dynasty, in 1979, which contained the hit I was Made for Loving You. By that time, internal relations between Kiss members were worn out, so each musician preferred to record separately.
The first member to leave the group was drummer Peter Criss, in 1979. On both that year's album, Dynasty, and the subsequent 1980 album, Unmasked, session drummer Anton Fig was hired for recording. Although Criss officially remained in the group, he did not participate in these albums. Criss's official replacement was Eric Carr, who assumed the character of The Foxman.
Kiss no makeup era: 1984 to 1996
Between 1984 and 1997, Kiss continued without what had been one of their most distinctive trademarks: makeup. Already with a bare face, the band remained active and kept releasing material, but with far less success. Perhaps the most popular song from this era is Crazy Crazy Nights, from 1986.
Another significant change in the band was the departure of guitarist Ace Frehley in 1982. Although he rejoined Kiss years later, he only did so temporarily for specific tours and releases. In the late eighties, he formed Frehley's Comet. Mainly since 2009, he has released several solo albums.
Ace Frehley's first replacement was, for a short time, Vinne Vincent who became The Ankh Warrior. After less than a year, in 1983 Vincent had been replaced by Mark St. John, who also remained with the band just for one year. In 1984, Bruce Kulick became Kiss's full-time lead guitar player.
In 1991 Eric Carr passed away, a victim of cancer. Eric Singer was hired a year later as the new Kiss drummer.
In 1996, the MTV Unplugged recording gave Kiss a new boost in popularity. This acoustic live album featured not only the official members of Kiss of that time – Simmons, Stanley, Kulick, and Singer – but also original members Ace Frehley and Peter Criss.
Heading into 1997, this led to a new promotional initiative by Simmons and Stanley: reuniting the original Kiss lineup, reusing their distinctive makeup, and releasing a comeback studio album.
The return of classic Kiss with make-up: 1997 to 2022
With the release of the album Psycho Circus in 1998, the classic makeup Kiss line-up returned to activity. Truth be told, this was nothing more than a marketing move: both guitarist Ace Frehley's and drummer Peter Criss's involvement on the album was very limited. Soon after the promotional shows, Frehley and Criss left the band once again.
The Kiss lineup in 2001 was no longer the classic one. The new make-up Kiss kept the characters of the original lineup, but with new members behind the masks. In the role of The Catman the band reincorporated Eric Singer. Guitarist Tommy Thayer was hired permanently and became the new Spaceman.
During the third and final part of their career, Kiss mainly released compilation and greatest hits albums. Their last two studio albums, Sonic Boom (2009) and Monster (2012) did not achieve the same success as their classic material, which propelled them to stardom during the seventies decade.
By 2020 Kiss had already announced their retirement from the music industry. The End of the Road tour, which lasted until 2022, has taken the group all over the world. With a musical career that spans more than four decades, sure they have already made history.
Here you can find the original text as published in La Cueva Cultural.
Do you want more info on historical rock bands? You can also check out The Cure's timeline here.