The influence of The Doors was fundamental for the development of rock music. This band incorporated elements from blues and jazz and turned them into a psychedelic style. With Jim Morrison's literary inspiration for lyrics, they became one of the greatest rock acts ever.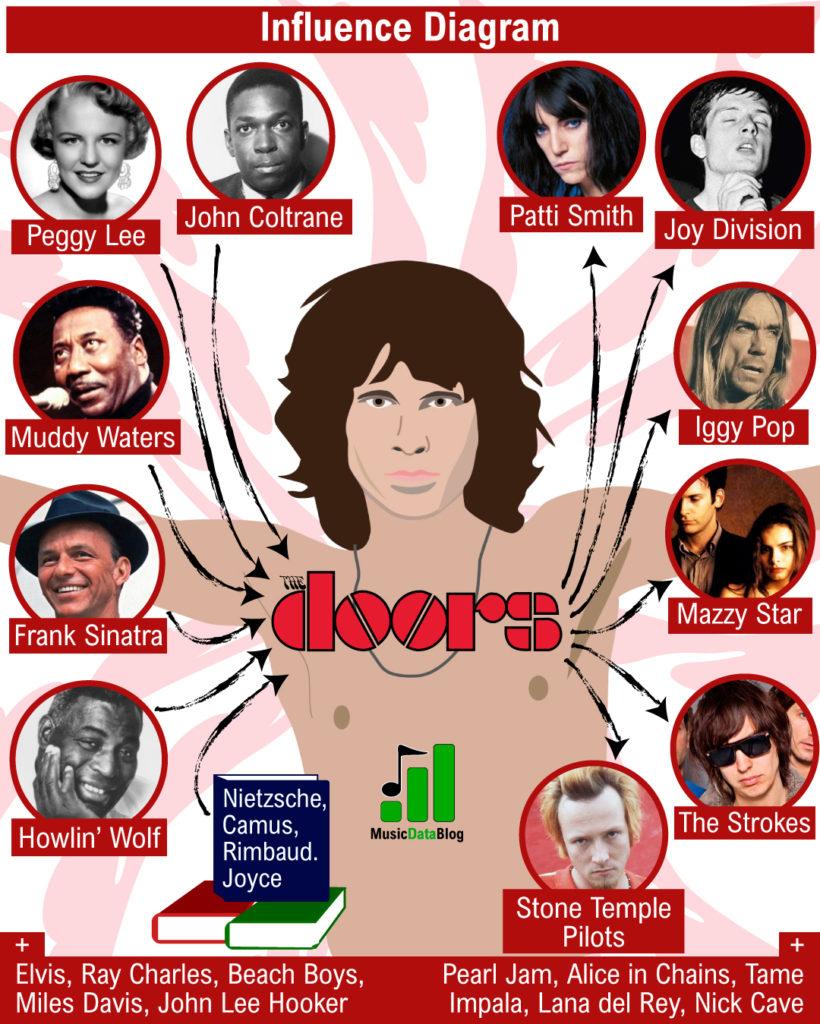 Which are The Doors' musical influences?
Some of the musical influences of The Doors are classic blues performers, such as Howlin' Wolf, Albert King, and Muddy Waters. Also, iconic singers such as Elvis Presley and Frank Sinatra were some of Jim Morrison's favorites. In addition to these, we have to mention some prominent jazz influences on The Doors' music, which came mainly from artists such as John Coltrane, Peggy Lee, and Ray Charles.
Also, especially in the case of Jim Morrison, we should review some of his literary influences which inspired his metaphoric and poetic lyric style.
Muddy Waters
The Doors were clearly influenced by classic blues. One of the most relevant artists from this genre that we can name here is the legendary blues man, Muddy Waters. In fact, he was a favorite of Jim Morrison and keyboardist Ray Manzarek. The Doors frequently covered Muddy Waters songs and, when playing other blues classics, they tended to favor Waters' versions of them. Other performers of this genre that were influential for The Doors were Albert King and Robert Johnson.
Howlin' Wolf
Another blues icon, blues singer, and guitarist Howlin' Wolf was perhaps the one that had the most influence on Rock n' Roll as a whole. In the case of The Doors, Wolf's influences go beyond instrumentation, as he was also one of Jim Morrison's main references in terms of singing style. For his more upbeat tracks, Howlin' Wolf would sing with a broken voice, like a highly pitched-controlled scream or shout. On the other hand, for his more bluesy tracks, he would sing in a much more calm and more profound way. This type of dynamic was a direct influence on Jim Morrison's approach to vocals.
John Coltrane
As said above, The Doors also had clear jazz influences. This was explained on several occasions by drummer John Densmore, who was consciously trying to copy John Coltrane, who he considered ahead of his time. The Doors' keyboard player Ray Manzarek also mentioned he was influenced by the John Coltrane Quartet, especially for the album The Soft Parade (1969). The psychedelic arrangements and climates that were a signature of The Doors' music are directly inspired by Coltrane's music. Other jazz performers that influenced the band are Miles Davis and Charles Mingus.
Frank Sinatra
Sinatra was one of Jim Morrison's absolute favorites. Since he was a little kid, The Doors' frontman grew up listening to this singer because his parents were huge fans. As a grown-up man, Morrison's baritone voice was deeply inspired by his idol. The story goes that while The Doors were in the studio working on their self-titled debut album in 1967, Morrison was able to record his vocals on the same microphone that Sinatra had used.
Peggy Lee
According to Morrison himself, he didn't listen to rock n' roll music, as he preferred jazz and blues instead. One of his favorite performers was jazz singer Peggy Lee, who had also a very profound voice. She used to combine poetry in her lyrics with sophisticated instrument arrangements, which was a big inspiration for The Doors.
Other artists that influenced The Doors are Elvis Presley, The Beach Boys, John Lee Hooker, and Jimmy Reed.
Which writers influenced Jim Morrison?
As it is widely known, Jim Morrison's lyrics were a unique kind of poetry. His literary influences are quite extensive, so below we will list just a few important names for The Doors' frontman. To expand on this matter you can find a reference here on the list of Jim Morrison's favorite books.
Arthur Rimbaud: surrealism
The first author we will mention here is Arthur Rimbaud. He was one of the key literary figures for the development of the art movement known as surrealism. It is widely known that when The Doors were on the road, Morrison often carried with him books written by Rimbaud. Some specialists indicated that Rimbaud's phrase "The poet becomes a seer through a long, immense, and reasoned derangement of all the senses" was a big inspiration for Morrison's affinity for describing abstract, complex, and dreamlike images in his lyrics.
Albert Camus: loneliness and isolation
Another important author of Jim Morrison was Alber Camus. This writer's work was characterized by frequent revolutionary and political references, as well as themes related to existentialism and absurdism. As an example of this, the popular The Doors' track People are Strange refers to loneliness and alienation, something he took directly from Camus' literary works.
Friedrich Nietzsche: death and the feeling of "nothing"
The last of Morrison's literary influences we will mention here is the well-known German philosopher Friederich Nietzche. This writer's work often dealt with the purpose of human life and societies, as well as religion, ethics, and morals. Nietzche's influence on Jim Morrison can be found in many songs that reference the end of existence, death, and the concept of nothing, with tracks such as Five to One and The End being good examples of this.
Which artists were influenced by The Doors and Jim Morrison?
Jim Morrison became one of the most recognizable icons of rock music, having a huge influence on performers such as Patti Smith, Iggy Pop, Scott Weiland (Stone Temple Pilots, Velvet Revolver), and Ian Curtis (Joy Division). The Doors also influenced other artists such as Siouxsie Sioux, Pearl Jam, Lana del Rey, Alice in Chains, Nick Cave and Tame Impala.
Patti Smith
Iconic rock singer Patti Smith was hugely inspired by Jim Morrison's stage presence and approach to poetry. She recalled seeing The Doors in concert and how Morrison's ability to combine music and poetry convinced her that she could do the same. The same as The Doors' frontman, Patti Smith also has clear literary influences we already covered in this post. As an example, the previously mentioned author, Arthur Rimbaud, is a common influence on both artists.
Iggy Pop
Jim Morrison inspired none other than the "Godfather of Punk". To start with, Iggy's first known musical project, The Stooges, was formed after its members went to a The Doors concert. Also known as "The Lizard King", Jim Morrison's performances were quite shocking and unpredictable, something that immediately attracted and inspired Iggy Pop. One of this singer's classic tracks, The Passenger, is based on a poem by The Doors' frontman.
Scott Weiland
Stone Temple Pilots and Velvet Revolver
Scott Weiland certainly had a powerful voice that reminded many of us of Jim Morrison: both performers could sing in a notable aggressive manner or in a soft and sweet style. Even more, Weiland's stage presence borrowed heavily from Morrisons'. The STP lead vocalist that when the band was starting in 1992 he listened to The Doors quite a lot, and he was worried that he would be compared to Morrison. Apart from this, and speaking strictly in terms of musical style, The Doors' influence on Stone Temple Pilots can be heard on their third album, Tiny Music… Songs from the Vatican Gift Shop (1996), especially on tracks such as Adhesive and And so I Know. Also, we must not forget that STP covered one of The Door's most popular tracks, Break on Through.
The Strokes
According to Julian Casablancas, he began to listen to The Doors as a little child and they were the band that inspired him to get into music. He began to learn all of their songs and he even studied The Doors' songwriting style and musical structures. As the band themselves have expressed, The Strokes have been inspired by The Doors quite a lot, especially in terms of song arrangements.
Joy Division
As a big fan of Jim Morrison, Ian Curtis modeled his unique baritone voice inspired by him. As we have already commented in the post about Joy Division's musical influences, the band was often compared to The Doors. Jim Morrison's band had a direct link with jazz and blues, something that Joy Division certainly does not. But both bands created atmospheric sounds and psychedelic songs. In Joy Division's case, this type of song-crafting is more notable on their second and final album, Closer.
Mazzy Star
Led by singer Hope Sandoval and guitarist David Roback, Mazzy Star had an ethereal and dreamy sound. Roback's compositions were hugely inspired by psychedelic bands from the '60s and '70s, such as The Doors. Also, Sandoval's can sound dramatic and dark, something that reminds us a bit of Mr. Morrison. If you want to expand more on this subject, you can check out our previous post about the musical influences of Mazzy Star.
Other artists and bands influenced by The Doors are Peal Jam, Siouxsie & The Banshees, Lana del Rey, Tame Impala, Alice in Chains, Nick Cave, and Echo & The Bunnymen.
More related content