Patti Smith is an influential singer whose career started in the early seventies. She is aknowledged, among other things, as one of the main predecesors of punk rock.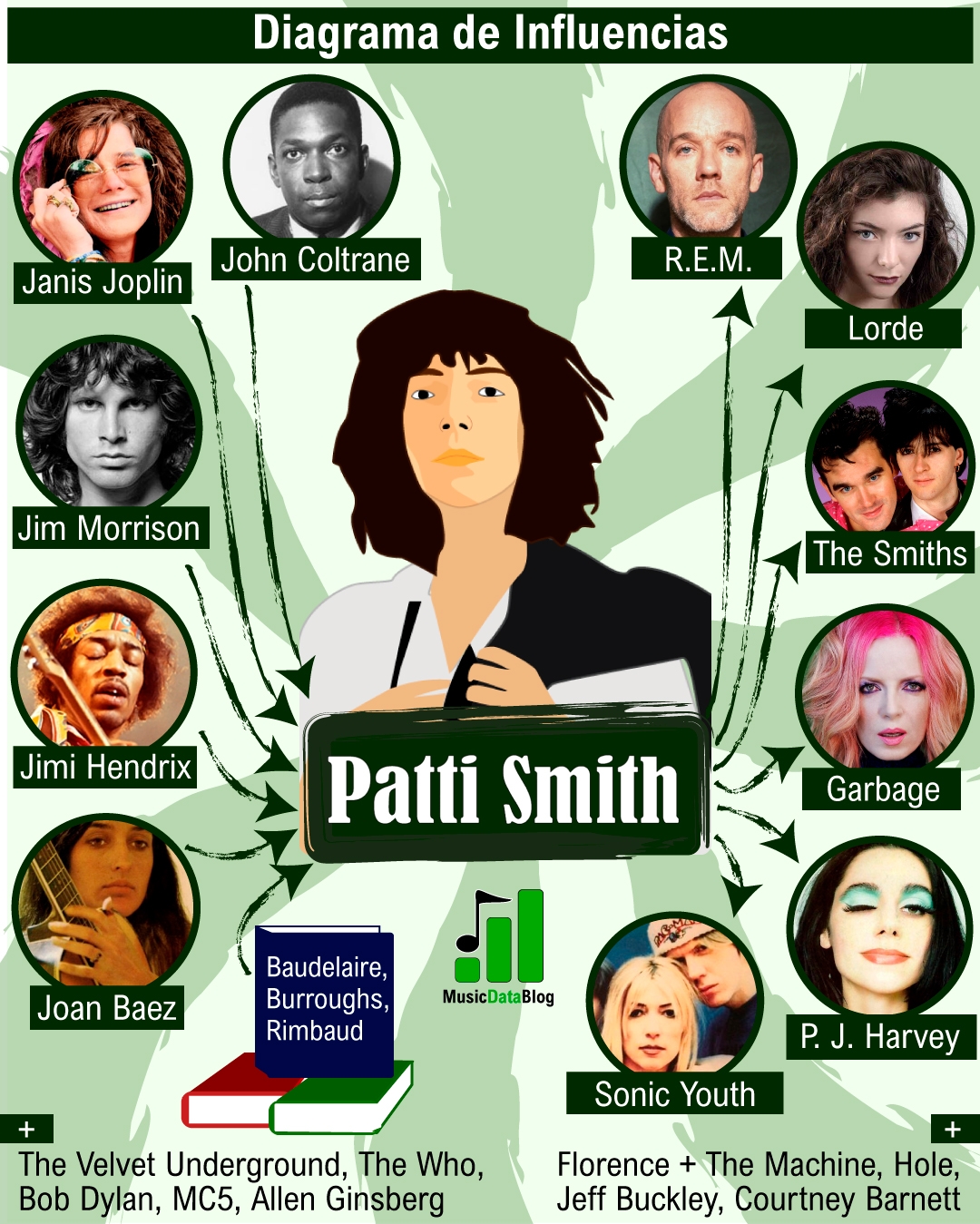 Patti Smith influences are strongly related to literature and poetry, with authors such as Allen Ginsberg, Rimbaud, William Burroughs and Charles Baudelaire as main referents. In musical terms, her influences are Jim Morrison, John Coltrane, Jimi Hendrix, Joan Baez and Bob Dylan, among others. At the same time Patti Smith has influenced many musicians that came after her, such as The Smiths, Sonic Youth, Lorde, R.E.M, to cite a few.
We will review some of Patti Smith's influences in detail below:
Who influenced Patti Smith?
Patti Smith became friends with Janis Joplin, one of the most privileged voices in blues and rock music. The two shared shows and gigs, parties and many night talks at the bar. This friendship with Janis Joplin redefined what meant to be a woman in the music world for Patti Smith. Janis Joplin was creating her own way of doing things, and was criticised by many for doing that. But at the same time, that was one of the things that made her such a relevant singer for music in general.
Alongside Janis Joplin, Joan Baez was another inspiration for Patti Smith and became a role model for her. An aknowledged folk singer and political activist, Baez frequently used masculine points of view in her songs, a thing that inspired Patti Smith in terms of lyric writing and the use of gender, and provided her with a new tool in terms of poetry and themes.
One of Patti Smith's favorite artists was guitar god Jimi Hendrix. Patti was so fond of Jimi that he recorded a version of the classic Hey Joe (originally from Billy Roberts, eventhough Jimi Hendrix's version remains the most popular). She also recorded The Patti Smith Group debut album, Horses (1975) in Jimi Hendrix's Electric Lady Studios.
One of the most inmediate influences on Patti Smith was The Doors singer Jim Morrison, whose poetry and lyric dramatism was admired by her. As part of the Doors psychedelic approach to music, Morrison's lyrical themes were a key ingredient. Morrison usually sang about traumatic family relations, internal suffering and dealing with unhealthy emotions. That ability to write about those topics was really appealing to Patti Smith, who first was a poet and later became a rock icon.
Another of Patti Smith's heroes was saxofonist John Coltrane. Jazz Musician and composer, he was another of the experimental and avant-garde influences that had a huge impact on her music style. She also lists A Love Supreme as one of her favorite records of all time. In her own words, Patti Smith says that her improvisational approach to music was inspired by Coltrane.
Patti Smith's second album, Radio Ethiopia, was inspired by MC5. The singer specifically mentions the track Black to Comm as one of her influences. MC5's powerful performance delivery, as well as the way the used different music passages and furious improvisations provided Patti with an excellent example on how to move foward in her musical career. Later, MC5's guitarist Fred "Sonic" Smith and Patti Smith got married and had a family together.
Last but not least, we will mention another strong influence on Patti Smith: legendary song writer Bob Dylan. They have a well documented friendly relationship. Another big influence would be John Cale, from The Velvet Underground, who worked on Horses with Patti.
Without goind in deep with Patti Smiths literary influences, we well list just a few: She loves Arthur Rimbaud's surrealist poetry and she is also a fan of beat generation author William S. Burroughs, who approached themes regardin sexuality in his books. another inspiration is bohemian writer Charles Baudelaire.
Which artists are influenced by Patti Smith?
Why is Patti Smith so influential? Her great live performances, as well as her unique singing style and approach to lyric writing are some of the key elements.
Newzeland singer Lorde's vocal style has been highly influenced by Patti Smith, as both of them have great singing abilities and expressive ways of vocalization, that usually move away from traditional pop and rock singing. In an interview, Lorde said: "There is no better musical idol for young girls than Patti Smith". Patti Smith did not only contributed to a change in the music industry and the female role in music, but also started playing with new gender themes regarding masculinity/feminity.
Many journalists and music critics have established a relation between Patti Smith's music style and the one of P. J. Harvey. When you hear both of them sing, you can't actually deny the inspiration. As we have already mentioned in our P. J. Harvey influence diagram, the british singer has not responded to such comparisons in a positive manner, qualifing those as "lazy journalism". Now, that same expression, "lazy journalism", was used by Patti Smith short time before , as an answer to a journalist asking her about her influence in punk rock music. Said this, P. J. Harvey has mentioned that Patti Smith's album Horses really impressed her.
R.E.M's singer Michael Stipe, has been heavily influenced by Patti Smith. R.E.M. has shared the stage with Patti many times. She is not only their musical inspiration, but also Stype noted that her poetry and approach to sexuality and gender roles had a great impact on him. It is worthy noting that Patti Smith collaborated with R.E,M. on the band's single E-Bow the Letter.
Regarding The Smiths, Morrissey and Johnny Marr met at a Patti Smith concert. Also, their track The Hand That Rocks the Cradle is based on Patti Smith's song Kimberly, included in her album Horses.​ Moz lists Patti Smith's version of Hey Joe as one of his favorite songs, and Marr mentioned that the song Dancing Barefoot inspired him to work on his solo album, Call the Comet.
As we already mentioned the track Kimberly, we can also refer that a version of that song was recorded by Angelfish, Shirley Manson's previous band before Garbage. Shirley mentioned that Patti Smith is one of her heroes.
At last, we will mention another influential band from the eighties and nineties alternative rock: Sonic Youth. Being one of the most experimental bands of their time, it is no surprise they are Patti Smith fans. Guitar player Thurston Moore explained that the influence of albums like Horses, Radio Ethiopia y Easter is really important for him. On her side, Sonic Youth's singer and bassist, Kim Gordon, also lists Patti Smith as a main influence. In 2004, Sonic Youth recorded their album Hidros 3 (to Patti Smith), in collaboration with jazz musician Gustafsson Mats.
More related content
The history of Garbage and Shirley Manson told in a time line