The Smiths' career was as short as it was influential for indie rock. In this post, we will go through their history, impact, and legacy. Find in the chart below how Morrissey and Johnny Marr crafted some of the most relevant eighties pop tracks.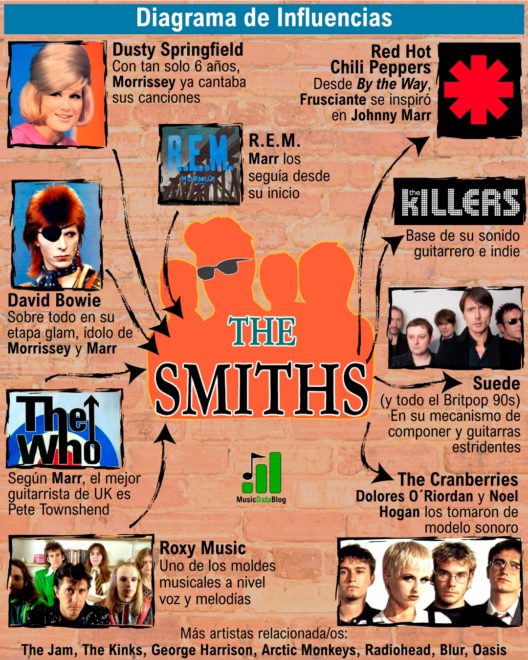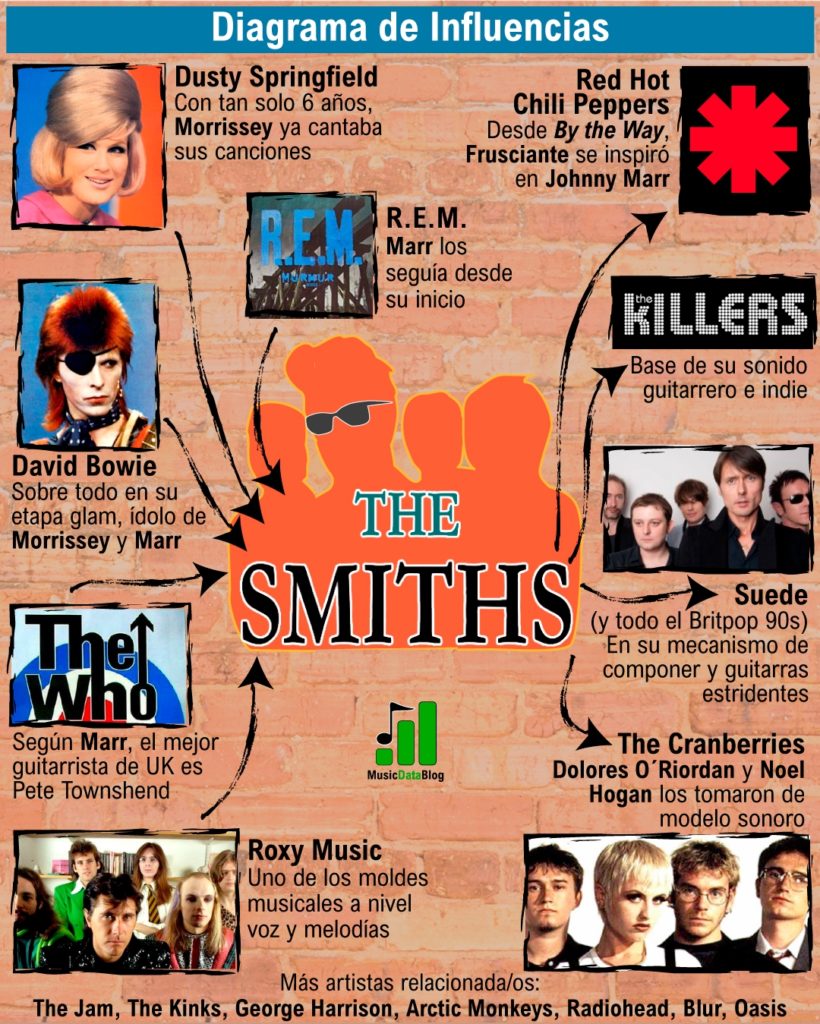 Which bands influenced The Smiths?
Dusty Springfield
Many of Morrissey's influences are female singers like Sandie Shaw and Dusty Springfield. Furthermore, Moz began singing Dusty's songs at the age of six, and upon hearing him sing, his aunt encouraged him to become a pop singer.
The Who
According to Johnny Marr, Pete Townshend is by far the best guitarist of the sixties. The Who was characterized by being a great-sounding band, and powerful live performances. But in addition to their rocking riffs, Townshend was able to make more subtle arrangements and compose melodies with a clear pop style, which have served as a template for Marr's signature guitar sound.
R.E.M.
As detailed in R.E.M.'s influence chart, Johnny Marr explained that The Smiths were followers of Michael Stipe's band. The Smith's sound is especially reminiscent of the first R.E.M. albums, such as their debut Murmur (1983), Lifes Reach Pageant (1986), and Document (1987).
Roxy Music
Although he nowadays regrets it, Morrissey has admired Bryan Ferry for many years. Whether Moz likes it or not, the influence of his own singing is evident. Some clear references are classic Roxy Music tracks like More Than This, Take a Chance with Me, and Pyjamarama. On his side, Marr is very fond of Bryan Ferry's band work and has even collaborated with him.
David Bowie
According to Jonny Marr, David Bowie is UK's most influential artist. It is true that the glam rock era of the Thin White Duke sneaked into many compositions by The Smiths. Marr explained that Hand in Glove is inspired by Bowie's classic Rebel Rebel. And speak about Morrissey's take on this matter, his admiration for Bowie goes even beyond music, as he recalls how his live performances stood out in a "macho environment". Although they were both friends, in recent years the relationship between them was not great. But hey, we already know that Morrissey fights with almost everyone.
Other musical influences on The Smiths are The Jam, The Kinks, Television and glam rock heroes, T. Rex.
Four artists influenced by The Smiths
Suede
Really, here we should talk about the whole Britpop movement. For example, The Smiths are listed in the Oasis influence chart. But here we will expand just on the band led by Brett Anderson, who explained that the compositional dynamics of the Smiths became a model for them. Specifically, Anderson elaborated his approach to vocal melodies on the ideas brought by Suede's guitarist Bernard Butler. This working dynamic was based on how The Smiths wrote songs. After Butler's departure from Suede, the catchy melodies written by new members Richard Oakes and Neil Codling made The Smiths' influence on the band even more apparent.
Red Hot Chili Peppers
According to guitarist John Frusciante, Johnny Marr guitar style was an inspiration for the sound of the album By The Way (2002). Having a complex background of different styles and genres among their influences, it was especially Frusciante who brought to the Red Hot Chili Peppers songs that were more melodic.
The Killers
We have already mentioned Morrissey's band in the influence diagram about The Killers. including vocal melodies and guitar arrangements, the influence of The Smiths over the Las Vegas band is quite noticeable.
The Cranberries
The Irish band led by Dolores O'Riordan was heavily influenced by Morrissey & Co in almost all of their musical aspects. Guitarist Noel Hogan mentions The Smiths as an inspiration when starting the band. Also, all four members of the Cranberries have openly shared their admiration for The Smiths and The Cure. Something else that we can point out is that references to political and social problems are recurrent themes in both bands' music. As a final note, it is worth mentioning that Dolores O'Riordan and The Smiths bassist Andy Rourke formed the band D.A.R.K.
Other bands that can be included in this diagram are Oasis, Blur, Radiohead, Coldplay, and Arctic Monkeys.
More related content