Elliott Smith's albums ranked from best to worst, according to the Album of the Year critic aggregator website. Two of his albums appear on the top of this chart and are considered his best releases.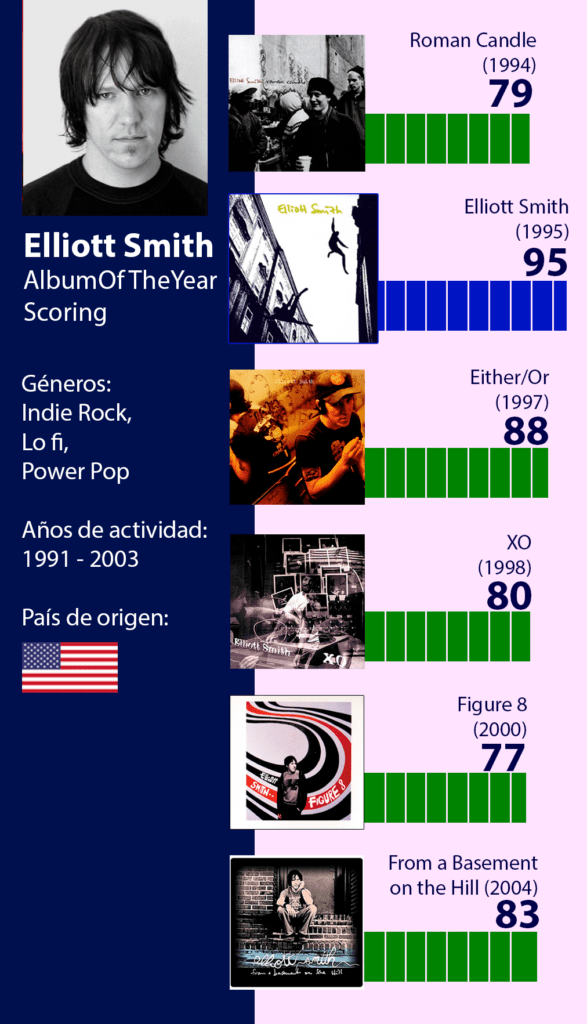 Elliott Smith's 1995 self-titled album has the highest score given by critics, while Figure 8, which was released in 2000 is -perhaps unfairly- what has been the least critically celebrated record by this American songwriter and guitarist. The 2004 posthumous album From a Basement on the Hill received good reviews, even surpassing my personal favorite album from Elliott Smith: XO (1998).
Elliott Smith's best albums
Elliott Smith's most recommended album is the one that gave him critical acclaim and established his fan base: Roman Candle, from 1994. In that second album, the singer still did not have the economic resources for recording a large-scale production: these are songs based on guitar, with less instrumentation than his later works.
Elliott Smith's later output was also received very well, even though there were not as successful as the ones we already mentioned. Either / Or and XO are records that are more elaborated and better produced, including instruments like bass, drums and piano. Also, the beautiful vocal melodies that the singer delivers really stand out. The trilogy of records from 1995 to 1998 is excellent: Elliott Smith, Either/Or and XO.
Elliott Smith's less appreciated work
Figure 8 is a pretty cool record too, but it lacks those catchy early-stage Elliott Smith songs. Without departing much from this earlier work, the album simply finds potential hit songs to a lesser extent.
By early 2000 Elliott Smith's mental state had really deteriorated. He suffered from anxiety attacks, panic, and paranoia. His emotional stability was a serious issue. He was having fights on a regular basis with his producer and his girlfriend. At one point, he was seriously struggling, as he started to behave in many anti-social ways such as suddenly disappearing and having no contact with his friends and acquaintances, to then at any moment spontaniously reappear.
Finally on October 21, 2003 Elliott Smith died. Details about his death, like if he died by suicide, accidental death or murder, remain a bit unclear. At the time of his passing, he had finished half of the recording process for From a Basement on the Hill, which became his posthumous album.
Listen to Elliott Smith
My personal favourite Elliott Smith album on streaming: XO
And you can check more here: Elliott Smith´s YouTube Channel