Elliott Smith's albums ranked from best to worst, according to the Album of the Year critic aggregator: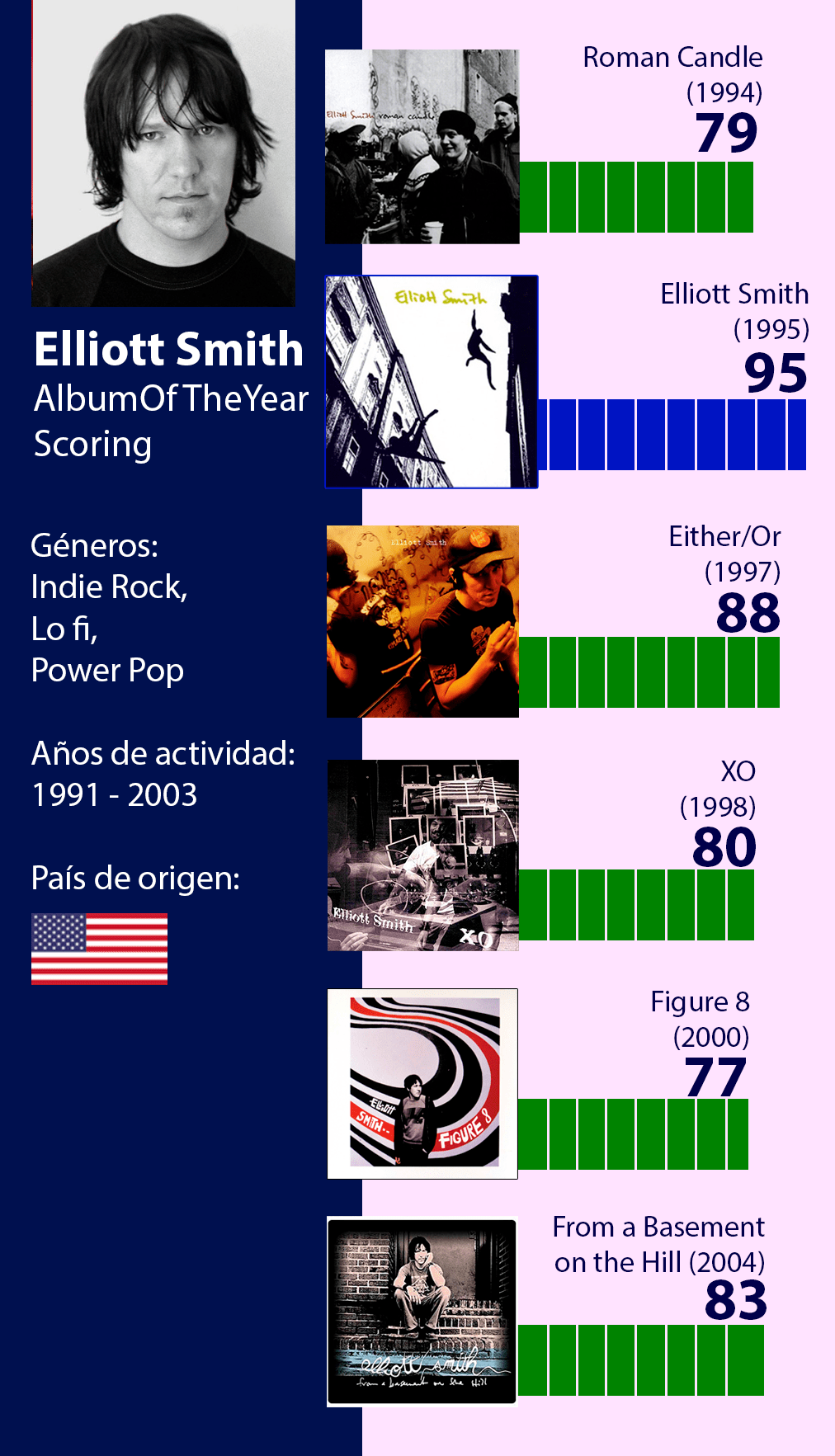 Elliott Smith's 1995 self-titled album is the highest rated by critics, while Figure 8 released in 2000 is (perhaps unfairly) what has been the least critically celebrated record by the American composer and guitarist. The 2004 posthumous album From a Basement on the Hill received good reviews to the point of surpassing my personal favorite album: XO (1998).
Elliott Smith´s best albums
Elliott's most recommended album is the one that gave him critical acclaim and established his fan base. In that second album, the singer still did not have the resources for a large-scale production: these are songs based on guitar, with less instrumentation than his later works.
From there, although Elliott Smith's surroundings were less surprised, his later output received very well. Either / Or and XO are works that have more elaboration and production, with complete bass and drums bases, piano and the beautiful vocal melodies that the singer knew how to deliver. The triad of records from 1995 to 1998 is excellent.
Elliott Smith´s less appreciated work
Figure 8 is pretty cool too, but it lacks those catchy early-stage Elliott Smith songs anymore. Without detracting from this work, which also has its various followers, the album simply finds the potential hits to a lesser extent.
By early 2000 Elliott Smith's mental state had deteriorated. He suffered from anxiety attacks, panic, and paranoia. His emotional stability was doubtful: he fought with his producer and his girlfriend on a regular basis, disappeared and reappeared untimely.
Finally on October 21, 2003 the singer died. Suicide, accidental death or murdered. Everything had been told. Along the way he had half-finished From a Basement on the Hill, his posthumous album.
Listen to Elliott Smith
My personal favourite Elliott Smith album on streaming: XO
And you can check more here: Elliott Smith´s YouTube Channel