This timeline infographic features the history of one of the most relevant bands of the last forty years: The Smiths. The band led by the controversial singer Morrissey and the guitarist Johnny Marr had a short but amazing career. Swipe to learn more below: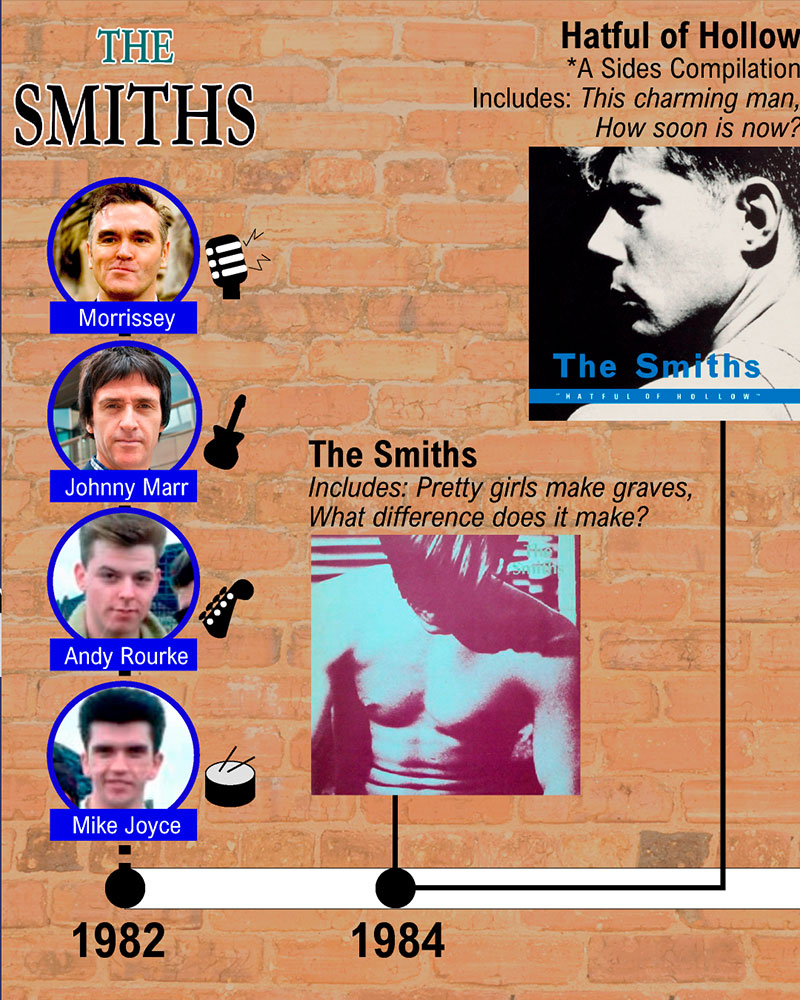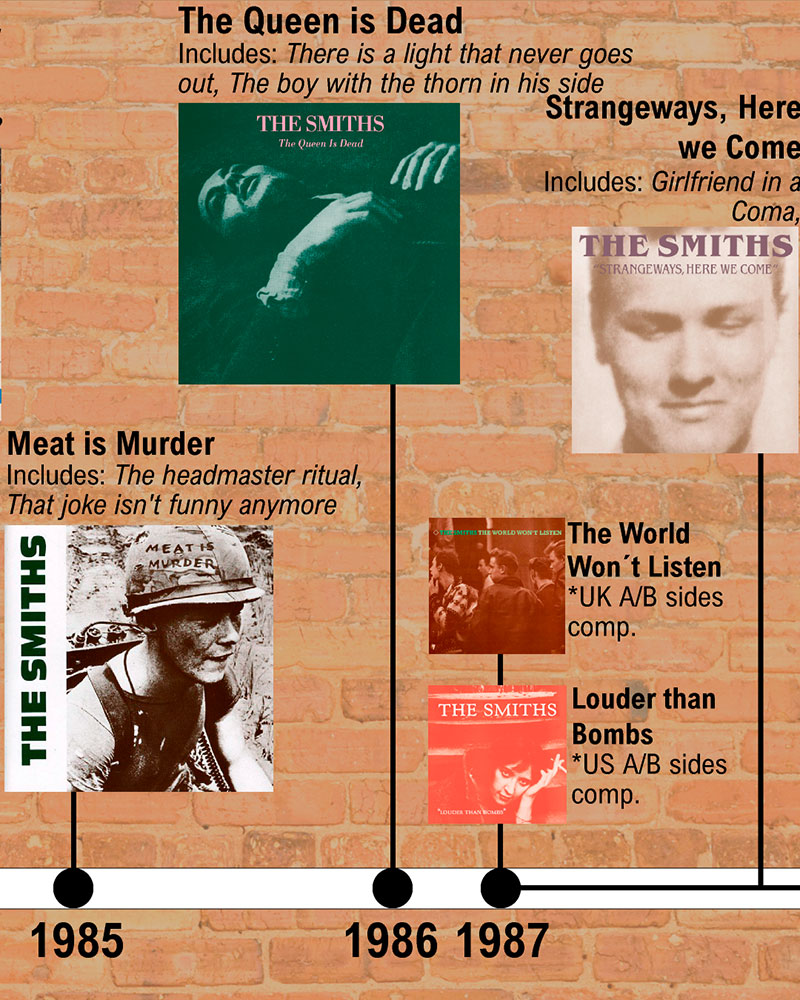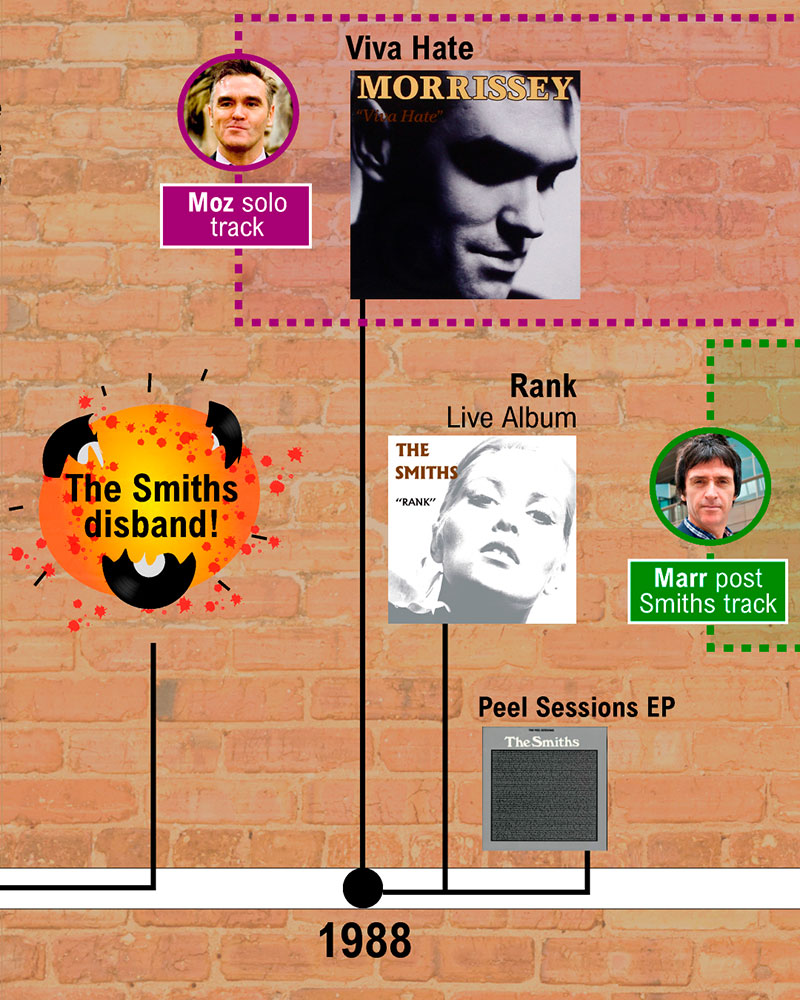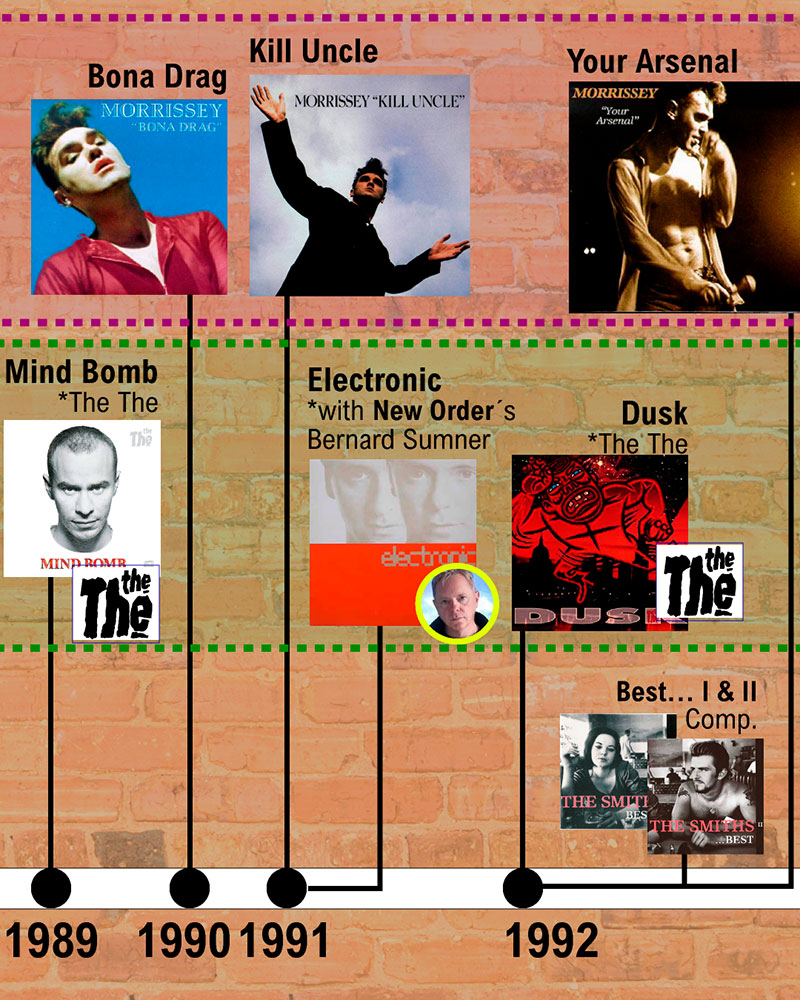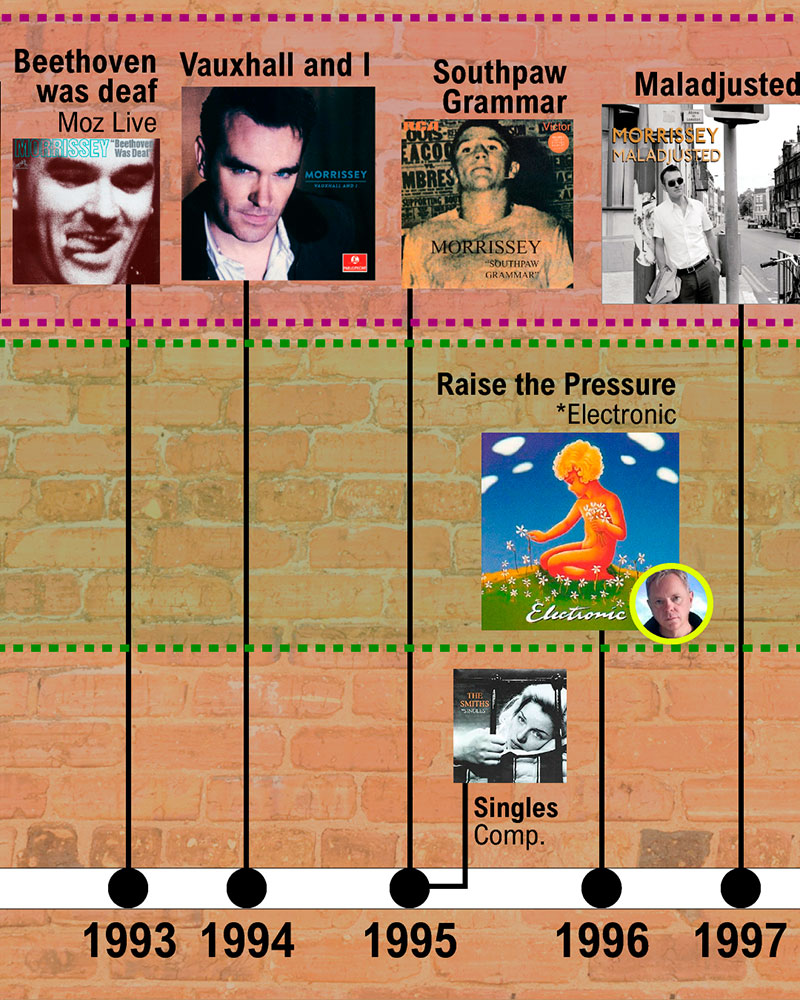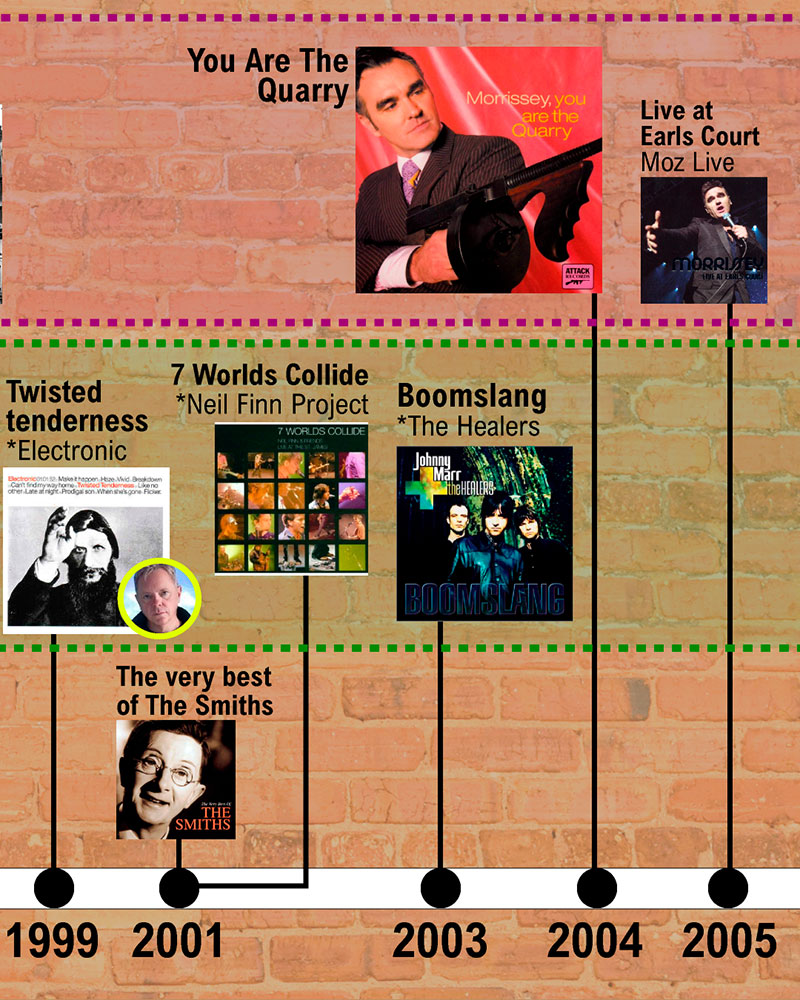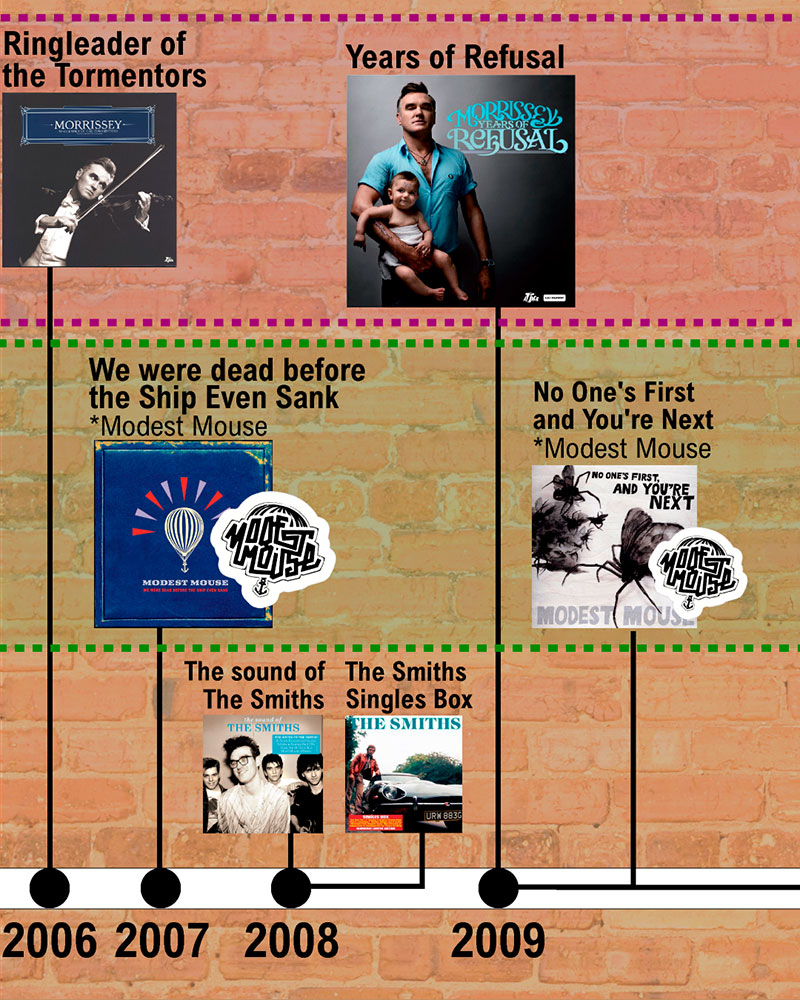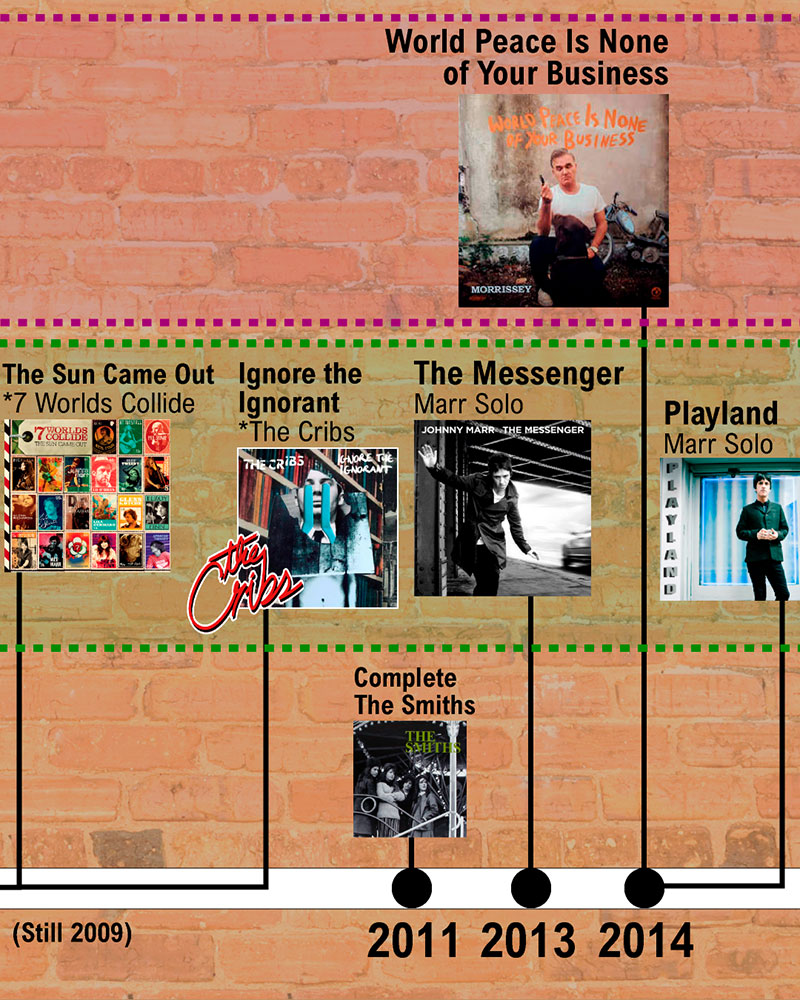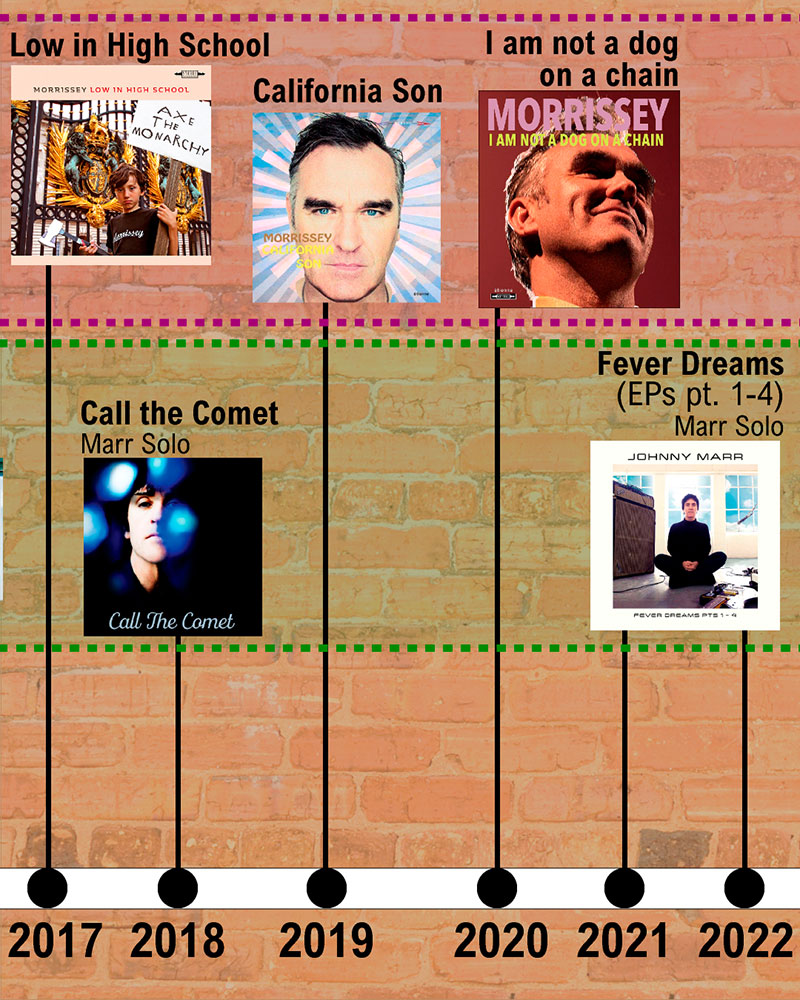 The Smiths Discography
Brief but intense, the career of the English quartet left the following records:
The Smiths (1984)
Hatful of Hollow (compilation, 1984)
Meat is Murder (1985)
The Queen is Dead (1986)
The World Won´t Listen (UK) / Louder than bombs (US) (Compilation, 1987)
Strangeways, here we come (1987)
Rank (Live, 1988)
Morrissey´s post The Smiths solo career
Morrissey as a solo artist has released a total of 14 studio albums + a compilation of originals. In detail:
Viva Hate (1988)
Bona Drag (1990)
Kill Uncle (1991)
Your Arsenal (1992)
Beethoven was deaf (live, 1993)
Vauxhall and I (1994)
Southpaw Grammar (1995)
Maladjusted (1997)
You are the Quarry (2004)
Ringleader of the Tormentors (2006)
Years of refusal (2009)
World Peace is none of your business (2014)
Low in high school (2017)
California Son (2019)
I am not a dog in a chain (2020)
Johnny Marr´s post The Smiths projects
In total, as an official member of various groups and solo Johnny Marr has released a total of 14 albums. The detail is as follows:
As a solo artist:
The Messenger (2013)
Playland (2014)
Call the Comet (2018)
He also released an album in the name of Johnny Marr and The Healers: Boomslang in 2003.
As part of The The:
Mind Bomb (1989)
Dusk (1992)
As part of the band Electronic, together with Bernard Sumner of New Order/Joy Division:
Electronic (1991)
Raise the Pressure (1996)
Twisted Tenderness (1999)
As guitarist of the band Modest Mouse:
We were dead before the ship even sank (2007)
No one´s first but you are next (2009)
Johnny Marr also recorded with the band The Cribs only one record: Ignore the Ignorant in 2009.
With the project 7 Worlds Collide, Johnny Marr released two albums: a self-titled in 2001 and The Sun Came Out in 2009.