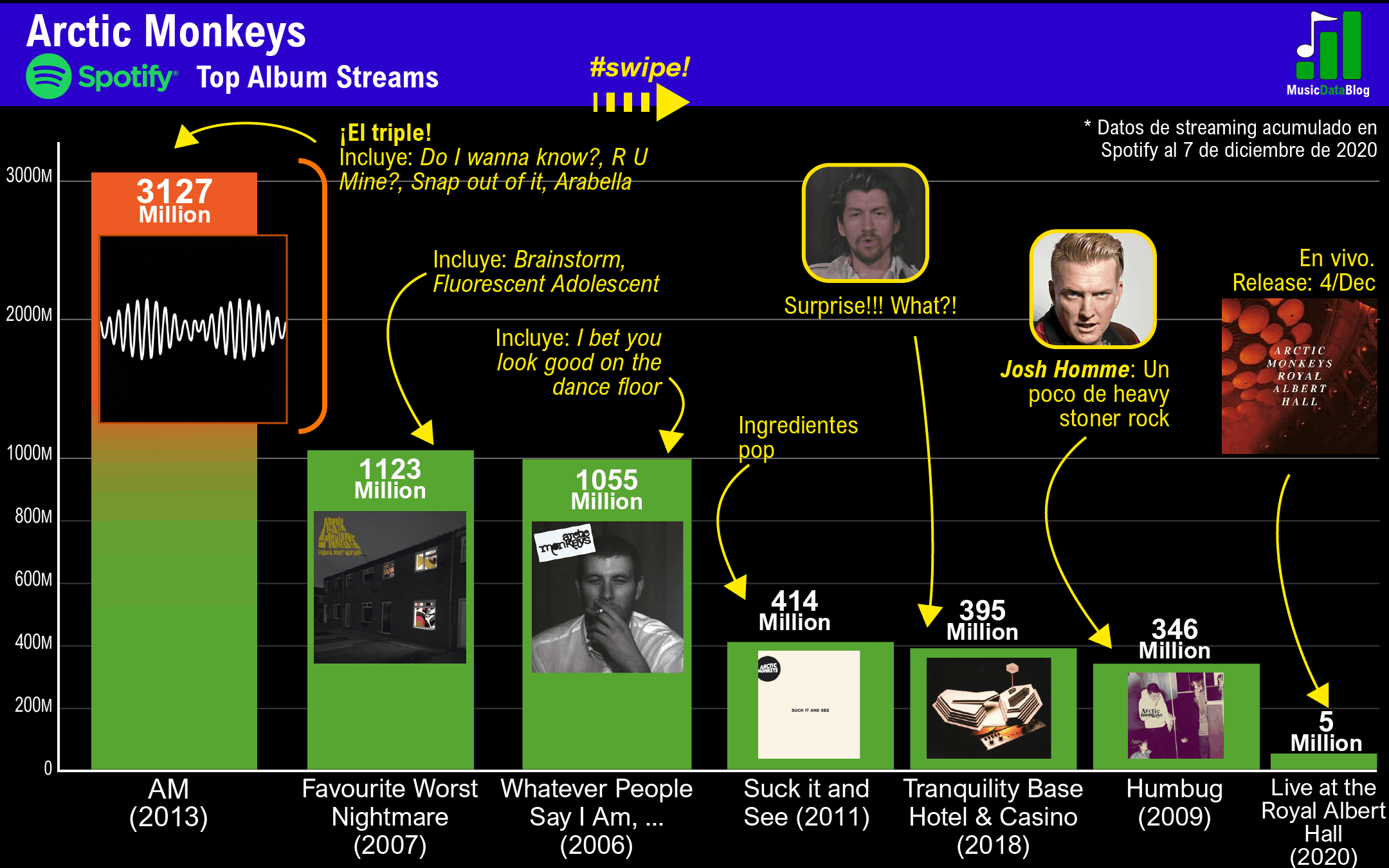 *Based on total streaming data from December 7th, 2020.
Last December Arctic Monkeys relased Live at the Royal Albert Hall, being their first live album in their entire discography. In this chart we can see how this record did on it´s first days in the streaming service Spotify and also we can check the popularity of every studio album.
Arctic Monkey´s most popular albums
The first position is no surprise at all: we all expected their 2013 release AM to be their most popular one. The thing to note is the big different between this album´s popularity and the rest of the Arctic Monkey´s output. AM has nearly 50% of the band whole streaming volume, fueled by the hit singles R U Mine, Do I Wanna Know and Snap Out Of It. So surely, this is Arctic Monkeys biggest album, which has three times more listens than their second and third most popular albums.
In second place we have the popular and memorable second album, Favourite Worst Nightmare (2007), which features Fluorecent Adolescent and Brainstorm, songs that make it into the top 10 cut that we can see below. Their acclaimed debut album, Whatever People Say I Am, That's What I'm Not (2006) is also popular between the audience and has spawned the singles I Bet You Look Good On The Dancefloor and When The Sun Goes Down.
Here comes the dramatic streaming performance loss: Suck it and See (2011) is way far behind the three forementioned records. It is in fact a good album with fresh pop ideas but that did not attract as much attention. In fifth place we have one surprise: Tranquility Base Hotel + Casino from 2018, their most recent studio album. Arctic Monkeys surely knew how to make a major shift in their sound, dividing fans and critics about the quality of their effort, but something was settled: no one expected that kind album from them.
Now we are checking their least popular album: Humbug from 2009 appears as the last and most overlooked. For the production of this album Arctic Monkeys decided to bring in producer Josh Homme, who we know well for being the leader of Queens of the Stone Age. This album incorporated elements of stoner rock, hard rock and experimental pop music.
The fact is that Humbug, Suck it and See and Tranquility Base Hotel + Casino are good records. Arctic Monkeys has proven to be able to stay creative as a band while retaining their sound trademark. Their least popular album helped them maintain their fanbase and to keep reaching the number 1 charts in their home UK. But we have to admit that these albums have not spawned the megahits that their most famous albums did.
With more experimentation, Humbug was a key effort before their big break with AM. Apart from that, Tranquility Base Hotel + Casino was a good way to broaden their sound and output, with a new aesthetic and look, singer Alex Turner sitting and playing the piano and singing in a much cleaner way than he previously did. Their most recent live album has been received well by the fans, who are indeed expecting new music any time soon.
Top 10 Arctic Monkeys songs in Spotify
As we mentioned earlier, AM is the most popular album of the Arctic Monkeys:
Do I Wanna Know? (AM) 923,420,807
R U Mine? (AM) 449,247,493
Why'd You Only Call Me When You're High? (AM) 433,571,387
Fluorescent Adolescent (Favourite Worst Nightmare) 382,626,611
Arabella (AM) 257,488,196
I Wanna Be Yours (AM) 217,677,305
Snap Out Of It (AM) 216,240,790
I Bet You Look Good On The Dancefloor (Whatever People Say I Am, That's What I'm Not) 209,277,631
505 (Favourite Worst Nightmare) 206,616,402
When The Sun Goes Down (Whatever People Say I Am, That's What I'm Not) 195,912,427
Related content