This timeline tells the history of the vintage rock duo consisting of Jack White and Meg White: The White Stripes. It also includes all of Jack's subsequent spin-offs: The Raconteurs, The Dead Weather, and also his solo artist endeavors.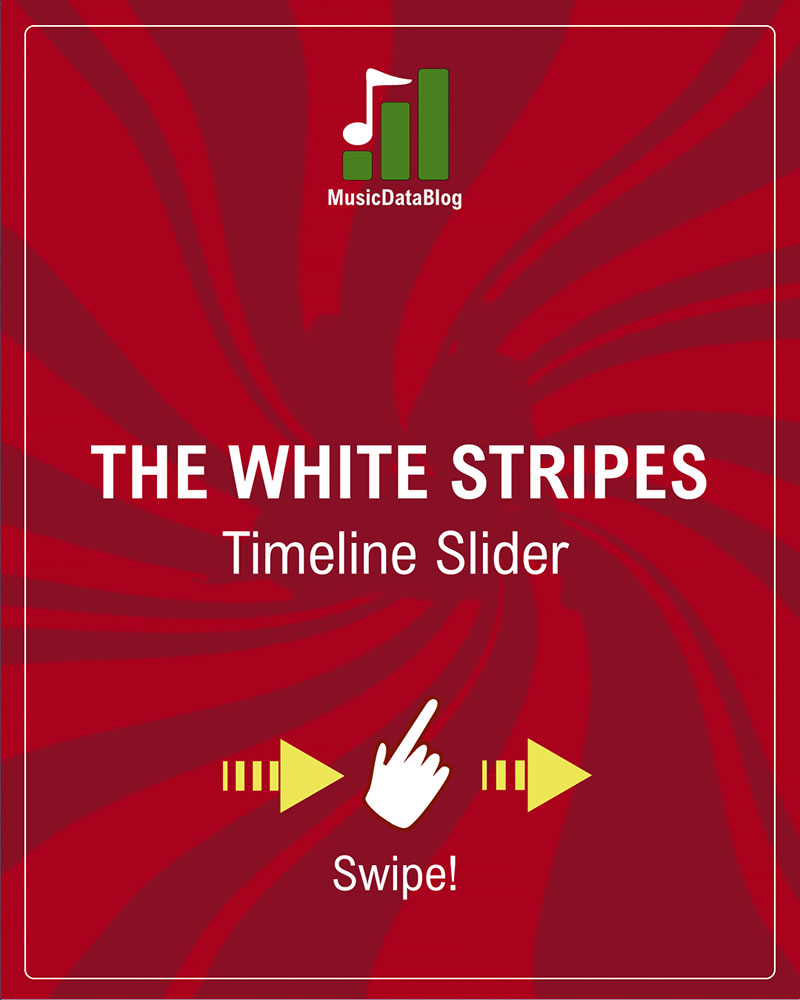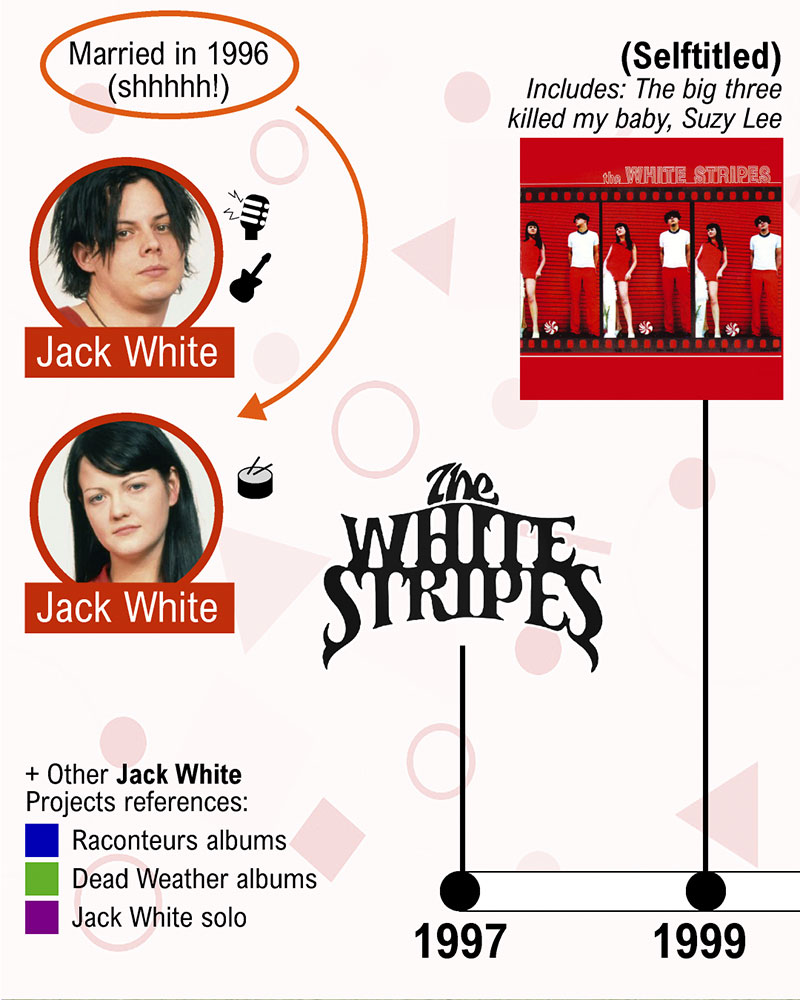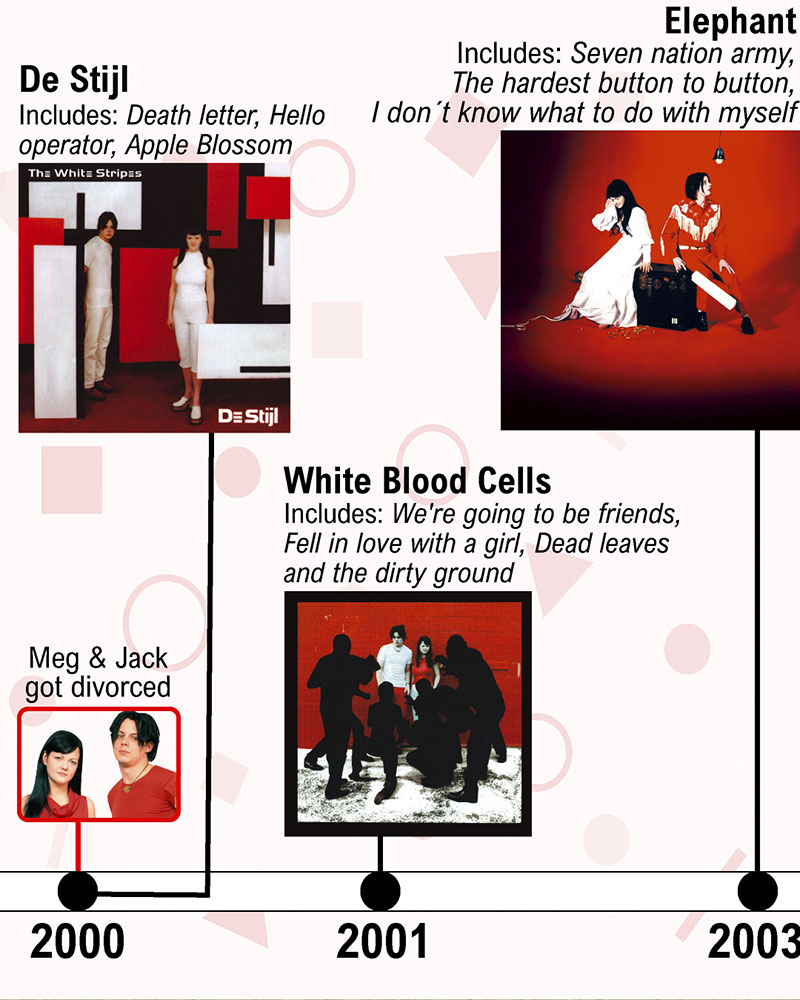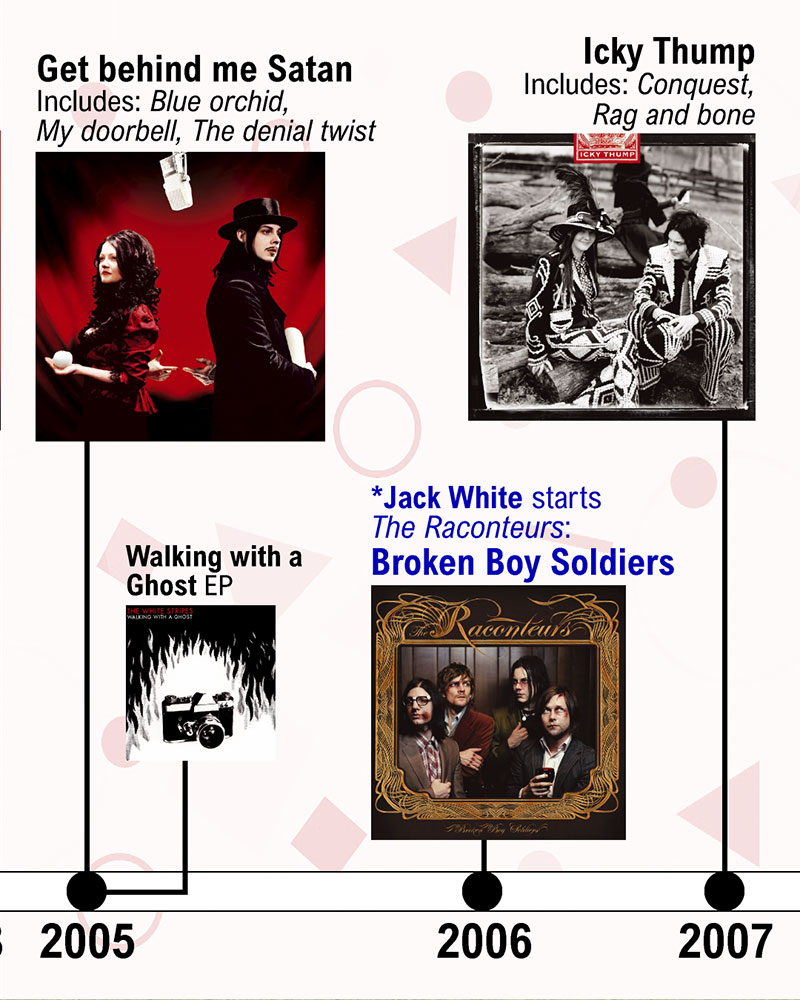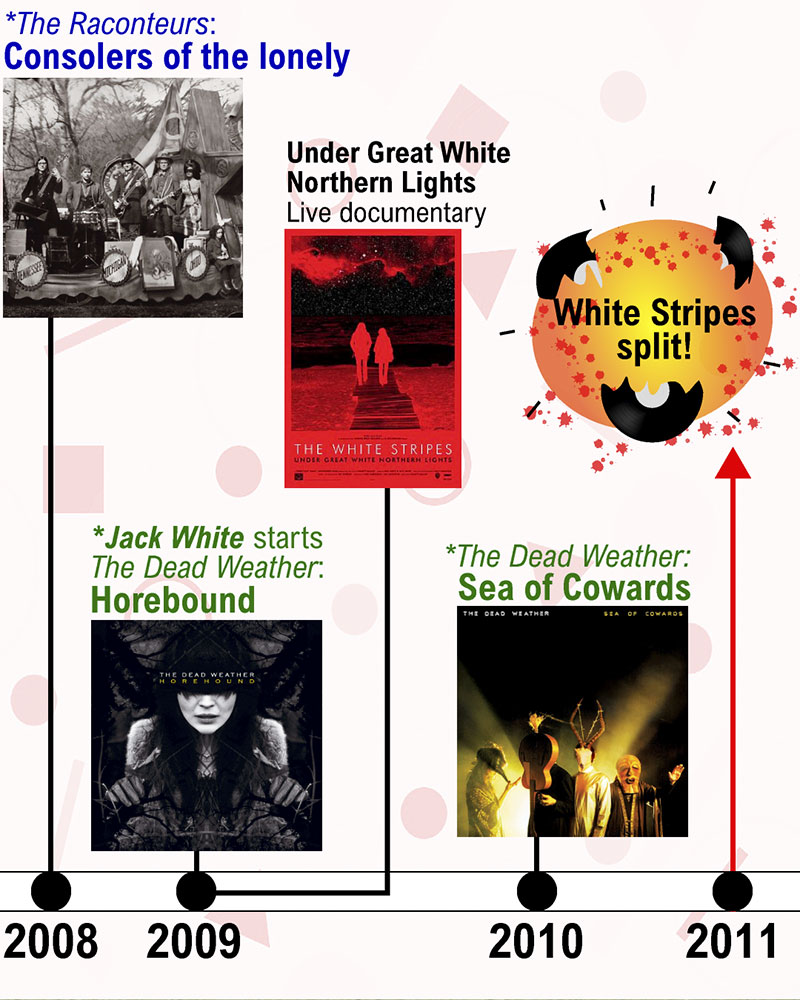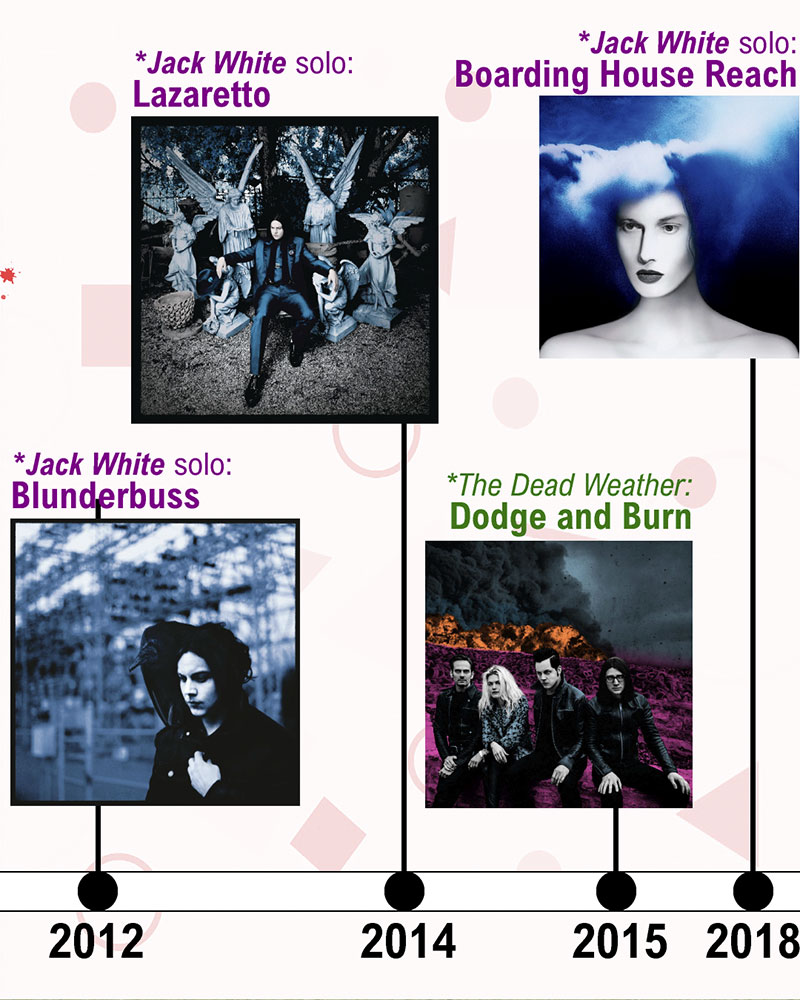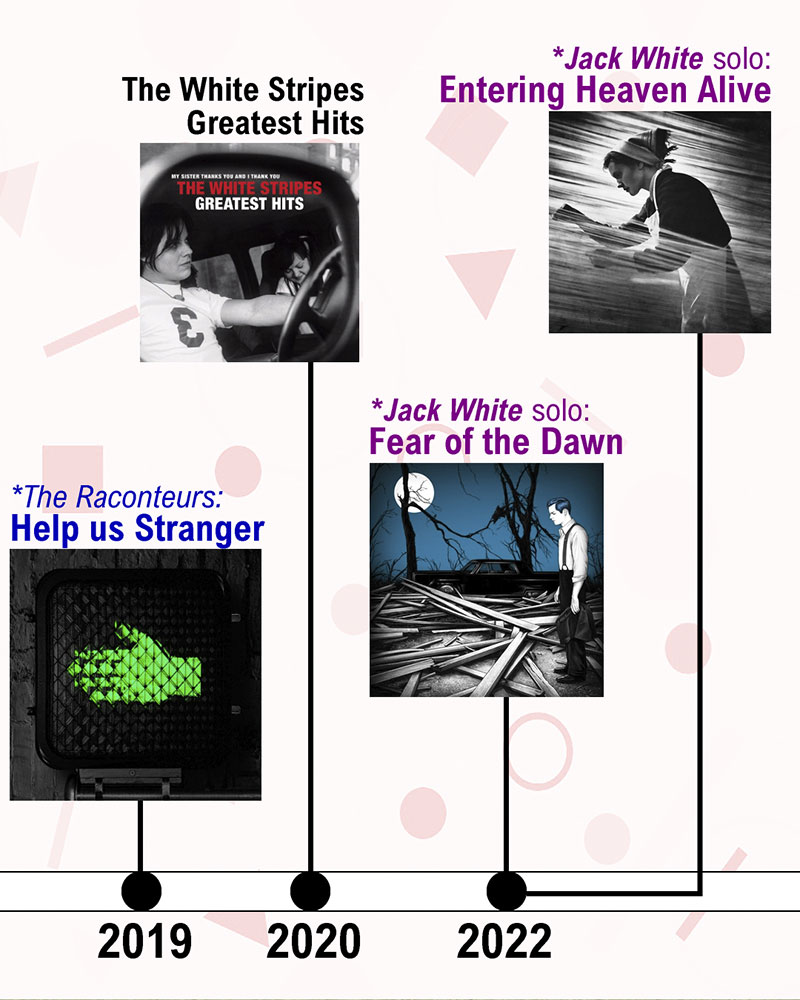 A summarized version of The White Stripes' history
The White Stripes was a band originally from Detroit, USA, which was active from 1997 to 2007. They disbanded in 2010.
Although at the beginning of the band's career Meg and Jack said they were brothers, really they were a married couple between 1996 and 2001. After their divorce, they continued recording for ten more years.
Jack White started out playing drums, but when forming The White Stripes, Meg took on that role and he switched to guitar and vocals.
In 1998 they released two singles: Lafayette Blues and Let's Shake Hands. After these, Jack and Meg recorded the following studio albums:
The White Stripes (1999)
De Stijl (2000)
White Blood Cells (2001)
Elephant (2003)
Get Behind Me Satan (2005)
Icky Thump (2007)
Apart from their studio output, The White Stripes have released several live albums as a series. Also, the documentary film Under Great White Northern Lights is quite important, recorded during Icky Thump's tour in 2007 and released in 2009.
Among their studio discography, Elephant is considered their best album. This LP contains the cult hit Seven Nation Army and other highlights such as The Hardest Button to Button and I Don't Know What to do with Myself. White Blood Cells is also a particularly notable album for containing the track Fell in Love with a Girl. Said this, The White Stripes were a band that did not release any bad records during their career.
In 2020 the band´s first compilation album, The White Stripes Greatest Hits, was released.
Post-White Stripes Projects
The White Stripes ceased to exist in 2010. According to Jack White, this happened due to Meg's disinterest in the band. By 2006 Jack had formed The Raconteurs, a project in which he is the lead vocalist and guitarist. The Raconteurs have released the three albums, listed below:
Broken Boy Soldiers (2006)
Consolers of the lonely (2008)
Help us Stranger (2019)
As a drummer, Jack White formed another band called The Dead Weather. Other members of the project include Alison Mosshart (vocals, from the band The Kills), Dean Fertita (guitar, from Queens of the Stone Age) and Jack Lawrence (Bass, from The Raconteurs). This group also released three albums:
Horebound (2009)
Sea of Cowards (2010)
Dodge and Burn (2015)
As Jack White is quite an active person, he has also released music as a solo artist:
Blunderbuss (2012)
Lazaretto (2014)
Boarding House Reach (2018)
Fear of The Dawn (2022)
Entering Heaven Alive (2022)
On Meg White's side, after her career with The White Stripes she has remained musically inactive and away from public life.
More Related Content