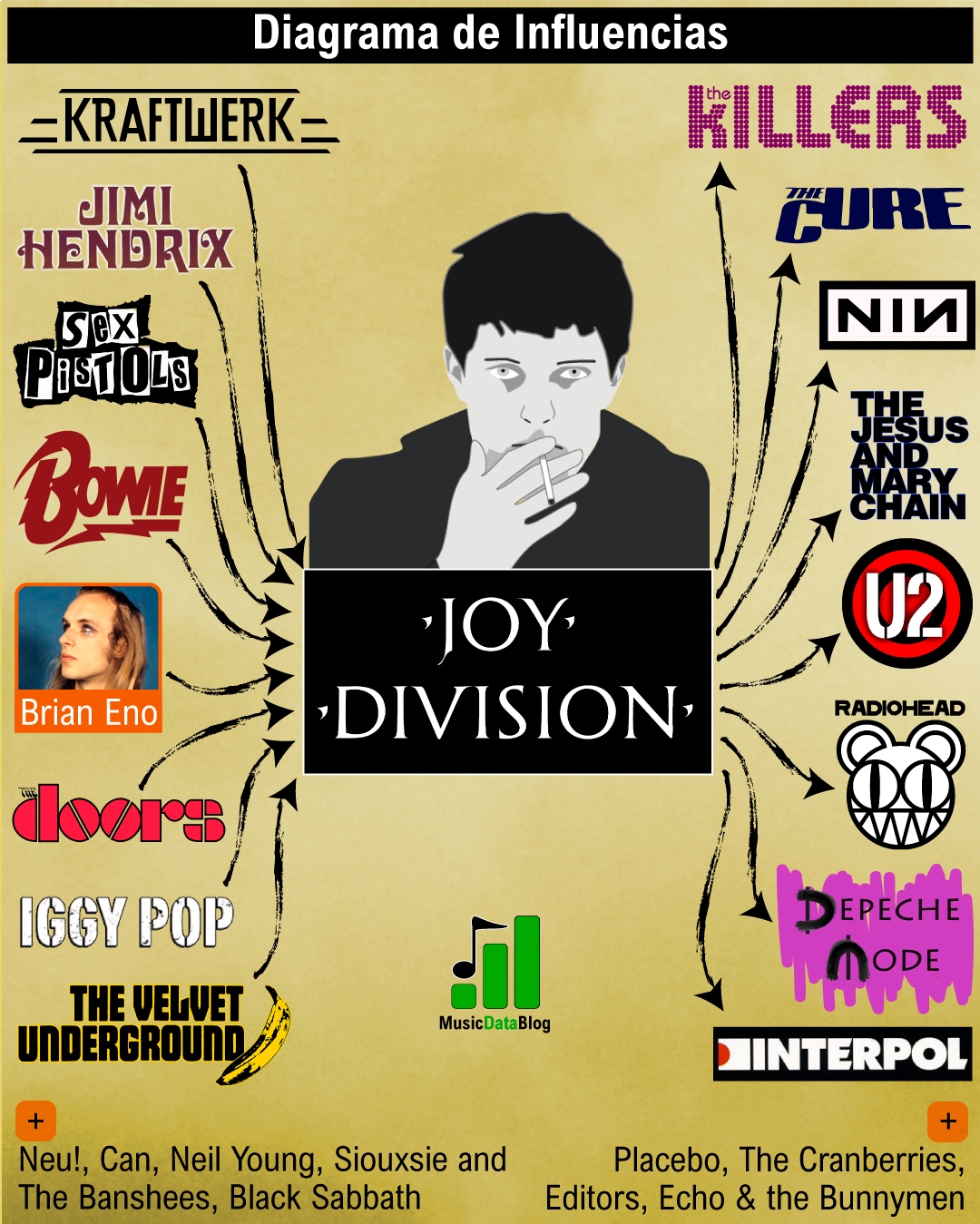 Joy Division's multiple influences result from a profound impact on the rock of subsequent decades. With a very short career, the band founded by Ian Curtis (vocals, guitar), Peter Hook (bass), Bernard Sumner (guitar) and Stephen Morris (drums), took elements of the punk scene, glam rock, German krautrock and the psychedelic rock. The result can be heard entire subgenres -such as post punk, gothic rock, alternative rock and indie- to this day.
Which were Joy Division's influences?
We will summarize here the influences of Joy Division in terms of punk, krautrock, ambient and psychedelic rock:
It is known that Peter Hook and Bernard Sumner decided to form a band as a result of attending a Sex Pistols concert. That furyness and aggresion of punk, which had been promoted previously by Iggy Pop and The Stooges, would be one of the engines of Joy Division songs like Disorder or Transmission. It should also be noted how the stage presence of Ian Curtis was marked by that of Iggy Pop.
But the fast pace didn't just come from punk rock. Pioneering electronic music groups such as Kraftwerk and Neu! also made use of accelerated rhythms ("motorik") with technological additions that would set precedents for electronic music. It is worth noting that the album Trans Europe Express (1976) by Kraftwerk was broadcasted in venues before some Joy Division shows, by Ian Curtis request. Within the German avant-garde krautrock, the members of Joy Division have also mentioned the band Can, with their classic album Tago Mago (1971).
It is also in relation to this experimental sound style that the influences of David Bowie's "Berlin trilogy" (1977 to 1979) are inscribed. In collaboration with Brian Eno, Bowie was influenced by the musical experiments of his German colleagues, especially Kraftwerk. From the second installment of the trilogy, Low (1977), Joy Division took environmental and ethereal elements, in addition to their first name: Warsaw.
Joy Division's psychedelic influences find their base mainly in Velvet Underground and The Doors. In fact, Joy Division (and especially Ian Curtis' voice) were compared to the band led by Jim Morrison. In some live shows, as a joke, Joy Division used to play The Doors' classic song, The End.
Especially in the early days of Stephen Morris, drummer Maureen Tucker of The Velvet Underground inspired him with her playing style. Since German krautrock, the "motorik" drum beat had established itself as a compact and even stylistic signature, ideal for post-punk and electronic rock.
To add a bit more of psychedelia, guitarist Bernard Sumner said that Jimi Hendrix was the one who taught him to be more expressive with the guitar and to experiment more. Electric Ladyland is one of his favorite albums.
Following the death of Ian Curtis on May 18, 1980, the rest of Joy Division formed a successful new band: New Order. That story can be seen in detail in the Joy Division and New Order timeline.
On the bands that influenced Joy Division, Black Sabbath, Neil Young and Siouxie and the Banshees are others on which we could expand.
Which artists were influenced by Joy Division
Joy Division's influence transcended the 1980s and was very noticeable in the 2000s era. The indie scene, alternative rock, shoegaze, and electronic rock all took inspiration from Ian Curtis's band. As time went by, Joy Division became more and more popular.
Joy Division had a direct impact on fellow contemporary bands of the late 1970s, such as The Cure and U2. Both Robert Smith and Bono have repeatedly expressed their admiration for Curtis. The U2 singer especially highlighted meeting them while they were recording Love Will Tear us Apart, and how he was impressed with the song and with Curtis. Other bands related to the genre, such as The Jesus and Mary Chain and Echo and The Bunnymen, took from Joy Divisionthe their gloomy sound to shape their sound proposals.
That post-punk movement had its "revival" in 2000, hand in hand with bands like Interpol, Bloc Party, Editors and Elefant. With clear vocal style influences, high-bpms beats and raucous guitars, these bands were capable of creating fast, direct or climactic, dark songs. Taking Interpol as the main act of this era, their debut Turn on the Birght Lights did not escape comparisons with Joy Division's work. It was all there: frenetic rhythms, a baritone voice with a camera, and dark musical climates. Among the popular bands of this era we can also include The Killers, who have covered Shadowplay.
Another highly influential band that was inspired by Joy Division is Nine Inch Nails. Trent Reznor's industrial rock project, also heavily influenced by David Bowie, also took the furious elements of Ian Curtis's band and translated them into another of the seminal influences of the 1990s and 2000s. To show their appreciation, Nine Inch Nails covered Joy Division songs Digital, Dead Souls, and Atmosphere.
With tracks like She's Lost Control, Joy Division added their influence on what would later evolve in electronic rock. Depeche Mode adapted many elements proposed by Joy Division to achieve an electronic, dark and gothic rock. This can be heard from the depth in Dave Gahan's voice to the dense guitars of Martin Gore. From that starting point, Depeche Mode surely knew how to catalyze its own style and make history.
Among the many influences of Radiohead, again we can find Joy Division. They have covered Ceremony and Thom Yorke on his own has done the same with the classic Love Will Tear us Apart. Drummer Spephen Morris has also said that if Joy Division had continued, they would have taken a similar direction as Radiohead. What else to say?
Obviously a lot of other bands influenced by Joy Division could be added here. Such projects include The Cranberries, Therapy? and Placebo, to name a few, who owe to the post-punk legacy of this Manchester band.
More related content