The chart below shows all of The Clash's albums ranked, from their best to their worst. Two of their classic albums are considered to be their top releases, while their latest album is not regarded as their best work.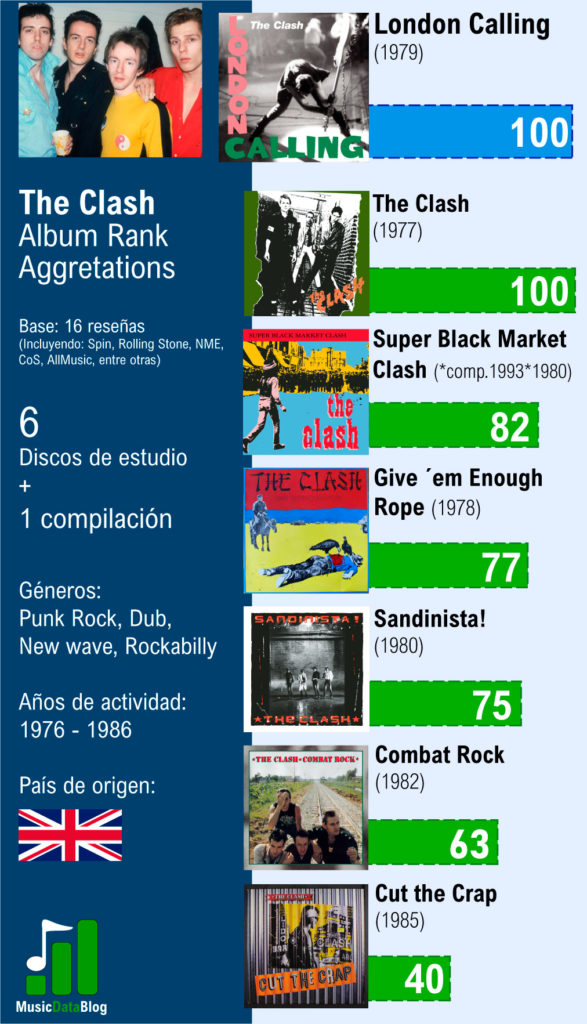 This chart is based on information taken from AlbumOfTheYear, which contains 16 reviews about albums from The Clash.
Alongside the Ramones and Sex Pistols, The Clash became one of the first big punk rock bands in the history of music. Formed in the late seventies, the band released six studio albums and several compilations.
Which are The Clash's best albums?
London Calling is the most acclaimed record from The Clash. The album includes a wide variety of song styles, being fresh, political, strong, fun, and intellectual. This LP has all the elements that make an outstanding record, one of a kind. Quite long in running time (over an hour), it includes some big hits such as the title track London Calling, Spanish Bombs, Lost in the Supermarket and The Guns of Brixton.
In the second spot of this chart, we find a bit of a surprise. Their self-titled debut album The Clash is ranked quite high. To me personally, this is just a regular punk album that I enjoy a lot and includes the classic track White Riot. It's an OK album and I don't have much else to comment about it.
Next, on third and fourth place, we find Give ´em Enough Rope (1978) and the compilation album Super Black Market Clash (1980/1993). These are not bad records at all, but they do not expand The Clash's stylistic abilities. You will enjoy them if you like punk stuff, of course, but in my opinion, some of the albums that we are going to mention next, are way more relevant in their discography.
On number five, right in the middle spot within The Clash' ranking chart, we find Sandinista!. This album is quite expansive in terms of music styles, with tracks that feature many influences from soul, R&B, rap, reggae, and dub. Definitely, a recommended listen but be warned: this is not your regular pop record and its running time is over two hours. Sandinista! includes the popular track The Magnificent Seven.
Combat Rock is ranked unfairly low, in my opinion. This record includes big hits such as Rock the Casbah and Should I Stay or Should I go. This album is quite consistent overall, with no weak tracks in it.
The worst album from The Clash?
Everybody knows that 1985's Cut the Crap is literally crap. When this album was recorded, guitarist Mick Jones was out of the band, and lead singer and guitarist Joe Strummer alone could not channel the band's energy in a creative or commercial way. Also, drummer Topper Headon was fired from the band prior to making that record. Alongside producer Bernie Rhodes, Strummer is blamed for The Clash's downfall. The track This is England is the only relevant song on this final album.
Cut the Crap is the album that The Clash should never have put out. Mick Jones's project Big Audio Dynamite, which started in 1985 was way more interesting.