Here we have The Clash´s discography ranked from best to worst: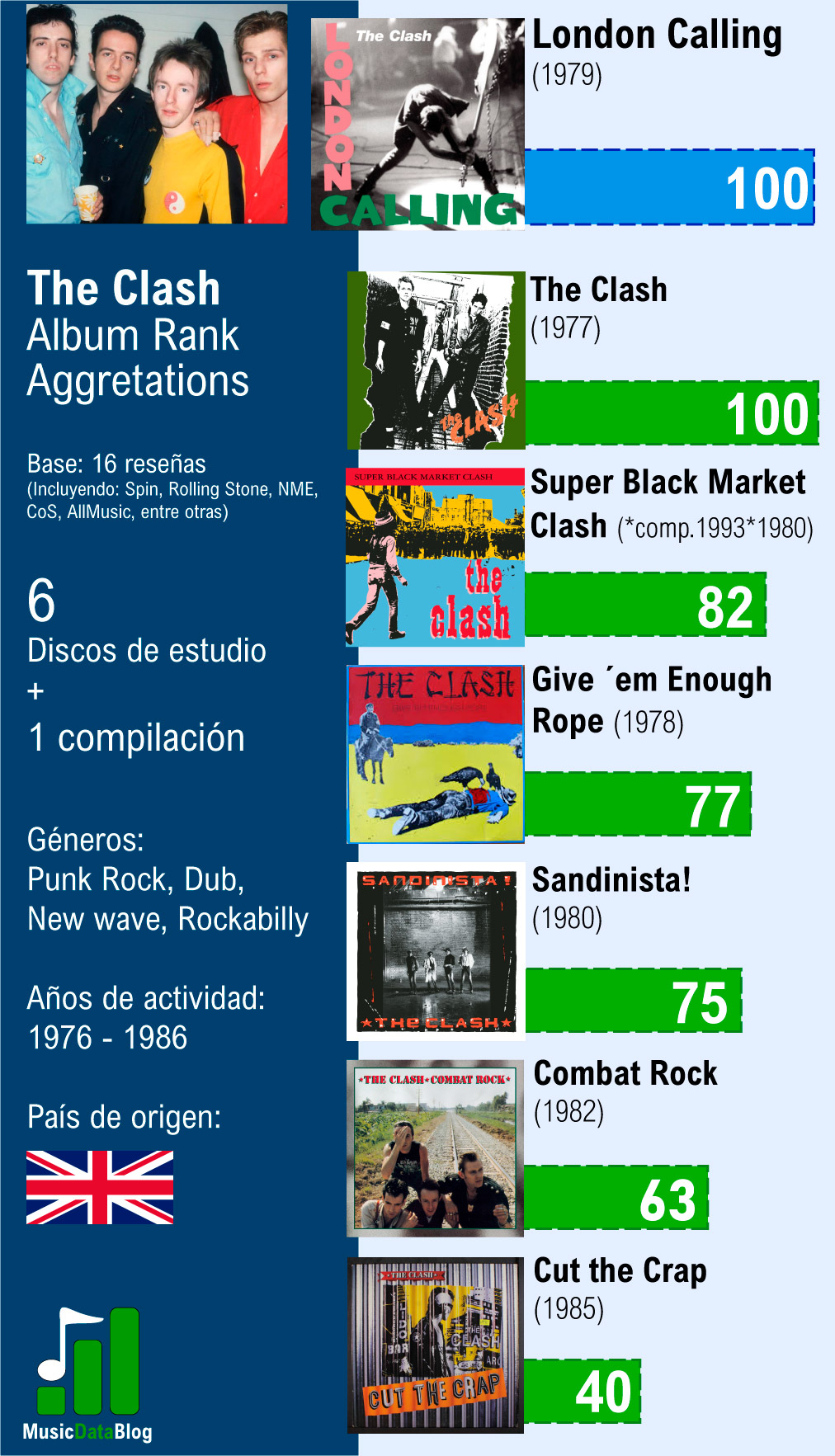 This chart features rankings about The Clash albums in 16 publications.
Along with the Ramones and Sex Pistols, The Clash became one of the first big punk rock bands in the history of music. Their development in the late seventies was one of the keys to the rise and fall of that music genre.
Which are The Clash´s best albums?
London Calling is the big record from The Clash. There is diversity on it´s tunes, which are fresh, political, strong, fun and intellectual. It has all the elements that make an outstanding record, one of a kind. Quite long in running time (over an hour), it has some big hits such as London Calling itself, Spanish Bombs, Lost in the Supermarket and The Guns of Brixton.
Now, the second place is surely surprising: Their selftitled debut album The Clash ranks high. To me is just a regular punk album that I enjoy a lot, and has the classic White Riot on the set. Not much to be highlighted here.
Next in this rank come two releases: Give ´em Enough Rope (1978) and Super Black Market Clash (1980/1993) which are not bad records at all, but they do not expand The Clash stylistic abilities. Enjoyable records if you like punk stuff, of course, but in my opinion some of the albums that we are going to mention now are way more relevant in their discography.
Sandinista! stands as their middle chart record: quite expansive in style, it includes songs like The Magnificent Seven. Its running time is over two hours, with tracks that feature many influences from soul, R&B, rap, reggae and dub. A recommended listen but be warned: it is not your regular pop record.
Combat Rock ranks unfairly low. Having into account that this record includes sueperhits such as Rock the Casbah and Should I stay or Should I go, I expected this one to be in an higher position.
The worst album from The Clash?
Everybody knows that 1985´s Cut the Crap is really crap. With Mick Jones out of the band´s line up, lead singer and guitarist Joe Strummer could not channel the band´s energy in a creative or commercial way. Also drummer Topper Headon was fired prior to that record. In association with producer Bernie Rhodes, Strummer is blamed for The Clash downfall. There is only one relevant song on this final album: This is England.
Cut the Crap is the record that The Clash should never have put out. Instead it is better to pay attention to Mick Jones: Big Audio Dynamite project instead, which started in 1985. But that is a different story…