Iggy Pop is one of the most important artists in the history of rock music, especially for the punk rock movement. Learn more about his career with The Stooges and as a solo artist, by swiping through the timeline below: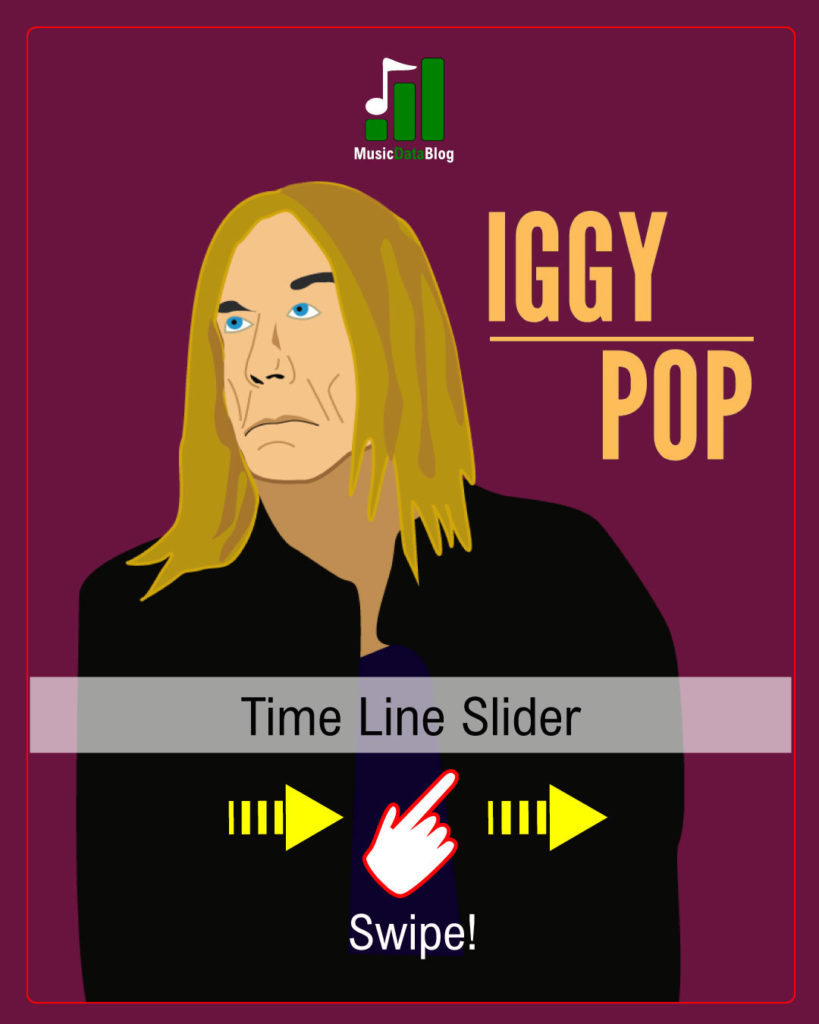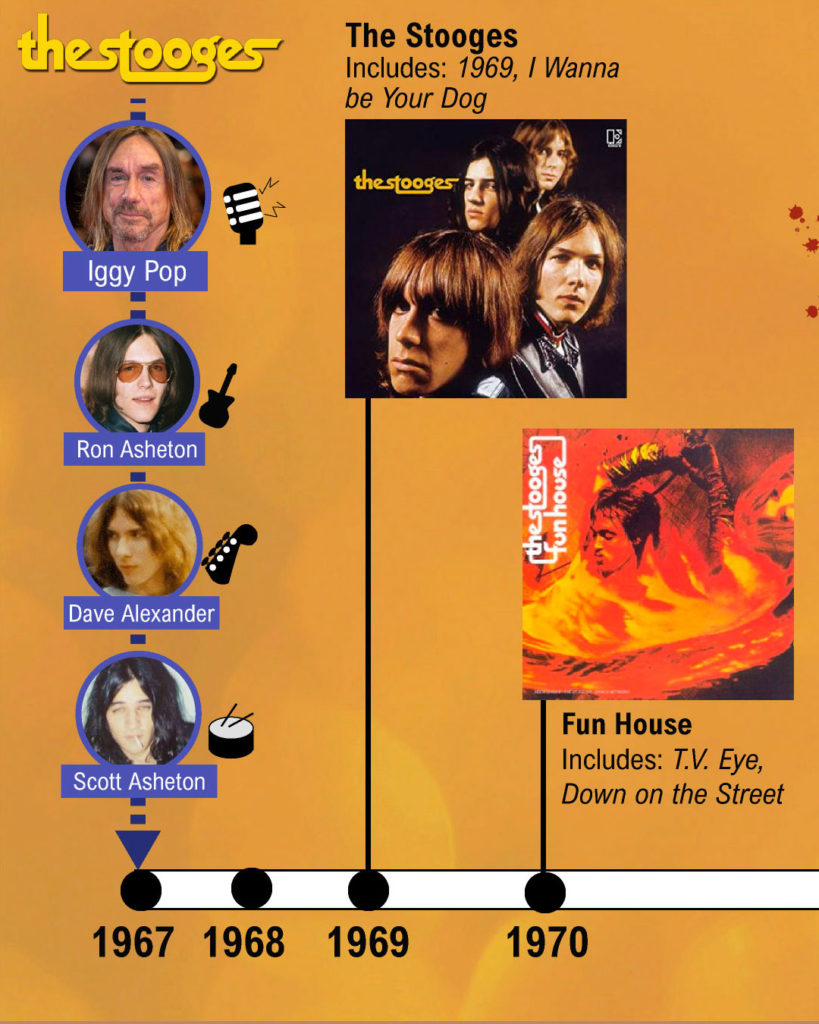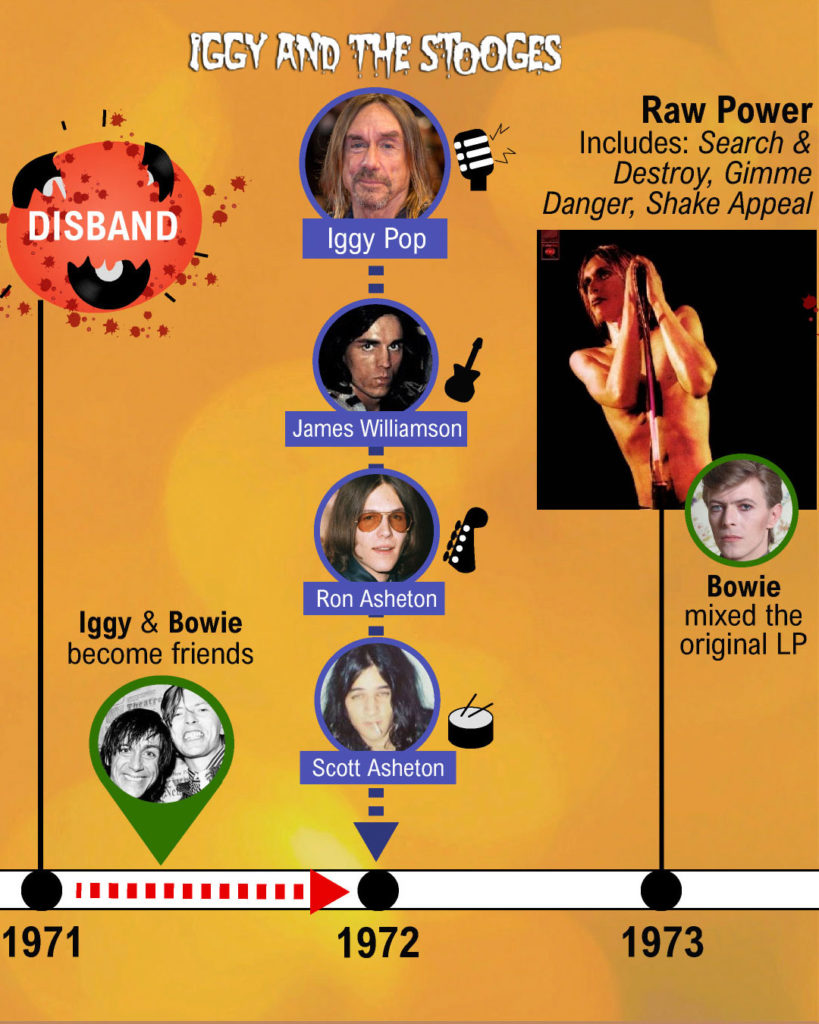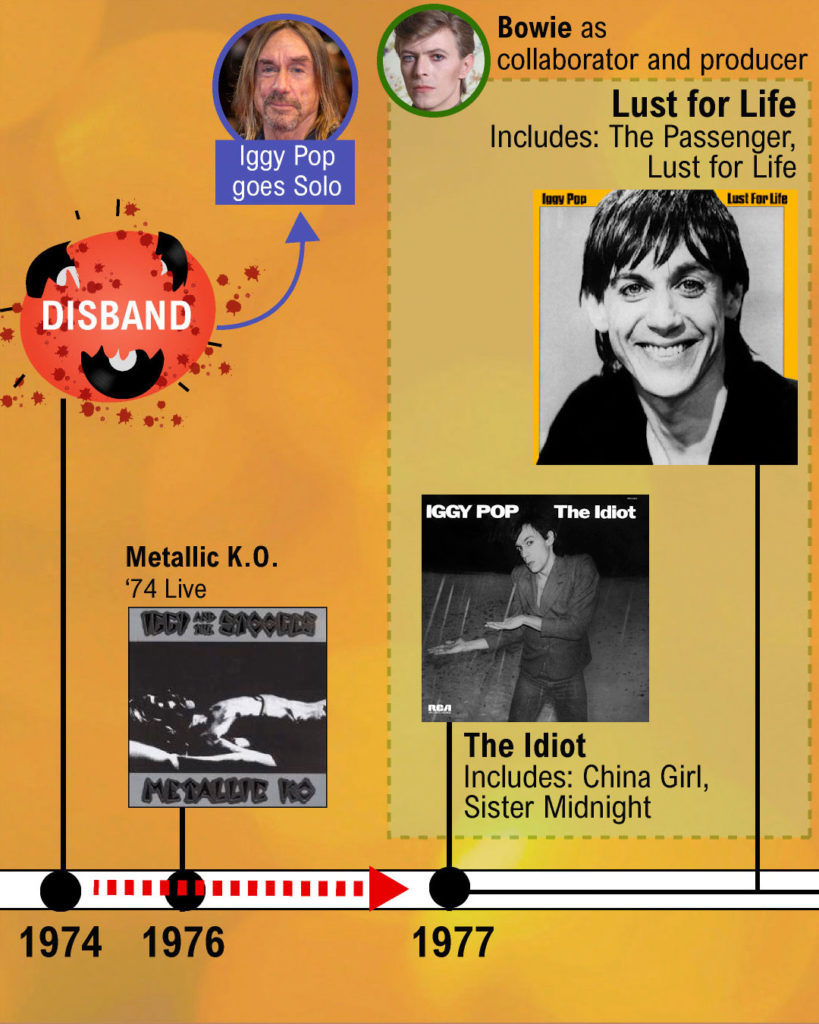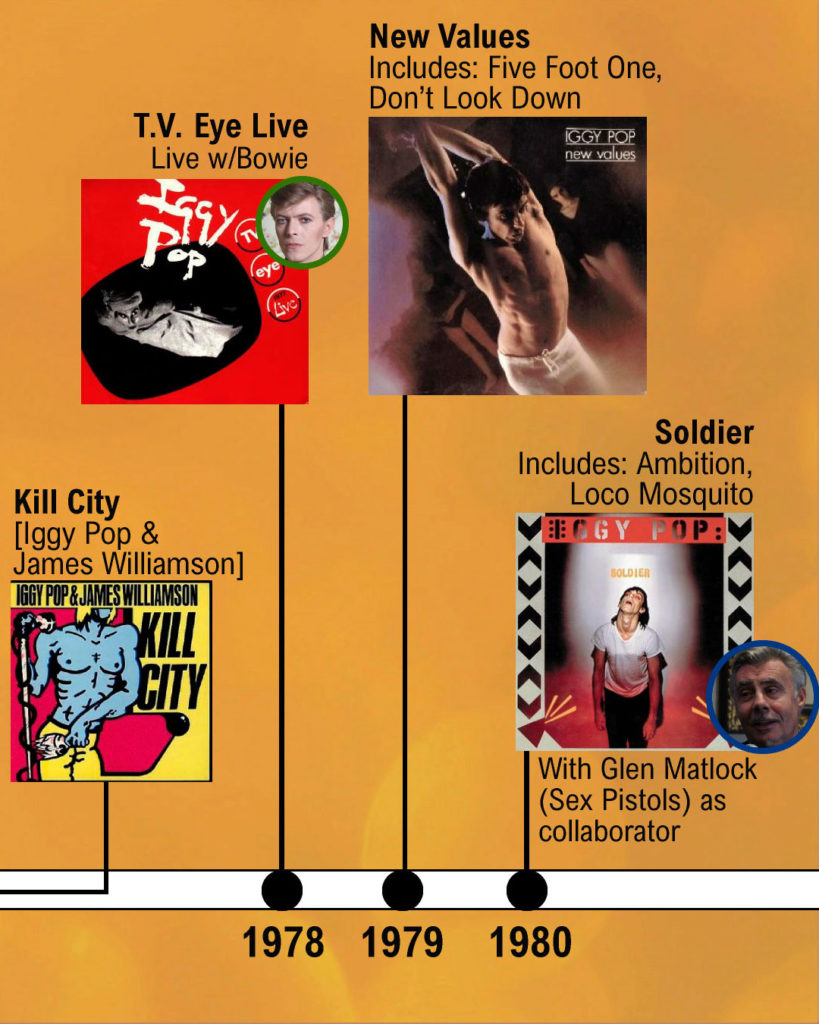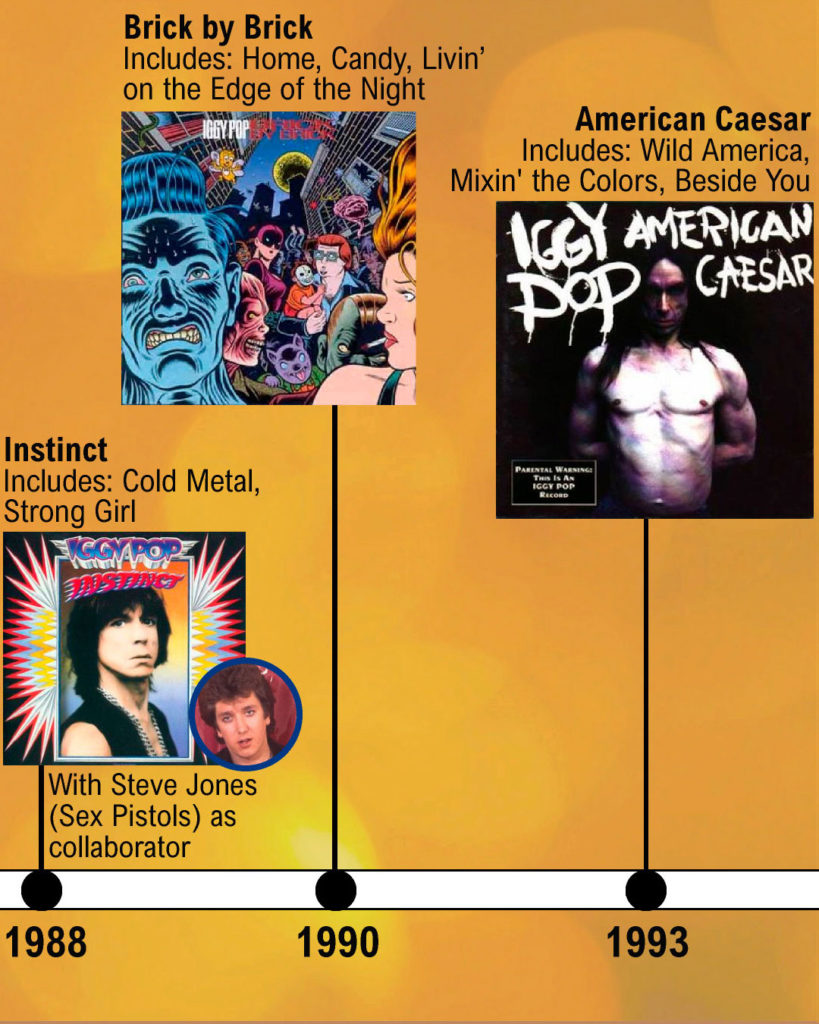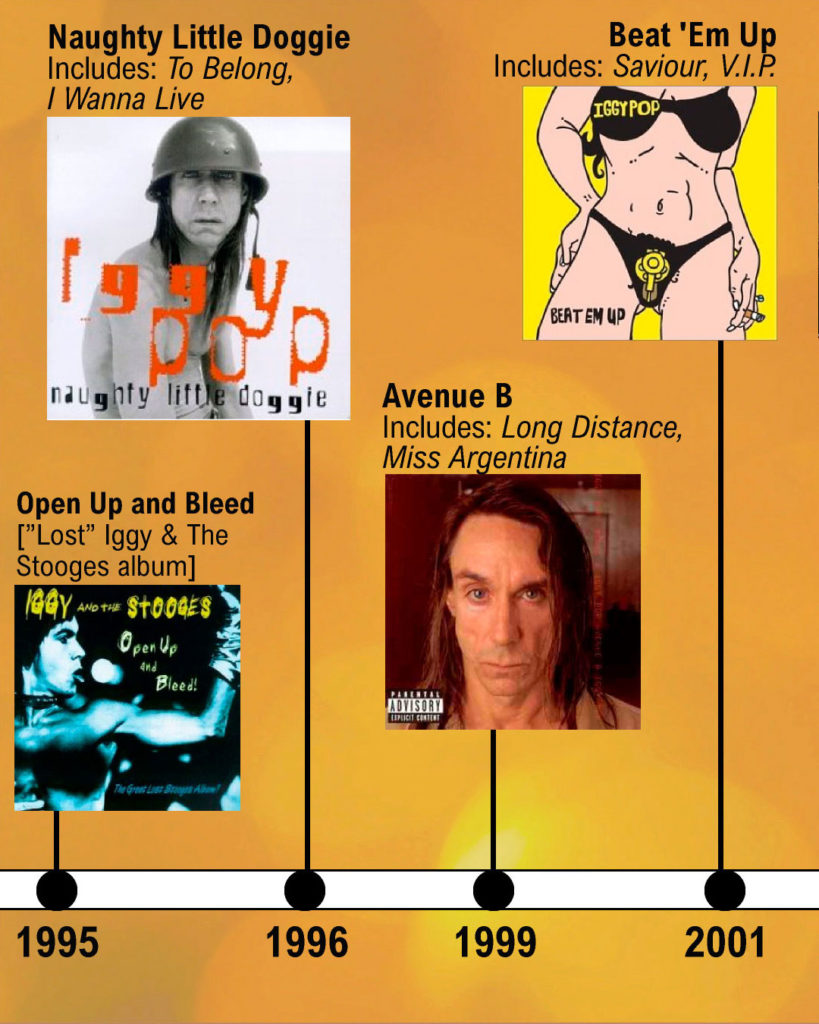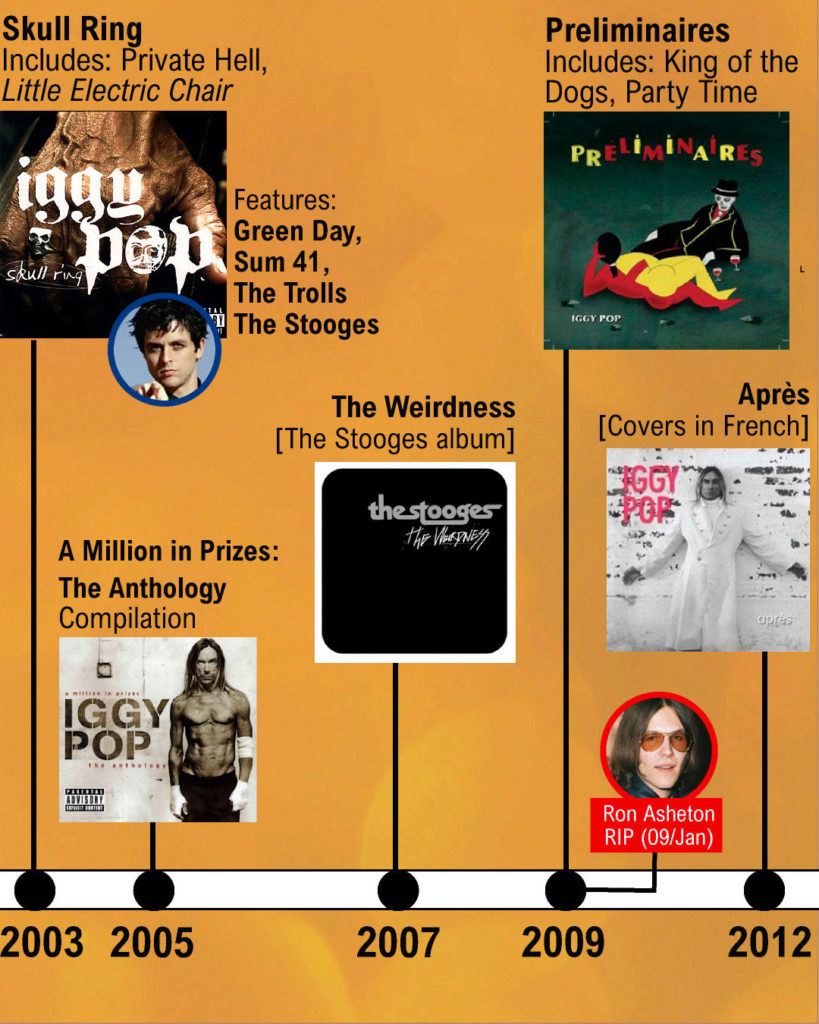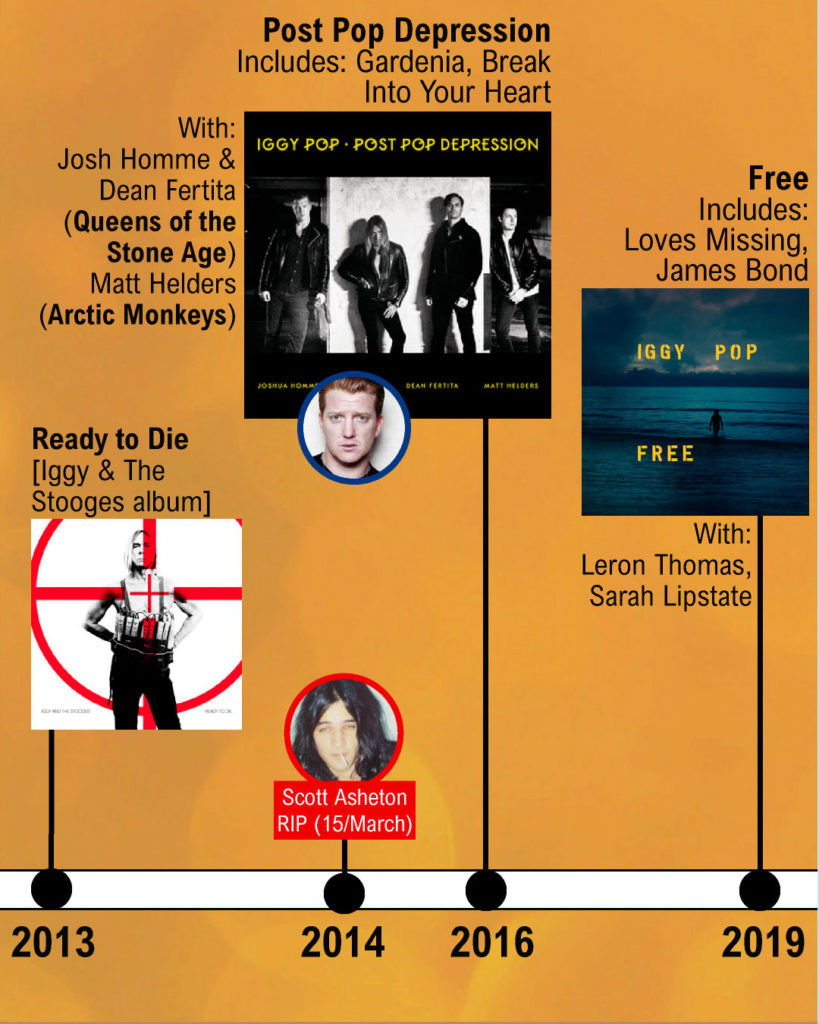 This timeline infographic includes Iggy Pop's career beginnings with The Stooges during the 60s and his later solo work, as well as his collaborations with David Bowie.
Also in relation to Iggy pop, you can check out the post about David Bowie's history and characters. The "Thin White Duke" was one of Iggy Pop's best friends and collaborators.
The Stooges: Iggy Pop's career beginnings
The Stooges was a band that emerged in the United States in 1967. The group consisted of singer James Newell Osterberg, (AKA Iggy Pop), Ron Asheton on guitar, Dave Alexander on bass, and Scott Asheton on drums. Their musical style was labeled as proto-punk and helped lay the foundation for bands like The Ramones, Sex Pistols, and The Clash.
The band's debut album, simply titled The Stooges, was released in 1969. In 1970 they released their second album, Fun House. Neither album garnered much attention from the critics and failed to attract the general audience. However, over time these albums have gained cult album status, especially among punk rock, alternative rock, and metal listeners.
In 1971, The Stooges broke up because of internal tensions and drug abuse. The following year, with the intention of putting together a new band, Iggy Pop began working with guitarist James Williamson on new music. It was during this year, 1972, that Iggy Pop met David Bowie.
As finding a suitable rhythmic foundation for the new band was proving to be quite difficult, Iggy Pop opted to reconnect with his former Stooges bandmates, the brothers Scott and Ron Asheton. Scott took the drummer role, and since the position of guitarist was already filled by James Williamson, Ron Asheton filled in as a bass player.
In 1973, under the name change to Iggy & The Stooges, they recorded the influential album, Raw Power. The album includes the classic track Search and Destroy which was mixed in a rush, just in a few hours by David Bowie.
About this last detail: he record has been reissued with new mixes by Iggy Pop, as the sound quality of the album was always subject of debate. So which one is better, the original Bowie mix, or the new Iggy mix? There seems not to be a proper answer.
Raw Power was highly influential for artists such as Nirvana and Red Hot Chili Peppers, just to name a few.
Soon after, in 1974, the band broke up once again. Iggy Pop's downward spiral of drug abuse had reached a new low point and Ron Asheton's was not enjoying his role as a bassist. During the extensive 1974 tour to promote Raw Power, the live album Metallic K.O. was recorded, to finally be released in 1976.
After The Stooges: Iggy Pop's solo career
After releasing his album Station to Station in 1976, David Bowie took Iggy Pop with him to Berlin, in an attempt of getting away from bad habits of substance use. It was during those years that Bowie recorded his famous Berlin trilogy -Low and Heroes in 1977, Lodger in 1979-. In addition to this, Bowie collaborated with and produced Iggy Pop's first two solo albums.
Iggy Pop's solo debut was The Idiot, released in 1977, and considered by many to be one of his best albums. That same year, his second album, Lust for Life, became his first commercial hit, with songs like The Passenger and the title track, Lust for Life.
At the end of 1977, Kill City was released. This album was a collaborative recording between guitarist James Williamson and Iggy Pop in 1975, right after Iggy & The Stooges had officially split.
In 1978, the album T.V. Eye Live was released. It features David Bowie as a guest musician.
In 1979, the album New Values ​​was released. This one was well-received by critics and is considered one of Iggy Pop's stronger efforts. His next album, Soldier (1980), was recorded in collaboration with former Sex Pistols bassist Glen Matlock.
Iggy Pop in 80's: staying relevant
Party came out in 1981, but failed to make a good impression on critics and the audience. The following year, in 1982, Zombie Birdhouse was released, with a similar fate to its predecessor: little impact and poor sales.
By 1986 Iggy Pop decided to collaborate again with David Bowie. The result was one of his most famous albums: Blah-Blah-Blah. The record includes notable tracks such as Cry for Love and the iconic cover of Johnny O'Keefe's original, Real Wild Child.
Iggy closed the eighties decade with Instinct (1988), which includes the well-known track, Cold Metal. Regarded as a strong Iggy Pop effort, it features Sex Pistols guitarist Steve Jones, who contributed to shaping the album's hard rock and heavy metal sound. This approach meant a significant departure from the Blah-Blah-Blah pop music vibes.
Iggy Pop in the 90's: new success
In 1990, Iggy Pop released his critically acclaimed album Brick by Brick. It includes the classic hit song Candy, which features the B-52's singer, Kate Pierson on co-lead vocals. In addition, the LP gardened recognition from the public and critics, with other great tracks such as Home and Living on the Edge of the Night.
In 1993, Iggy Pop returned with another hard rock album: American Caesar. Tracks like Wild America displayed a more abrasive sound than in previous efforts, while the ballad Beside You confirmed that Iggy Pop was still capable of producing great mellower tracks.
In 1995 the long-lost Stooges album, Open Up and Bleed, came out. It features live tracks originally recorded in 1973.
In 1996, Iggy Pop released Naughty Little Doggie. Even though it is considered a good album, it failed to achieve the success of the two previous albums.
In 1999 Avenue B was released. It is perhaps Iggy Pop's weakest recording during the nineties.
Iggy Pop during the 2000's
Beat 'em Up was released in 2001, without attracting too much public attention. Two years later, in 2003, Iggy Pop decided to collaborate with bands like Green Day, Sum 41, and his former The Stooges bandmates, among others, for the album Skull Ring. Again, this album was not well-received.
The rest of the decade was marked by several misses in terms of music, such as the comeback album of the original line-up of The Stooges, The Weirdness, which was released in 2007. Another poorly received effort.
In 2009, Iggy Pop released his jazz-inspired album Preliminaires. Even though it is not usually well-considered within his discography, it is a personal favorite of mine.
That same year, on January 9, 2009, original Stooges guitarist Ron Asheton passed away.
In 2012, the album Aprés was released. It consists of several songs in French. and it is not usually considered relevant within the singer's discography.
In 2013, the Iggy & The Stooges line-up, with James Williamson on guitar, was reunited again. The result of this comeback was the album Ready To Die. While not considered a great record, it wasn't as underrated as The Stooges' previous attempt, The Weirdness.
In 2016 Iggy Pop released what many consider his last great album: Post Pop Depression. The LP was recorded in collaboration with Josh Homme and Dean Fertita of Queens of the Stone Age. Also, it features drum contributions by Matt Helders, from Arctic Monkeys. The album was a critical and commercial success, spawning the singles Gardenia and Break Into Your Heart.
A side note here: on January 10, 2016, David Bowie, friend and key collaborator of Iggy Pop, passed away.
The Post Pop Depression promotional tour left Iggy Pop exhausted. As a result, his 2019 album, Free, is a lot quieter. A short, intimate album, with some tracks that are based on spoken word and guitar soundscapes. The album was recorded in collaboration with jazz musician Leron Thomas and guitarist Sarah Lipstate.
Recently, Iggy Pop announced his new record, Every Loser. It is scheduled for release in January 2023 and features contributions from Duff McKagan from Guns n' Roses and Chad Smith, from Red Hot Chili Peppers.
More related content
David Bowie's history and characters: a timeline