This timeline illustrates the history of David Bowie: from his career beginnings in 1964 until his death, on January 10th, 2016 (and beyond). Just swipe the slideshow below and find all his detailed characters.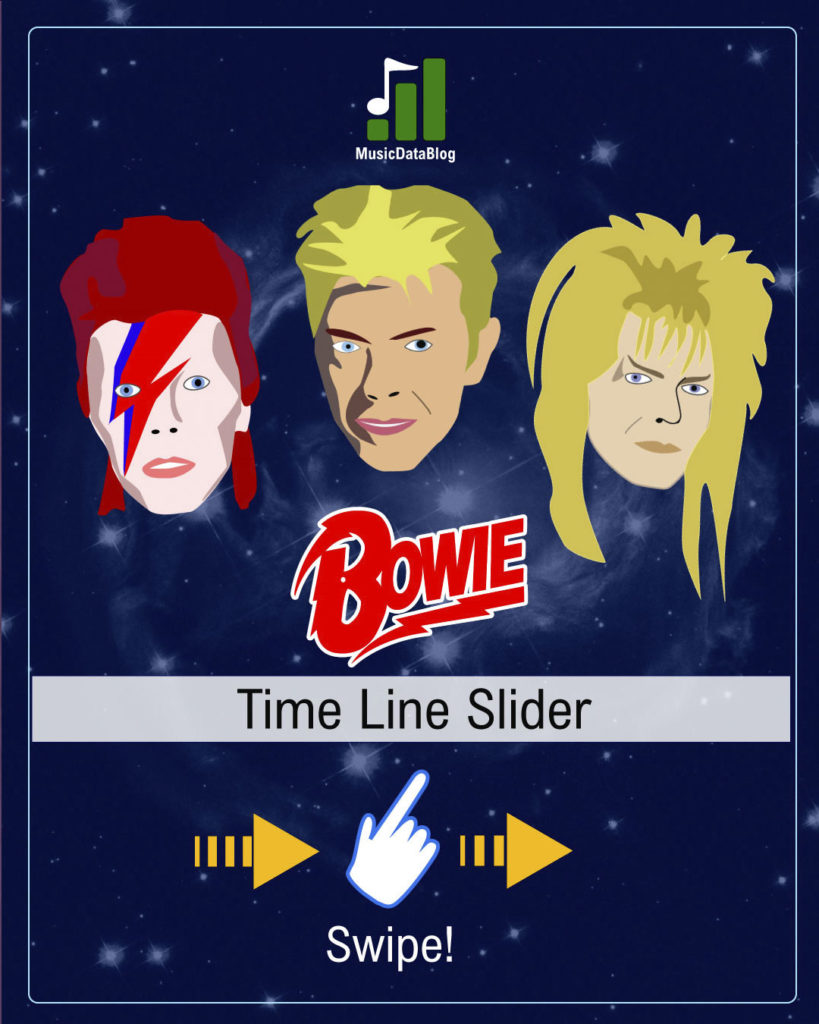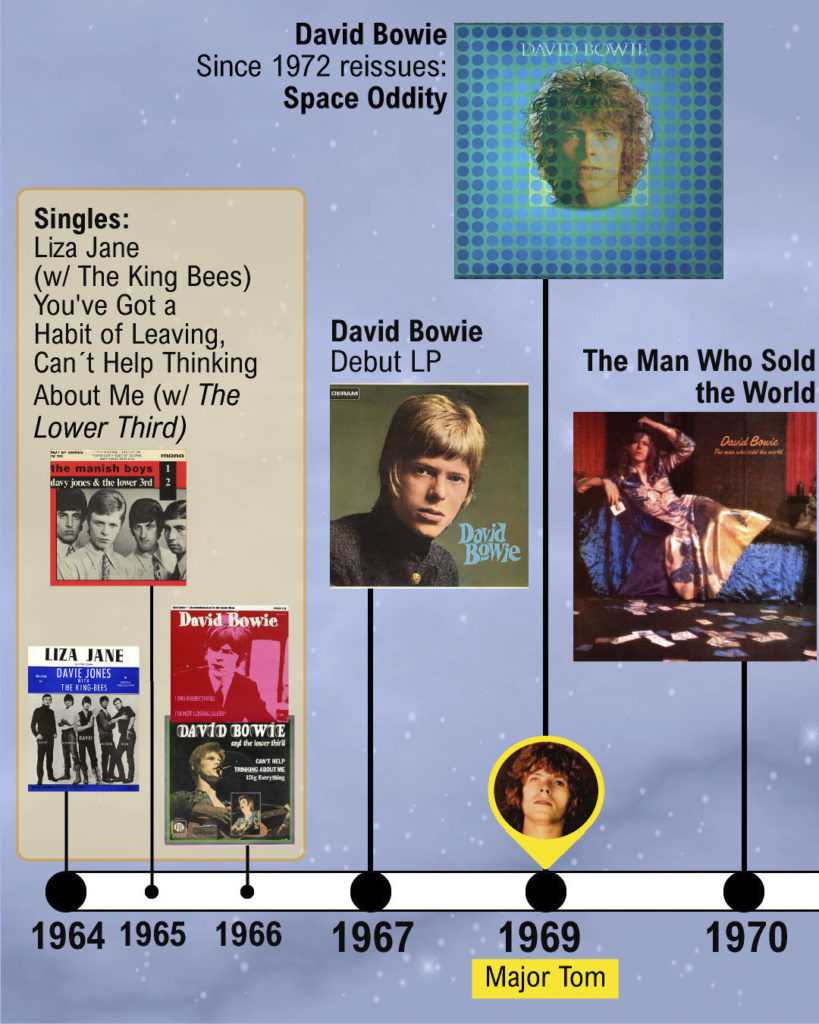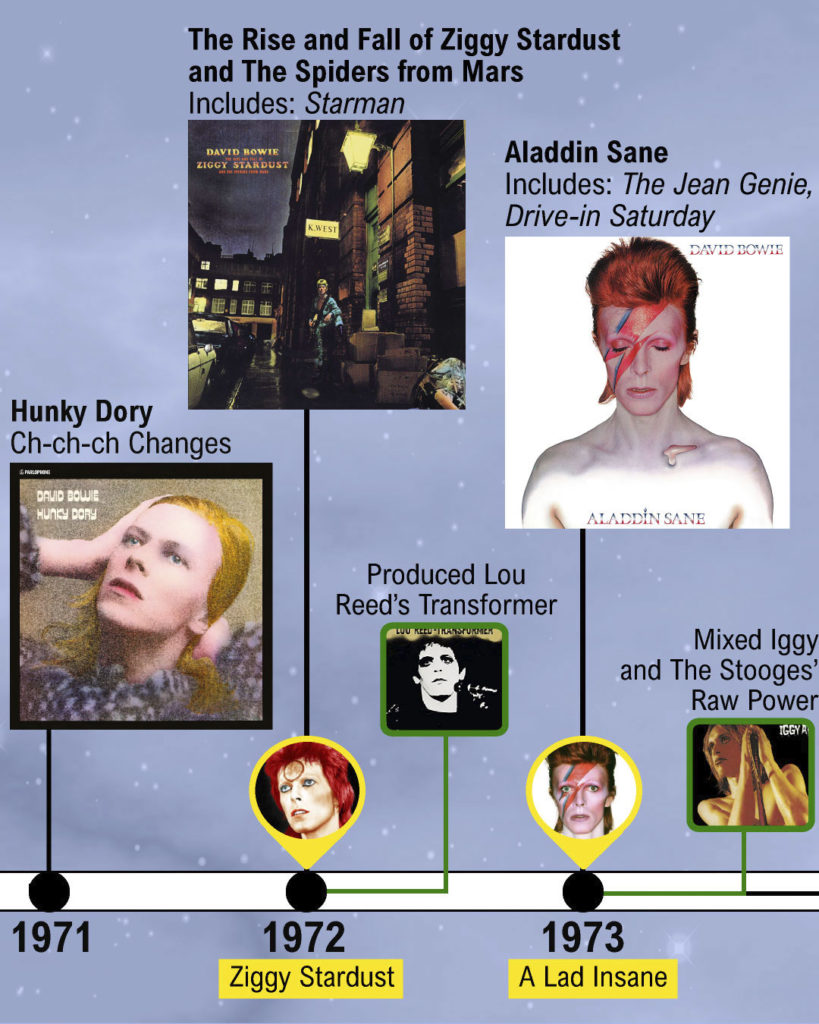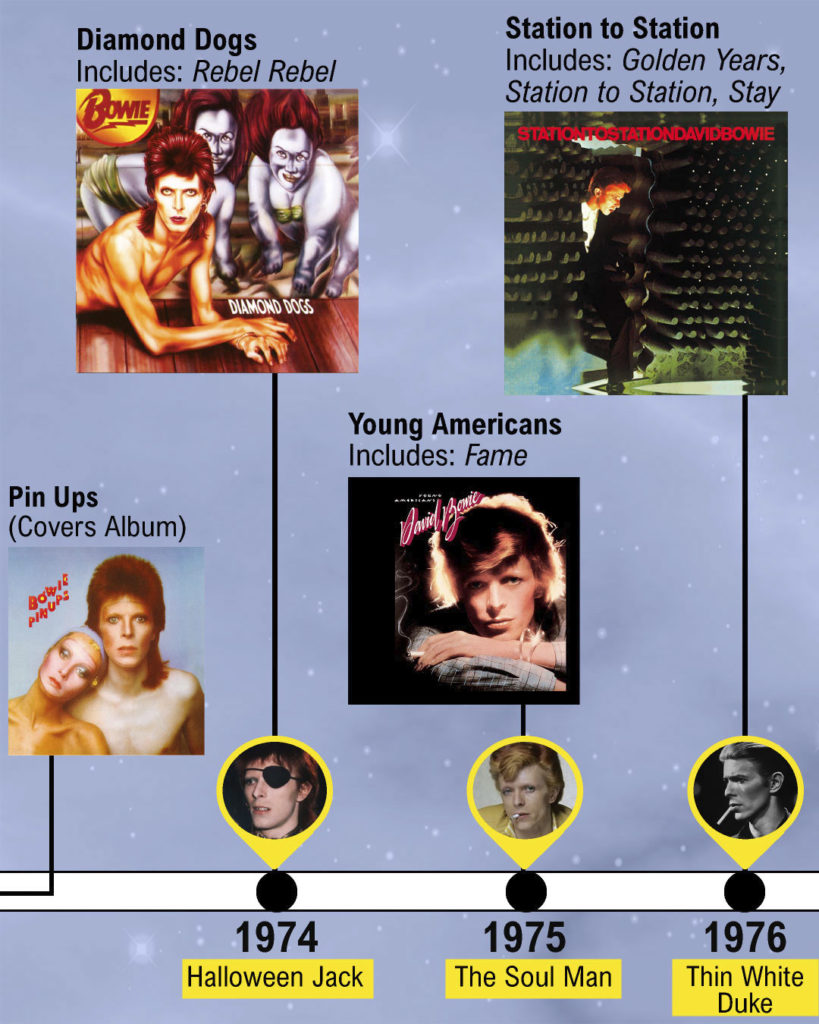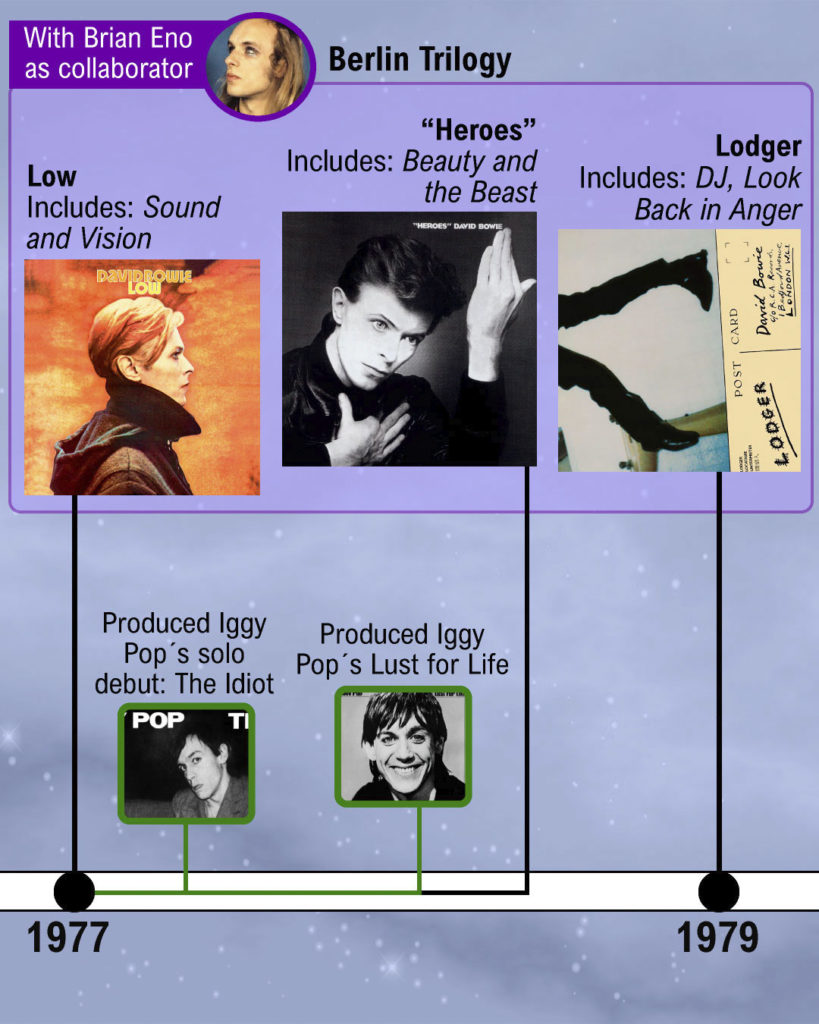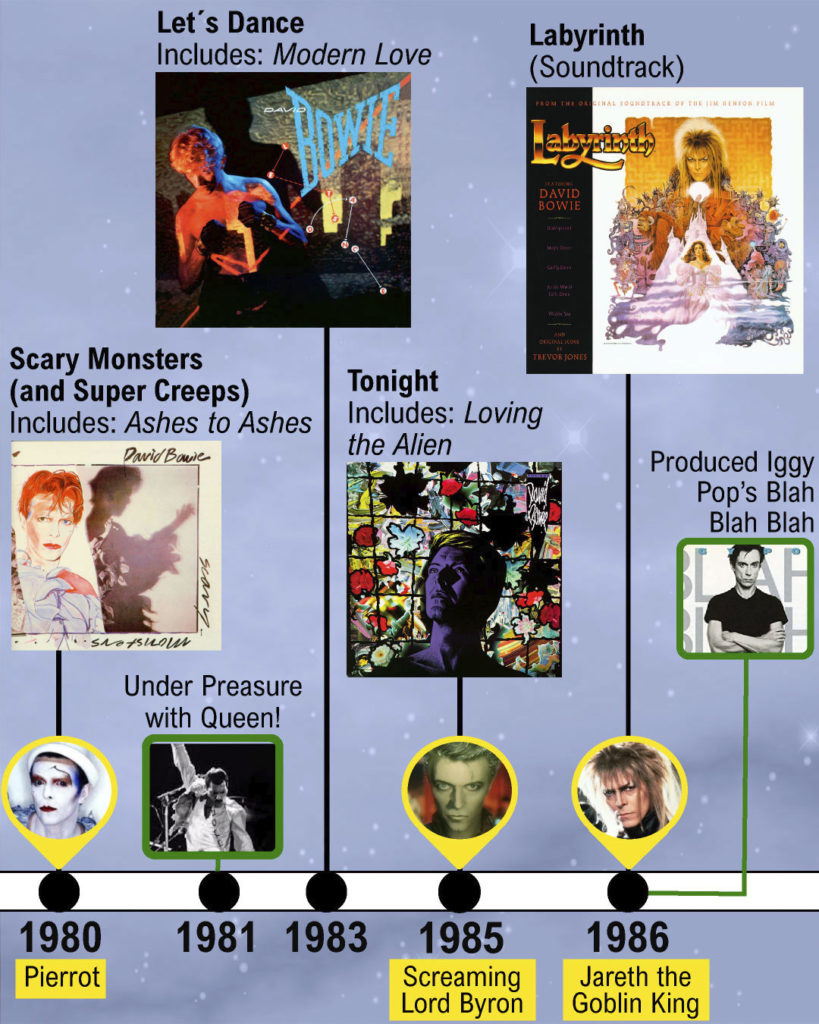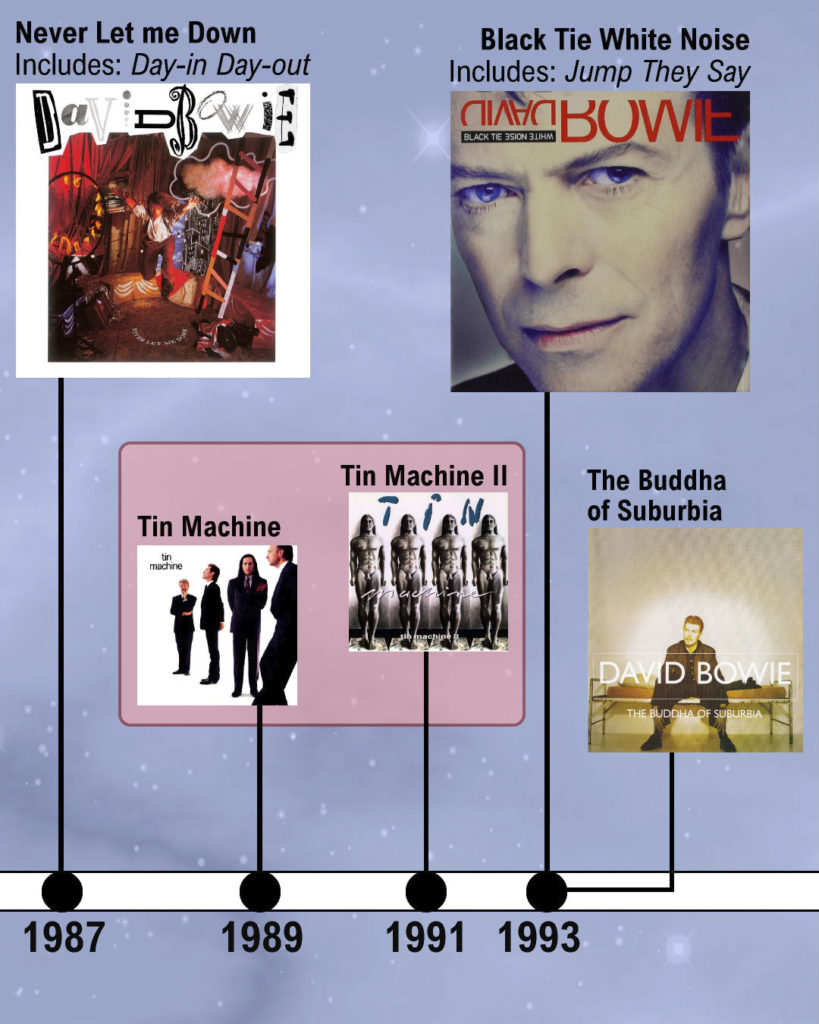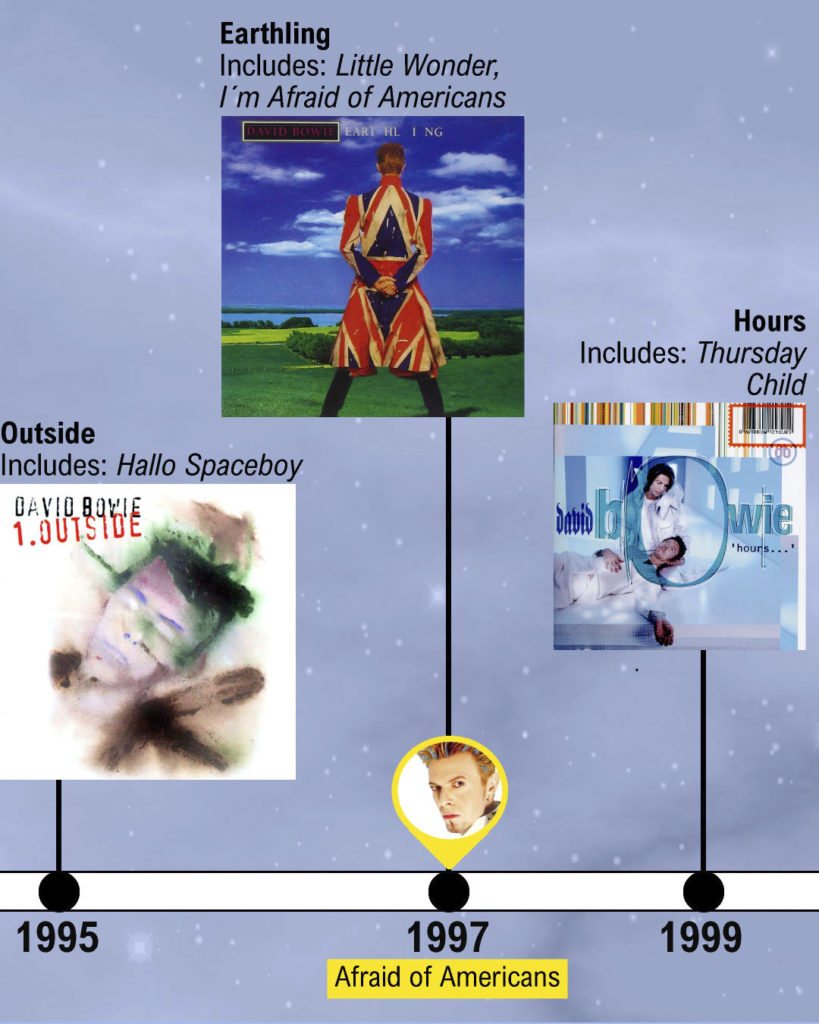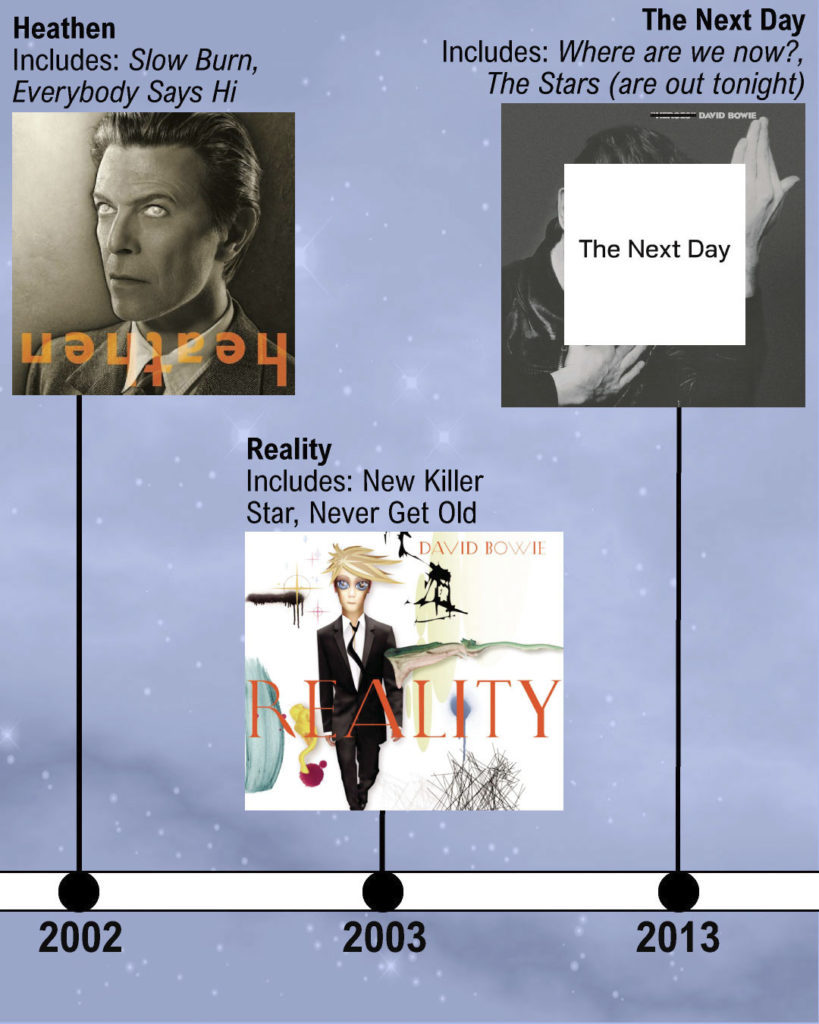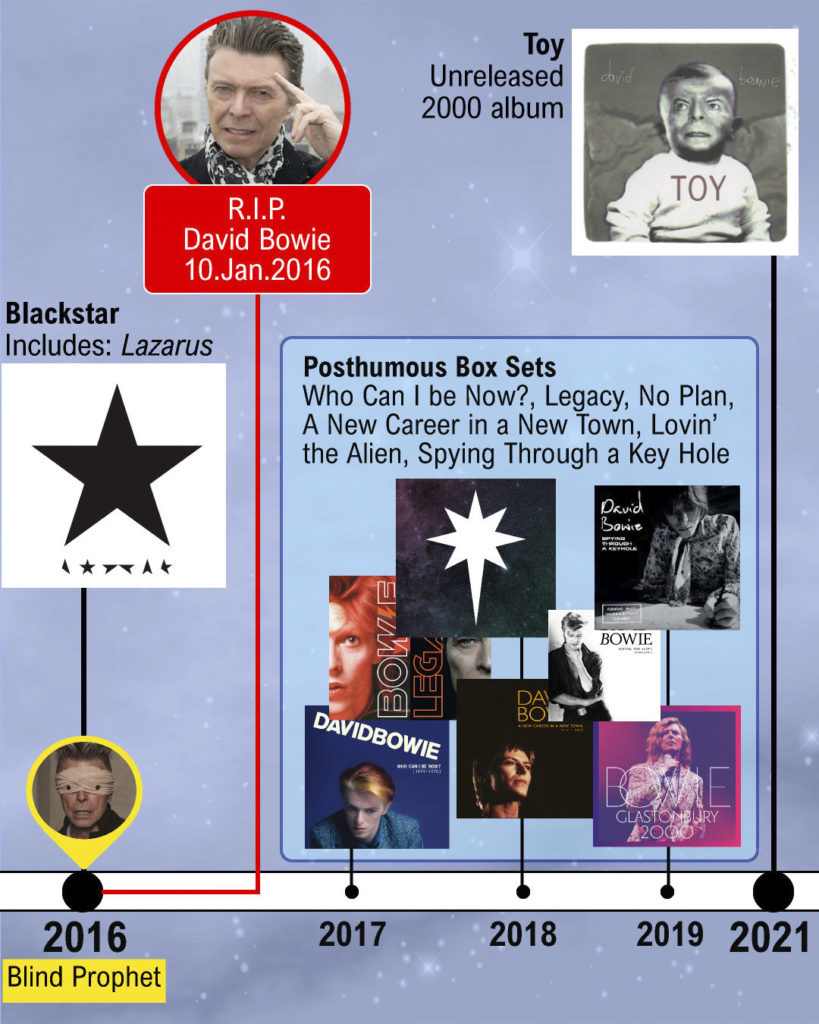 This chronology includes David Bowie's 26 studio albums, as well as indications of his stage personas through the years.
Trying to explain David Bowie's history is quite a complex task. This timeline serves as a short visual version including all of his stage personas, such as Ziggy Stardust, Aladdin Sane, The Thin White Duke, Pierrot, Halloween Jack, Jareth the Goblin King, and many more.
The history of David Bowie: a summarized version
Career beginnings in the 60's
David Bowie started playing in diverse bands in the early sixties, with his most memorable ones being The Lower Third and the King Bees. His first stage name was Davy Jones. It was not until 1966 that he decided to change his artistic name to David Bowie and became a solo performer.
His first record,1967´s self-titled David Bowie, did not have much success. But just two years later, he released Space Oddity, an album that started gardening attention from music critics.
Bowie's rise to worldwide Fame during 70's
At the beginning of the seventies, Bowie continued making a name for himself with other well-received albums, like The Man Who Sold the World (1970) and Hunky Dory (1971). His big break came with his majestic glam rock release titled The Rise and Fall of Ziggy Stardust and the Spiders from Mars (1972). It was with this record that Bowie rose to world popularity, formulating the narrative and theatrical performance of his first widely known stage persona: Ziggy Stardust.
After this landmark album, he released the also critically and commercially successful Aladdin Sane in 1973 and Diamond Dogs in 1974. When Station to Station was released in 1976, Bowie had developed a worsening substance abuse. To take care of that bad habit, he relocated to Berlin and took his good friend Iggy Pop with him.
It was during this period that the famous Berlin Trilogy was recorded, with a series of albums that are now highly regarded by both fans and music critics: Low and "Heroes", which were released in 1977; and Lodger in 1979.
It is also worth noting that during this era David Bowie also produced Iggy Pop's two first solo releases: The Idiot and Lust For Life, both from 1977.
Bowie during the 80's
After the release of the Berlin trilogy, David Bowie changed his alter ego once more: at that time he chose the monicker Pierrot, who was some kind of clown or mime. This record was not as popular as his previous seventies output.
It took three years for David Bowie to come up with a follow-up to that record. The successful Let's Dance came out in 1983, featuring the famous title track. At the time, this album met with a mixed reaction from his fan base and part of the music press, who did not embrace his new dance music style.
It was in 1986 that David Bowie created yet another character, perhaps one of his most famous from the 80's: Jareth the Goblin King. Along with this new Bowie Persona came the movie and the soundtrack Labyrinth, both in 1986. David Bowie starred in the film, as we know.
In 1987 David Bowie released the album Never Let Me Down Again, which is considered one of the low points in his career.
David Bowie during the 90's and into the 2000's
In the early nineties, David Bowie was musically wandering and trying to find a new musical drive. It was during this time that he started the band Tin Machine, a project that released two albums. With no significant chart and sales impact, it is still worth noting that for Tin Machine, David Bowie was inspired by The Pixies.
After the Tin Machine project was discontinued, David Bowie released a series of albums that did not have a significant impact: Black Tie White Noise, The Buddha of Suburbia (both in 1993), and Outside (1995). In my opinion, his 1997´s album Earthling is a stand out of his nineties output.
Starting the new millennium, he released some other good records like the overlooked Heathen (2002) and Reality (2003). After this, Bowie took a decade break in his music recording career.
It was in 2013 that Bowie came back and released another great album: The Next Day. The cover of the release was inspired by the one from his famous record Heroes, from 1997.
David Bowie's last studio album was Blackstar, which came out in 2016. It was released on his 69th birthday (January 8th) and two days before his death (January 10th, 2016). After this terrible loss, many compilation albums and box sets were released.
In 2021, the "lost" album Toy was officially released. It features re-recordings of old Bowie songs from his 1964-1971 era, plus three brand new tracks.
David Bowie Discography
David Bowie (1967, self-titled)
Space Oddity (1969)
The Man Who Sold the World (1970)
Hunky Dory (1971)
The Rise and Fall of Ziggy Stardust and the Spiders from Mars (1972)
Aladdin Sane (1973)
Pin Ups (1973)
Diamond Dogs /1974)
Young Americans (1975)
Station to Station (1976)
Low (1977)
"Heroes" (1977)
Lodger (1979)
Scary Monsters (1980)
Let´s Dance (1983)
Labyrinth (1986)
Never Let Me Down (1987)
Black Tie White Noise (1993)
Outside (1995)
Earthling (1997)
Hours (1999)
Heathen (2002)
Reality (2003)
The Next Day (2013)
Blackstar (2016)
Toy (2021) (Recorded in 2000)
More related content:
You can also find Nirvana's History Timeline here.
Learn more about one of David Bowie's favorite bands: The Pixies history timeline