The influences in Pink Floyd´s classic album The Dark Side of the Moon (1973) go from jazz of the middle XX century to psychedelic sixties rock. Their sound and style created a new standard for rock music.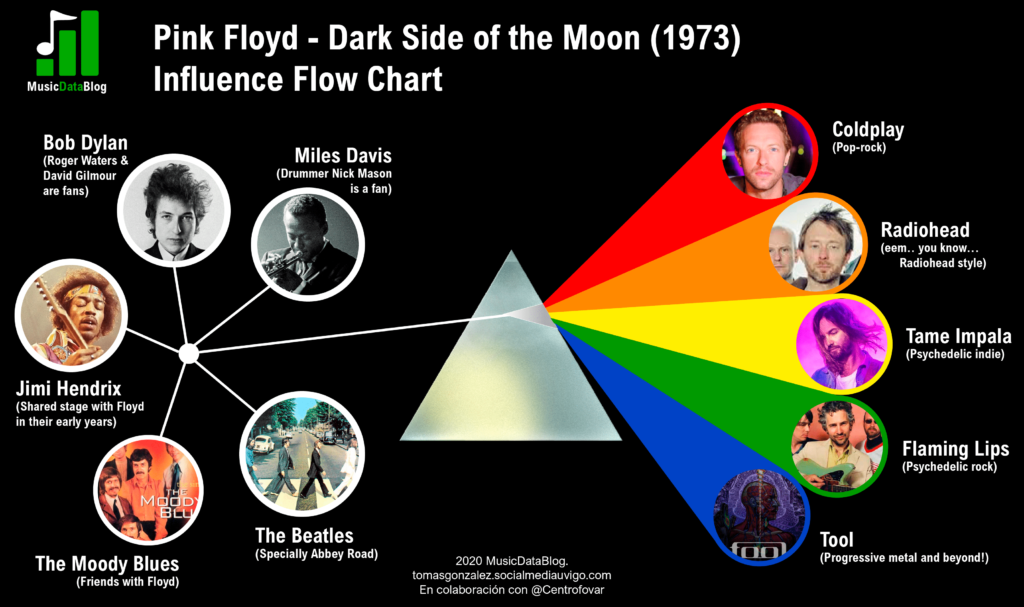 In this graphic, I have included some of their musical influences in this particular masterpiece in their catalog, which shows the roots of Roger Waters, David Gilmour, Richard Wright and Nick Mason, and also some of the artists that they inspired, even in 2020.
Who influenced Pink Floyd?
The Moody Blues
Some of Pink Floyd´s most notable influences come from progressive and experimental rock. Related to this matter, we can point out that the band was friends with The Moody Blues.
The Beatles' Abbey Road
Added to this is the fact that they developed a fondness for The Beatles more experimental releases, especially Abbey Road (1969).
Jimi Hendrix
Another musician that had an impact on Pink Floyd musical style was the best rock guitarist that the world has seen and heard: Jimi Hendrix, who David Gilmour really admired.
Miles Davis
About Pink Floyd's jazz influences: Nick Mason is a big Miles Davis fan. Also, some keyboard and piano passages that Nick Wright played on the record are a clear reference to the album Kind of Blue, a 1959 jazz classic by Davis. The drums technique, as well as the moods and soundscapes of the songs featured in The Dark Side of the Moon, owe a lot to jazz.
Bob Dylan
Bob Dylan, as a poet and folk style influence, had a lot to do with Roger Water's lyric style and writing process. His social and political approach can be found in all of the band's catalog, including The Dark Side of The Moon.
Which artists were inspired by Pink Floyd?
Coldplay
The Dark Side of the Moon had a massive impact on today's music, media, and culture. One important band to mention here is the soft rock and pop giants, Coldplay. This influence can be especially heard in their first record, 2000`s Parachutes and their sophomore effort, 2002's A Rush of Blood to the Head.
Radiohead
Radiohead is another band that obviously was heavily influenced by Pink Floyd's The Dark Side of the Moon. This inspiration can be heard since the band's first record, Pablo Honey (1993) and even in their last, A Moon Shaped Pool from 2016. As an additional note, Radiohead had covered Pink Floyd's classic Wish you were here, from Floyd's album of the same name. You can check other Radiohead Influences in this other chart.
Tame Impala
Tame Impala and Flaming Lips are two bands that have been inspired by The Dark Side of the Moon: their experimentation, their complex approach to rock and pop sounds and the use of non-traditional instrumentations and arrangements are part of this legacy. Any record from these bands has a lot to do with Pink Floyd.
Tool
Tool is also another band that is inspired by seventies classic rock and especially Pink Floyd. This influence can be heard since their first LP Undertow (1993) and until their last record, Fear Inoculum (2019). Tool refuses to be labeled as a progressive heavy metal band but they like the fact that people compare their work to their idols, Pink Floyd: the climates, the textures and explorations in their sound and albums, mixed with aggressive guitar riffs. Visit here the chart about Tool's musical influences to learn more about this band.
Of course, we could mention a lot of other artists, but let's just take this as a really short list of Pink Floyd's The Dark Side of the Moon influence and impact on today's music.
*This infographic was created in collaboration with blog Pop is Dead.