On October 6, 2020, news broke that virtuoso guitarist Eddie Van Halen had passed away. In this infographic, we review the history of his band Van Halen.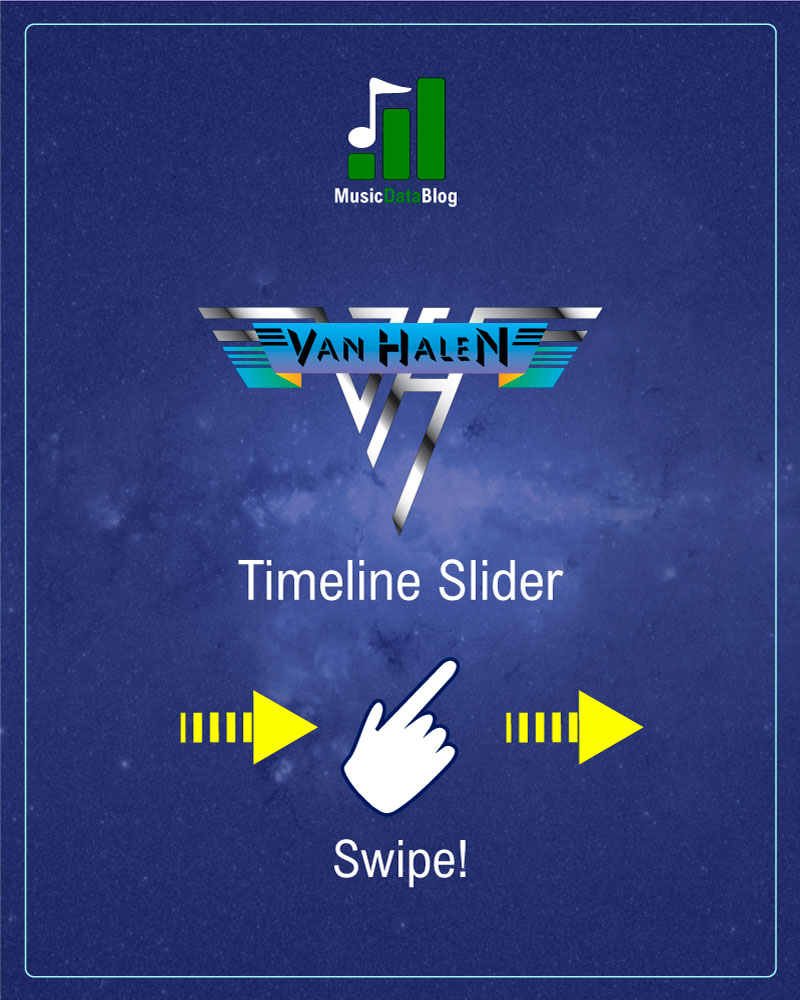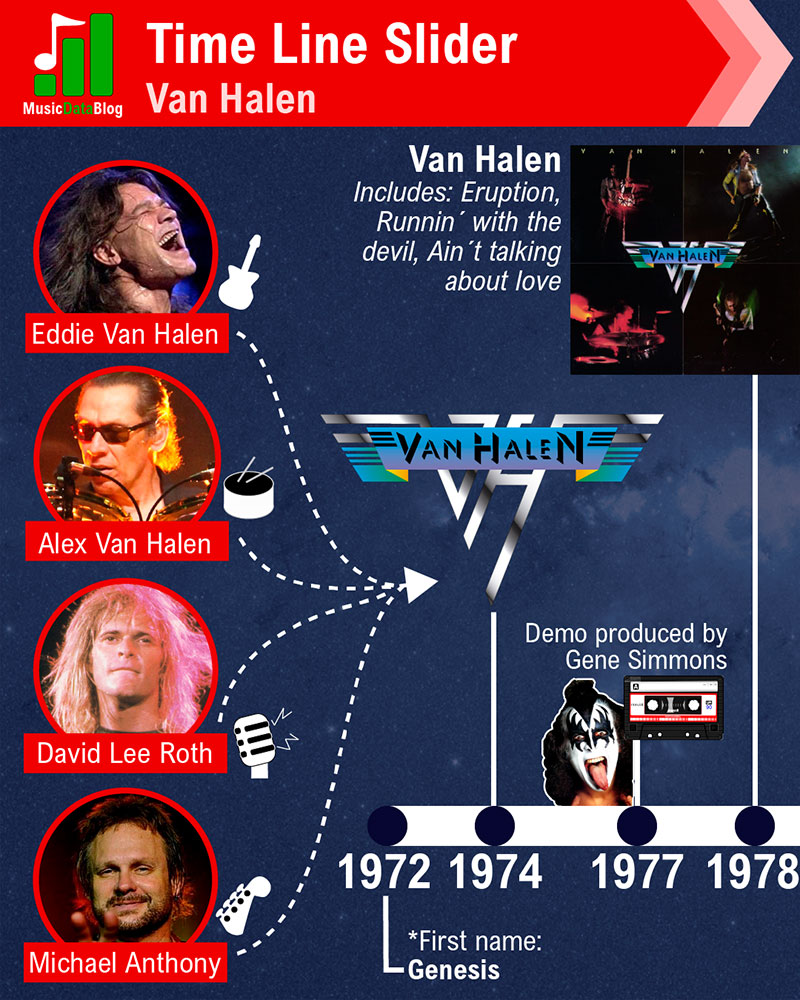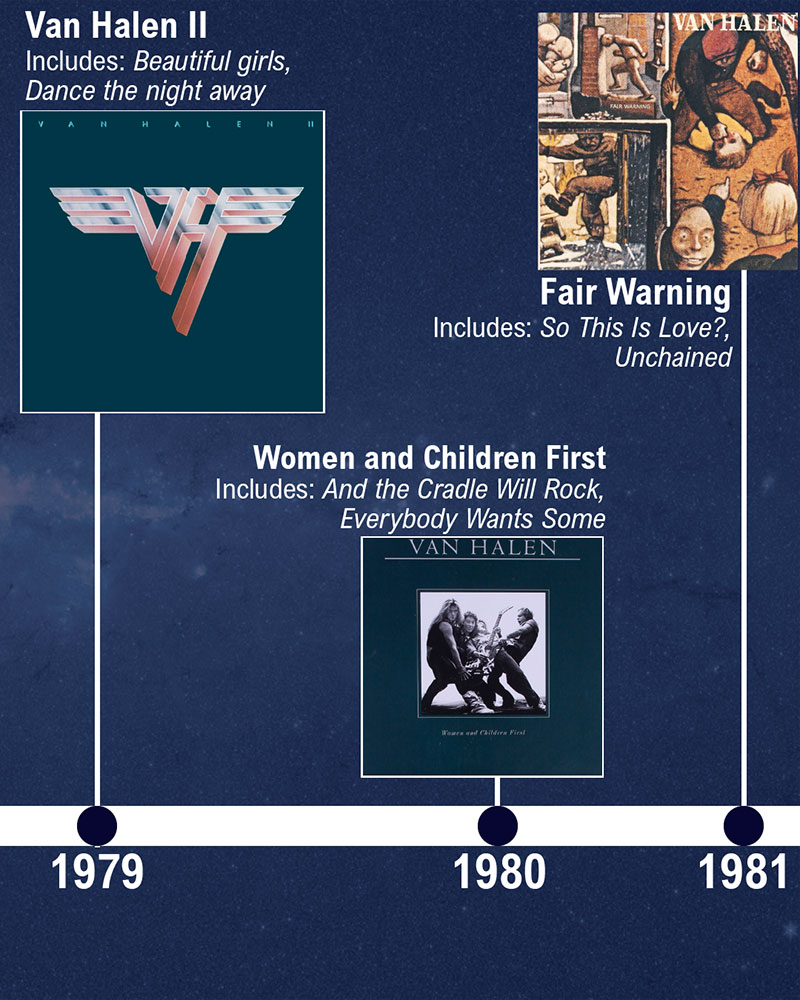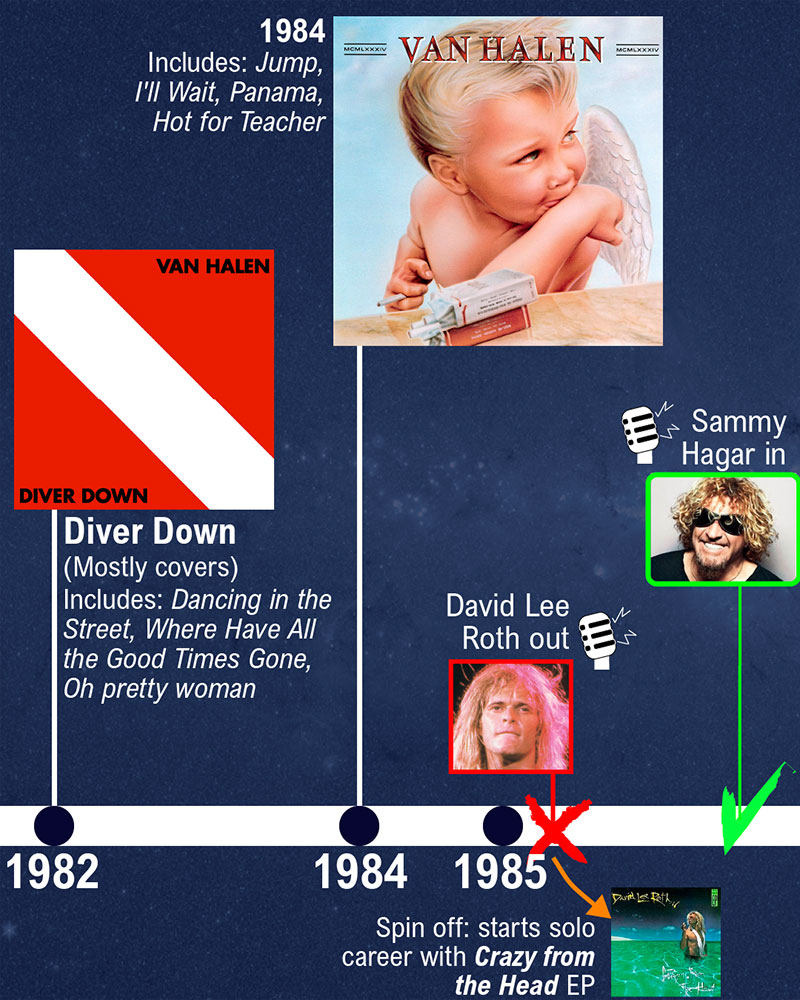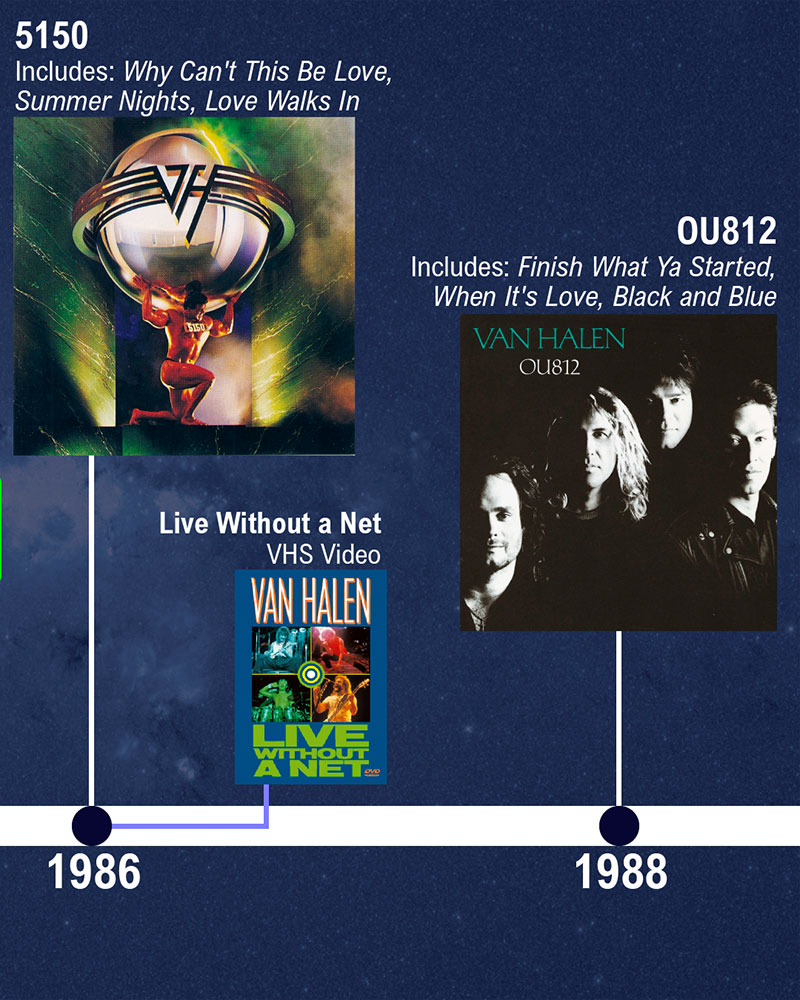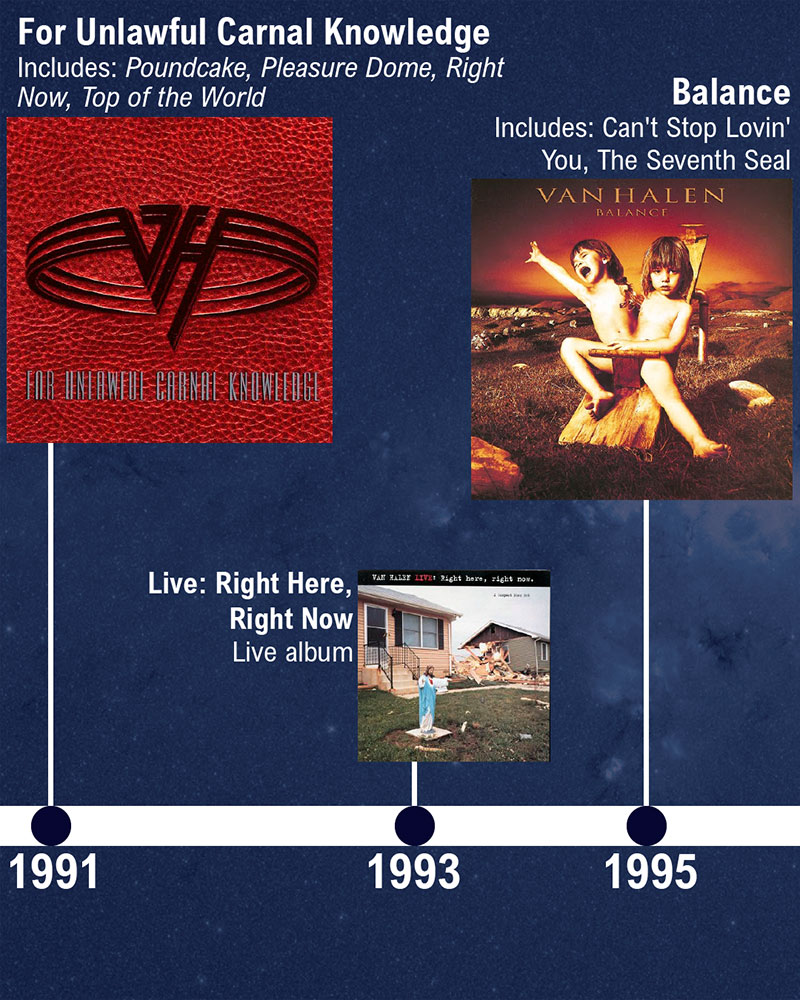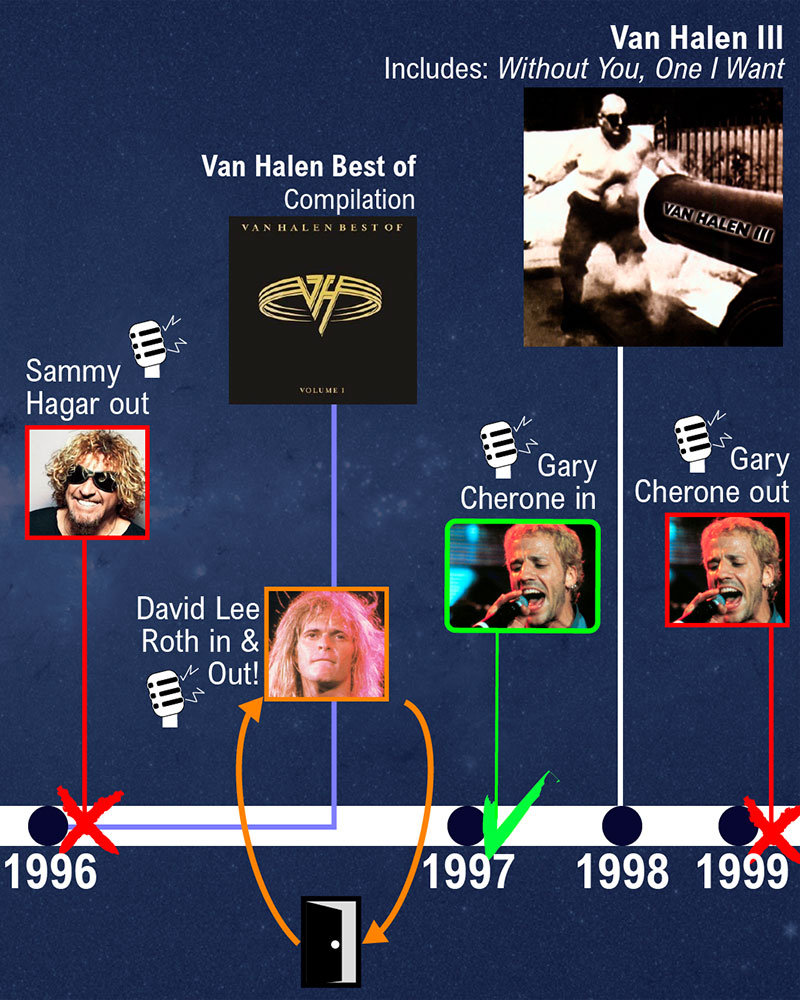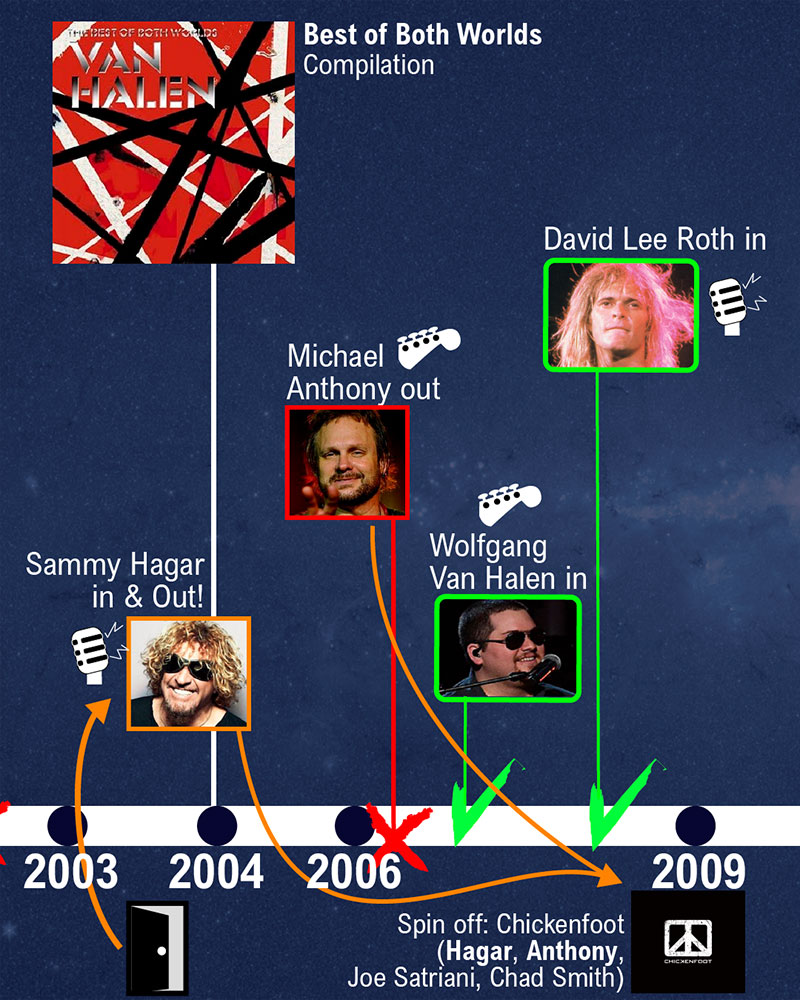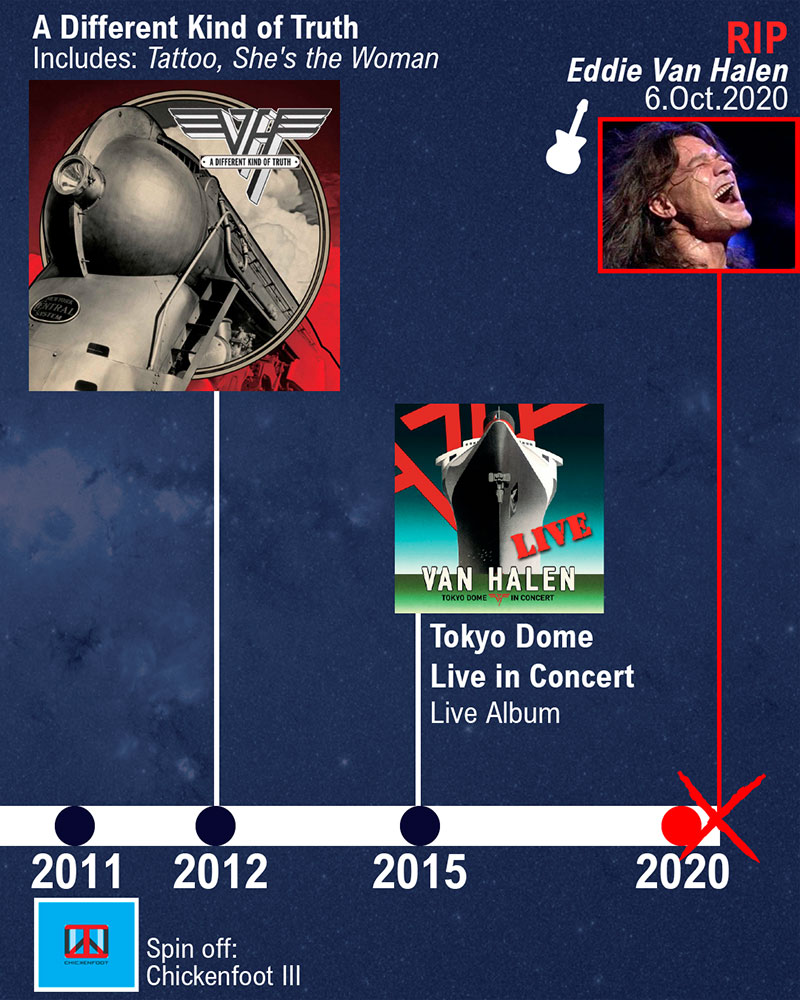 Van Halen was formed in 1972 under the initial name Genesis. As we know, there was already a well-known band with that name, so as a new moniker they opted for the last name of the founding brothers, Eddie and Alex: Van Halen. In 1977 Gene Simmons, from the popular rock band Kiss, saw them live and decided to produce a demo for them. The following year the band's recording career began with David Lee Roth on vocals, Michael Anthony on bass, Alex Van Halen on drums and the great Eddie Van Halen on guitar.
Studio discography of Van Halen
The band recorded 12 studio albums.
The first era with David Lee Roth on vocals:
1978. Van Halen
1979. Van Halen II
1980. Women and children first
1981. Fair warning
1982. Diver down
1984. 1984
The second era with Sammy Hagar on vocals:
1986. 5150
1988. OU812
1991. For Unlawful Carnal Knowledge
1995. Balance
They released only one album with their third lead singer, Gary Cherone, ex Extreme:
And his latest album, with David Lee Roth again on vocals and with Eddie Van Halen's son Wolfgang Van Halen on bass, replacing Michael Anthony:
2012. A different kind of truth
Van Halen's history: David Lee Roth vs. Sammy Hagar
The first era, with David Lee Roth as frontman, is considered by many to be their best. During this time, the band released six albums that managed to solidify Van Halen as a benchmark within hard rock. The tapping technique invented by Eddie Van Halen, notoriously appears on the track Eruption included in the group's first album, self-titled Van Halen.
After the album titled 1984, David Lee Roth had become really confident in himself, so he left the band and went solo. His replacement in Van Halen was Sammy Hagar, who helped the band continue their string of successful albums. Before joining Van Halen, Sammy Hagar already had a solo career that he continued while he was part of the band.

For his part, David Lee Roth resented how Van Halen successfully carried on without him, sparking a feud with the band's new lead singer, Sammy Hagar. In turn, the latter was only willing to play only Van Halen's best-known songs from the Lee Roth era.
By 1996, after four successful studio albums, the relationship between Eddie Van Halen and Sammy Hagar was worn down, so they invited the singer to leave.
David Lee Roth returned to Van Halen very briefly, just to promote the release of a greatest hits album. After this, 1998 would be Gary Cherone's (ex-Extreme) failed attempt as the singer of Van Halen. Neither the fans nor the critics were comfortable with him as a frontman, so the following year again the group found themselves without a singer.
From 2003 to 2004, they toured again with Sammy Hagar, to promote another greatest hits album.
In 2009, David Lee Roth (who was no longer successful), returned and in 2012 they recorded Van Halen's last album: A Different kind of truth. For this record, they had already fired the band's original bassist, Michael Anthony, who played with Hagar in the singer's solo project. Anthony's replacement was Eddie's son, Wolfgang Van Halen.
Finally, after a years-long battle with throat cancer, Eddie Van Halen passed away on October 6, 2020.
More content about rock: