The Ramones are widely regarded as the pioneers of punk rock, a genre that emerged in the mid-1970s as a reaction to the mainstream rock music of the time. The Ramones' style was simple, fast, loud, and catchy, with lyrics that often dealt with topics such as alienation, violence, humor, and pop culture.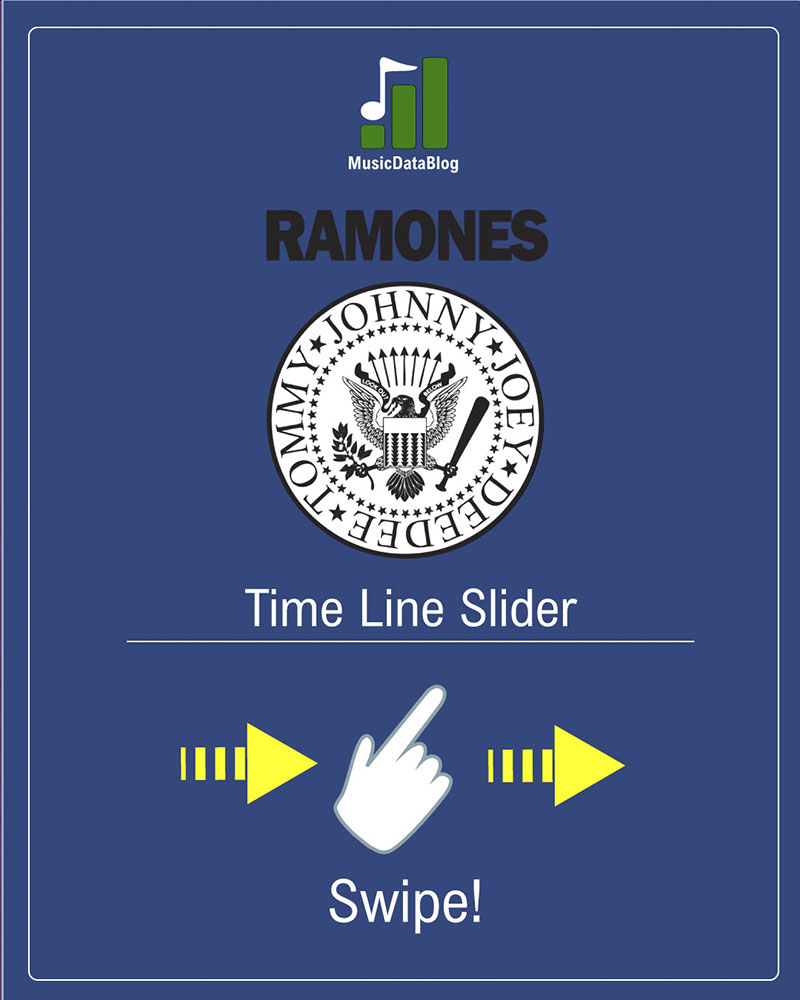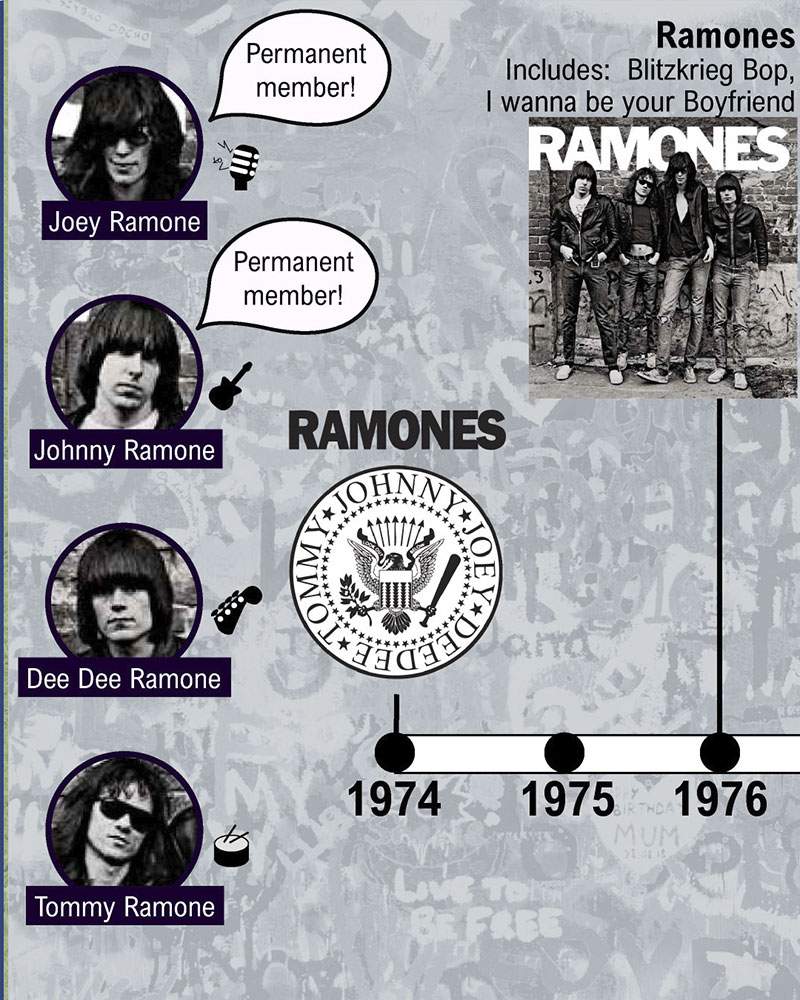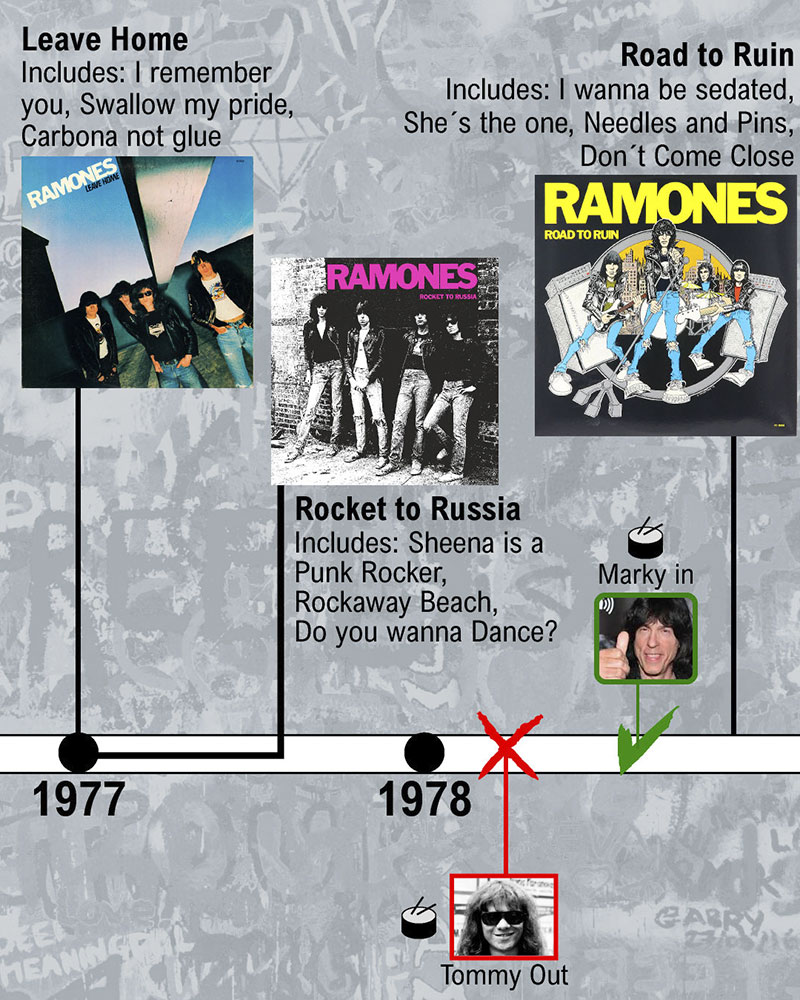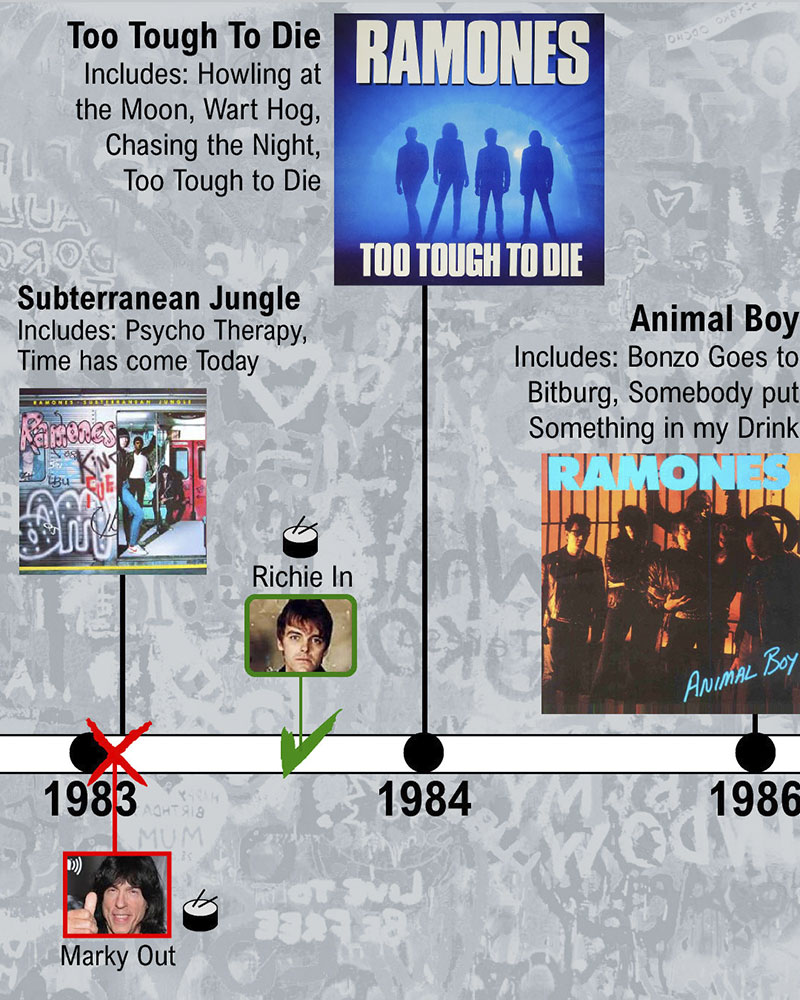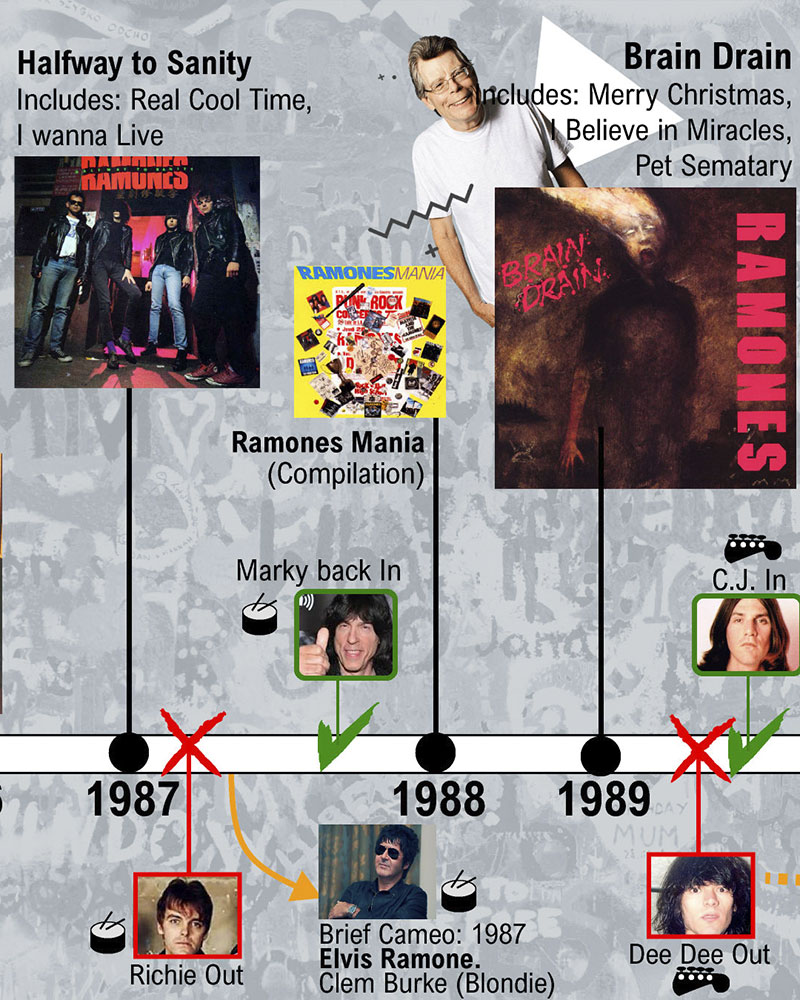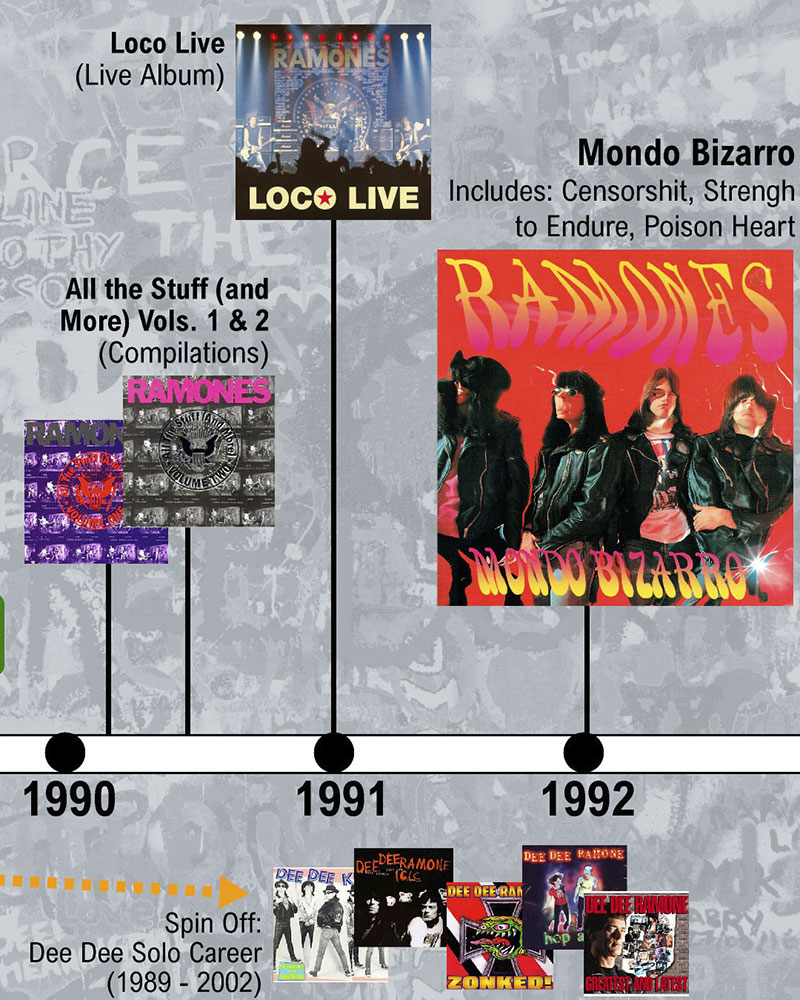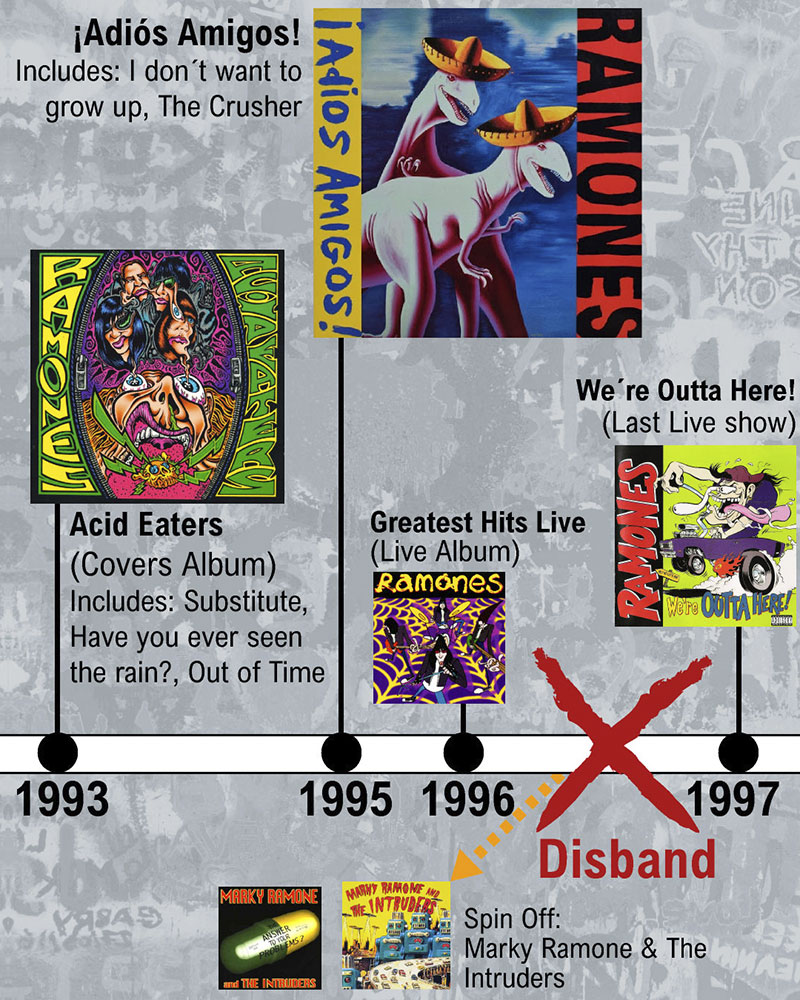 Here we will explore the history of the Ramones through their albums, which reflect their musical evolution and their impact on the rock scene. If you want to expand on this pioneering punk rock band, you can check out our blog post about The Ramone's influences on music.
The Ramones beginnings (1976-1978)
The Ramones were formed in 1974 in Queens, New York, by four friends who adopted the same surname: Joey (vocals), Johnny (guitar), Dee Dee (bass), and Tommy (drums). They started playing in clubs like CBGB and Max's Kansas City, where they developed a loyal fan base and attracted the attention of critics and record labels.
Their debut album, Ramones, was released in 1976 and is considered one of the first punk rock albums ever. It contained 14 songs that lasted less than 30 minutes, with titles like "Blitzkrieg Bop", "Beat on the Brat" and "I Wanna Be Your Boyfriend". The album was not a commercial success, but it received positive reviews and established the Ramones as a force to be reckoned with.
The band followed up with two more albums in 1977: Leave Home and Rocket to Russia. Both albums continued the formula of Ramones, but with some variations. Leave Home introduced more pop elements and some controversial songs like "Carbona Not Glue" and "Glad to See You Go". Rocket to Russia was more polished and refined, featuring some of their most popular songs like "Rockaway Beach", "Sheena Is a Punk Rocker" and "Teenage Lobotomy".
In 1978, Tommy Ramone decided to quit the band as he was tired of touring and wanted to focus on producing. He was replaced by Marky Ramone, who had previously played with Richard Hell and the Voidoids. The first album with Marky was Road to Ruin, which marked a departure from the previous albums. The songs were longer, slower, and more diverse, incorporating elements of pop rock, hard rock, and even ballads. Some of the highlights were "I Wanna Be Sedated", "Don't Come Close" and "Needles and Pins".
Ramones in the early 80s
The early 80s were a challenging time for the Ramones, as they faced competition from other punk bands that emerged on both sides of the Atlantic, such as the Sex Pistols, the Clash, Black Flag, and Minor Threat. The Ramones also struggled to find a producer that could capture their sound and vision.
In 1980, they released End of the Century, which was produced by Phil Spector, the legendary producer behind many pop hits of the 60s. The album was an attempt to achieve mainstream success by adding more orchestration and production values to their songs. However, the result was mixed, as some fans felt that the album was too polished and compromised their punk identity. The album did contain some classics like "Do You Remember Rock 'n' Roll Radio?", "Rock 'n' Roll High School" and "Chinese Rock".
In 1981, they released Pleasant Dreams, which was produced by Graham Gouldman, a member of 10cc. The album was more consistent and coherent than End of the Century but still had some pop influences. The songs were more melodic and catchy, with lyrics that reflected their frustration with the music industry and their personal problems. Some of the standout tracks were "The KKK Took My Baby Away", "We Want the Airwaves" and "7-11".
1983-1986: Ramones Crisis and Comeback
In 1983, they released Subterranean Jungle, which was produced by Ritchie Cordell and Glen Kolotkin, who had worked with Joan Jett and Billy Idol. The album was a return to their roots, with more raw and energetic songs that recalled their early albums. However, the album was poorly received by critics and fans alike, who felt that it lacked originality and direction. The only notable songs were "Psycho Therapy", "Time Bomb" and a cover of "Little Bit O' Soul".
That same year, 1983, Marky Ramone was fired from the band due to his alcoholism and erratic behavior. He was replaced by Ritchie Ramone, who had previously played with LaBamba's Mambomen. Ritchie brought new energy and enthusiasm to the band, as well as contributing to the songwriting.
In 1984, they released Too Tough to Die, which was produced by Tommy Ramone and Ed Stasium, who had worked on their first four albums. The album was a comeback for the Ramones, as it restored their punk credibility and reputation. The songs were fast, loud, and aggressive, with influences from hardcore punk and metal. Some of the highlights were "Howling at the Moon (Sha-La-La)", "Wart Hog" and "Mama's Boy".
In 1986, they released Animal Boy, which was produced by Jean Beauvoir, who had played with the Plasmatics. The album was more experimental and eclectic, featuring some synth-pop and reggae elements. The songs were also more political and social, addressing topics such as apartheid, drug abuse, and animal rights. Some of the notable tracks were "Somebody Put Something in My Drink", "Bonzo Goes to Bitburg" and "Animal Boy".
Final years with Dee Dee
In 1987, they released Halfway to Sanity, which was produced by Daniel Rey, who had co-written some songs with Dee Dee. The album was a return to their classic sound but with some modern touches. The songs were more mature and personal, reflecting their struggles with aging, relationships, and addiction. Some of the standout tracks were "I Wanna Live", "Garden of Serenity" and "Bop 'Til You Drop".
In 1987, Ritchie Ramone left the band due to disagreements over royalties and songwriting credits. He was replaced by Elvis Ramone, who was actually Clem Burke from Blondie. However, Elvis only played two shows with the band before being fired for being unable to keep up with their speed and style. He was replaced by Marky Ramone, who had sobered up and rejoined the band.
In 1989, they released Brain Drain, which was produced by Bill Laswell and Jean Beauvoir. The album was a mixed bag, with some good songs and some filler. The songs were darker and heavier, with some metal and rap influences. Some of the highlights were "Pet Sematary", "I Believe in Miracles" and "Merry Christmas (I Don't Want to Fight Tonight)".
The 90s: Ramones final years and breakup
In 1990, Dee Dee Ramone quit the band to pursue a solo career as a rapper under the name Dee Dee King. He was replaced by CJ Ramone, who was a fan of the band and a former Marine. CJ brought new vitality and charisma to the band, as well as singing some lead vocals.
In 1991, they released Loco Live, which was their second live album after It's Alive in 1979. The album captured their live performance in Barcelona, Spain, where they played 33 songs in less than an hour. The album showcased their energy and endurance, as well as their extensive catalog of songs.
In 1993, they released Acid Eaters, which was an album of cover songs from the 60s. The album was a tribute to their musical influences and heroes, such as the Who, the Rolling Stones, the Animals, and Bob Dylan. The album was well received by critics and fans alike, who appreciated their interpretations of classic songs like "Substitute", "Somebody to Love" and "My Back Pages".
In 1995, they released Mondo Bizarro, which was produced by Ed Stasium. The album was a return to its original sound but with some updated production values. The songs were catchy and fun, with lyrics that ranged from humorous to serious. Some of the standout tracks were "Poison Heart", "Censorshit" and "The Job That Ate My Brain".
In 1996, they released Adios Amigos!, which was their last studio album before breaking up. The album was a farewell to their fans and their career, with songs that expressed their gratitude and nostalgia. Some of the highlights were "I Don't Want to Grow Up", "She Talks to Rainbows" and "Born to Die in Berlin".
The Ramones played their final show on August 6th, 1996 at the Palace in Los Angeles. The show featured many guest appearances from former members and friends of the band, such as Eddie Vedder from Pearl Jam, Lemmy from Motorhead, and Chris Cornell from Soundgarden. The show was recorded and released as We're Outta Here! in 1997.
The Ramones legacy
The Ramones are widely recognized as one of the most influential bands in rock history, having inspired countless musicians and genres over the years. They have been inducted into the Rock and Roll Hall of Fame in 2002 and received a Grammy Lifetime Achievement Award in 2011.
The Ramones' legacy is one of profound influence and innovation in the punk rock genre. Emerging in the mid-1970s, the band's simple, fast, and catchy style, along with their rebellious lyrics, earned them the reputation as pioneers of punk. Their self-titled debut album in 1976 laid the foundation for their iconic sound, and subsequent albums like "Rocket to Russia" and "Too Tough to Die" further solidified their place in music history.
Tragically, all four original members of the Ramones have since passed away. Dee Dee Ramone's death in 2002, followed by Johnny Ramone's in 2004, and Tommy Ramone's in 2014 marked the end of an era. Despite the losses, the Ramones' enduring legacy continues to inspire generations of musicians, and they remain celebrated as one of the most influential bands in rock history. Their impact on the music industry, their genre, and their devoted fan base ensures that the Ramones' spirit will live on for years to come.
More related content: