Blondie's sound evolved from simple punk rock to a sophisticated new wave sound, becoming one of the most influential acts of their era. Let's check how lead singer Debbie Harry turned into one of the most inspiring figures in rock and pop music.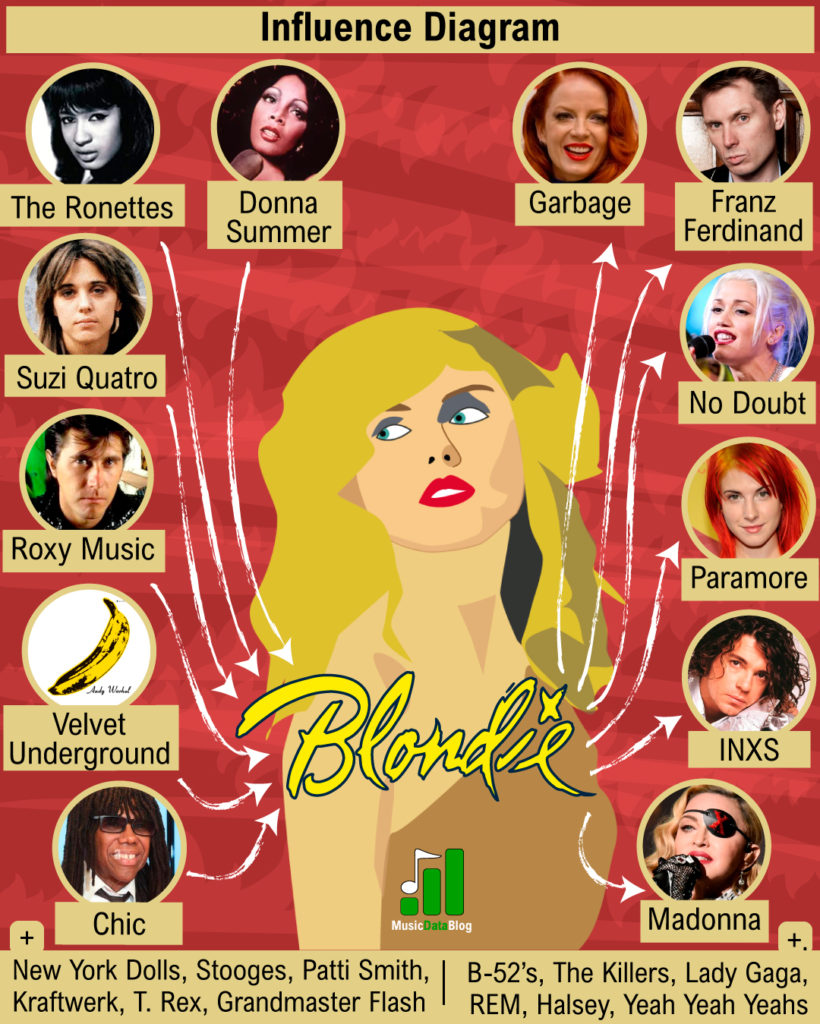 Which artists influenced Blondie?
Blondie began as a group linked to the New York punk movement of the late seventies. That movement was pivoted by the Ramones, The New York Dolls, The Stooges, and Patti Smith. On their hand, Blondie have gone through various styles and influences: from new wave to disco, and even rap.
Let's check out some of the artist that influenced Blondie and Debbie Harry:
The Velvet Underground
Lou Reed's band was deeply admired by all Blondie members. Both drummer Clem Burke and singer Debbie Harry included The Velvet Underground in their list of must-play records. Lou Reed and John Cale's band, which featured German singer Nico at the beginning, opened the doors to new pop experimentations with sounds that people could even dance to sometimes. Also, they incorporated elements from proto-punk and krautrock. Their desire for experimentation, without losing pop sensibility, is perhaps the greatest inspiration that Velvet could have given Blondie.
Roxy Music
At the time of recording his classic Parallel Lines (1978), drummer Clem Burke cited Roxy Music as one of his musical role models. That Blondie era, in addition to being the most successful, was one of the most ambitious in terms of sound production. This fact was substantially attributed to producer Mike Chapman. Burke understood clearly how Chapman wanted the record to sound: highly refined, a record in which not only instrument executions mattered but also the quality, sophistication, and pop sensibility of the songs. Just like Roxy Music. As an additional detail, More Than This, Roxy Music's staple song, was covered by Blondie.
Donna Summer
During the recording of Parallel Lines, music producer Mike Chapman asked Debbie Harry: "What music turns you on?" She answered: Donna Summer. The result was the classic track Heart of Glass, which falls into the style of electronic music and disco. Also, as early as 1978, Blondie already had covered Donna Summer's unforgettable song, I Feel Love.
Suzi Quatro
Another clear precedent of Blondie's music style was bassist and singer Suzi Quatro, with her 1973 self-titled album and her second album, Quatro. On that record, Suzi we can already hear a proto-punk spirit, mixing folk and dance music. Although Suzi Quatro was not very successful in her native country, the United States, she inspired many of her closest music contemporaries such as Patti Smith, Joan Jett (The Runnaways), and of course, Debbie Harry.
Chic
Debbie Harry said that Nile Rodgers' style was very relevant to her during the seventies. She was already aware of Chic because their music was heavily sampled in clubs, a determining precedent for Blondie's future direction. Debbie Harry even came to work with Rodgers on his solo debut KooKoo in 1981. But beyond this, Blondie's sonic search went through experimental and dance pastiches that incorporated inspirations from Chic, one of the most relevant bands for disco music. It is worth mentioning that Blondie's guitarist Chris Stein holds Nile in high esteem and mentions him as an inspiration for the song Rapture.
The Ronettes
As the band's popularity grew, the sound of Debbie Harry and Chris Stein's developed into a more refined sound. Here, The Ronettes orchestral sound, produced by Phil Spector, is the key: classic progressions and complex arrangements opened up new sound palettes for Blondie, punctuated by pretentious productions and arrangements that we can hear in classics tracks of the sixties by The Ronettes.
Other artists who influenced Blondie are Iggy Pop & The Stooges, David Bowie, T. Rex, The New York Dolls, and Kraftwerk. Especially from the rap scene, we can mention pioneer performer Grandmaster Flash.
Which bands did Blondie influence?
In turn, Blondie has been decisive for music artists that came after them, having influenced bands such as Garbage, Madonna, INXS, Paramore, and Eurythmics. They have had enormous weight for post-2000 bands like Franz Ferdinand, Paramore Yeah Yeah Yeahs, Lady Gaga, and The Killers.
Let´s talk about some of these bands in detail:
Garbage
On several occasions, the lead singer of Garbage, Shirley Manson, has expressed her admiration for Debbie Harry. Not only she is a frontwoman role model in terms of her attitude and personality, but also, Debbie Harry precedes Shirley Manson in terms of singing style. This can be heard throughout any track from Blondie's discography, especially the ones recorded for Parallel Lines or Eat to the Beat. Garbage albums, especially Bleed Like Me and the self-titled debut, borrow a lot from Blondie's music style.
If you want to expand more on this, you can check out Garbage's influence diagram.
Franz Ferdinand
With a sound heavily reminiscent of Blondie's music, Franz Ferdinand became popular for his danceable dance-rock hits like Take Me Out and Do You Want to. The drum beats, catchy riffs, and synths that made Alex Kapranos's band so popular in the mid-2000s would not have been possible without the background Debbie Harry's project.
Madonna
Before becoming The Queen of Pop, Madonna had a hard time finding her place in the music scene. He frequented the music club CBGB, where Blondie used to play during the seventies. Debbie Harry projected an image of a strong woman, and this was one of the biggest inspirations for Madonna. Provocative, confident, and sexy. Thanks to Blondie, Madonna understood that in order to be successful, she had to take over the stage and have a powerful.
INXS
La banda australiana INXS es otra de las grandes deudoras a Blondie. Liderados por el carismático Michael Hutchence, INXS supo generar canciones bailables de pop y rock, pegadizas, por las que se hicieron conocidos a mediados de los ochentas y principios de los noventas. El tecladista de la agrupación, Andrew Farriss, comenta que al comenzar la banda Blondie eran los exponentes del rock bailable que INXS admiraban y querían hacer.
Australian band INXS is another of Blondie's great followers. Led by the charismatic lead singer Michael Hutchence, INXS knew how to write catchy pop and rock dance songs for which they became known, especially in the mid-80s and early 90s. The band's keyboardist, Andrew Farriss, commented that when Blondie started, they were the main acts of dance rock and that INXS admired and wanted to be like them.
No Doubt
Another great frontwoman of the nineties is No Doubt's singer, Gwen Stefani. After the classic album Tragic Kingdom (1995) and their hit song, Don't Speak, was a big success at its time. No Doubt's style could be categorized as ska, punk, and pop. The band was also inspired by Blondie for its progressive stylistic exploration, starting out from their underground hardcore roots and later dance-friendly style that can be heard in the album Rock Steady (2001).
Paramore
Hayley Williams's band was one of the biggest acts in post-grunge, at the beginning of the 2000s. According to the singer, bands from the classic punk scene like The Ramones and Blondie have been really important to her musical taste. Blondie was a fundamental precedent for Paramore's mix of punk, pop, and alternative rock in their songs.
Other artists who were also influenced by Blondie are B-52's, The Killers, Lady Gaga, Halsey, R.E.M., and The Strokes.
More related content
Patti Smith's musical influences