In this infographics we find Green Day's studio discography sorted by Spotify streams: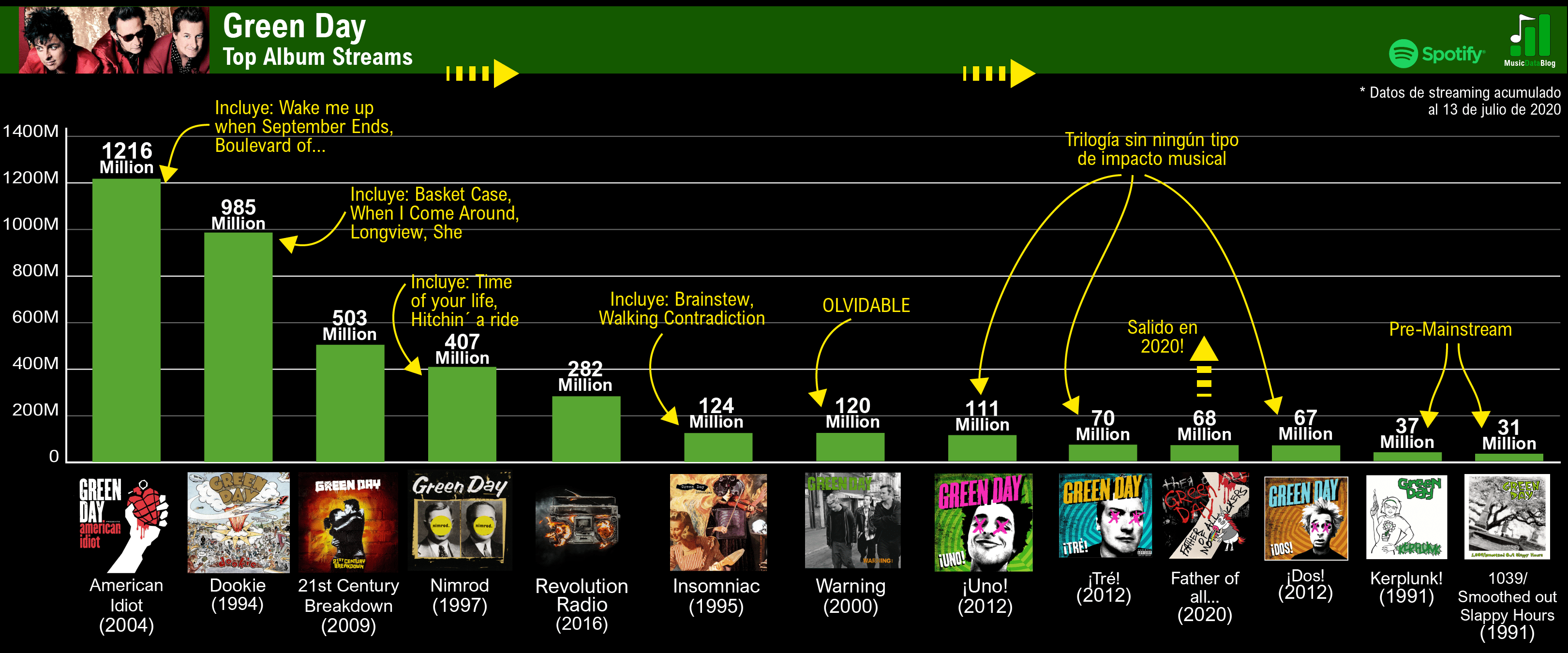 *Spotify streaming volume  date: July 13 2020.
Green Day: The trio made up of Billie Joe Armstrong, Mike Dirnt and Tré Cool, a well known act of Californian punk with a good hits portfolio to their credit. But how popular are they today? Here are the comments:
Green Day´s most popular albums
In short, we shall highight two records: American Idiot from 2004 and Dookie from 1994. The latter meant the band´s jump to mainstream, with megahits like When I Come Around, Basket Case, Longview, She. With a sound polished by producer Rob Cavallo, who knew how to refine them to leave the Lookout Records stage behind to embrace Reprise Records (Warner). In the second instance, after having released a forgetable album like Warning in 2000, they managed to reinvent themselves based on a rock opera called American Idiot, as I said before. While I am not a fan of this album, I give it that credit.
Within this record chart of Green Day, it is worth highlighting the presence of Nimrod (1997) in the top 4. Leveraged by the acoustic single Good Riddance (Time of Your Life), it also includes relevant songs such as Hitchin´ a Ride, Nice Guys Finish Last and others that add variety to Green Day's sound portfolio.
An album that for me is the best work of the band, Insomniac (1995), is in sixth place. In short, more than I expected. Here are songs like Geek Stink Breath, Stuck With Me, Walking Contradiction and 86. With less cloying than Dookie, well powerful and direct, the underrated work is short and entertaining without fail.
It is worth mentioning that they perimented under the alternative name Foxboro Hot Tubs. Could the idea have spawned a third wave of Green Day? I think so: at least it sounded fresh and garage. His only album Stop Drop and Roll !!! (2008) could have yielded more. But the way was different …: /
Green Day´s least popular albums?
Which leads me to talk about the worst: the trilogy of discards that are the discs One !, Two! and ¡Tré !, all released in 2012. An ambitious project that lacks any kind of creative input from the start. Without hits, without relevance and sounding on the cusp of its lack of inventiveness, this triad of albums has no purpose for its existence, since the proposed songs are not even enough to propose a single disc of mediocre quality.
In fact, this trilogy sounds like a series of discards and attempts to emulate another of his worst works: Warning, published in 2000. In this work, perhaps the excuse was existential crisis, fatigue or lack of direction. But it was from that crisis that a few years later they achieved the aforementioned American Idiot, their most popular album.
In Warning I can pause a little longer: the change was substantial. Acoustic guitars appeared prominently (although without too many ideas on how to use them). Also around this time Billie Joe swapped his sticker-riddled classic Fender Stratocaster for a Gibson Les Paul junior that has way less attack distortion. With several decibels less, Green Day did not know what to do.
And now there's Father of All …, released in pre-pandemic 2020. A bad record. Risky but bad: falsettos and pop choruses. New but bad: guitar rhythms worthy of a bad game of Guitar Hero. To whom despite this remains the credit that it will soon be more popular than the nefarious trilogy I mentioned above. But well, it is not much merit to overcome that.
Top 10: Green Day most streamed songs in Spotify
Basket Case (Dookie) 448,536,015
American Idiot (American Idiot) 388,664,050
Wake Me up When September Ends (American Idiot) 343,044,869
Good Riddance (Time of Your Life) (Nimrod) 301,180,221
21 Guns (21st Century Breakdown) 287,453,786
Holiday (American Idiot) 232,492,435
Boulevard of Broken Dreams (American Idiot) 228,190,128
When I Come Around (Dookie) 209,093,431
Jesus of Suburbia (American Idiot) 91,875,279
Welcome to Paradise (Dookie) 84,647,401
More related content